Celebrate the grandparents in your life with these nine meaningful gifts.
Grandparents are incredibly special. The spoil our kids wholeheartedly, and love them unconditionally. They change diapers, buy presents, make meals, read bedtime stories, kiss boo-boos, and basically act as a second set of parents. And these amazing people deserve some love around the holidays. While we adore handmade gifts, we also rounded up the best gifts for grandparents you can send.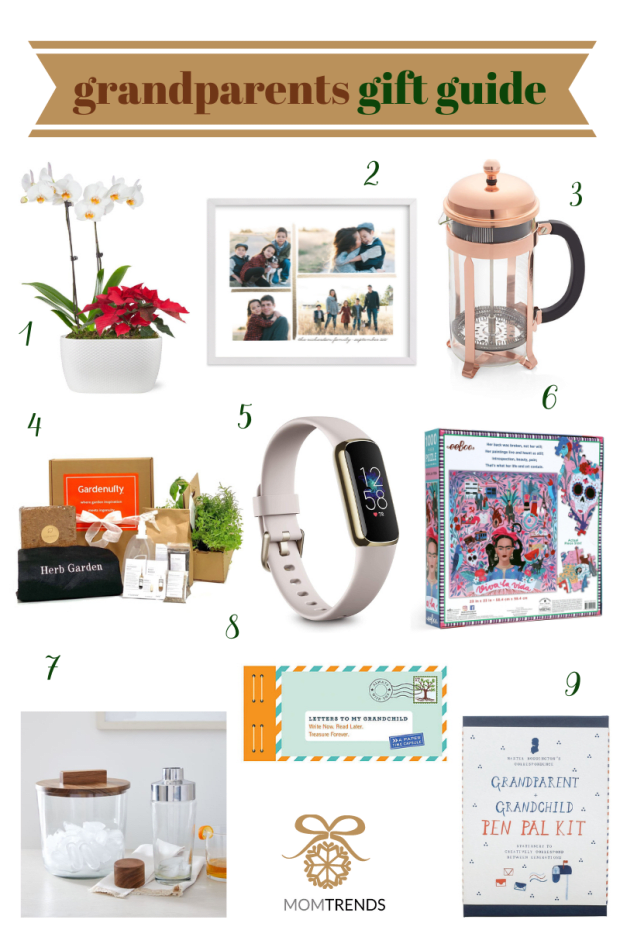 Holiday Orchids: Imagine their delight when this elegant plant arrives on their doorstep this holiday season. This orchid-poinsettia duo comes in a 10-inch smooth white planter and hugs a 5-inch premium white orchid with a yellow center and a 4-inch red poinsettia, both topped with moss. Water the poinsettia once a week when the soil surface is dry. Water the orchid once a week with either 3 ice cubes or 1/4 cup of water. Just Add Ice Comet Orchid ($72)
Custom Photo Art: Grandparents LOVE photos to show off, this is a gorgeous way to display them. Pick your four favorite photos of the grandkids and arrange them in this beautiful frame. You can customize the color and the border. Order your custom Minted 4 Photo Collage here. ($140)
French Press: The signature dome-topped Bodum French press coffee maker takes on a beautiful copper-plated finish in this classic plunger-style brewing method revered for producing fresh coffee with rich, full-bodied character. French press is an accessible and affordable option for those who love the taste of the coffee brewed in this unique coffee style. Tested best by the American Culinary Institute, this classic, beautiful and simple design is recognized worldwide as one of the best ways to brew coffee in just four minutes. Coffee maker with a 34-ounce capacity is outfitted with a patented safety lid. Bodum Chambord Copper French Press ($50)
Gardenuity Herb Garden: Whether they're novice growers or have a bonafide green thumb, your "giftee" will love this beautiful herb-garden set. Herbs bring a myriad of practical uses, and having them at the ready is one of life's simple pleasures. Whether you are harvesting mint leaves for iced tea or a bunch of rosemary for cooking, herbs bring a freshness to any space. When your Gardenuity gift recipient is ready to redeem her plants, they can simply email their gift code to GrowPro@Gardenuity.com and plants will be matched to them when the season is favorable--so you don't have to worry about keeping the plants alive until Christmas morning. Get your Gardenuity herb set here. ($76)
Fitness Tracker: It might take a bit to get this set up, but once it's done, this is a great way to encourage the grandparents to stay active. I like the bright, big display. I like the sleep tracking and sleep Score in the Fitbit app. Plus you'll get a 6-month trial of Fitbit Premium. Maximize your exercise, understand resting heart rate trends and better estimate calorie burn with 24/7 Heart rate tracking. Tune in to your body with health metrics like breathing rate, heart rate variability and more (in-app only)​. Enjoy up to 5 days of battery without having to stop for a charge (varies with use and other factors). Connect Luxe to your phone's GPS & see real-time pace and distance on your wrist. Fitbit Luxe Fitness and Wellness Tracker ($99.95) (note: this is an Amazon Affiliate link)
Artistic Puzzles: I love a group project and puzzles are a great way to connect while searching for pieces. Puzzle your way through eeBoo's Viva La Vida 1000 Piece Puzzle, an homage to Frida Kahlo, illustrated by Petra Braun. Jigsaw puzzles are a great activity for the whole family to enjoy. "I was a child who went about in a world of colors… My friends, my companions, became women slowly; I became old in instants." - Frida Kahlo. Viva la Vida 1000 Piece Puzzle by eeboo ($21.99)
Modern Barware: If the grands love a good cocktail, this is a pretty way to dress up a bar or kitchen. The retro modernist design goes with tons of decor. Ready to keep your drinks cool, this glass barware comes with beautiful acacia wood tops. It comes in two sizes. Get the Wooden Top Barware at West Elm here ($24.99)
Letters to My Grandchild: This "Letters to MyGrandchild" book is the perfect gift for new grandparents. Includes paper and envelopes for grandparents to write their memories, hopes and dreams for their new grandchild. Makes an unforgettable one-of-a-kind gift to treasure forever. "Letters to My Grandchild" gives new grandparents the opportunity to create letters to their new grandchild for an unforgettable keepsake for the future. Includes 12 fold and mail letters. Letters can be sealed and dated and gifted to the children in the years to come. Letters to My Grandchild ($15)
Letter Book Set: Everything needed to delightfully correspond between generations. (Can be used by either the grandparent or grandchild!) Box includes: four back-and-forth correspondence flat cards, four unique letterhead sheets, eight envelopes. Made with love in NYC. Churning out whimsical prints, charming stationery, and custom silhouettes, Mr. Boddington's Studio is made up of talented artists, designers, and illustrators, all dedicated to making correspondence a little more beautiful - and fun! Grandparent & Grandchild Letter Book Set ($40) 
MORE HOLIDAY GIFT GUIDES FROM MOMTRENDS
This is not a sponsored post. It may contain affiliate links. All opinions are our own.