Matthias Hollwich – principal and founder of New York architecture firm HWKN – has big ideas: about the future of work (and specifically the workplace), about aging and architecture, about how to get everything done in an overpacked day. The latter topic has a fairly straightforward answer: build a top team who can help shoulder the burden. "My advice is to find the right people to work with because they're key about helping you to stay in balance," he says.
The others, though, are thornier. Hollwich has long been investigating the well-being of elderly communities – even taking his students to visit retirement homes. "It's an amazing experience," Hollwich says of these paradigm-shifting field trips. "Way back when I first went, my students went to a very typical-slash-mediocre nursing home, and it was just horrifying to see how older people lived there," he says. "They're basically stored away from society. I still remember an amazing question: When the students went into the [community's] kitchen, the chef basically explained about how healthy the cooking was, so the people [there] can live longer. And then my student just looked at the chef and said, 'You know what? I think you should just serve them anything they would want, because I don't think that they want to live longer when they're in here.' It was perfect. If we want people to live longer and healthier, we also have to create the right environments for them to do that, in grace and fulfillment – and also embedded in a community. And actually not in such a specialized environment – just at home, with the people that they love."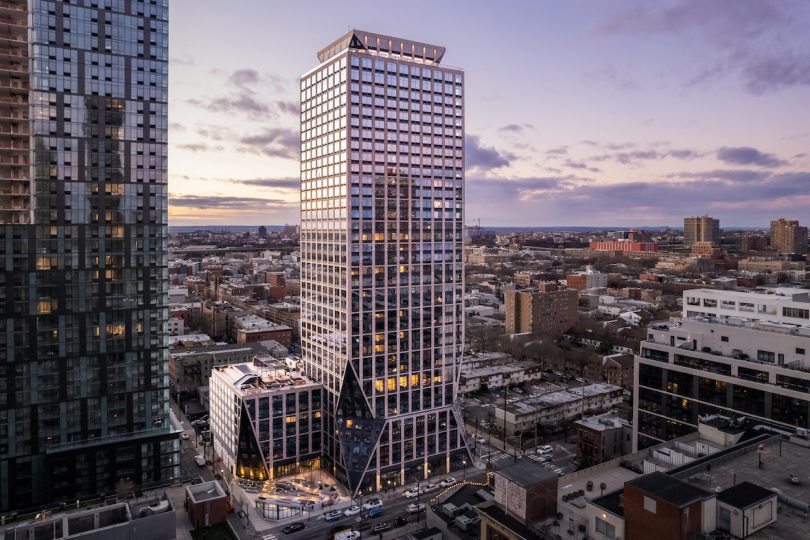 The firm has recently seen the opening of 351 Marin in Jersey City, with a base meant to spur community and public use, as well as 25 Kent, a jigsaw puzzle-shaped office building with a dramatic open passageway. Looking forward, he'll soon see the unveiling of Sky Island, which he calls "the first work resort." In a post-pandemic world, workers not only desire but expect a better work environment, he says: "I cannot wait to release everything about this project," he says of the London space, which will be over 400,000 square feet. "We have suffered through an incredible pandemic, but we also have learned a lot of new ways how we can live, work, connect. It cannot be the same old, same old – it needs to become an aspirational place where people want to be: where they can work together, where they can foster their career, where they can find mentors, where they can learn new skills. People want to be back at work – and that's why we are creating a place that just emotionally captures your imagination. This is where you come to do the best work of your life."
Sounds better than our sofa. To see more, tune in!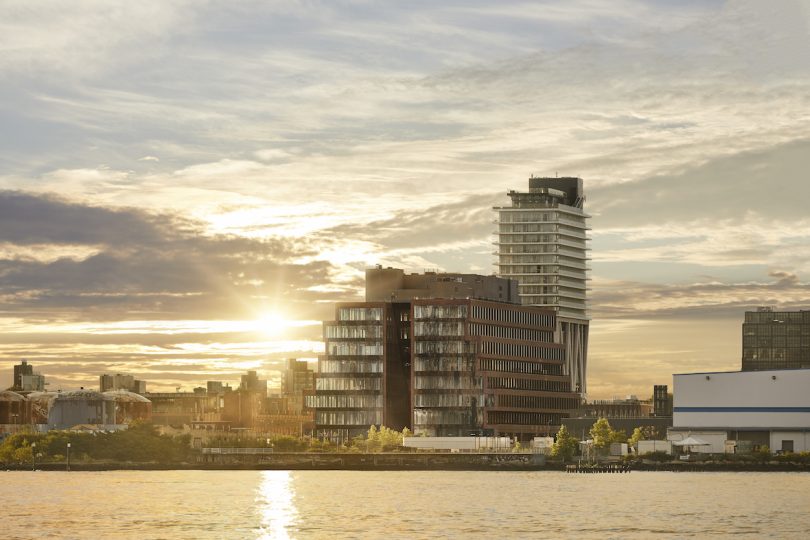 Diana Ostrom, who has written for Wallpaper, Interior Design, ID, The Wall Street Journal, and other outlets, is also the author of Faraway Places, a newsletter about travel.
Milkshake, DMTV (Design Milk TV)'s first regular series, shakes up the traditional interview format by asking designers, creatives, educators and industry professionals to select interview questions at random from their favorite bowl or vessel. During their candid discussions, you'll not only gain a peek into their personal homeware collections, but also valuable insights into their work, life and passions.