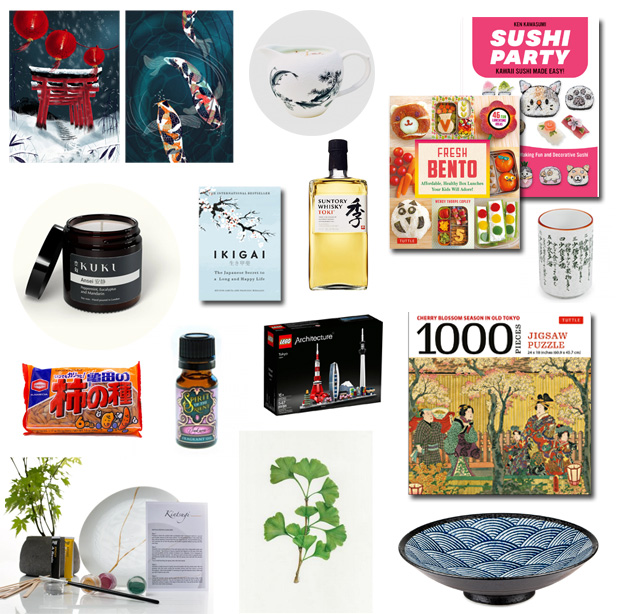 Gifts for People who Love Japan | Japan Lovers Gift Guide
Japan has a special place in my heart. My family spent quite some time in Japan when I was little due to my parents' work and because of that the whole family has an important connection to Japan and love all things Japanese. So much so that I've decided to dedicate a full gift guide to gifts that I think other people who love Japan would love to receive as presents too. If you're looking for gifts for Japan lovers, you have come to the right place.
Let's get started!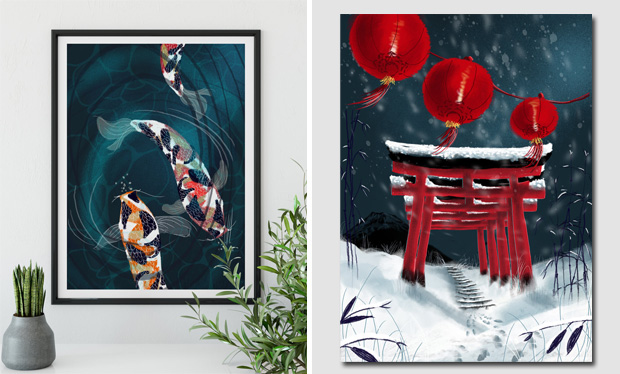 Clare Davis London Japandi Art Prints
Clare Davis is a freelance illustrator and artist based just outside Oxford. Her artwork is colourful and interesting and she loves combining handmade and digital textures to bring her illustrations to life.
She has a range of Japandi illustrations inspired by her love for Japan and they're stunning (as are Clare's other illustrations!). They are hand-drawn Japan-themed prints in beautiful colours and textures. These prints are signed and limited edition of 5 and make wonderful gifts.
Above, you can see  Japandi Koi A2 – A hand drawn illustration of the magical koi carp in Japan, and Japandi Shinto Temple A2 – A hand drawn illustration of a magical Shinto shrine in Japan. Both are printed in A2 size. Find them on the Clare Davis London website.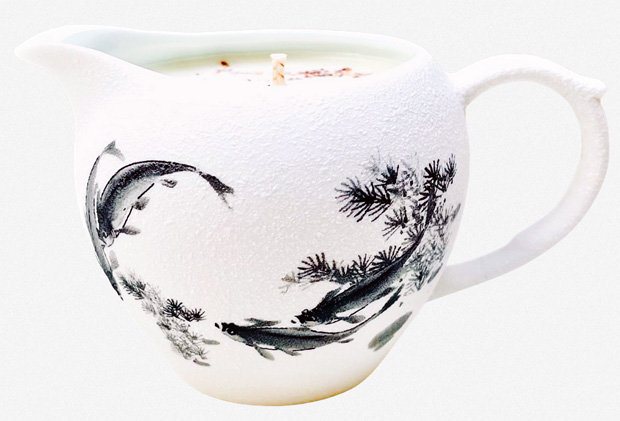 Cockles and Heart One-Off Vintage Japanese Style Candle
If you're looking for a truly unique gift, Cockles and Heart make amazing one-off vintage candles using vintage tins, crockery, china and glassware. They also make wellness tins and refills.
There are currently a few Japanese themed products available, including the gorgeous Leaping Salmon Jug that you can see above. The jug is a high-quality item with a fine textured finish and the coconut, rapeseed and extra virgin beeswax candle has been scented with frankincense, ho leaf, bergamot and lime essential oils. After you've burnt the candle, you can follow Cockles and Heart's candle care instructions to restore the jug to its original form to use it as a jug again. The candle has a burn time of 40 hours.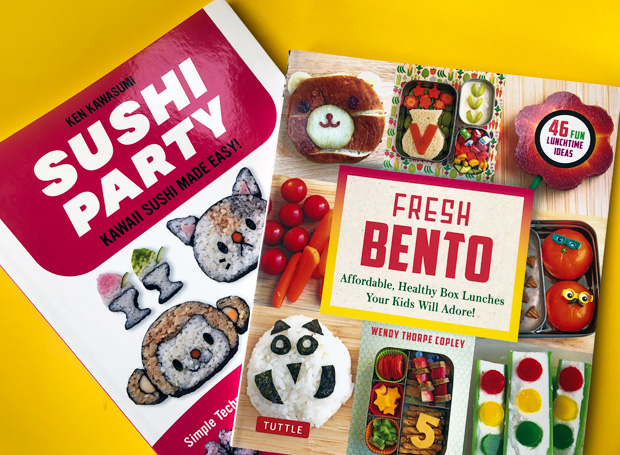 Fun Japanese Themed Books from Tuttle Publishing
Tuttle Publishing specialises in literature from and about different Asian countries have they have a wide range of books with a Japanese theme in all different genres. I can spend hours on the Tuttle website, browsing titles about Japan – there's such a great selection! Above, you can see two fun titles that I've had a look at recently – Sushi Party and Fresh Bento.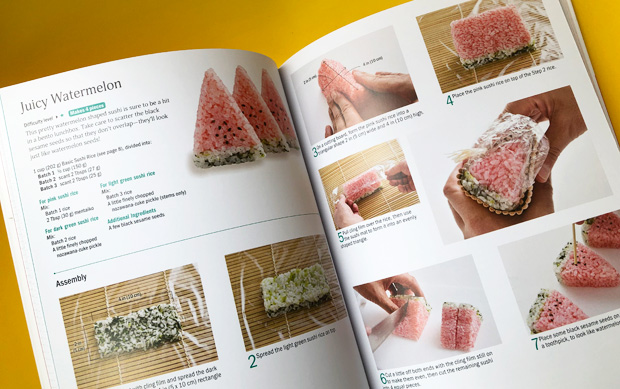 Sushi Party by Ken Kawasumi is such a fun book full of creative kawaii decorative sushi ideas and simple techniques for how to make them at home. There are 55 recipes including designs for lots of cute animals, flowers, colourful rolls, and beautiful sushi rice-bowl art too.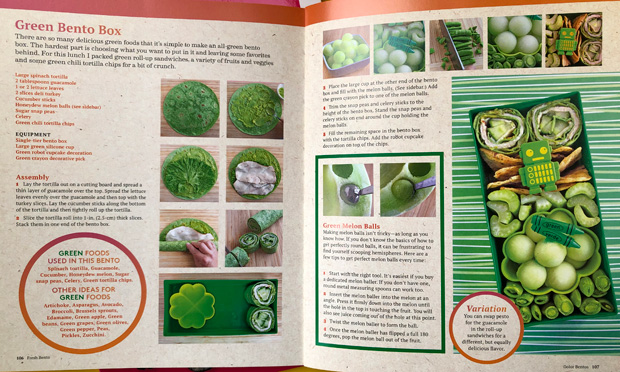 Fresh Bento by Wendy Thorpe Copley is a brilliant book for anyone who wants to make fun and healthy lunches for their kids (or themselves!). This book is full with appealing bento box ideas – over 46 themed options to choose from.
There are lots of different interesting themes and even a bento for each letter of the alphabet, number and colour! Each bento only takes minutes to assemble and is made with simple, affordable and nutritious ingredients into. This book is great for inspiration but also lots of fun to just flick through, looking at the different, very creative bento designs.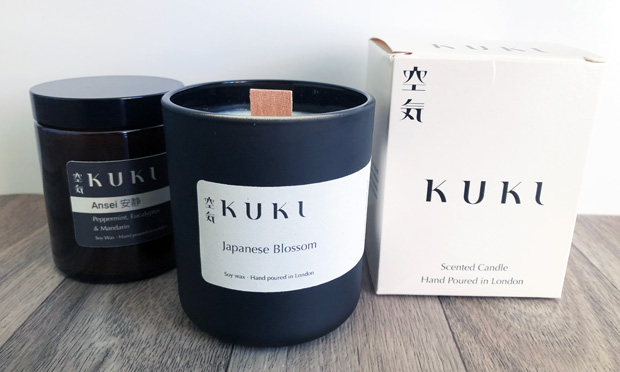 Kuki Candles with Japanese Inspired Scents
Kuki Candles make hand-poured scented 100% natural soy wax candles, bath salts and other scented goods for the home and to enhance relaxation rituals. Their products are natural and clean to be kind to the environment and also to your mind and body. The products are inspired by Japanese wellness practices and traditions. The high-quality products are all made in small batches using premium fragrance oils and pure essential oils.
There is a wonderful range to choose from. Above, you can see Ansei in an amber glass jar with lid and Japanese Blossom in a matt black jar. Some of the candles are also available in larger concrete or coconut vessels.
Ansei is a calming blend inspired by Japanese bathing rituals with Peppermint, Eucalyptus and Mandarin – a blend to soothe and create a comfortable ambience for resting. Japanese Blossom is a sophisticated floral scent inspired by Japanese botanical gardens. It's an exquisite blend!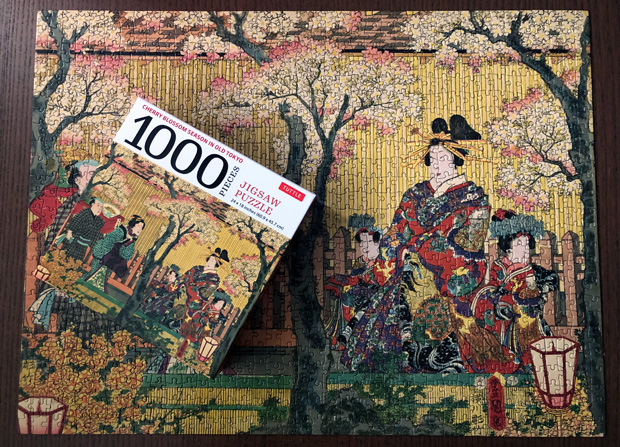 1000-Piece Jigsaws with Japanese Themes
Tuttle Publishing now also has a range of jigsaws, including a bunch of jigsaws with Japanese themes. They are absolutely gorgeous and such a fun gift to give to someone who loves Japan. You can see a few of them here that I did earlier this year and a few more in this post that I have enjoyed building more recently. Above, you can see Cherry Blossom Season in Old Tokyo – 1000 Piece Jigsaw Puzzle.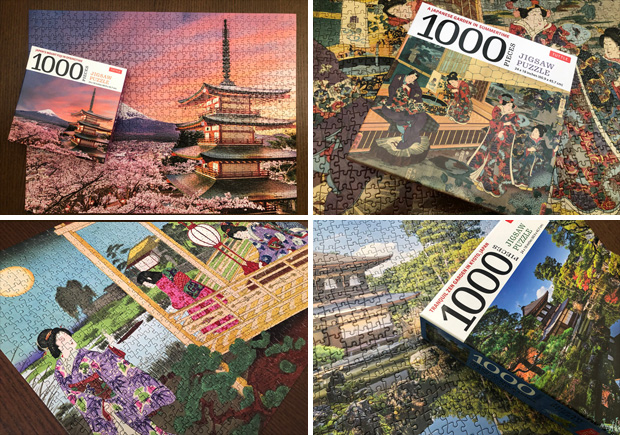 Here you can see:
Japan's Mount Fuji in Springtime – 1000 Piece Jigsaw Puzzle
A Japanese Garden in Summertime – 1000 Piece Jigsaw Puzzle
Viewing the Moon Japanese Garden – 1000 Piece Jigsaw Puzzle
Tranquil Zen Garden in Kyoto Japan – 1000 Piece Jigsaw Puzzle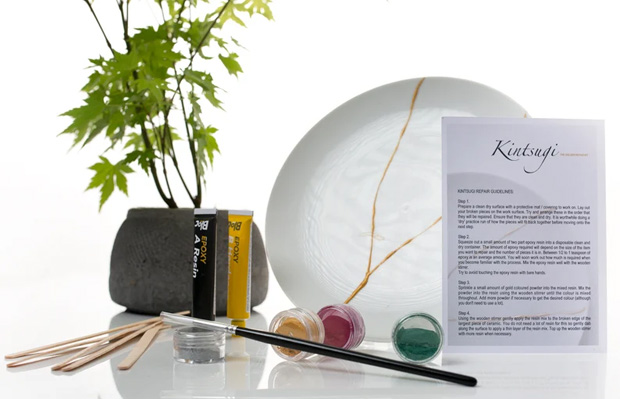 The Wildest One – Kintsugi Craft Kits
Kintsugi is the ancient Japanese art of golden repair, a beautiful way to embrace flaws and imperfections as well as saving items from landfill too by extending their lives.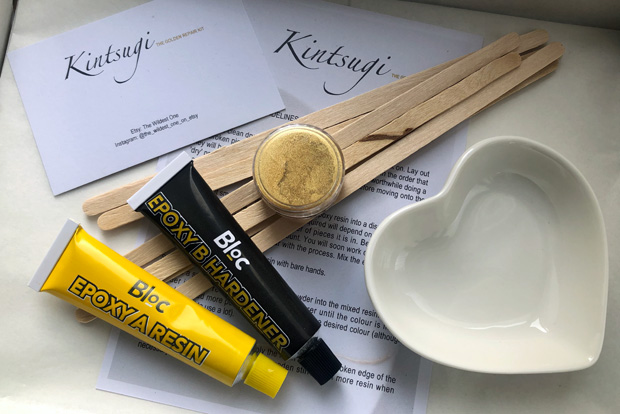 The Wildest One produces Kintsugi art, DIY Kintsugi craft kits and gift kits which make lovely gifts. You can find a range of different DIY craft sets and stunning, unique plates and bowls in the Etsy shop here.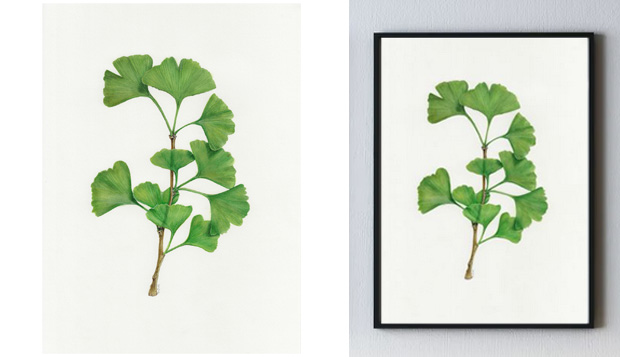 Emma's Botanicals Gingko Biloba Illustration Print
This is a limited-edition botanical print by illustrator Emma van Klaveren. It's hand signed and numbered from an edition of just 100 prints.
Emma van Klaveren has a lovely range of botanical prints and this one features Ginko Biloba which is first believed to have appeared 1,000 years ago in Japan and is also the official tree of Tokyo. I remember it fondly from my childhood in Japan as my sisters and I were fascinated by the shape of the leaves. The print is available to purchase as a download or as an A4/A3 print. Visit emmasbotanicals.com to order.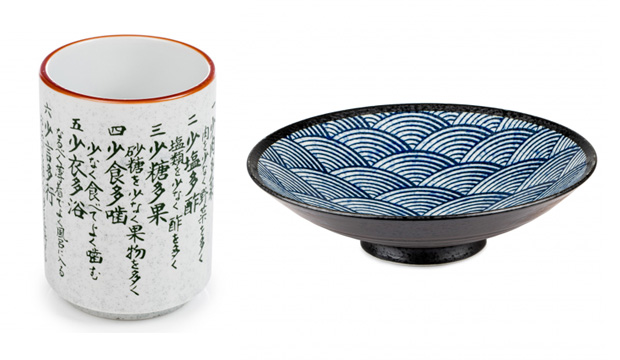 Japanese tableware also makes a great gift for people who love Japan as the beauty of Japanese culture shows in these everyday items too. I love these Kenkou Good Health Japanese Tea Cups that details 10 guidelines for a healthy lifestyle, in Japanese kanji. One of my family's favourite sushi restaurants in Stockholm has these cups to serve tea in so I know they're nice to drink from and great quality.
I also love the look of this Seikaiha Large Japanese Serving Bowl which is very stylish and useful. It's on my personal wish list!

Other fun gift ideas for Japan lovers:
Japanese snacks and treats! Visit your local Japanese food store to select a bunch yummy Japanese snacks, drinks and sweet treats or shop online where you can even find ready made selection boxes.
Give the secret to a long and happy life with the book Ikigai which focuses on this way of Japanese living and thinking.
Is the person you're buying a gift for also into whiskey? Then check out Toki Suntory Whisky Blended Japanese Whisky.
This Lego set featuring Tokyo's skyline would also make a lovely gift.
Give the scent of Japanese cherry blossom with this Sakura Fragrance Oil.
This article contains some gifted items. Everything has been chosen by me to be included in this gift guide and all thoughts and opinions are my own.
The post Gifts for People who Love Japan | Japan Lovers Gift Guide appeared first on A Mum Reviews.