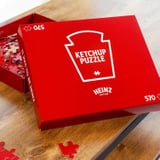 Gather 'round, ketchup-lovers, because Heinz Ketchup is releasing a 570-piece, all-red jigsaw puzzle that has me hungry just looking at it. Basically a headache waiting to happen, the monochromatic puzzle doesn't come with guidelines or a finished image for reference, so good luck solving this monstrosity puzzle without any hints.
Unlike the dreaded all-clear puzzle, all-white puzzle, or color gradient puzzle, this all-red ketchup puzzle can't be ordered online. In honor of the brand's 57 sauce varieties, there are only 57 puzzles available via Heinz's online giveaway. All you have to do to win one for yourself is comment on the brand's puzzle-themed post and explain who you would most want to finish the puzzle with.
As someone who is constantly trying to keep busy while staying at home, I think this all-red puzzle might just become my new obsession, so fingers crossed I can get my hands on one before they're gone! A few have already been given away, so check out the Instagram post above and prepare to potentially be the owner of one of these ketchup-colored creations.