Mothers' Day when your mother has passed on… there are no flowers to send, no cards to mail, no phone calls. But that does not mean nothing to do (not like not writing too many double negatives!).
The first Mothers Day after mom passed on, in my post I lifted the lyrics from the song Motherless Children, (I knew mostly from the 461 Ocean Boulevard album by Eric Clapton, but he lifted it from Blind Willie Johnson, lift it on…).
Now 8 mom-less Mother's Days on, I reflect obviously that having known a mother, you are never motherless. Maybe it's more Not Fade Away (again I knew from the Rolling Stones, but they lifted it from Buddy Holly).
So again, I listen to a few bits of audio stories I recorded with her in February 2011, our last time together. I looked through the old photos, never enough of them. The one I used above was the last photo of her.
When my sisters and I traveled to Mom's house in September 2011 to "pack it up" we found a film camera partly used. We took a few photos at the Sanibel Island beach Mom loved, where we tossed back into the ocean all the shells she had collected. Then we took the camera to be developed, unsure .
On the roll were some photos of Mom and neighbors who had gone to see a minor league baseball game The team then was known as The Fort Myers Miracle, but apparently renamed to be Might Mussels. Little is permanent).
There was also this shot of her dining room table as she left it, with some paperwork, the ancient old metal stapler I remember from the old house, a thank you note ready to be written. So Mom.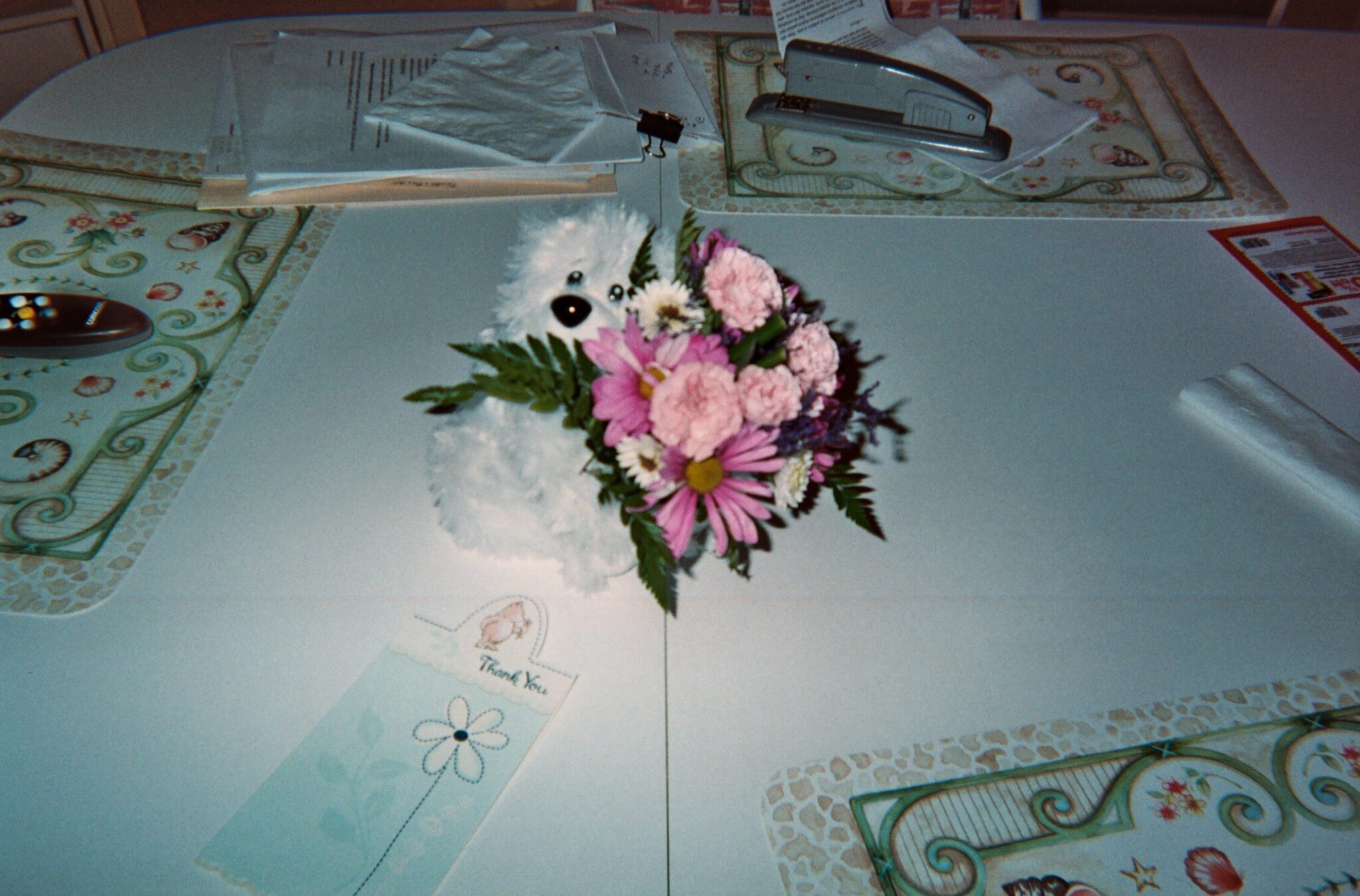 These bits of memories help in wiping that "motherless" phrase from my vocabulary.
Mom often wagged a finger at me and my sisters, saying  "When I am going you kids better be there for each other… " You never expect to do be saying those words in past tense when you are hearing them in the present one. And my sisters sure are, there for each other, even spread geographically.
My sister Judy is an exceptionally caring, tireless, generous and involved mom of her adult children, and in every way is a "chip off the mom block." She and her daughters carry on the chocolate chip cookie thing well. While my sister Harriet did not have children, but she's been a loving step-mom and is also a "chip off the mom block" with her full life, doing post-retirement work in a clothing store (like Mom) and being a jigsaw puzzle demon, but more importantly, just caring so much for people around her.
Last night here at home we had a full day Mother's Day celebration yesterday for Cori. Even in COVID times when it was not possible to buy bouquets of flowers and gifts like usual, Jessy Lee was tireless in doing the errands to set things up and cooking a fabulous meal (my part was making a berry pie), still baking a surprise right at this moment. But oh those moments of story sharing between Cori and her daughter over our dining room table, joyous tears, with flickering candles, and so many Mom stories of adventures and overcome challenges these two did in those many years they were a house of two.
And then there are the "kids" of Cori aka "Momma Saas" to so many of her former and current students. They honored her with attention and gifts, like one from Lane, now a rancher sharing 47 pounds of beef, plus others bringing today giant rocks for our crazy gardens, phone calls, texts.
I know for sure how much Mom would have loved Cori and Jessy Lee, and would want to hear all their stories too. And laugh.
In all this, surrounded by so much "Mother-ness" I am so fortunate, and know it, and can never use the phrase again of "Mother-less."
Happy Mother's Day, my mom and moms everywhere.
---
Featured Image: a bit of photoshop masking and tweening to make Mom fade out and in, from my own photo At the Ballpark. flickr photo by cogdogblog shared under a Creative Commons (BY) license.