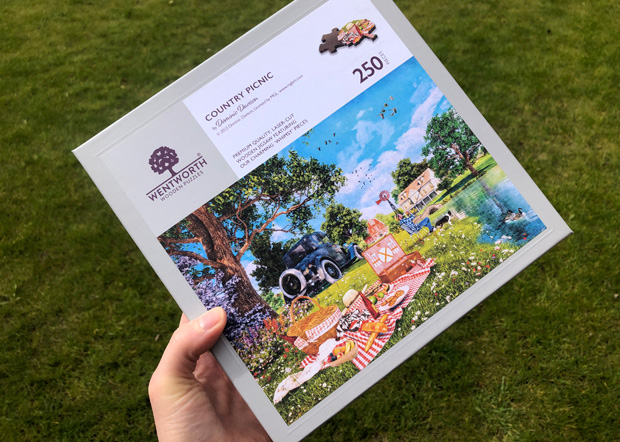 Summer Puzzling with Wentworth Wooden Puzzles
As you probably know, I'm a big fan of jigsaw puzzles and it's something I do all year round after first getting into puzzling during the first lockdown. Some people associate doing jigsaw puzzles with the colder parts of the year – perhaps getting cosy in front of the fireplace, with a cup of hot chocolate and a new jigsaw puzzle to do with a loved one or your own. Sounds lovely, of course, but, for me, jigsaw puzzles are for all seasons.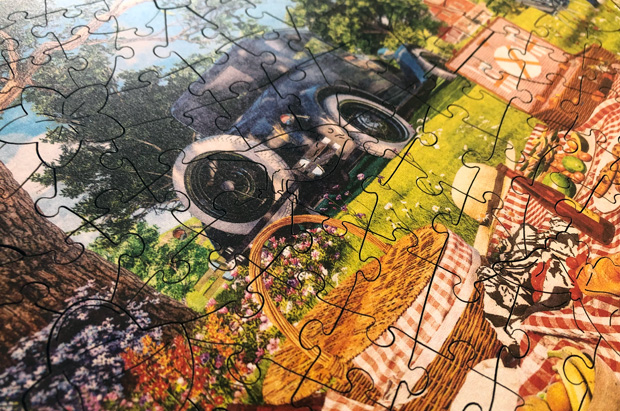 Summer is a great time to build jigsaw puzzles! Not only have you got plenty of daylight for many more hours of the day which is always useful, but you can also have the amazing experience that is puzzling outdoors in the fresh air with the sunshine over your head. That is a wonderful way to spend a sunny afternoon in the garden with your family. You can even make it the activity for a get-together if you have like minded friends who love a jigsaw too. Make some refreshing cocktails to have while you're puzzling together and enjoy! You can build your puzzle at a table or do what we do which is use a tabletop without legs and put it on your lawn so that we can sit on the grass.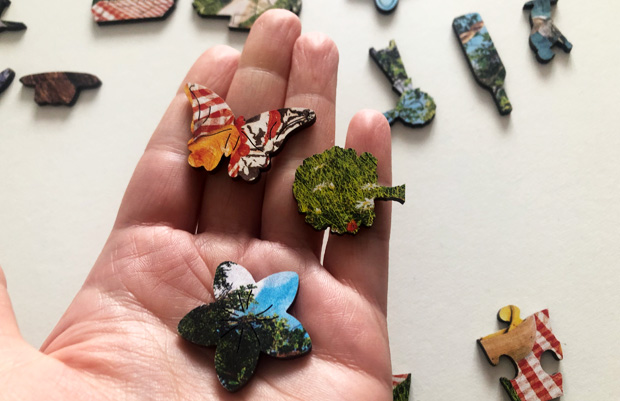 Wentworth Wooden Puzzles is my all-time favourite jigsaw brand. They make stunning, laser-cut wooden jigsaws with irregular shaped pieces and special whimsy pieces (called whimsies) shaped to the theme of each high-quality jigsaw. They are amazing – true family keepsakes to be treasured.
Just in time for the warmer weather, Wentworth Wooden Puzzles has a new Summer Puzzle Collection featuring lots of designs perfect for the season and summer puzzling.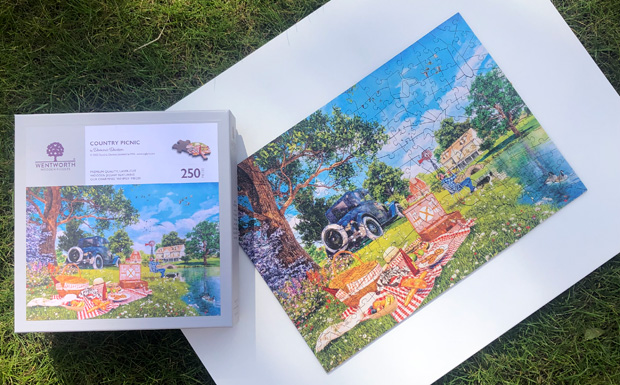 In this post, you can see the beautiful Country Picnic seasonal jigsaw puzzle that we have in 250 pieces. The scene perfectly captures a summer day out with a stop for a picnic feast under the blue sky and green trees and a man enjoying a cold beer and the peace and quiet as he fishes with his dog as his company.
If you haven't considered doing jigsaws as a summer activity, I would highly recommend giving summer puzzling outdoors a go. You'll love it, I'm sure!
This jigsaw was kindly gifted to us for this review. As always, all my reviews are 100% honest and all thoughts and opinions are my own.
The post Summer Puzzling with Wentworth Wooden Puzzles appeared first on A Mum Reviews.