By using this site, you agree to our Terms of Use. This post may contain affiliate links. Read our disclosure policy.  
Follow us on Instagram for more fun ideas for kids!
Get your puzzle game on anytime and anywhere with is amazing portable Puzzle Table that fits up to 1500 puzzle pieces! 
During the pandemic, my family's love of puzzles emerged and it was a great way to bond together as a family. We created endless puzzles and worked with them together. I loved the screen-free time but hated the little pieces all over our dining table! When I saw this portable puzzle table I knew it was the perfect family gift and would help us continue our love for creating puzzles together, anytime.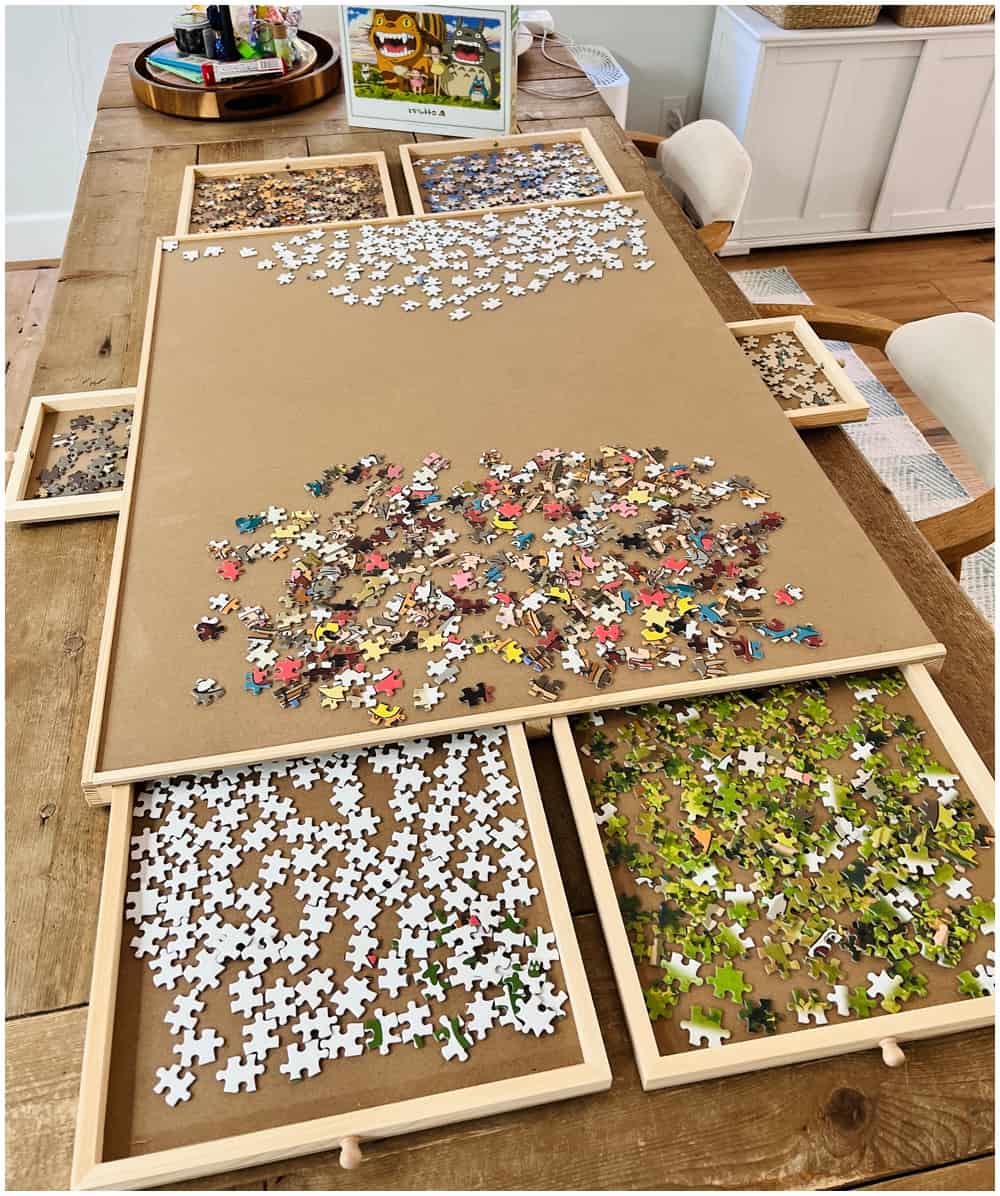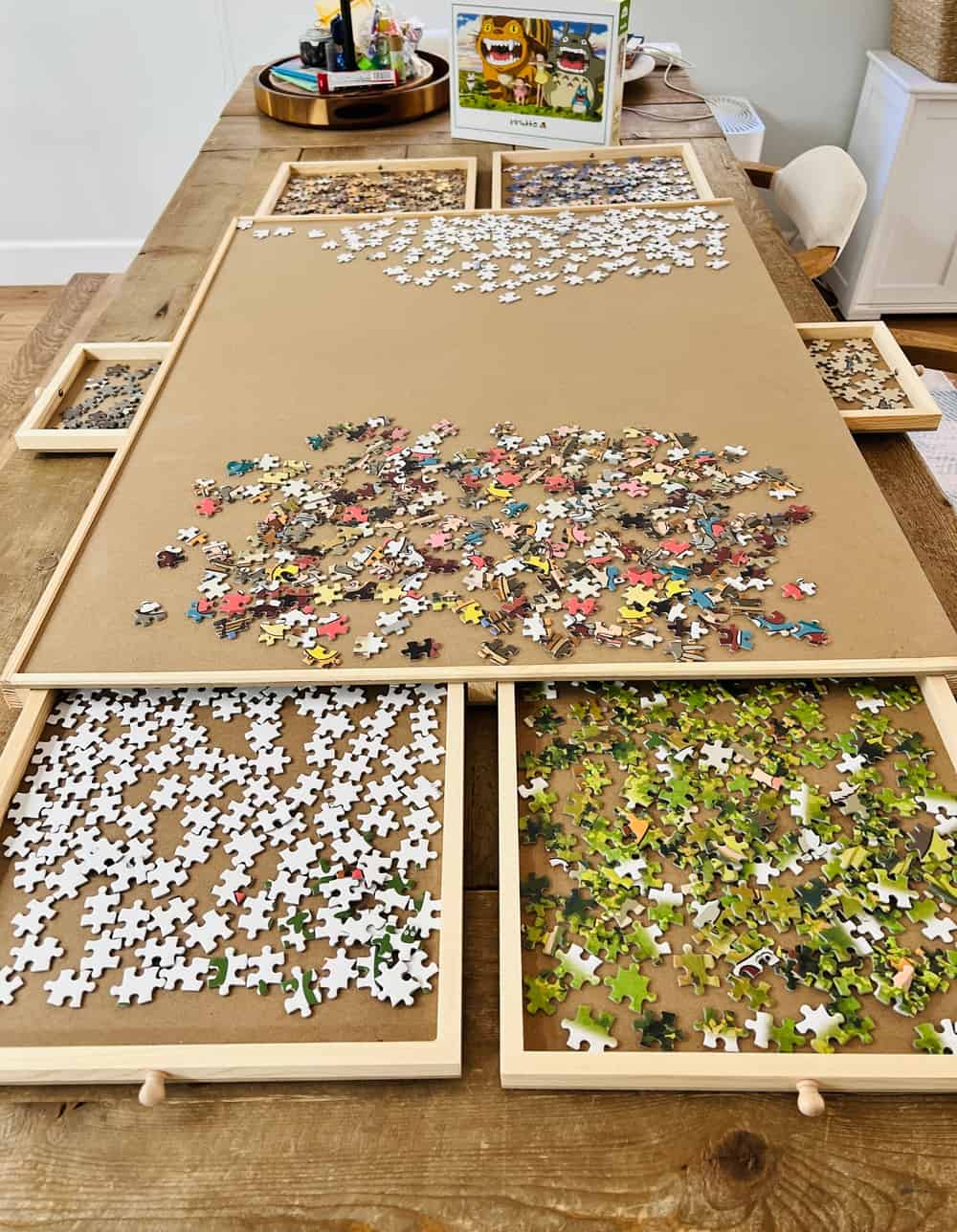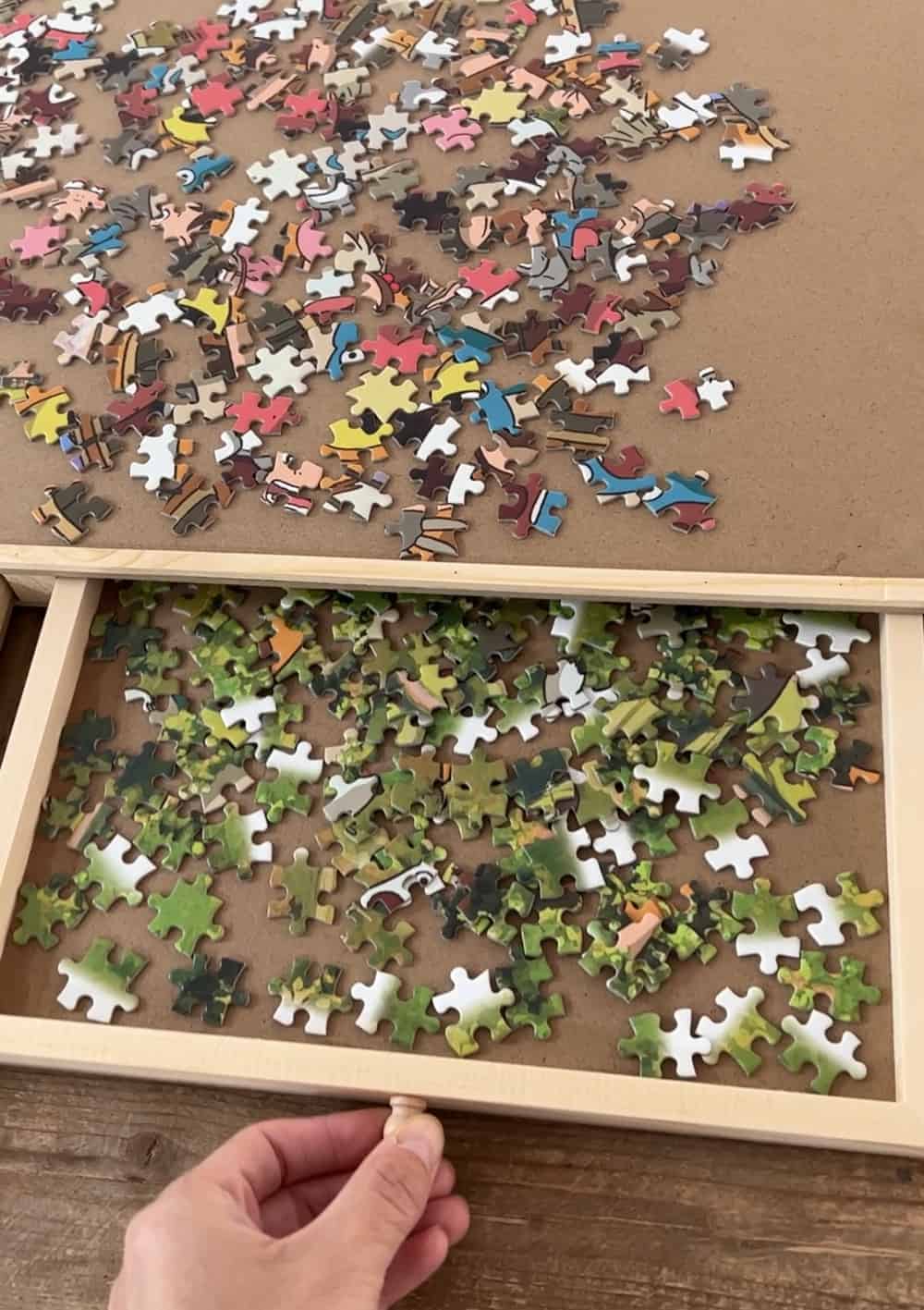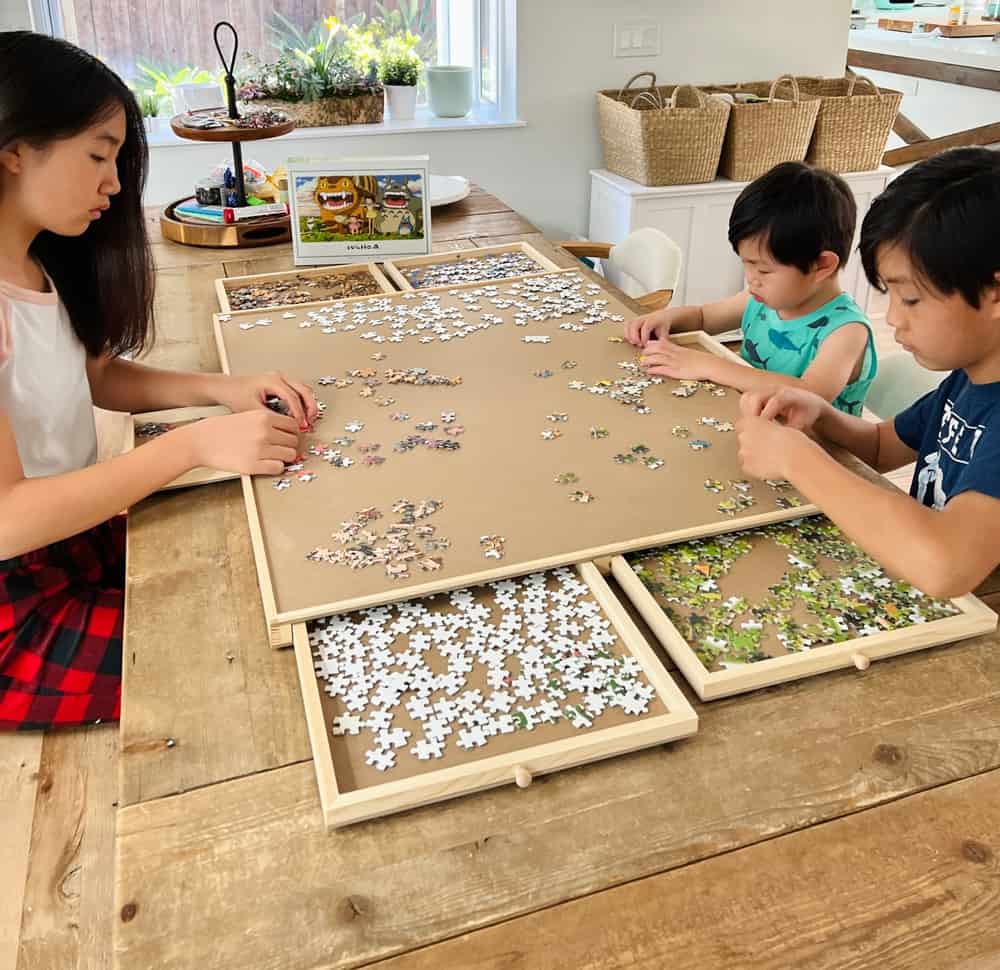 What makes this portable puzzle table so great?
We love the large size and the built-in 6 drawer storage for keeping the pieces intact and sorting them. If you have pets like cats, this is also a great feature to keep them from swiping puzzle pieces! 
We also love the flat and smooth surface, great for laying and keeping your puzzle pieces flat. This makes it a breeze to add puzzle tape or glue afterward. Our wooden table is bumpy and made of salvaged wood so I didn't realize how helpful it was to have a smooth surface for puzzle making!
The matte wood – similar to finished plywood is also great for keeping the puzzle pieces in place and not sliding around like if you had a shiny coated veneer table. 
Last we love that it's easy enough to fit off the table and place it anywhere for storage or to finish it off in another room in the house like the living room instead of the dining room.
How big is a puzzle table?
The size of the one we got is a pretty large wooden jigsaw puzzle table and sits at 27" X 35." You will definitely need a surface area for that size to fit on like your dining table or on the floor. 
There actually are other puzzle tables that fit 1000 pieces but in reading some of the reviews, some people complained the size for that was too flush for a real 1000 piece puzzle. Since we mainly solve 1000 pieces, we decided to go a bit bigger to not run into this issue and also give us the flexibility for a large puzzle.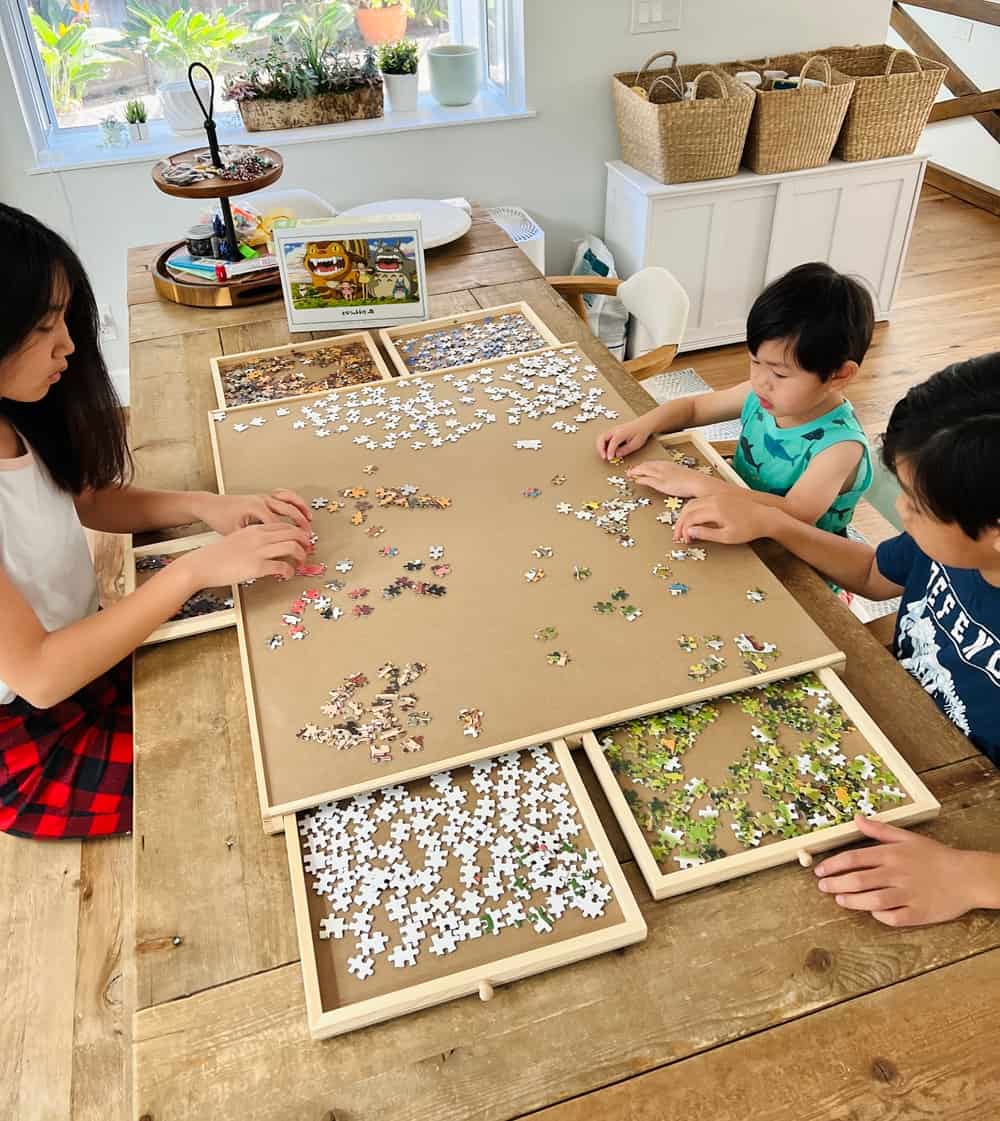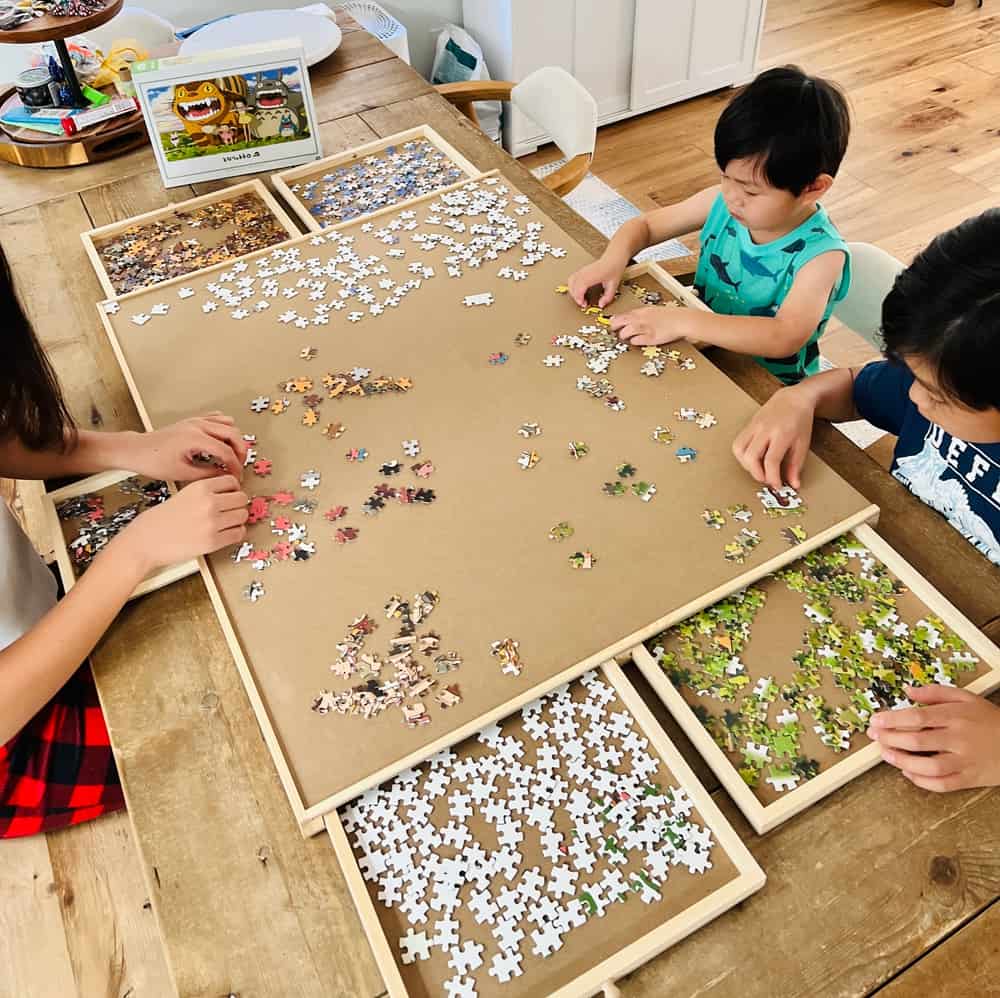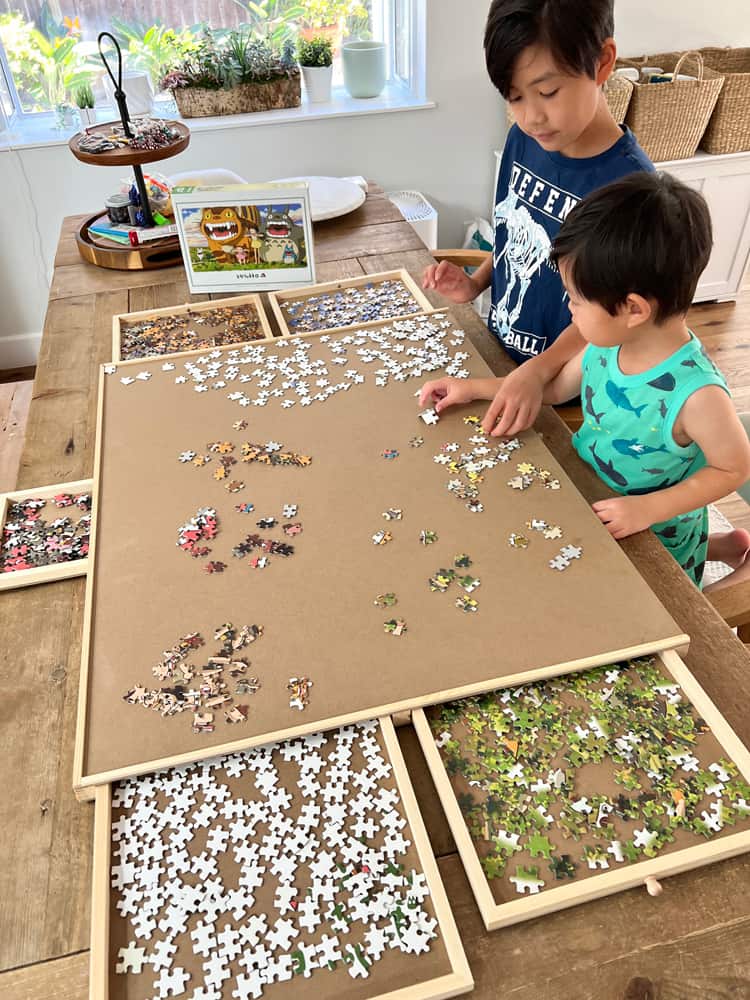 How big of a table do you need for a 1000 puzzle?
The size we saw for 1000 piece puzzle tables were around 22″ x 30″ and only featured 4 drawers (not 6 like ours) like this 1000 piece puzzle table. 
Overall we are pretty happy with our new jigsaw table and hope that it leads to a lot more puzzle solving as a family!
You Might Also Like
The post This Puzzle Table Is The Perfect Screen-Free Family Activity appeared first on hello, Wonderful.