With the easing of domestic travel restrictions in China, last week, my parents, a few family friends, and I toured the city of Luoyang (洛阳) in central China, about 800 kilometers away from Beijing. Situated in Henan province, Luoyang is the second biggest city in Henan by land area and population, after the provincial capital, Zhengzhou. We soaked in history and culture, met the amazing locals, and took our minds off the gloom and doom that is the year 2020. We had an amazing time there, and it was an overall eye-opening experience. Below, I chronicle some major experiences in a little diary I kept throughout the trip.
---
Sunday, August 23
We departed from Beijing to Luoyang in the afternoon by high-speed train at exactly 3.43pm. The whole experience was very smooth and on-time; while I had to wear a mask throughout the whole day, I didn't have to show my Health Kit or any health code, even while entering Beijing West. The train ride was very comfortable, as we sat back and cruised through the countryside at 300 km/hour. The train routed through neighboring Hebei province and stopped in a few cities like Baoding and the provincial capital, Shijiazhuang. We then crossed into Henan province, stopping in a few smaller cities before arriving at Zhengzhou, and finally, at around 8.10pm, Luoyang.
Monday, August 24
We meet with Lisa, our tour guide. From the outset, she strikes us to be a very knowledgeable guide, especially on Chinese dynasties and rulers. Lisa was born and brought up in Luoyang and has been doing Luoyang tours since 2002. She's extremely professional and accomplished, along with our tour van driver, Mr. Fu.
Fun Fact: Luoyang is one of the four great ancient capitals in China, along with Beijing, Nanjing, and Xi'an. Though it may not be mentioned a whole lot in Chinese history and culture discussions, it was the capital for 13 dynasties, such as the (possibly mythical) Xia, Eastern Zhou, Han, and Tang dynasties.
We first head to the White Horse Temple (白马寺,báimǎsì). Constructed in 68 AD, it is considered by many to be a "cradle of Chinese Buddhism." It's a huge place, with many halls containing statues and busts of different buddhas. The experience is similar to the one you get at the Lama Temple in Beijing. The name of the temple comes from the two white horses that carried Indian monks Kasyapa Matanga (摄摩腾, shèmóténɡ) and Dharma Ratna (竺法兰,zhúfǎlán), Buddhist scriptures, relics, and statues from present-day Afghanistan to spread Buddhism in China. The temple also participates in international cooperative projects, most recently with India when a Sanchi Stupa was erected in 2008. Being from India, it was great to see our country interacting culturally with China in such spiritual and mystical ways.
We have dinner at a Haidilao next to our hotel. Incidentally, it was the first time all of us had been to a Haidilao, and the proactive service by the waiting staff was a refreshing change of pace none of us expected. We went for the broth with green chili peppers and Sichuan peppercorns. Eating lamb, fish, tofu, and veggies from that broth was an out-of-body experience: probably one of the spiciest meals I've ever had.
Tuesday, August 25
After brekkie at the hotel, we visit arguably the city's most important landmark: the Longmen Grottoes (龙门石窟,lóngmén shíkū). These are many caves containing some of the finest Buddhist stone sculptures you will ever see. It houses many statues of Shakyamuni Buddhas and his disciples, and the caves that contain these sculptures were dug from a 1 km stretch of cliff running along the banks of the nearby Yi River. One of the caves Lisa took us to contained 15,000 sculptures alone. The whole scenic natural environment made for some excellent photo and video shooting opportunities.
Wednesday, August 26
It's our final day of exploring the sights of Luoyang, and we saved the best for last: the world-renowned Shaolin Temple (少林寺,shàolín sì). Now, truth be told, two days before we headed out to Luoyang, I didn't even know the Shaolin Temple was located in Henan province, let alone near Luoyang. But since a visit was included in our itinerary, I figured it was absolutely worth exploring this monastery that is a melting pot for Chinese martial arts.
The Shaolin Temple is in the Song mountains of Dengfeng county, a 55 km (or two to three-hour drive) from Luoyang. The name of the temple comes from the mountain's Shaoshi (少室, shǎoshì) woods where it is located.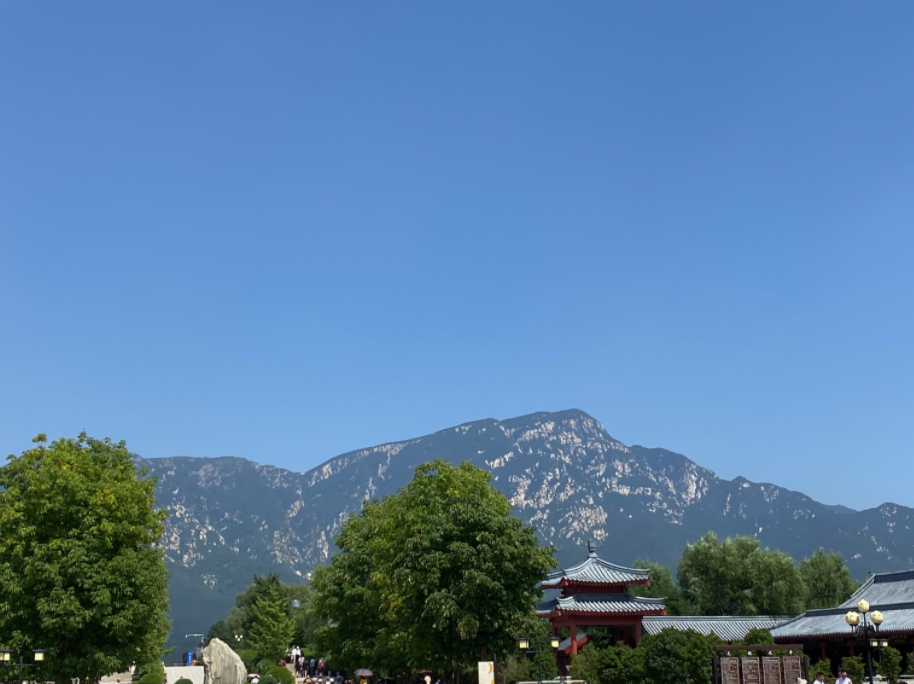 READ: Float Lazily in a Sea of Clouds During a Weekend Trip To Wuling Mountain
This article originally appeared on our sister site, beijingkids.
Images: Pranav Sundararajan