Do you have a place where every device in your home sits while charging or do you keep chargers in different rooms throughout the house?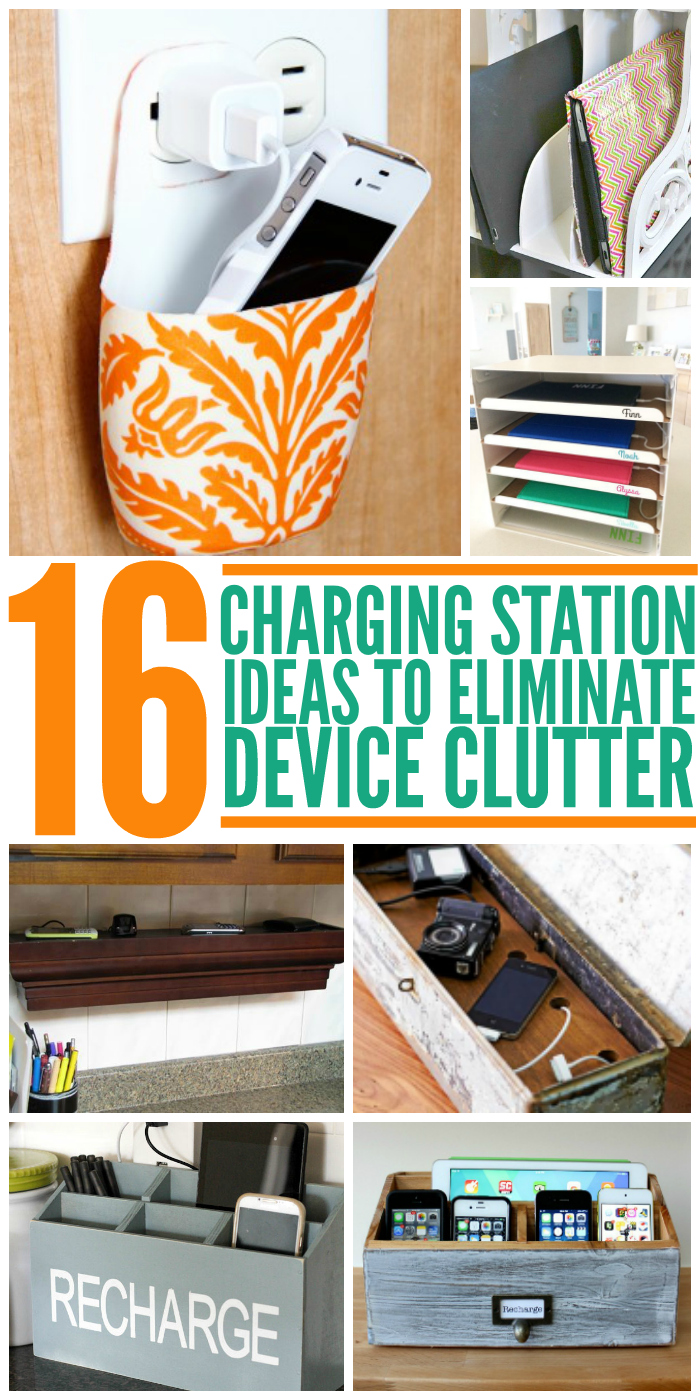 DIY Charging Station Ideas
With your devices tucked away in a drawer, you'll never have to see all those ugly cords and wires while you're charging. It's time to get your ducks in a row without spending too much!
No matter what your answer is, the fact remains, all chargers create unwanted and unnecessary clutter. Nowadays, electronics seem more like a need instead of a want, with this, it's inevitable for the chargers' mess to get out of control, especially when there are kids at home.
The cords scattered everywhere are such a tacky eyesore but what other option do you have? Aside from that, the physical mess it brings can (most of the time) lead to mental clutter. And the quickest way to kill one's mood and productivity? Messy environment.
Turns out there are dozens of options to rid your home of charger clutter, all of which are extremely clever and super easy to do. To make it easier for you, we collected the best charging station ideas to get rid of the unwanted device clutter! Lucky you!
While we only had room for 19 charging station ideas, we picked the ones that are sure to help you get the charger clutter under control for good. Because none of these tips will matter if they don't get you to take action (just because they are too complicated to follow), right? They are super simple that you can do them even if you aren't creative at all.
Without further ado, let's dive on in! With these solutions, you can bid goodbye and never have to deal with the awful sight of cables and wires again!
Physical clutter can lead to mental clutter when not managed properly
Charging Station Ideas for Multiple Devices
Let's start with those that are ideal for a family.
1. Mail organizer
Convert a mail organizer into a simple charging station by simply drilling a few holes into the back to reach the cords through and hide them.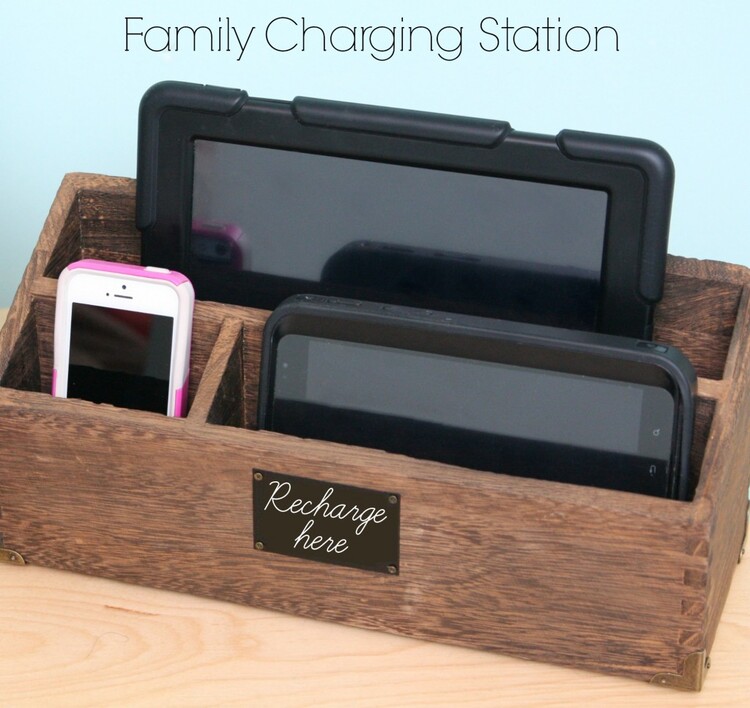 2. DIY from scratch
Here's a similar charging station made from scratch. Use it as a template to create your own customized charger that fits your needs. Great thing about creating something from scratch is you're able to personalize and design exactly the way you want it done.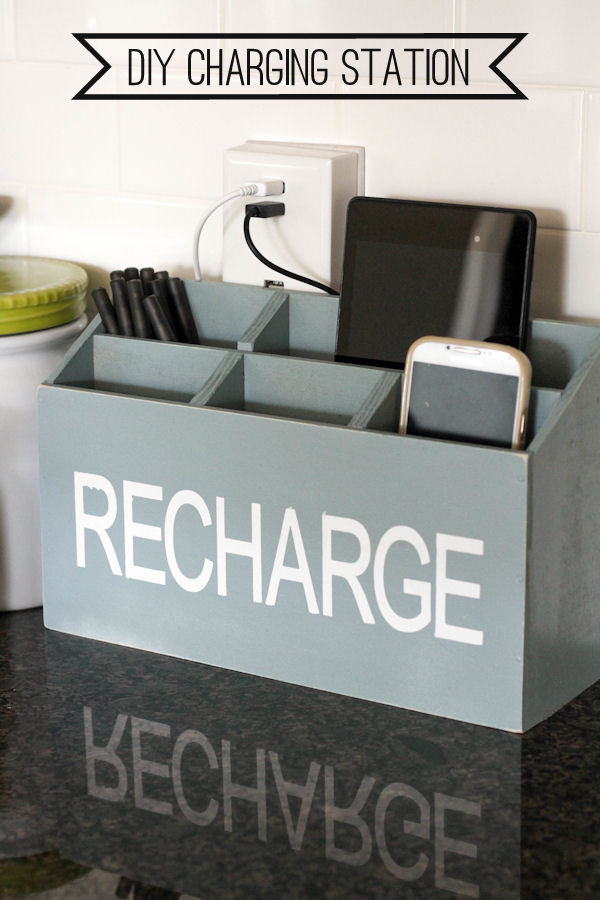 3. Unused breadbox
Have an old breadbox that you never put bread in? Turn it into a charging station complete with a power strip to charge multiple devices. Now that makes it look neat!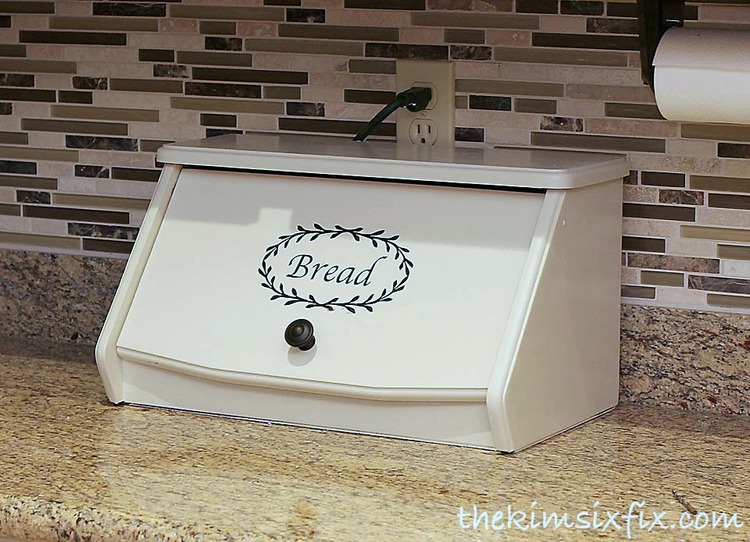 4. Antique box
Draw a hole into an antique box, and insert a power strip to create a charging station that looks charming and blends in well with your decor. Customize and play around with the design if you like! Get as crafty as you can be!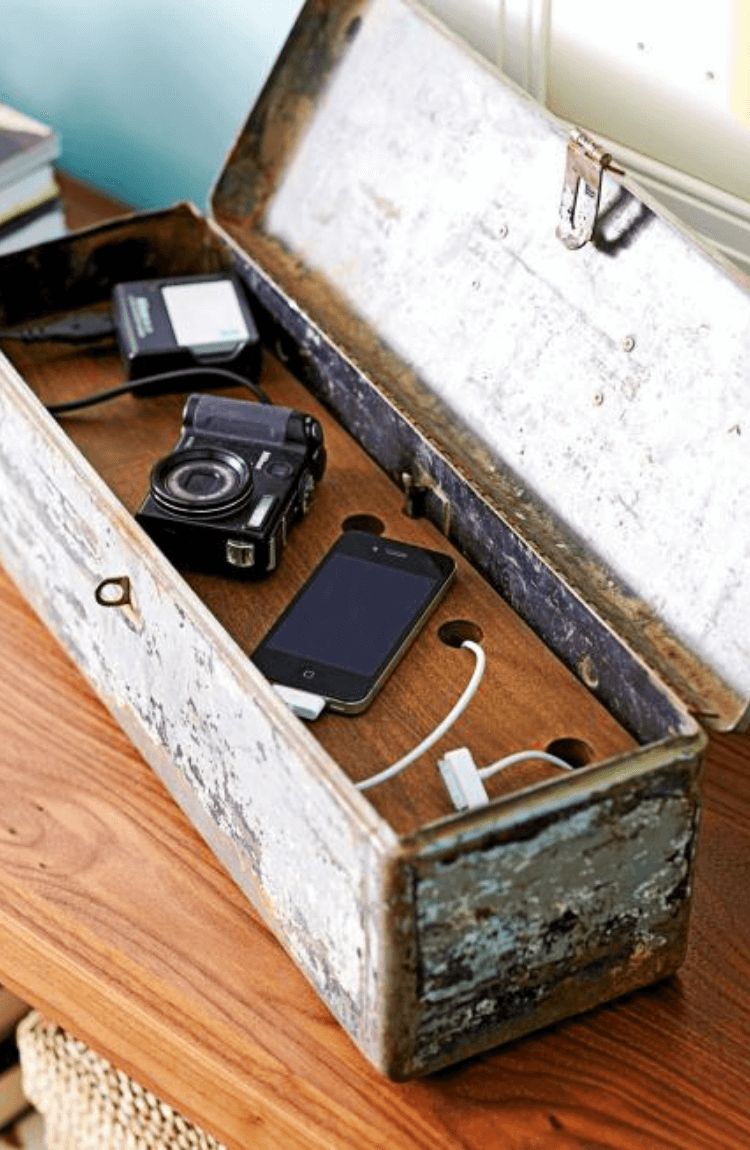 5. Magazine rack
Have an old magazine rack you're no longer using? Turn it into a tablet charging station. There's plenty of room! You can also put additional dividers such as illustration boards so you can store more devices. Cool!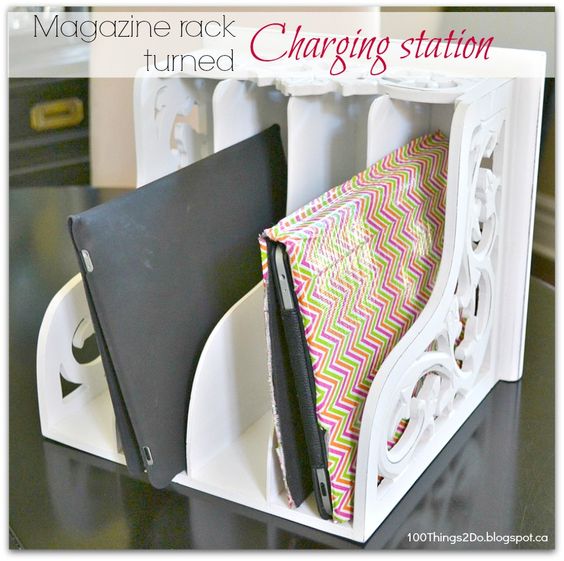 6. Shoe box
This blogger tackled her cord clutter with a shoe box, a power strip and pretty paper. What an excellent way to store your extension! Looks tidy!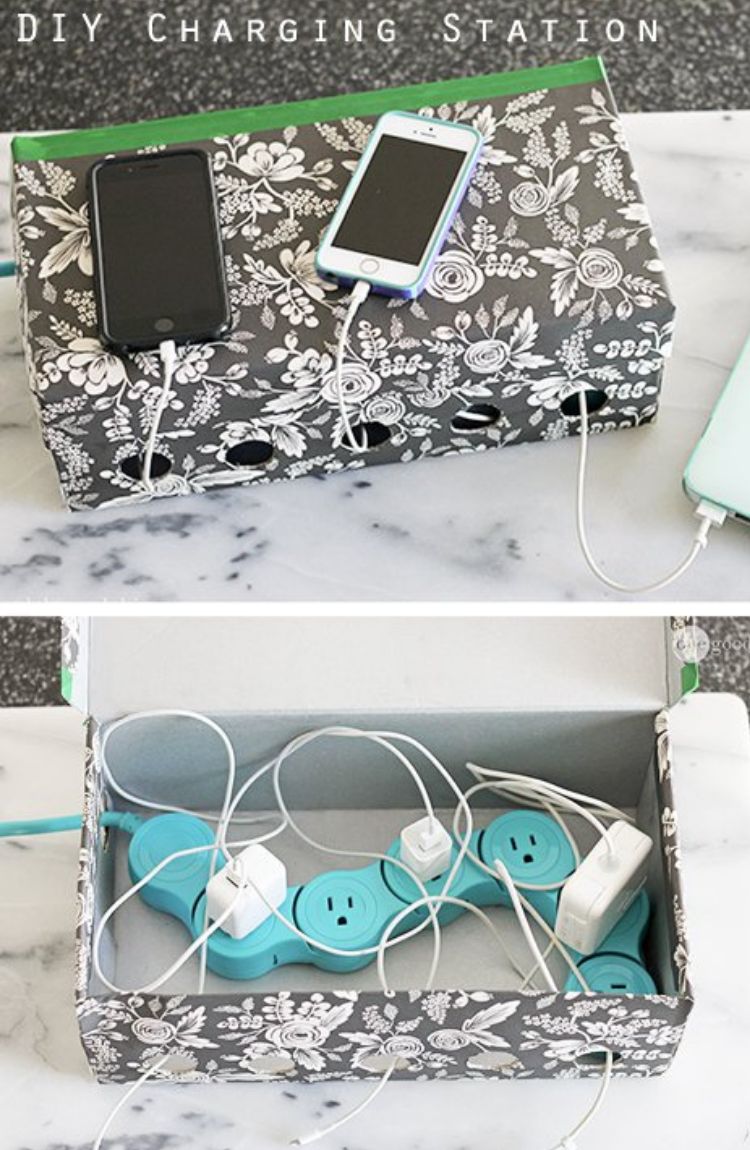 7. Stylish shoe container
If you are someone who cares about both functionality and aesthetics, this other version of DIY charging station made from shoe box is for you. Feel free to go all stylish and add a flair of your personality to it! You can even ask your kids (if you have) to help you put some colorful doodle on the box. Kids love it when they are involved in such projects!
8. Homemade wall-attached charging station
Where are the minimalist pips? Do you consider yourself one? If so, you should see this wall-attached sleek DIY station idea from Tidbits Planners. It could be the best option for you! It looks neat and organized. The only catch is, you would need to do a slight drilling here and there. But if you are up for the challenge, go ahead!
9. Cheap basket
Want a cheap ready-made solution? Look for one of these inexpensive baskets to hold your devices and chargers. If you aren't a fan of DIY stuff but would love to keep expenses low as much as possible, this is a great option!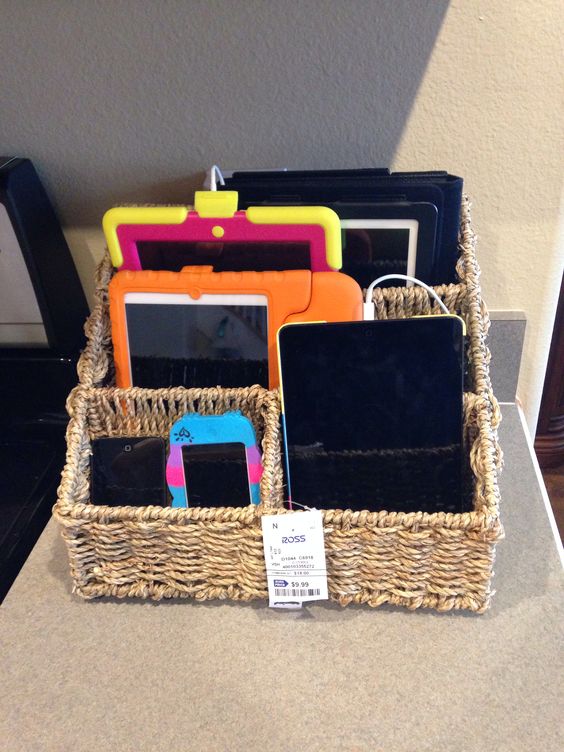 10. Wooden letter tray
Here's another letter sorter turned charging station. Check out the outlet converted into a 4-port USB charger, too! Smart way of hiding the ugly cables!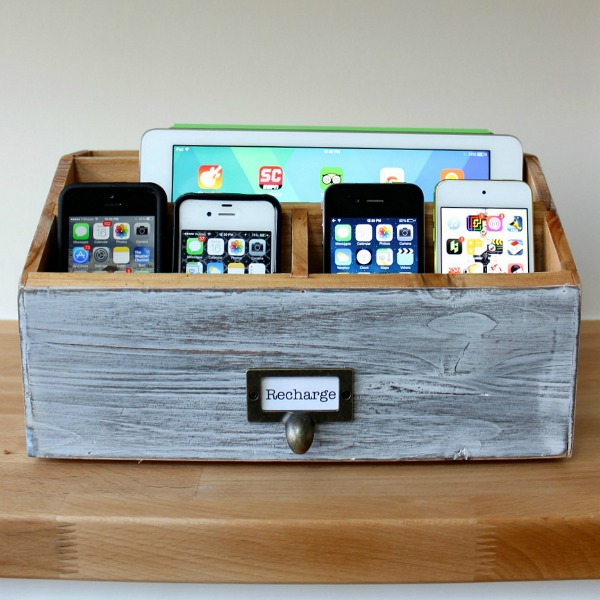 11. Another letter-organizing tray idea
A letter sorting tray makes the perfect tablet charging station. There's plenty of room and space to add name labels so the kids are never arguing over which cord belongs to whom. You hit two birds in one stone. How cool is that?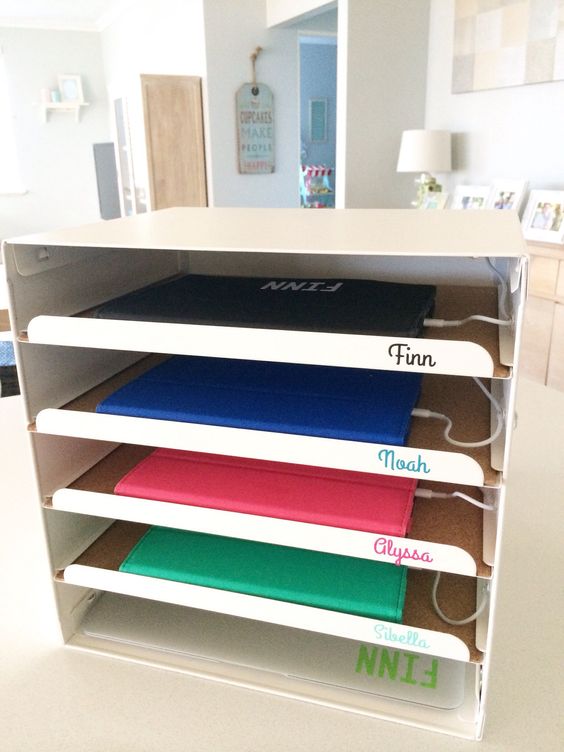 12. Wall-mounted shelf
Clear up counter space with a wall-mounted charging station. This smart homeowner used a ledge shelf and command hooks to create a custom charging station that fit the needs of her family. Awesome!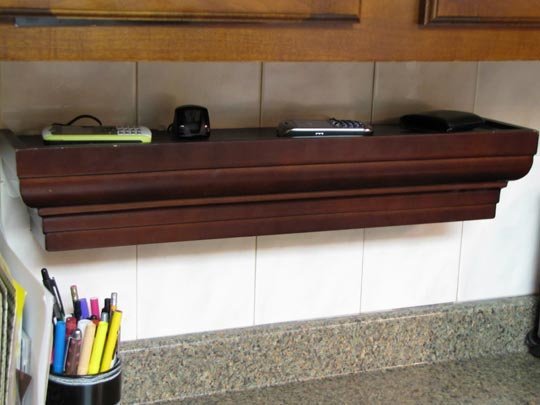 13. Desk organizer
Turn a desk organizer on its side to create a charging station for just a few buckets. It allows space for a variety of devices. Goodbye tangled cords!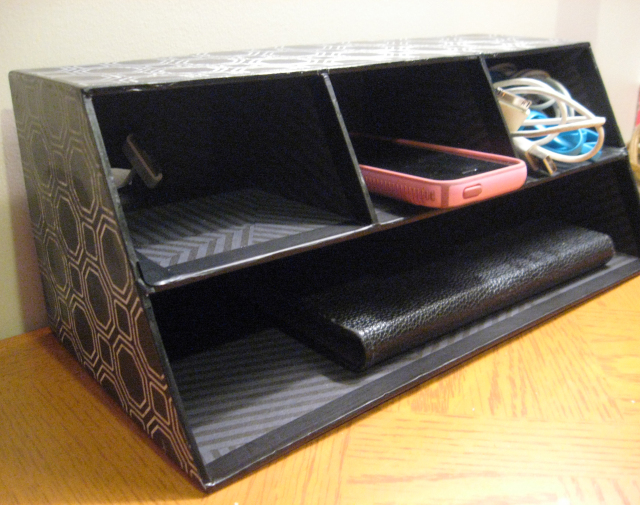 14. Book shelf
Create a dock for all your family's devices using a shelf, a basket (for the power strip) and some dividers. It's a semi-DIY option but it's worth taking a shot!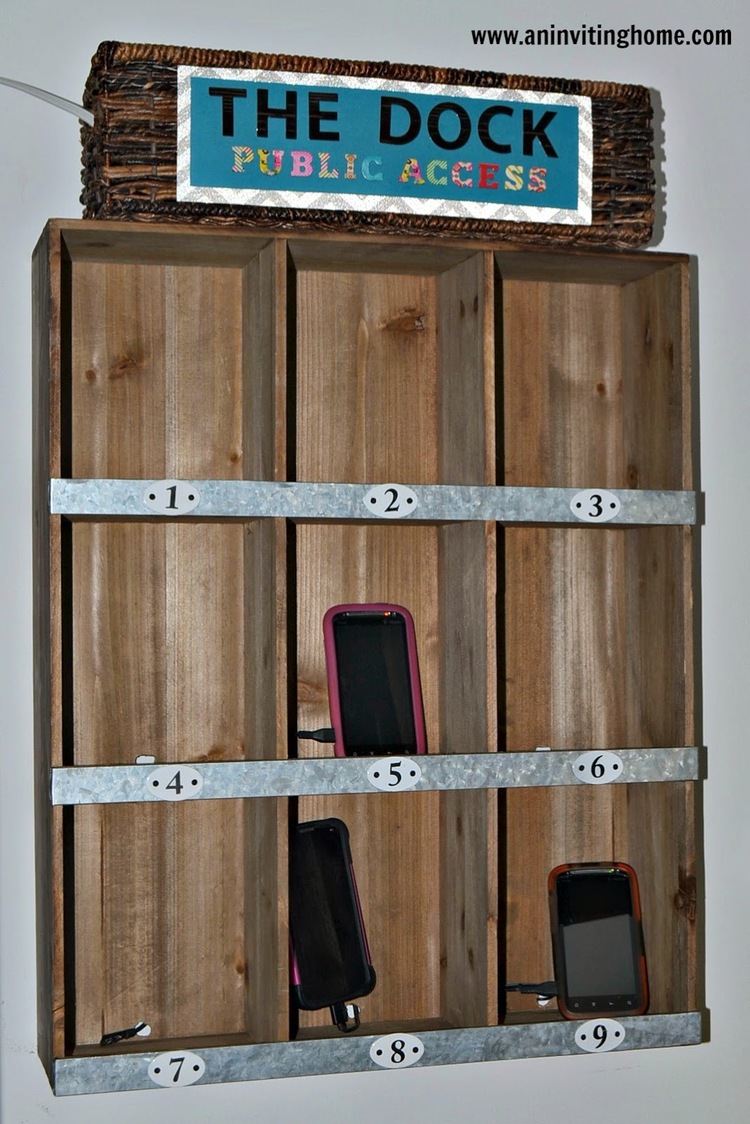 15. DIY lockers
These mudroom lockers have charging stations built in to each section. If you're considering a similar setup, give this idea a try! Talk about permanent solutions for electronics clutter. This is ideal for a family with 2 or more kids at home. Don't have kids yet but planning to have some in the future? Save this idea for inspiration.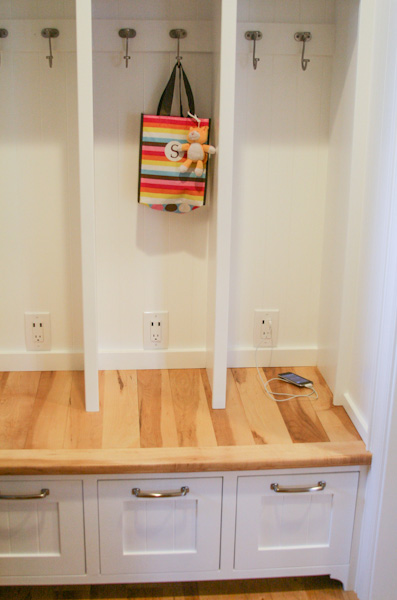 16. Picture frame
Who said you cannot use a picture frame as a charging station? Instead of letting that picture frame collect dust, why not turn it to something useful? This is the amazing walkthrough on how to do that exactly.
17. Caddy
This silverware caddy will require a li'l bit of skill and labor, but in the name of eliminating device clutter, it's all gonna be worth it! Takes only 10 minutes of your time or less if you are used to drilling, but the impact will be for the long term. Good investment, isn't it?
Single Device Charging Station Ideas
18. Plastic bottle
You can't get much more frugal than using a plastic bottle to create a charging station. It's easy and environment friendly, plus, plastic bottles are everywhere — there's probably one in your fridge right now! It is something you can immediately do right after reading this blog!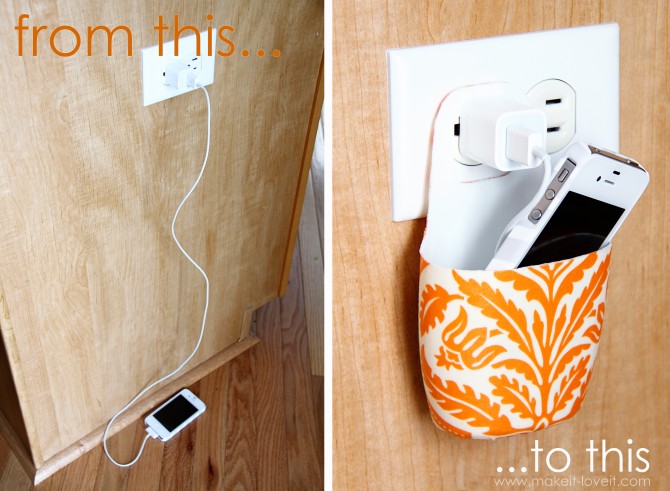 19. Book
You'd never know at first glance that this book is really a single device charging station. You won't even have the slightest hint that it is. Very creative way to disguise your charging station, huh?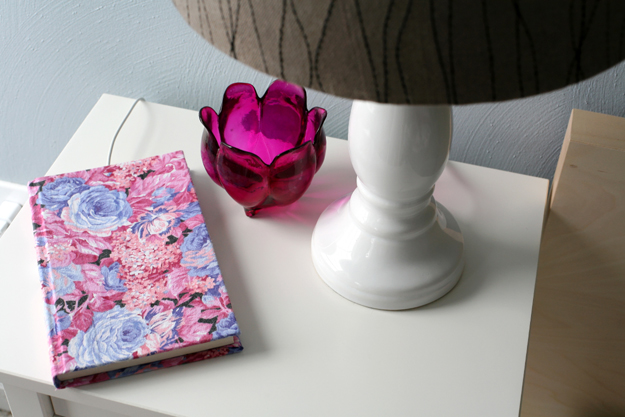 Bonus Ideas to Sort your Cables
The easy fix
Want a quick fix? We get it if your schedule is tight and there's no way for you to squeeze in the time to do any of the mentioned above. Here's a fast and clever hack in using a binder clip to keep your cables organized and attached to your desk!
The not-so-glamorous solution
Another fantastic option is to repurpose a tissue holder into a cord organizer and label each holder to prevent confusion like what Lindsay of "The Crazy Organized" blog did. Who would've thought a tissue roll which most people discard right after use can save you from a cable chaos, right?
Now you don't have to move a million cords and devices just to use the kitchen counter. Nor do you have to continue tiptoeing around rooms trying to avoid tripping over chargers— it's funny, but it happens.
With these solutions you free up space all while making sure your device is charged for the day. All of these are pretty easy and fun to do. We made sure to only include the simple ones in our list so you can effortlessly follow the steps. Most of the materials here are even at your home already, so you really don't have to spend a single penny.
Yes, there are many products out there you can buy that can help you with the cord issue, but if you love to DIY stuff or you are someone who wants to keep everything on a budget, the ideas above are more than enough to supply you with inspiration.
Not only will these help you clear up the mess, you can also prevent any possible hazardous incidents that may happen in the future such as getting electrocuted with damaged wires. The chance is slim, but it's better to be careful anyway, do you agree?
Which of these ideas compel you to take action? Let us know by commenting down below! We love to hear if you'll include any of these in your next project.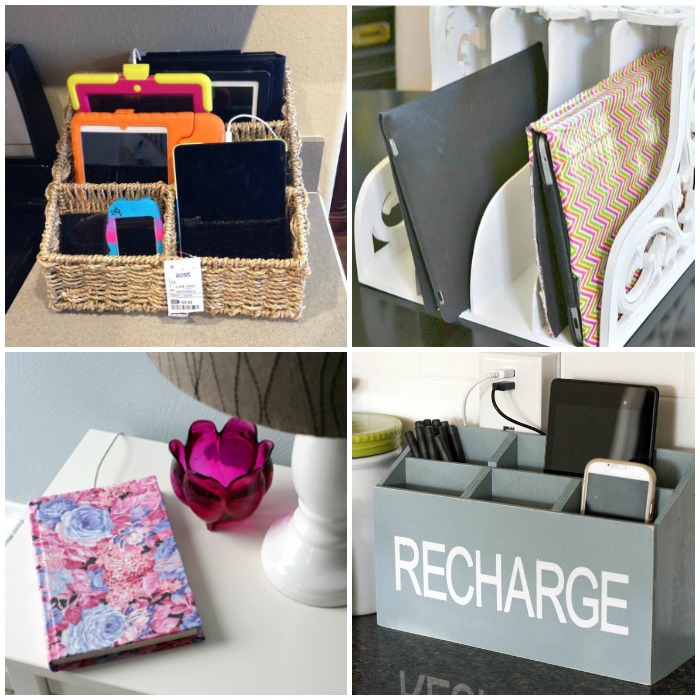 If you enjoy these cool organizing ideas, check out these similar articles you might also be interested in:
1. Crazy Awesome Gadgets for your Phone
2. 18 Clever Hidden Storage Ideas to Hide Clutter
3. 18 Of The Best Gifts For Teens That You Can DIY
4. 17 Clever Organizing Tricks You'll Wish You'd Known Sooner
5. Backup & Charge Your Phone without the Cloud (and those monthly fees)
The post 16 Charging Station Ideas to Eliminate Device Clutter appeared first on DIY House Hacks - One Crazy House.