Sometimes living in an apartment or studio forces us to get creative with space-saving tricks. We've compiled a bunch of small room ideas to get you inspired because small spaces doesn't have to mean you have to leave behind your favorite things or that you have to live without the essentials.  Small spaces like apartments, condos, dorm rooms, and more just mean you have to think outside of your smaller space!
Ways to Organize Small Spaces by Creating Storage Space
Living in small spaces is awesome! In most cases, it's less space to get dirty (translated = less space to clean). More importantly, it's less costly to decorate and easier to maintain. But maximizing that space can be difficult. If you live in an apartment or a tiny house, you need to check out these creative small space ideas to save and maximize your area.
1. Build baseboard drawers in your kitchen
Don't waste those few inches of space. Build and install toe kick drawers where you can keep your flatter items like cookie sheets or cutting boards. This is a trick you will see in RV storage spaces.  The first time I saw it, I wondered why we didn't do this everywhere…even in larger homes.
Source: The Family Handyman
2. Convert the area under your stairs for extra space
If you have a staircase, chances are the space underneath the stairs is either covered or empty. Most of the time you can convert that area into a reading nook, a desk, or a play area.  Our under stair area was the kids office for many years because it was centrally located and the kids were short enough that the lack of headroom was not an issue.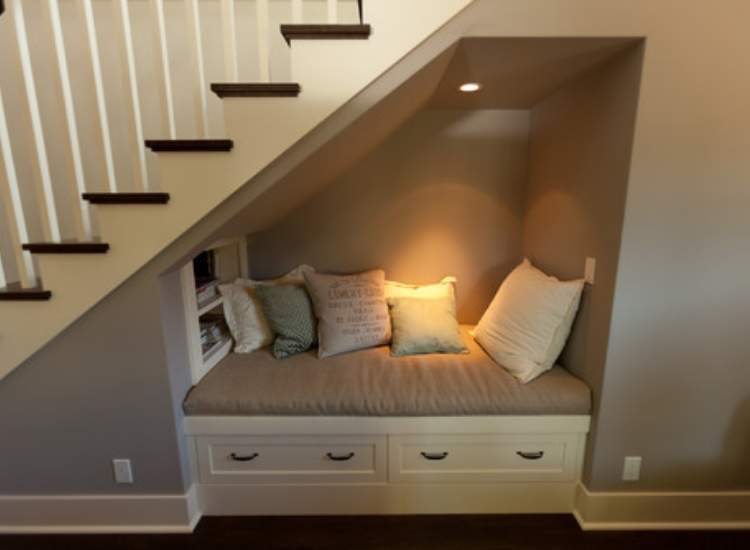 Source: DIY Fun Ideas
3. Install an extra shower curtain rod in your shower
Installing an extra rod in the BACK of your shower gives you the perfect space to hang waterproof baskets. Finally a space for the soap, shampoo, kids toys, etc.  This is so genius and I can't believe this isn't done everywhere!  What an easy way to create massive storage space for the shower and tub.  You could even do multiple rods if you needed the bath storage.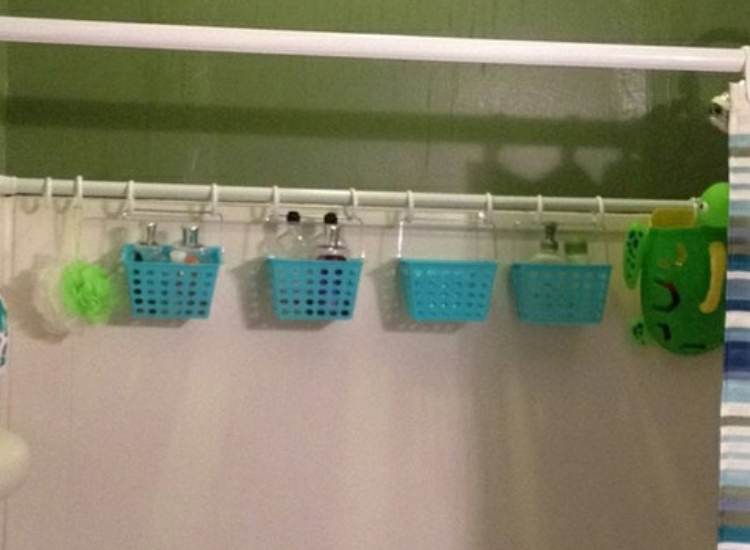 4. Get Creative with Available Space for Small Room Ideas
Create a cabinet between the studs in your walls. The space between each of your studs can be pretty slim, but it's the perfect spot to build a recessed cabinet. Now you'll have extra storage to hold cleaning supplies or an extra coat closet.
Source: The Craftery
5. Maximize Your Space in Small Rooms
Maximize the space above your door by adding a shelf. Shelves are a great way to utilize the area. Even though this idea focuses on a bathroom, you could apply this small room idea to the bedroom too. By installing a shelf above the door, you can create a custom built-in look to hold a number of items.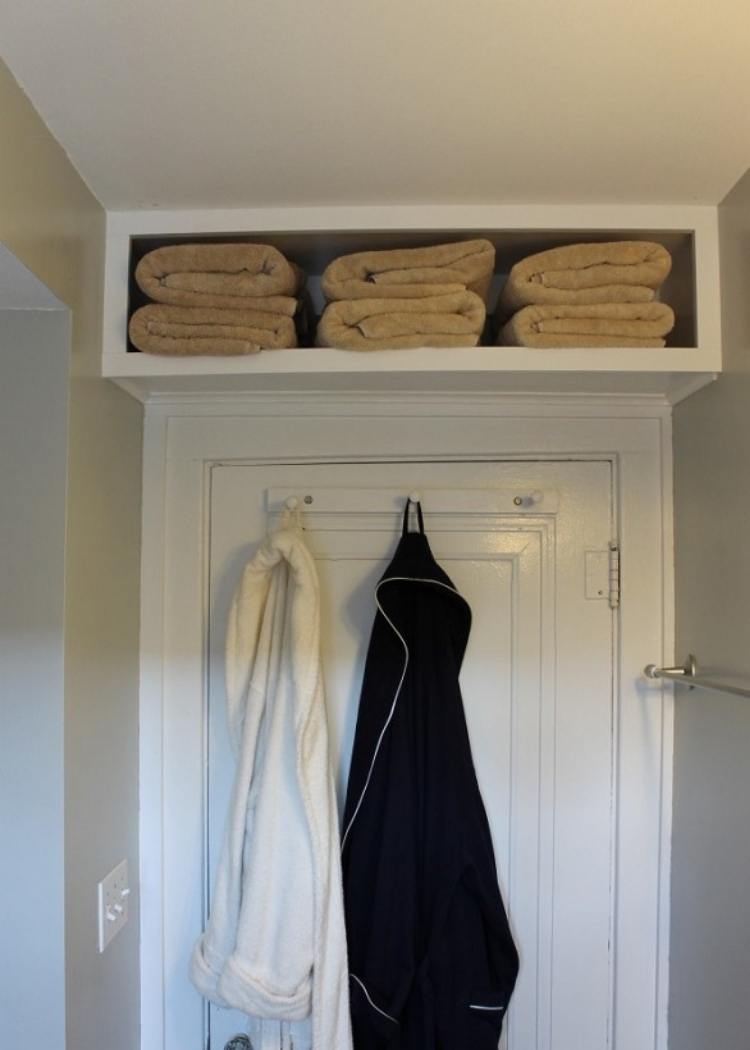 Source: The 2 Seasons
6. Small Room Ideas That Will Surprise You
Store your toothbrushes in your bathroom cabinet door. Make spaces more functional with this hack. Using only a few supplies and very little effort, you can utilize the empty space on cabinet doors. No more cluttered counters!
Source: Living Well Mom
7. Lazy Susan Uses for Small Room Ideas
Create a lazy susan to utilize the space that you have. All you need is a pair of cake pans and some marbles!
Lazy Susans are perfect for storing the following:
Art Pens, pencils, and markers
Paintbrushes and Popsicle Sticks
Straws and Silverware
8. Towel Bars Keep Towels Off The Floor and Small Rooms Tidy
Install a towel bar on the back of the bathroom door. Don't underestimate the space behind the door! The door handle automatically creates a good 6 inches of space between the door and the wall. This creates the perfect space for one or two towel bars. Towel bars eliminate messy, wet towels on the floor, and keep your space nice and tidy. Perfect for organizing the small bathroom in your tiny space.
Source: Jenna Burger
9. Fake Drawer Ideas For Extra Tidy Fun in Small Rooms
Turn the fake drawer under your sink into a real one. Whoever thought of this idea was a genius! Pop-out that glued-on drawer and install a storage basket inside. It gives you the perfect spot for sponges! You might need to add some hinges, which can easily be found at your local hardware store. Store extra sponges and cleaning brushes on one side and a pair of gloves on the other. Then you always have what you need and then some!
Source: Our House on the Corner
10. Small Room Ideas Made Easy With Rods
Install extra rods in horizontal closets. Most of the time, the space that extends beyond the doors is not utilized at all. By installing rods going the opposite directions, you can gain a ton of usable space. What a simple way to create space. What could you do with a few more rods?
Source: 320 Sycamore
11. Skinny Sofa Tables Make a Great Small Room Idea
Build a skinny sofa table. This could easily be a fun DIY project for a small space. Measuring at only 6 inches deep and costing about $25, this table is perfect to spruce up a tiny space. Perfect for a charging station or remotes. You can never go wrong with more useable surface area.
Source: Always Never Done
12. Space Saving Pantry Ticks You Will Love
No pantry, no problem. Wondering what to do with that teeny bit of space in between your fridge and counter or wall? Try this practical idea. Build a tall, but super slim open cabinet. It slides right into space and can hold TONS of spice jars or cans. My favorite way of designing these is by creating small shelves at the top, for spices, and then more spaced-out shelves as it goes down.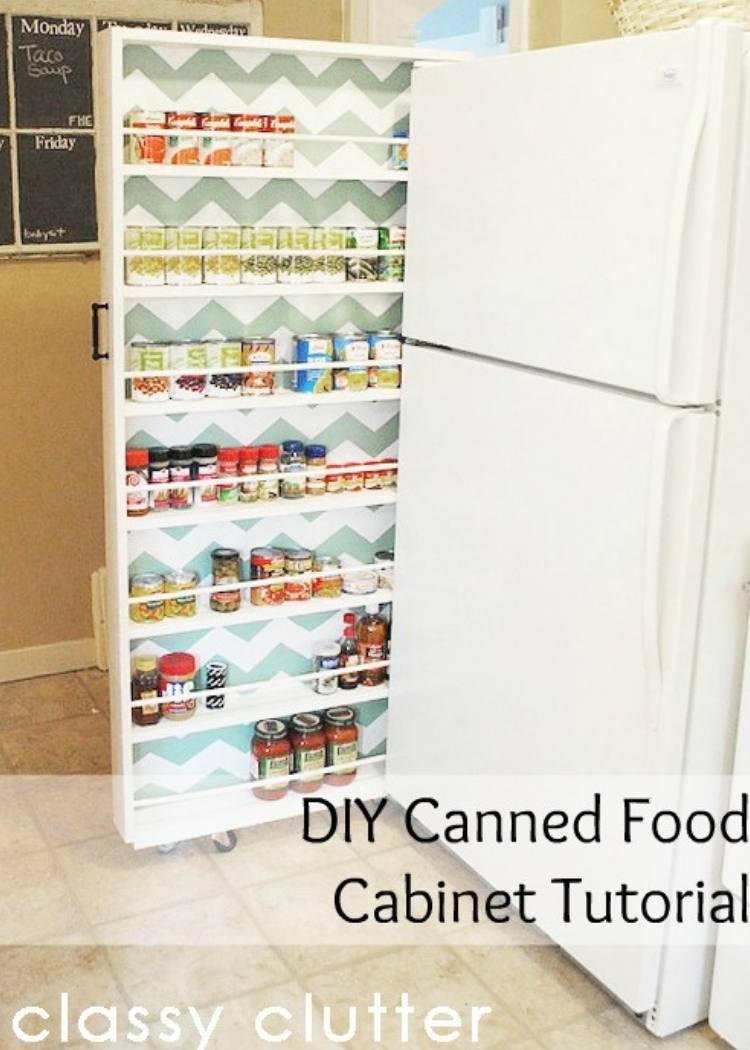 Source: Classy Clutter
13. Perks of Pull-out Desk Ideas for a Small Room
Perhaps a DIY Murphy desk is the answer. What could be a better use of space than a murphy desk? Maybe one that folds up to display a cute and fully functional chalkboard. This is an easy build and doesn't cost a lot to provide a very useful piece of furniture. Don't want to build one? Ikea usually carries them.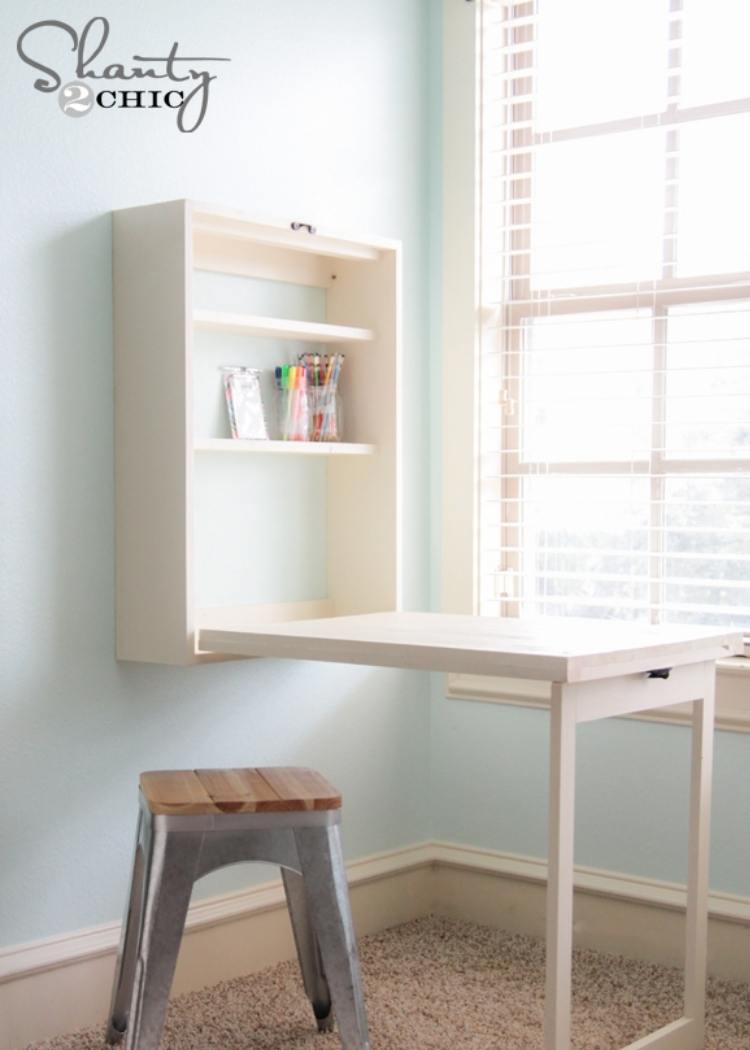 Source: Shanty-2-Chic (via ryobitools)
14. Under Cabinets Space
For more useable space, build a drawer under your upper kitchen cabinets. What a great way to utilize otherwise dead space! Now you have a place to store knives, utensils, or cutting boards. This also keeps the sharps out of tiny hands. Two wins are definitely worth it!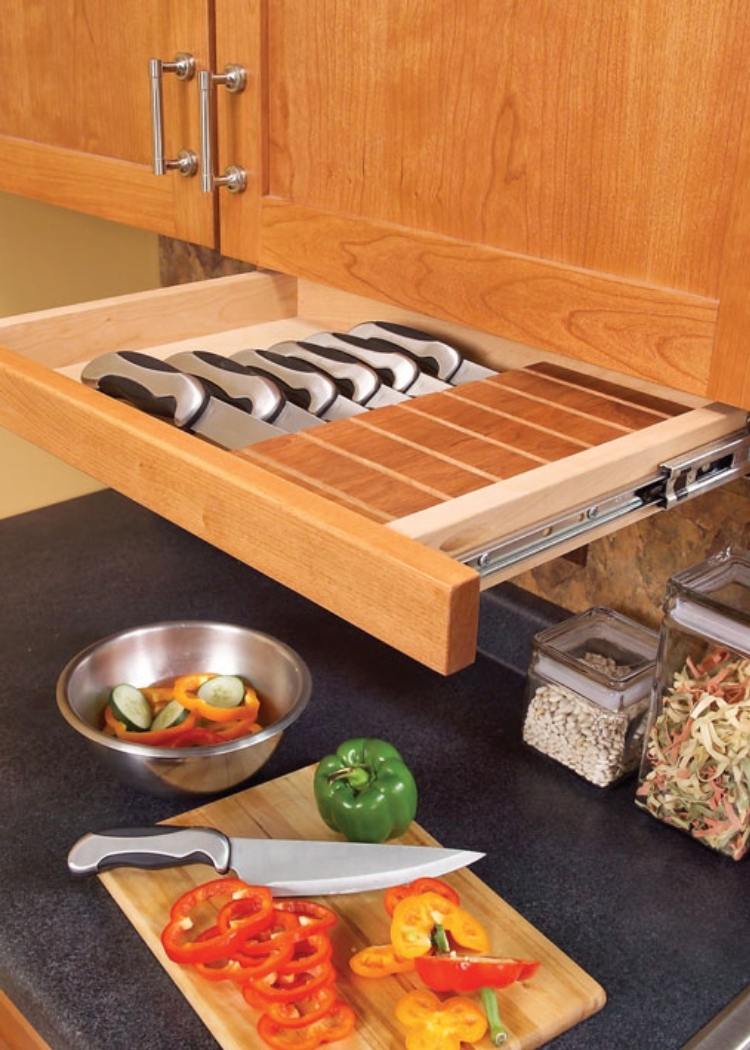 Source: Popular Woodworking
15. Faux Space for Real Space?
DIY faux table, space-saving idea. Give the appearance of a full table while only taking up the space of a shelf. Install a shelf onto your wall at table height. Then paint the legs directly onto the wall to create a faux table, TADA!
Source: Oficina de Arquiteturabh
16. Built-in Delights
Install your dresser right into the wall. Although this might not work in some spaces, it's still a great small space idea. Who says you can't have a large dresser in a tiny space? It doesn't have to take up the whole room, though. With just a few steps, you can install your dresser right into the wall! Don't need a dresser? How about a built-in bookshelf instead?
Source: This Old House
16. Ways To Repurpose For Small Pantry Rooms.
Use pencil drawers in the pantry. to add more useable storage space. Pencil drawers are the perfect size to fit right inside a small pantry, and they can hold any number of things. Perhaps those spices, odd-shaped jars, cake mixes, etc will finally feel at home. Repurposing really helps reduce your carbon footprint. Don't like the way the outside of the cans or jars looks? Grab some glue and paper and have a blast jazzing them up.
Source: Domestic Imperfection
17. Baskets & Crates for Small Spaces
Use Baskets for Tiny Storage Solutions
Repurpose those baskets. By taking a couple of baskets and screwing them into the wall on their side, you can create a unique way to store towels or extra toilet paper. Plus, it's a beautiful way to combine form and function!
Source: Making Lemonade
Get Creative with Crates
Use crates as wall storage. This small space idea is similar to the baskets seen above. Installing wooden crates directly onto your wall is a super creative way to define your own space. And you can choose how many you need based on what you need to store. So you'll never have too much or too little storage space.
Source: decor hacks
18. Re-Make A New Space Inside a Small Room
You can even repurpose space. This may not work for everyone, but in some cases, like a child or infant room, you can actually use the closet space as a living space. Simply remove the doors and slide the furniture in. Add some paint, maybe some curtains, and possibly a shelf, and you're all set!
Source: A Bit of Sunshine
19. Small Room Ideas: Fun With Tables in Tiny Spaces
Installed Drop Leaf Table Space
Drop leaf tables are not just for dining. Find a small one that you can install directly onto your wall for a unique way to decorate your space and provide the function you need.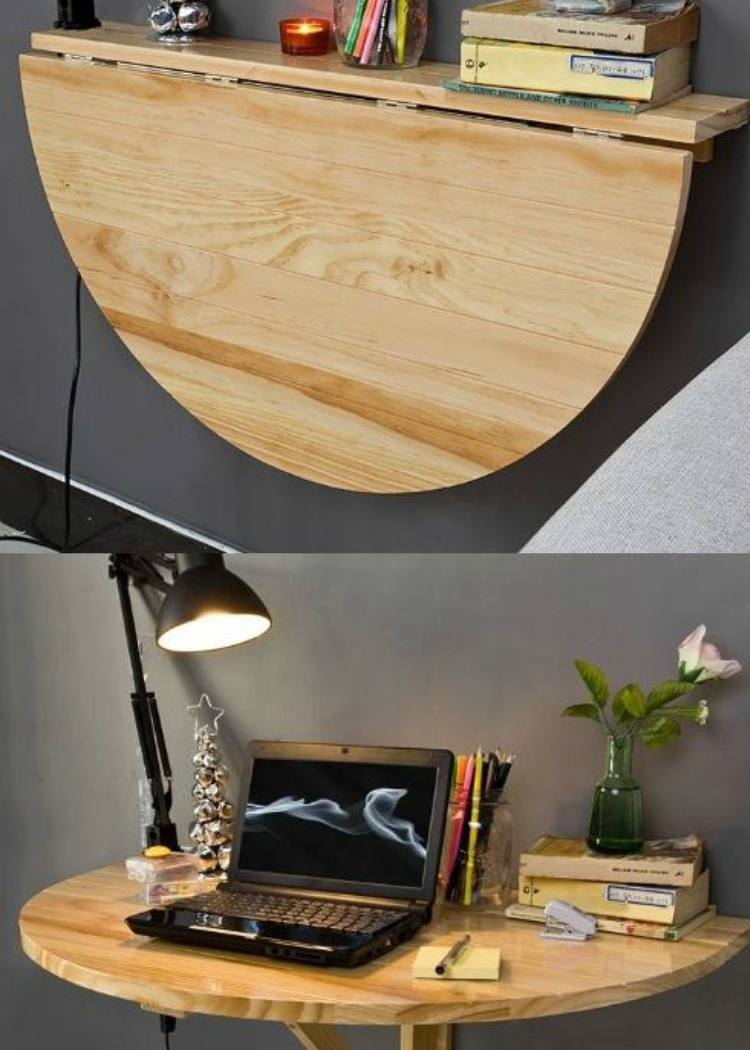 Source: Decoholic
Moveable Table Space
Use an armrest table instead of an actual table. If you don't have the right amount of room for an end table, use an armrest table instead. These sit right on the arm of your sofa, taking up zero extra space.
Source: Apartment Therapy
20. Closet Spaces for Small Room Ideas
Use wonder hangers in your closet. You literally create five times the amount of space in your closet with these hangers. Once you have five hangers-on, unhook one side and it only takes up the space of one hanger. Don't like these? Try using thinner, velvet-lined hangers, as they also help save space.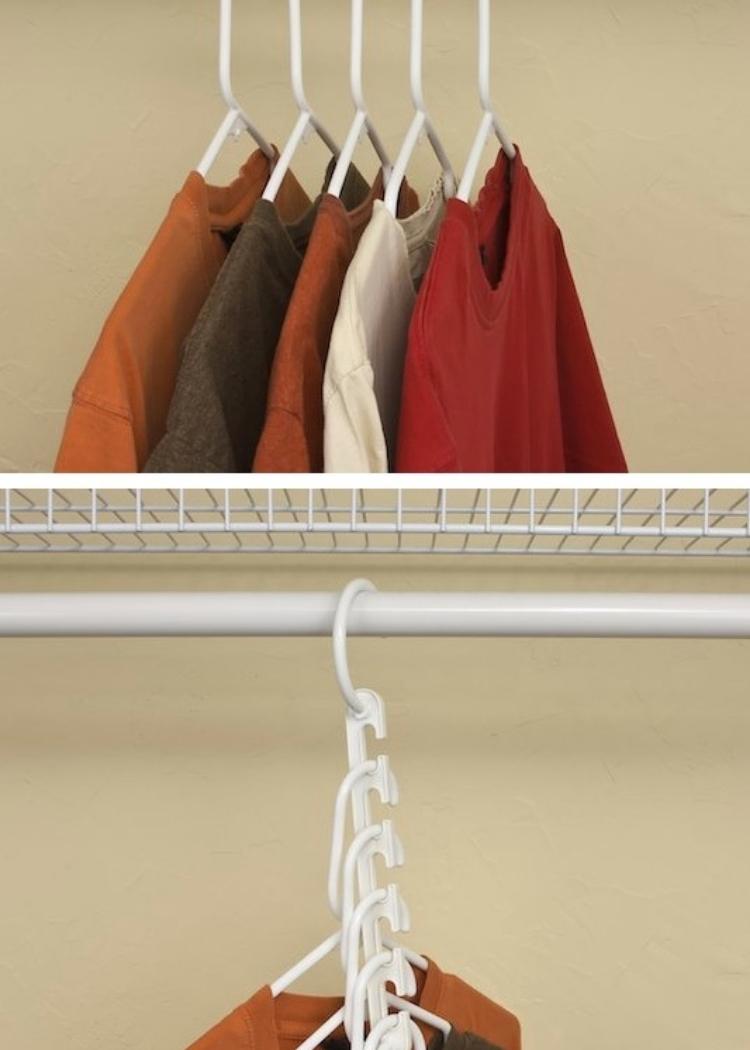 Source: Listotic
21. TV Stand Ideas for Small Living Spaces
Use a dresser as a TV stand. This could work in a bedroom or a living room. Combine the functionality of one furniture piece to reduce the amount of space used.
Source: Two Twenty One
There are so many space-saving tricks and small room ideas that we can all implement. So, what was your favorite idea? Which one will you try first?
If you've enjoyed these creative ideas to make in your small apartment, check out these tips on making the best of small spaces:
The post 21 Space Saving Tricks & Small Room Ideas appeared first on DIY House Hacks - One Crazy House.