Harvest time is here! And with it comes fall entertaining, festive Thanksgiving crafts and decorations, and family-friendly projects. 
Check out these Thanksgiving Crafts for kids to work on together this year, including the ever-popular Turkey Handprint craft that really shows how big your feathers are!
Spread some fall cheer by making people of all ages smile with handmade cards. If you're feeling inspired to get creative, impress everyone with your artistic ability by creating unique table settings or centerpieces using autumn leaves as a starting point. If you need ideas, check out our Thanksgiving Table Settings post.
Go ahead and try out our collection of Thanksgiving crafts below… they are sure to inspire your own DIY projects!
Which Are the Best Thanksgiving Crafts of 2021?
The following entries on our list are some of the most popular craft ideas that users have been looking for and trying out this year, and they all happen to be Thanksgiving-themed.
There are a few new crafts on our list of best Thanksgiving crafts of 2021 that you might want to try out, as well as some returning favorites from last year's list.
If you're looking for some great family craft ideas, look no further! Our top 10 anticipated holiday arts and crafts projects include everything from a DIY fort made out of boxes to a picture frame made out of spoons.
1. Thanksgiving Crafts for Kids – Garland with Acorns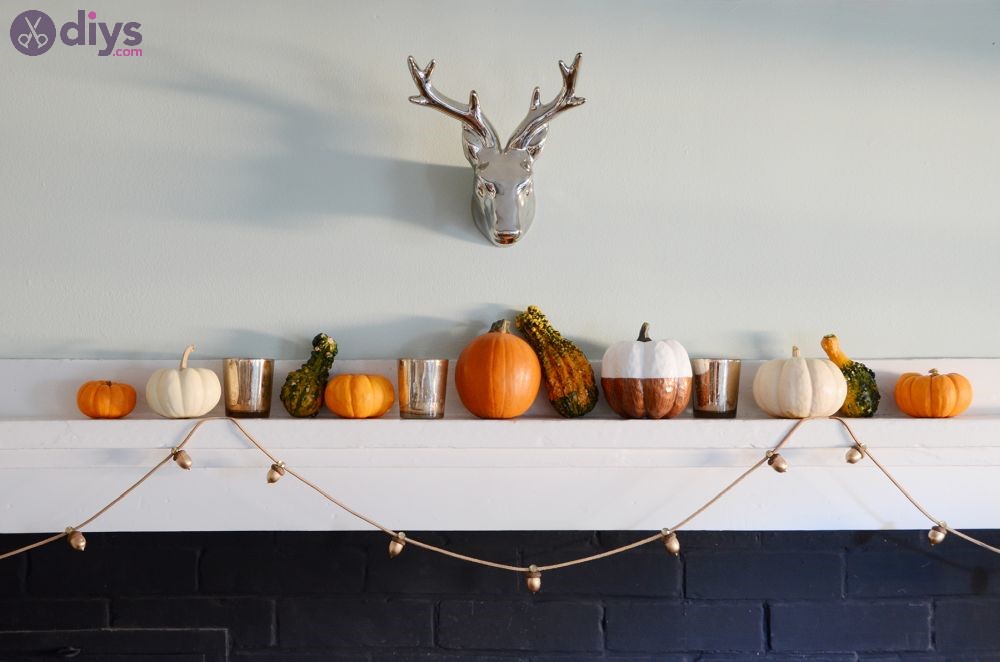 We believe that the true heart of a DIY craft is using materials that are already lying around the house, or supplies that you can get from nature for free, so one of the best Thanksgiving crafts for kids has to be the garland with acorns, a DIY decoration that you can hang around the house to give it a more festive vibe throughout the fall.
In order to make the garland just like in the example above, you'll need several supplies, including 15 acorns, 15 faceted acrylic gemstones, 7 feet of suede cord, some glue and a glue gun, a pair of scissors, some gold liquid leaf paint, and a flat bristle paintbrush.
As far as the paint goes, what colors you use is up to personal taste, although it's best that you stick to fall-themed colors, such as gold, red, yellow, orange, brown, copper, etc.
Depending on how big you want your garland to be, you can add more acorns and gemstones, but you can also use other supplies as well, like fallen leaves that are colored very vividly, or small pinecones.
Once you've finished your garland, you can hang it in pretty much any area of teh house, such as on the window drapes, over the fireplace, or simply on the walls or along the hall where your guests will be entering the house.
Not only that, but you can keep the garlands up until Christmas, add some LED lights, and hang them around the house during the winter holidays as well, or you can even wrap it around the Christmas tree to make an almost all-natural Christmas decoration.
All in all, your kids will enjoy this particular Thanksgiving decoration, and you'll have a great time crafting it, and not just admiring it after it's done.
2. Preschool Thanksgiving Crafts – Yarn Leaf Wall Decoration
When it comes to preschool Thanksgiving crafts, it's not about what you design but rather what you have to do when designing it, since you need to avoid dangerous supplies as much as possible, such as paints that preschoolers can accidentally swallow, or needles that they can poke themselves with.
Thus, one of the safest Thanksgiving crafts that you can try out is this yarn leaf wall decoration, since the most dangerous thing your preschoolers will be working with will be a pair of scissors.
Other than that, you'll need a branch, some yarn in 3 different colors, hemp twine, woods, beads, a comb, and a glue gun, and a whole lot of imagination.
There's plenty of room for improvisation when it comes to this wall decoration, starting from the colors of the yarn that you'll be using, and ending with the shape you'll give your leaf near the end.
Of course, you can also add some extra things that weren't in the original tutorial, like turkey feathers, cardboard cutouts of various symbols of autumn, and even gemstones, although you might end up with something that looks more like a dreamcatcher rather than a regular Thanksgiving decoration.
All in all, each of your preschoolers will probably create different versions of this wall decoration, and once everyone's done, you can go ahead and decorate the entire classroom with their creations so that their parents can see them during the annual Thanksgiving play or party.
3. Thanksgiving Arts and Crafts – Fabric Pumpkins
When you're trying your hand at Thanksgiving arts and crafts, chances are that it's either the first time you're attempting anything similar, you're under pressure because of the lack of time, or a combination of both, so you'll probably be sticking to designs that are as simple as possible or designs that require very few trips to the store.
Well, some good old fabric pumpkins meet both of these criteria, since all you need is fabric, an empty paper towel roll, needle and thread, some glue and a glue gun, some raffia, and some cotton.
In simple words, you'll be using the paper towel roll as the core of your fabric pumpkin (imagine that the paper towel roll is the core of an apple that you've just eaten), you'll then wrap it in the fabric, you'll then use the needle and thread to tie both ends of the fabric at the ends of the towel rolls, and then you'll use the cotton (or even excess fabric) as stuffing to make the pumpkin all plump and fluffy like a pillow.
Depending on how you sew the fabric, you can pleat it to make the outside look exactly like that of a real pumpkin, and you can even draw a face on the fabric pumpkin once you're done to turn it into a fabric Jack-o-Lantern instead.
These small pumpkin-shaped pillows can be placed anywhere around the house, although they will look best placed either in high places next to porcelain statues or framed pictures, while the bigger ones will look perfect on beds and couches, just like those small decorative pillows.
All in all, these fabric pumpkins are easy to make, you can really try out a lot of designs just by changing the fabric's pattern, and they can even be used as toys, just as long as the kids don't tear through the seams.
4. Thanksgiving Crafts for Adults – Thanksgiving Table Centerpiece
The core of Thanksgiving is the Thanksgiving dinner, and many people like everything to be perfect, from the way the table is decorated to the way the food looks and tastes.
That being said, if you have a very large family gathering and a table that's more than big enough to provide everyone with a place to sit, as well as enough space for all the food, you can go ahead and fill any empty tablespaces with table decorations.
Of course, you can even go as far as to make a really big table centerpiece, and making one yourself is arguably one of the most popular Thanksgiving crafts for adults that they can try.
As such, we went ahead and created a step-by-step tutorial on how you can create your very own elegant Thanksgiving table centerpiece, and we went for a design that focused on simplistic decorative elements, very few colors, and very few steps needed in order to create it.
The table centerpiece displayed above was created using nothing more than scrap wood, some mercury glass votives with tea lights, liquid gold paint, some leaves, small pumpkins, a small paintbrush, and some assorted artificial floral accent stems.
The exact steps along with pictures are provided in the previously mentioned article, but you can go ahead and try some tweaking up a bit, such as using a different colored paint or using other autumn fruits and vegetables besides the pumpkins, such as apples and pears.
Another thing you can do is use a twine basket instead of scrap wood, and this will give your table centerpiece a more "autumn harvest" vibe, and you can even make the decoration interactive by using paints that are safe to use on fruits since everyone will be interested ins inking their teeth into an apple that's spray-painted gold.
5. Easy Thanksgiving Crafts – Thanksgiving Wreath
Of all the Thanksgiving crafts, this one is probably the most popular. And for good reason too- it's simple to do and turns out looking great. 
To make your own you'll need: a wreath form or foam ring, red and orange acrylic paint, a paintbrush, some pipe cleaner (optional), acrylic paints in brown, yellow, green, white, black, and tan.
There are lots of different ways that you can decorate your wreath since there are so many autumn colors to choose from, but traditionally they're often painted orange on the front with a brown stem sticking up through wherever something like ivy would be wrapped around it to hang it on a door.
If you want to keep things simple, just paint the wreath orange on one half and brown on the other. Add some yellow leaves or grass for a pop of color if you wish! 
This is definitely an easy Thanksgiving craft that you can have fun painting together as a family or spend time working on during PreK art projects at school. 
It's also easy enough that older kids could probably decorate their own wreaths for use as holiday decorations in their rooms, though don't be surprised if they decide to hang them on the door instead!
Sure enough, it's easy to talk about wreaths, but you probably know that they can come in a wide variety of shapes and sizes, so if you want some inspiration, check out our article that features some of the best Thanksgiving wreaths that you can decorate your doors with this autumn!
6. DIY Thanksgiving Crafts – Mini Pumpkin Placecards
Thanksgiving dinner is probably the biggest family gathering of the year, especially in the USA, and pretty much every single aspect of that evening is planned out perfectly over the course of several days, from the turkey recipe to the Thanksgiving table's placecards.
Speaking of which, one of the most popular DIY Thanksgiving crafts that you can play around with is the Thanksgiving table place cards which let everyone know where they will be sitting during dinner.
Sure enough, the way you place everybody is equally important, but presuming that there's no family grudge that you have to worry about, the way you design the place cards can also have a big impact on the dinner atmosphere before you even have the chance to serve the appetizers.
Just take a look at these mini DIY pumpkin placecards that are basically white pumpkins (either natural, painted, or paper mache) that have leaves that act as the actual name tags.
You can go ahead and try following the tutorial to the letter, or you can just take the idea and make your own version of it since there are plenty of things that you can tweak and change, especially the colors of the pumpkin.
However, if you do decide to try something else rather than white, we advise that you choose colors for both the pumpkins and the name tags that match the rest of the table's color scheme, such as the color of the tablecloth, or that of the silverware, otherwise your Thanksgiving table will look more like Halloween table.
You can even replace the pumpkins with apples or pears, and use food-grade dyes to color them, thus allowing the guests to take a bite (let's face it, kids that will be looking at golden apples and pears won't be able to resist the urge anyway).
7. Thanksgiving Crafts for Toddlers – Straw Turkey
As is the case with most Thanksgiving crafts for toddlers, this one actually isn't really a craft so much as it's an activity. But let's be honest, activities are fun too! 
Making a straw turkey is something that you can do pretty easily and requires very few supplies: some straws (kids love using twisty ones like these ), brown, black, and yellow paint, paper plates, and googly eyes. 
This activity also includes making feathers for your turkey out of construction paper, but we recommend adding those yourself after letting the kids color in their own turkey bodies. 
After the kids are done decorating their paper plate turkey bodies, simply have them stick straws behind them so that they stick up at an angle. 
Once you've got a good amount of straws in place you can paint on some black or white feet and stick two eyes onto your turkey for a cute face!
We also recommend using washable paints if possible since turkey feathers tend to get smudges on them pretty easily when your hands are wet, but even if they do, this activity will be sure to keep everyone busy.
More so, you can even add some felt on the turkey's wings, or you can even go ahead and use actual turkey feathers for the tail, especially since turkey feathers tend to be very big themselves.
This is another great Thanksgiving craft project that's easy enough for toddlers to complete with supervision, though younger children may need assistance sticking straws into the plate. 
8. Thanksgiving Turkey Hat Craft
This simple craft is a great way to work on developing fine motor skills as well as getting kids excited about Thanksgiving! 
It's also an easy Thanksgiving craft for preschoolers to complete with supervision, though older children could certainly give it a try by themselves as well. 
To make your turkey hat you'll need brown and red construction paper, scissors, glue or tape, googly eyes (we recommend gluing them onto the hat), a black marker, and either an orange t-shirt or a brown paper grocery bag.
What you'll do: cut out two turkey hat shapes from your construction paper that are about an inch high. Cut one tongue shape that's also around an inch high but is much thinner than the turkey hat shapes. 
Glue each turkey hat onto its corresponding smaller tongue shape so that it overlaps slightly at the bottom of the Turkey Hats' necks. 
Once glued on, you can use your black marker to draw on a wattle for each turkey hat if you wish! You can also make "feathers" by cutting out long oval shapes from red construction paper, folding them in half lengthwise, then rolling the paper into a cone and gluing it to one side of each turkey hat.
Those of you that are looking for an even more realistic look need only to replace the fake feathers with actual turkey feathers, or you can even use pheasant feathers, since those look even better, and they are easy to find in the wild as well.
This particular idea is also great if you're looking for a Halloween costume since it can form the basis of a neat native American costume.
9. Cute Thanksgiving Turkey
This cute Thanksgiving turkey table decoration is the most creative of all Thanksgiving crafts for toddlers, especially since they can customize it themselves!
All you need for this activity are some vegetables and fruits that kids enjoy eating (you may also want to include cutlery), along with some construction paper. 
The idea behind this craft is to create a turkey out of vegetables and fruit, which your child can do with varying degrees of success depending on their age, and as an added bonus, you can use some tape or glue dots if needed to stick things together, or you can use melted sugar (caramel) since that turns solid as soon as it cools off.
After your child creates their Thanksgiving turkey out of veggies and fruit, they can draw on some cute features like eyes using edible markers or poppy seeds, or construct a beak using the construction paper! 
This is also a great way to help kids learn about which foods are good for them. If you want to combine this activity with another craft that helps children identify the colors of healthy foods, use construction paper to cut out different shapes, then have your tikes stick each one onto the appropriate color veggies! 
Best of all, these two activities should keep kids occupied long enough so that mom and dad can start prepping dinner, so not only will your kids be happy, but you'll have time for all the other Thanksgiving preparations.
But one thing's certain: after the first time your kid makes it through an entire meal without throwing any food on the floor, you'll be ready to try it again!
10. DIY Thanksgiving Crafts for Kids – Embroideries
Another great way to spent Thanksgiving or the days before Thanksgiving is to make some embroideries, and those of you that were particularly good at it back in school during Arts & Crafts will probably have a blast while doing it. 
You'll need some yarn, a pair of scissors, and some fabric – preferably white, but you can also use an old t-shirt or sweatshirt if you don't have any spare fabric lying around the house. 
If you're using a white t-shirt, make sure to handwash it first! Don't use your good Granny's best quilt for this craft unless she knows about it first!
Fold your fabric in half, then cut out circles that are roughly 4 inches big. It doesn't matter too much if they're perfect but try not to make them too uneven.
They might look complicated, but in reality, they're probably one of the easiest types of Thanksgiving crafts for toddlers to complete with assistance! 
As long as they can count past ten and understand the concept of following a pattern, they should have no problem sticking to these Thanksgiving patterns exactly. In fact, older children who are interested in fine motor skills will probably get a kick out of helping little ones with this activity too. 
In short, embroideries are a great way to get kids interested in Thanksgiving while also teaching them about the holiday's history and customs.
And once your little ones have created their Thanksgiving embroideries with a big thanksgiving dining table in mind, you can hang them on a wall or door – no glue needed, just use a thumbtack or pushpin to safely fasten the bottom of each embroidery somewhere it won't be knocked off.
More Thanksgiving Craft Ideas 
While the previous 10 entries were some of the most popular DIY crafts in 2021, that doesn't mean those craft ideas from past years aren't still popular. 
Thus, if you don't mind being trendy, you can go ahead and try out some of these other Thanksgiving crafts as well, since many of them are instant classics that will never go out of style at all.
11. Easy Thanksgiving Craft Idea – Turkey Hat
Are your  kids the kind of little costume enthusiasts who enjoy playing dress up all year round, even for holidays that aren't actually necessarily costume based? Then we think we might have found just the tutorial for you right off the bat!
Check out how Momdot did some very fun paper crafting in order to make these adorable little turkeys that attach to the front of a paper band in order to make a silly hat.
12. Preschool Thanksgiving Crafts
In our house, some of the most popular crafts are usually the ones that involve turning some kind of regular household item into something else adorable, giving it some kind of character and personification that our kids can customize. That's why we thought these miniature paper bag turkeys were such a cute idea! Eighteen 25 shows you how make them happen using googly eyes, mini clothespins, rhinestones, and cut pieces of ribbon for tail feathers.
13. Thanksgiving Craft Ideas – Corn Snack Packs
If there were ever a kind of craft that goes over even better with our kids than a project they can make, transforming a regular thing into something else, and then play with after, it's a project that involves eating as well!
That's why we thought these funny little paper harvest corns that Kix shows you how to fill with delicious munchies like a snack pack were worth bookmarking right away.
14. Thanksgiving Crafts for Kids – Glitter Paper Turkey
Have we actually really caught your attention with the idea of making simple paper turkeys because your kids are quite young and you already know that's a kind of craft they enjoy and can handle, but you can't help wondering whether you can't keep the process a little more exciting?
In that case, we'd absolutely suggest taking a look at how Crafts By Amanda fully glittered their birds so they have a little extra fun shine!
15. Thanksgiving Crafts for Kids – Pasta Turkey
Did we really catch your attention when we started talking about the idea of working with slightly unconventional supplies and turning them into something else, but you're convinced your kids might get along a little better with something more hands-on?
Then we'd be willing to bet that you'll get along very well indeed with the way Kix outlines painting differently shaped pieces of pasta different colours and arranging them on a canvas to create a dried noodle and handprint turkey painting!
16. DIY Thanksgiving Crafts – Pilgrim Hat
Has the idea you've liked the best so far actually been the paper hat concept but you can't help wondering whether the kids might have more fun creating several different kinds of Thanksgiving headgear in order to make their games a little more fun?
In that case, we'd also suggest giving these funny paper pilgrim hats outlined in detail on Momtastic a try!
17. Thanksgiving Crafts for Kids – Teepee and Mayflower Snack Boxes
Have we got you feeling caught somewhere between wanting to do some paper crafts with your kids and wanting to upcycle things you already have around the house, but you're having trouble choosing between the two in figuring out which ones they'll like best? Well, who ever said you have to choose?
Instead, check out how Merriment Design made these super fun Mayflower ship and teepee themed candy holders from paper, cut lollipop sticks, and waxed condiment cups.
18. Easy Thanksgiving Crafts for Kids – Hand and Footprint Paper Turkeys
Have you actually been feeling pretty intrigued by the idea of making handprints somewhere in the next project you do with your kids because you already know how much they enjoy tracing and printing their hands places, but you'd rather not do so with messy paint? Then here's an idea we believe you'll get along a little better with instead!
Check out how There's Just One Mommy made these awesome paper turkey where the body is made from two traced paper footprints and the tail feathers are made from traced paper handprints, all glued together.
19. Thanksgiving Crafts for Kids – Turkey Balloons
If you're going to spend the time it takes to make funny DIY turkeys with your kids, would you rather combine the paper pieces you cut out with something else they find fun, just to keep their interest a little more easily?
Well, if they've ever liked balloons even half as much as our little ones do, then we think you'll have some luck with this balloon and paper tail feathers turkey craft outlined in clear detail on Hello, Wonderful.
20. Mini Pumpkin Turkeys – Easy Thanksgiving Crafts
Perhaps it's actually you who's feeling intent on making some kind of adorable turkey for the Thanksgiving season but you'd rather it be a little decor piece that you can set on your side or dining table? Then we'd be willing to bet that you'll get a kick out of the way Princess Pinky Girl used miniature pumpkins, construction paper, and a bit of paint to make these adorable pumpkin turkeys with bright tails and darling little faces.
21. Preschool Thanksgiving Crafts – Tissue Paper and Button Turkey Paintings
Are your kids actually still little enough that they usually get along best with simple cut and paste crafts but you're really loving this idea of using unconventional things a little more creatively than usual as well? Well, if you happen to have a stray button collection in your crafting room like we do, then we'd definitely suggest taking a look at how Arty Crafty Kids painted these little turkey templates and then filled in the tail feathers with glued down colourful buttons for some visual texture.
22. Easy Thanksgiving Crafts – Pinecone Turkey
Have we really caught your attention with this concept of making something lovely and decorative, especially if you get to use natural elements, but you'd still like to keep it easy enough that your kids might be able to help?
Then we'd suggest reaching for your ribbon scraps collection and sending the kids into the backyard to gather pinecones, then looking at how these adorable turkeys featured on Fireflies and Mud Pies were made!
23. Preschool Thanksgiving Crafts – Turkey Finger Puppet
Are you still thinking about how much you liked the rounded paper turkeys that we showed you higher up on our list but you know your kids do best with the kind of interactive craft they can make and then continue playing with like a toy afterwards?
Then we think you simply must take a look at the way Artsy Momma made these funny turkey finger puppets using paper and leaves!
24. Thanksgiving Crafts for Kids with Leaves
Has our mention of crafting with fall leaves actually been your favourite thing you've seen on our list so far, but none of the ideas we've shown you have used quite as many leaves as you know your kids are going to want?
Then we're convinced this funny layered leaf tail feather turkey craft outlined nice and clearly on Easy Peasy and Fun might be a little more up your alley!
25. Thanksgiving Crafts for Kids – the Thanksfullness Box
Rather than making a puppet or a turkey craft that turns into a toy when you're done, would you rather take your Thanksgiving crafts as an opportunity to do some kind of learning or mindfulness activity with your kids?
In that case, we'd definitely encourage you to check out how Crafts By Amanda used a cereal box and paper to make a thankfulness turkey where your family and write down the things they're grateful for this year, put it in the box, and read them later on after dinner in order to really get into the spirit of the holiday.
Best Thanksgiving Crafts: Closing Thoughts
With these budget-friendly, heartwarming crafts, you can create art that's meaningful for your family without having to spend a ton of money. 
They are perfect for kids of all ages, including teens who may be looking for something fun to do over Thanksgiving break. All it takes is a few simple supplies and some time together as a family to make lasting memories! We hope you enjoy them!
We want to say thank you once again for visiting us this year! If you haven't already seen the posts we have lined up for next week here on our website, check out what else we have in store for visitors this holiday season.
More so, if there's any Thanksgiving-related topic that you'd like to read about that we haven't covered yet, feel free to let us know about it in the comments section below, and we'll be sure to write a brand-new article about it as soon as possible.
The post 25 Thanksgiving Craft Ideas for Kids and Adults appeared first on DIYs.com.