For anyone who plans of celebrating on the 4th of July, a few design ideas would come in very handy just about now.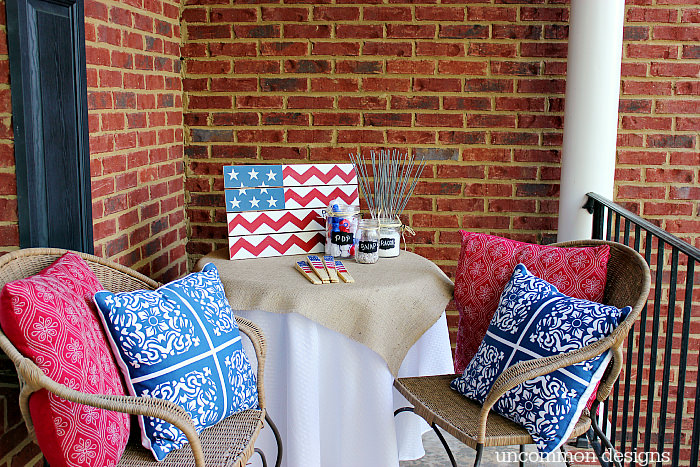 With that in mind, today we're going to cover some of the basics such as banners and flags and so on but we'll also share a few less mainstream ideas as well. As always, there are lots and lots of different ways to decorate a space and make it look festive so go ahead and pick your favorite ideas and make them your own.
Festive house number banner

A lot of these 4th of July decorations are meant to be displayed outdoors so let's start with that. This is how you make a patriotic house number banner. You need canvas, blue painter's tape, chevron frog tape, red, white and blue craft paint, carbon paper, white glue, two wooden dowels, four dowel end caps, bonding fabric and some twine. It's fairly easy to put together and you can use the same technique to make custom house numbers based on any theme. Check out the full tutorial on justalittlecreativity.
Patriotic tassel garland
Tassel garlands are easy and fun to make and if you use red, white and blue as your color scheme you can make something that would fit the 4th of July theme perfectly. For this project you need three plastic tablecloths in plain red, white and respectively blue and clothesline. The tablecloths need to be cut into 1" strips which can take a while. Once this part is done you can go ahead and make the tassels, then combine them to make a garland. More details can be found on thescrapshoppeblog.
Cute table runner with fireworks
You can also add a bit of sparkle to the table with a custom table runner. This one is just a plain white runner with a few fireworks painted on it. You can easily make something like this using fabric paints in different colors. Have fun mixing and matching the colors and coming up with various different designs for the fireworks. Also, check out letsmingleblog if you need a bit of inspiration.
Galvanized bucket planter with patriotic decorations
For this project you require a Cricut machine, that is if you want to replicate the details on this particular design. Alternatively, you can go with something simpler which doesn't require any special tools. In any case, the idea here is to decorate a galvanized planter and give it a festive makeover for the 4th of July. The planter can be any galvanized bucket or container. A few red, white and blue patriotic decorations and it will look perfect on the porch. All the details of this project can be found on apumpkinandaprincess.
Iconic flag garland with ribbons
One of the most iconic 4th of July decorations is of course the American flag. While you could just go ahead and buy a flag, it might be more interesting to craft something yourself. This design featured on thelatinanextdoor looks rather nice and uses white buttons for the little stars on the blue section of the flag. You can add your own twist to it if you want to.
Stripes sand candles
Colored sand is a lot of fun to work with. You can use it to make all sorts of colorful and beautiful decorations, including these cute patriotic candles that we found on craftsbycourtney. They're very easy to make and you can use all sorts of cute jars and glasses to make them look special. Also, you can make a bunch of lovely candles any time without needing a special theme or event.
Paper star garland with festive colors
Paper stars are not the easiest to craft, especially if you want them to have a bit of a 3D effect. Still, the project isn't overly difficult and a few tips can go a long way. Head over to cuckoo4design to find out how this 4th of July banner can be made. The secret making perforated lines so you can easily fold the paper (or cardboard).
Burlap silverware holders with cute flags
Something cute that you can make using red, white and blue craft paint is a bunch of silverware holders. These are simple burlap bags decorated with American flag designs and you can pair them with some colorful napkins that fit the theme as well. You can check out the tutorial on oldsaltfarm.
Star-shaped sun catchers
These 4th of July sun catchers look lovely and the items needed to make them are quite unusual and unexpected. The most important part is wax crayons. First the paper needs to be removed from them, then the crayons need to be sharpened and turned into shavings. Alternatively a knife can be used to cut them into tiny bits. Put the shavings on a piece of wax paper, then double fold the edges to make an envelope. Place it between a large piece of folded parchment and then melt the crayons with an iron. You can then cut the paper into stars. More details can be found on thesuburbanmom.
A cozy seating area with accent pillows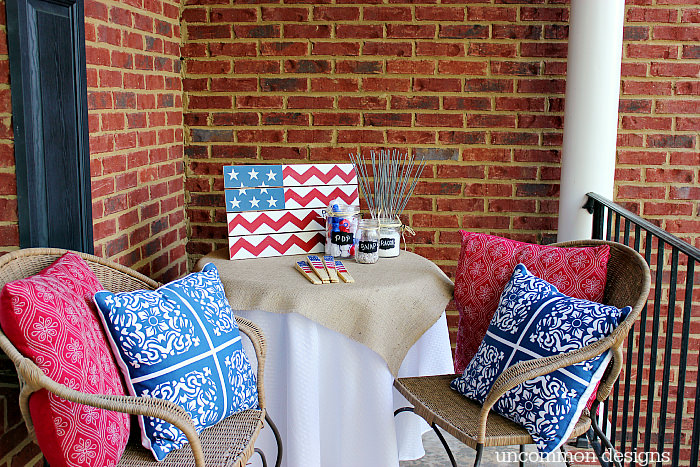 Set up a little spot on the porch where you can sit down and play some games or chat with friends and family as you celebrate Independence Day. It doesn't need to be super fancy. A couple of chairs, a small table and a few decorations should do the trick. To emphasize the theme, you can add things like decorative flags, sparkles and other items. Head over to uncommondesignsonline for more inspiring ideas and suggestions.
Jar vases with festive burlap and ribbon ornaments
Turning glass jars into flower vases is the oldest trick in the book. If you also add a few decorations to the jars you can easily make them look festive. For the 4th of July theme something simple like some burlap wrapped around the jars and colored ribbons on top of that can look really good. We like the star pattern and the stripes featured on myfrugaladventures. The fit the theme perfectly.
A lovely flag pillow
Another cute idea is to make a flag pillow. You can use it as an accessory for your 4th of July porch decor or keep it inside on your sofa or casually sitting on a chair. In any case, the most difficult part is finding some fabric that you can use for this project. There are some nice and clever suggestions on farmhouseonboone which you might find useful in this regard.
Patriotic stars on the lawn
You can give your entire lawn a festive makeover on the 4th of July and all you need for that is some spray paint and a piece of cardboard with a star cutout. Make sure you use non-permanent paint so you don't damage the lawn and it easily washes away once the celebration is over. Construction marking spray paint would work well. This cool idea comes from theconcretecottage.
Hanging windsock for the porch
This is a patriotic windsock is a nice little decoration for the porch or the deck and can be made with various fabric scraps and ribbon. The colors can be swapped with something different in case you want to switch to a different theme. For this particular occasion however, the red, white and blue and these patterns look rather dashing. Check out the tutorial for this project on heyletsmakestuff.
Burlap banner with stripes and dots
This burlap banner is easy to make and looks really beautiful. It's also an inexpensive project for which you need a few simple supplies such as burlap, acrylic paint (red, white and blue), a sponge brush, twine, a hot glue gun and ribbon. To get the striped pattern you can use painter's tape and for the little white dots you can dip the eraser at the end of a pencil into some white paint. More details can be found on seevanessacraft.
Big flag decoration made out of wood
If you have the space for it, one of these pallet flags could look pretty cool in the yard or maybe on the porch. There's a variety of ways to decorate the little blue corner section, whether it's with a bunch of little stars, a single huge one or something else entirely. Check out jenniferallwoodhome to find out a few good suggestions and more details about this project.
Scrap wood sign with a patriotic design
Here's something that you can make if you have a few bits of scrap wood or some leftover lumber from previous projects. It's a wooden sign which you can decorate with letters and turn it into a USA sign for the 4th of July. Go ahead and paint the letters in red, white and blue so they stand out and give them a distressed look using a bit of sandpaper. More details can be found on housefulofhandmade.
Wooden log turned into a candle holder
You can turn a wooden log into a cool-looking centerpiece for the table and you can also paint it if you want to customize it for a particular occasion such as the 4th of July. First things first: find a nice log. Make sure it's not too big but not too small either. Clean it and then make a bunch of holes in it for the candles. At the end, paint the log. There's a tutorial on redheadcandecorate which explains the whole process.
Repurposed crib mattress spring turned into a flag
Some projects are a bit more unusual in the sense that they make use of specific items such as a crib mattress spring. If by chance you have something like that or you come up with an alternative, you can go ahead and make a big American flag like the one featured on redheadcandecorate. You'll need lots of ribbon and a bunch of little white stars.
Old shutter turned into a colorful decoration
You can also make use of various resources which you might have lying around such as an old shutter for example. This patriotic shutter design featured on hoosierhomemadelooks really nice and has a simple but vibrant look. All it takes to make something like this is a white shutter, tape and red and blue spray paint.
Decorations you can buy
Patriotic floral wreath
You can also spruce up your porch and your home with a few 4th of July decorations that you can purchase. This dried floral wreath is a lovely example. It's colorful, eye-catching and perfect as a decoration for the front door. All you need to do is hang it and enjoy it.
Themed door mat with a colorful pattern
A festive outdoor door mat like this one can add a dash of color to your entryway and also make the porch look more interesting. As you can see, this design has a patriotic theme which is why we think it could potentially be used as a 4th of July decoration and accent piece.
4th of July flower wind spinner
Here's something cute and colorful that you can add to your garden. It's a flower wind spinner with six petals decorated with stripes and stars. It also has two red and blue leaves attached to the fiberglass stem and it can be easily inserted into the ground or into the soil inside a planter.
Inflatable lawn decorations
These inflatable Uncle Sam and eagle decorations can be displayed on the front lawn or on the porch on the 4th of July and they look cute and festive while also being a source of light at night. They're a nice way to spruce up the area temporarily. When the celebration is over, deflate and store them until next year.
Large garage door mural
If you're really invested in making your house stand out on the 4th of July, something big is in order. Check out this patriotic garage door mural. Doesn't it look majestic? It's designed to fit roll-up garage doors as well as canopy doors and it comes in multiple different sizes.
Giant firecrackers made of wood
This is something that you can display outside on the porch, on a shelf or just casually in a corner. This trio of giant firecrackers looks really cute and makes a perfect decoration for the 4th of July. All you need to make these is some scrap lumber, paint, a bit of wire and some ribbon. More details can be found on practicallyfunctional.
Paper towel tubes turned into fireworks
In case you didn't know, empty paper towel tubes are super useful around the house. One of the uses for them is described on sadieseasongoods. This is a patriotic 4th of July proejct which involves just a few simple materials like the tubes we just mentioned, some decorative craft paper, pipe cleaners, tape and some stickers of paper prints. All of these combined make beautiful fireworks.
Striped tassel wall hanging
Want something that you can display on a wall? How about this striped wall hanging from thehousethatlarsbuilt. The red and white stripes in combination with the blue accents gives it a subtle 4th of July vibe but doesn't necessarily mean you can't use this as an everyday decoration.
Simple 3D star garland
We've seen something similar a bit earlier but in a different context. This time the paper stars are cute and small and the garland is something that you can incorporate into various projects like a festive wreath or a sign for example. Head over to hawthorneandmain for more details and instructions about it.
Burlap garland with lights
Here's another festive garland, this time with little lights sprinkled through. Actually, it stars out as a simple string of lights. To turn it into a garland just take some burlap and denim ribbon, cut it into strips and then tie each one onto the wire until you cover it all up. You can find a tutorial for this project on createcraftlove if you want more details.
4th of July flag bunting
Wouldn't this flag bunting look beautiful on a porch or hanging on a wall as a backdrop? If you'd like to make something similar you'll be happy to know it's a super simple project. All you need is some small flags on sticks, some sequin trim (you can also use something else like twine if you want to), scissors and an awl. You can find all the details on momtastic.
Burlap-wrapped candles on a star base
Candles are always nice when it comes to festive table decors and ornaments in general. If you want to make something special for the 4th of July celebration, check out this beautiful star-shaped candle design from thecountrychiccottage. It has a farmhouse-style charm and shabby chic vibe.
Clothespin wreath
As you probably know, you can make wreaths out of pretty much anything. This one for instance is made from a bunch of wooden clothespins. They've all been painted either, red, white or blue and arranged in a pattern reminiscent of the American flag. The little white stars are the perfect finishing touch to this design. Check it out on thebudgetdecorator.
A festive tray décor
Not sure what decoration to choose this 4th of July? How about a while bunch of them all gathered in one place? You could get a tray and fill it with festive goodies and ornaments or use other containers in a similar manner. A great source of inspiration in that sense can be this project from wilshirecollections.
Boxwood wreath with a twist
Boxwood wreaths are absolutely perfect for Christmas but they can also look lovely in mid summer. Take this one for example. Its simplicity and greenery is so refreshing and pure. It's decorated with a cute cut-out of the USA and some striped red, white and blue ribbon. Check it out on taunieverett.
Scrap wood star wreath
Not all wreath are circular. In fact, you can shape your however you want. A star shape would be fitting for the 4th of July and we have the perfect tutorial regarding this. You can find it on simplycountrylife. This cute wreath is made of scrap pieces of wood and decorated with a cute burlap bow, a small flag and some berry branches.
Patriotic burlap flag pillow
If you're planning a casual get-together this 4th of July, how about some festive accent pillows to replace your regular ones? There's no need to buy any new ones. You could just make one of these flag pillow cases out of burlap. All you need is burlap, some tape, star stickers and spray paint. There's even a tutorial for it on oldsaltfarm.
Festive burlap table runner
A festive table runner can really help to set the right vibe when you're planning a special 4th of July celebration. It doesn't have to be super fancy or complicated. A simple one made of burlap could look perfect, especially if you decorate it with a few colorful stars. You can make these using a foam star and some paint. For more details head over to theshabbycreekcottage.
The post 4th of July DIY Decorations And Ideas With Fun And Patriotic Designs appeared first on Home Decorating Trends - Homedit.