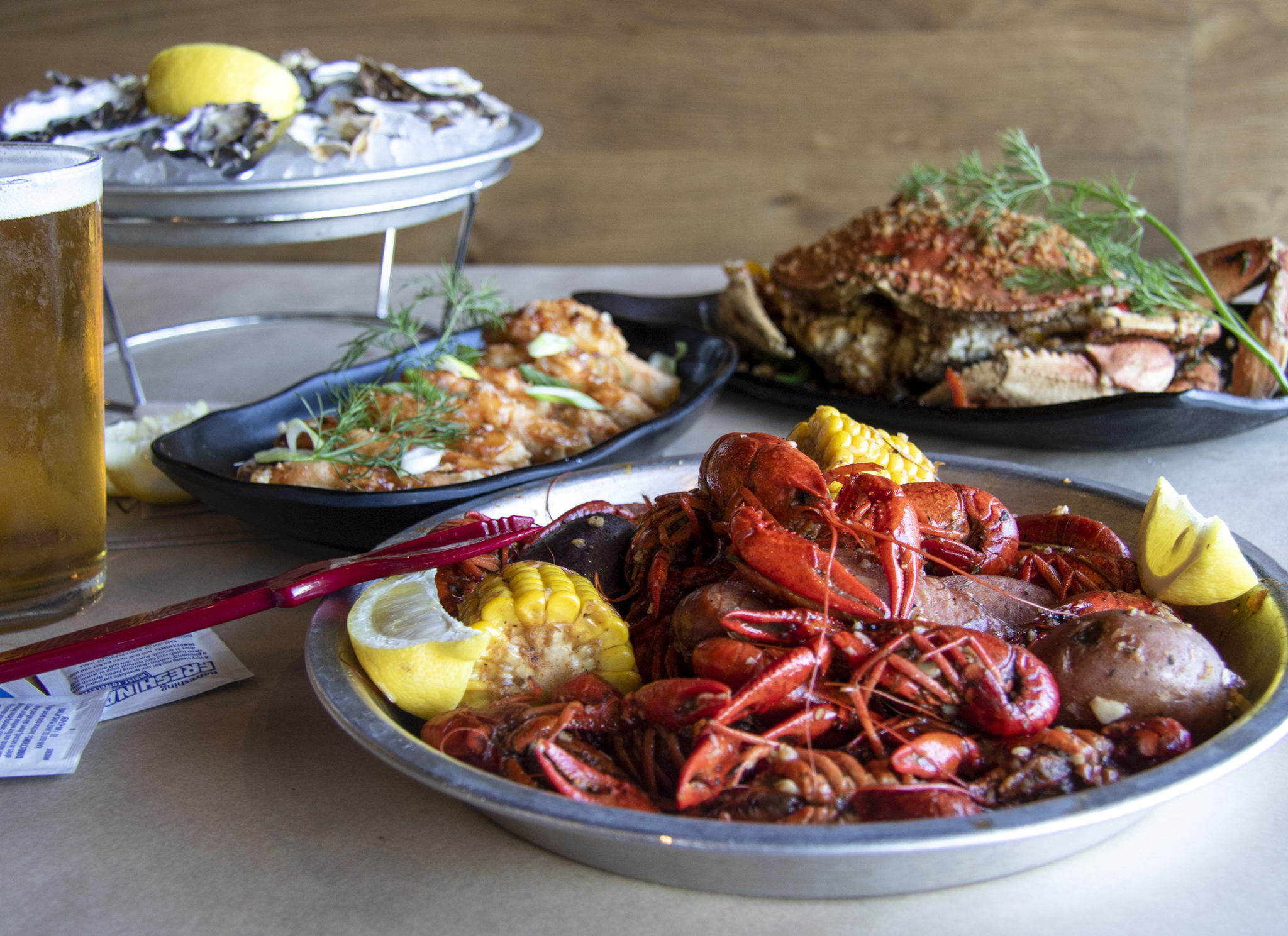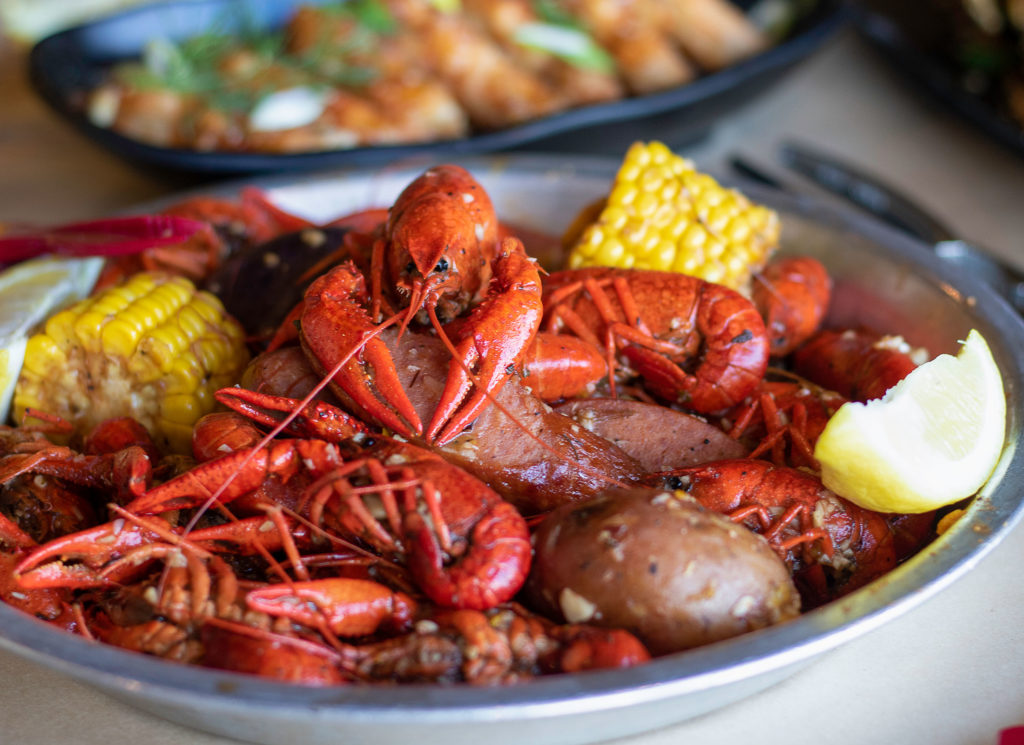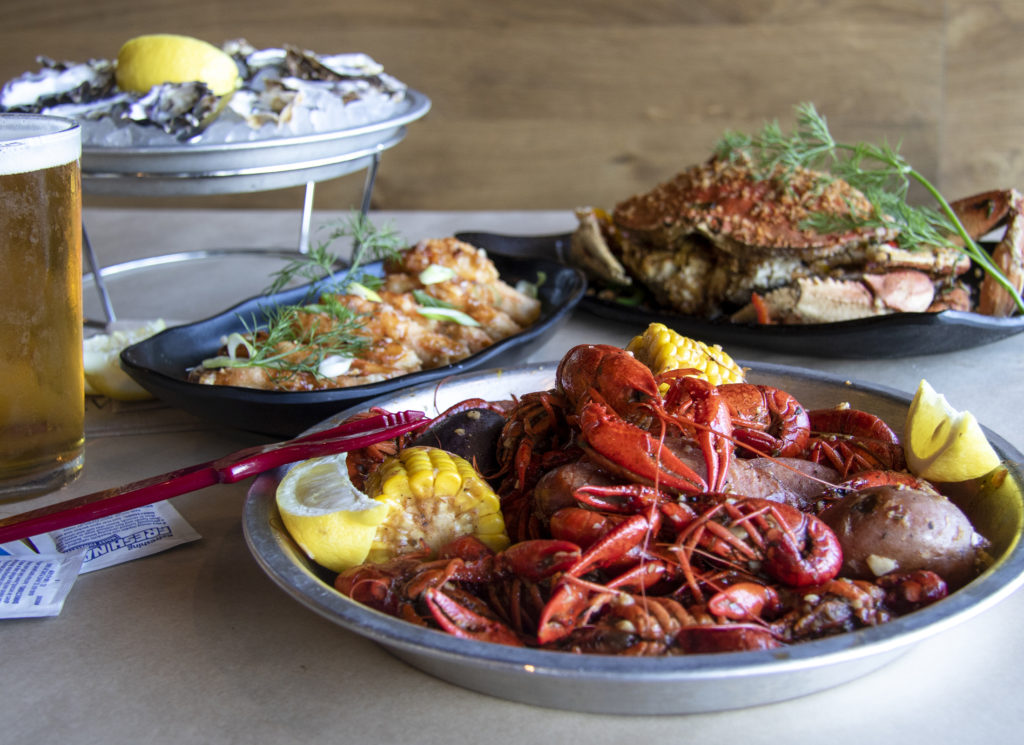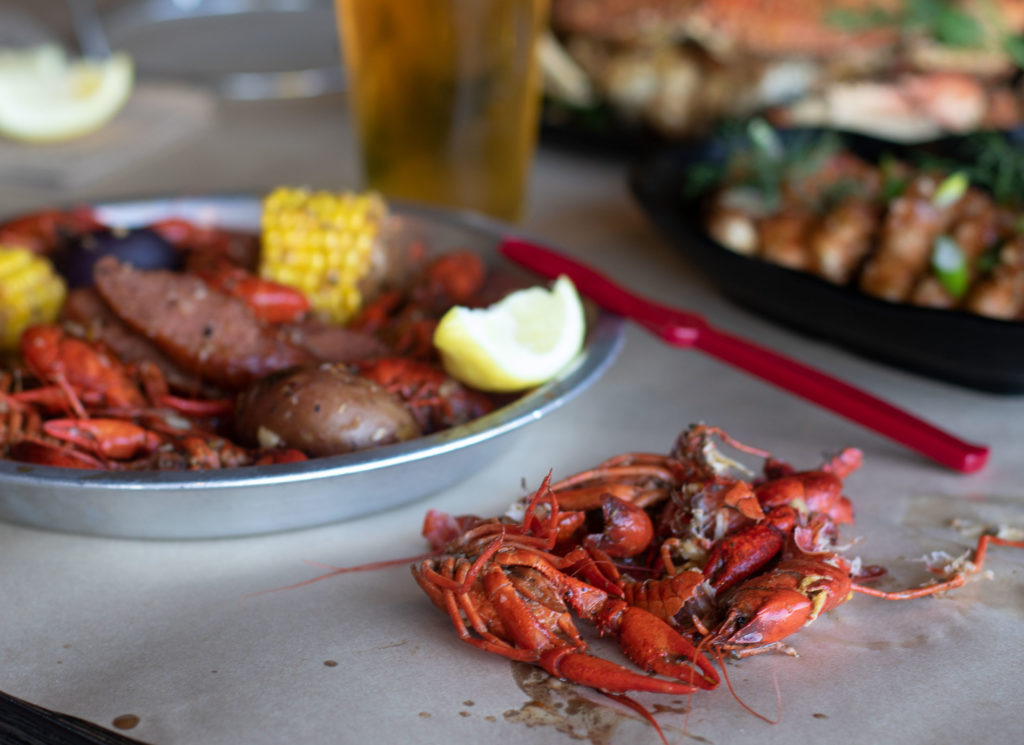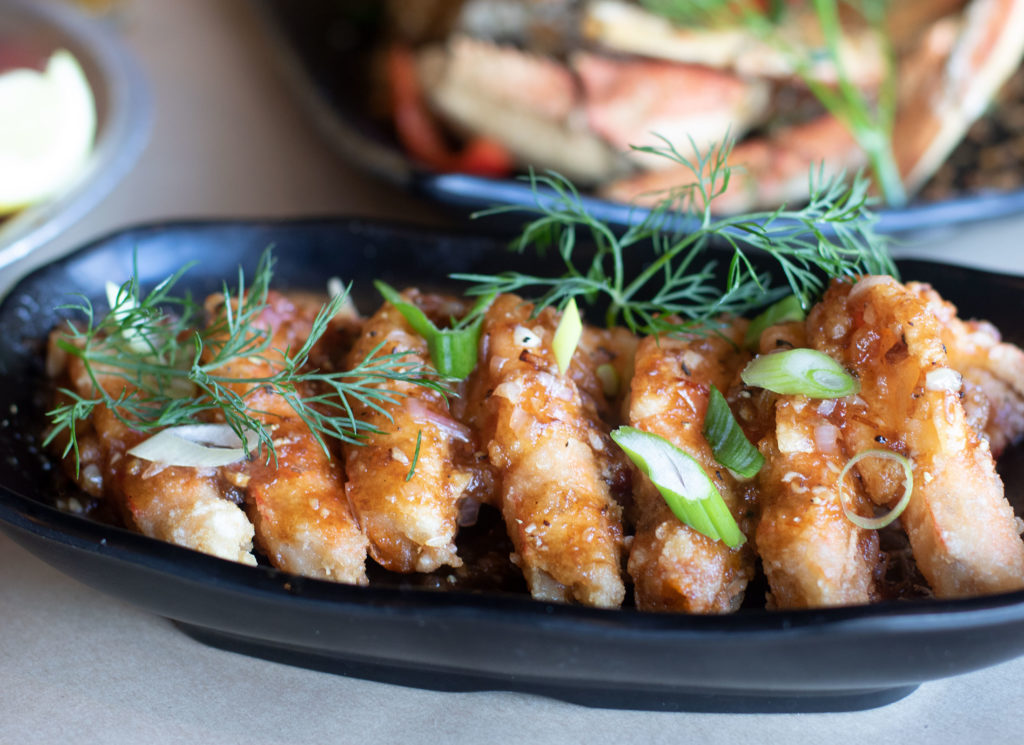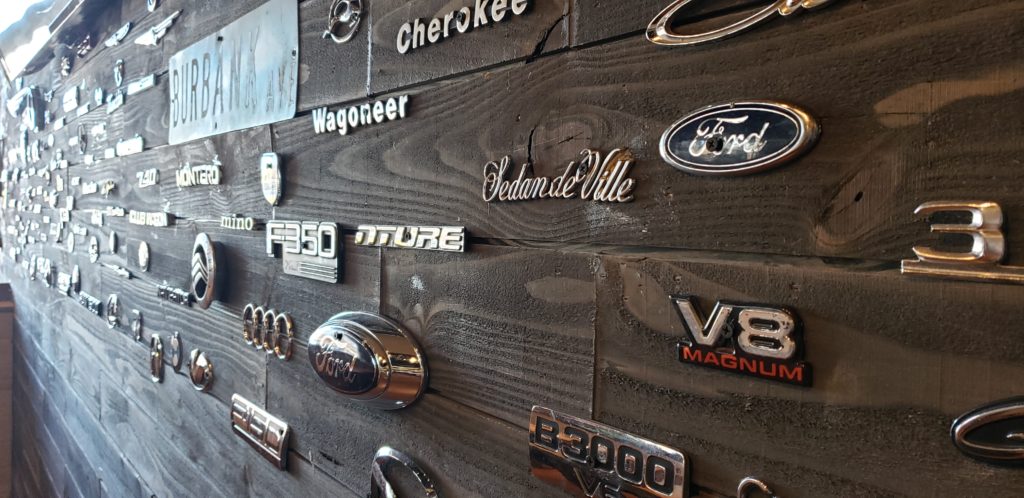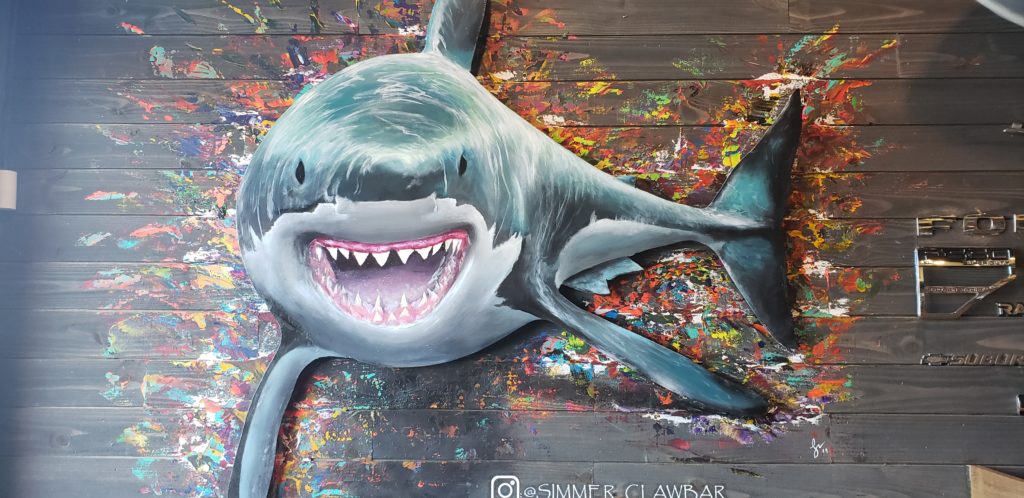 I am covered from fingertip to elbow in shards of crab shells, simmer sauce, prawn juice and garlic, looking desperately for a Wet-Nap. Next to me, a pile of sticky, crumbled napkins bravely bear witness to the seafood carnage that has just occurred.
There is nothing dainty about a steaming pile of boiled crawfish, mussels, crab and clams served up family style, without silverware. Fortunately, there are bibs, gloves and lots of wet napkins to keep things from veering too far off course.
Suit up and dive in, because you're about to become a hot mess at Simmer Claw Bar. And that's OK.
"This is a very involved food," said owner Nhat Le (whose family also owns Simmer Vietnamese restaurants in Rohnert Park and Petaluma). "If you want a fork and spoon this isn't the place for you," he said with a grin.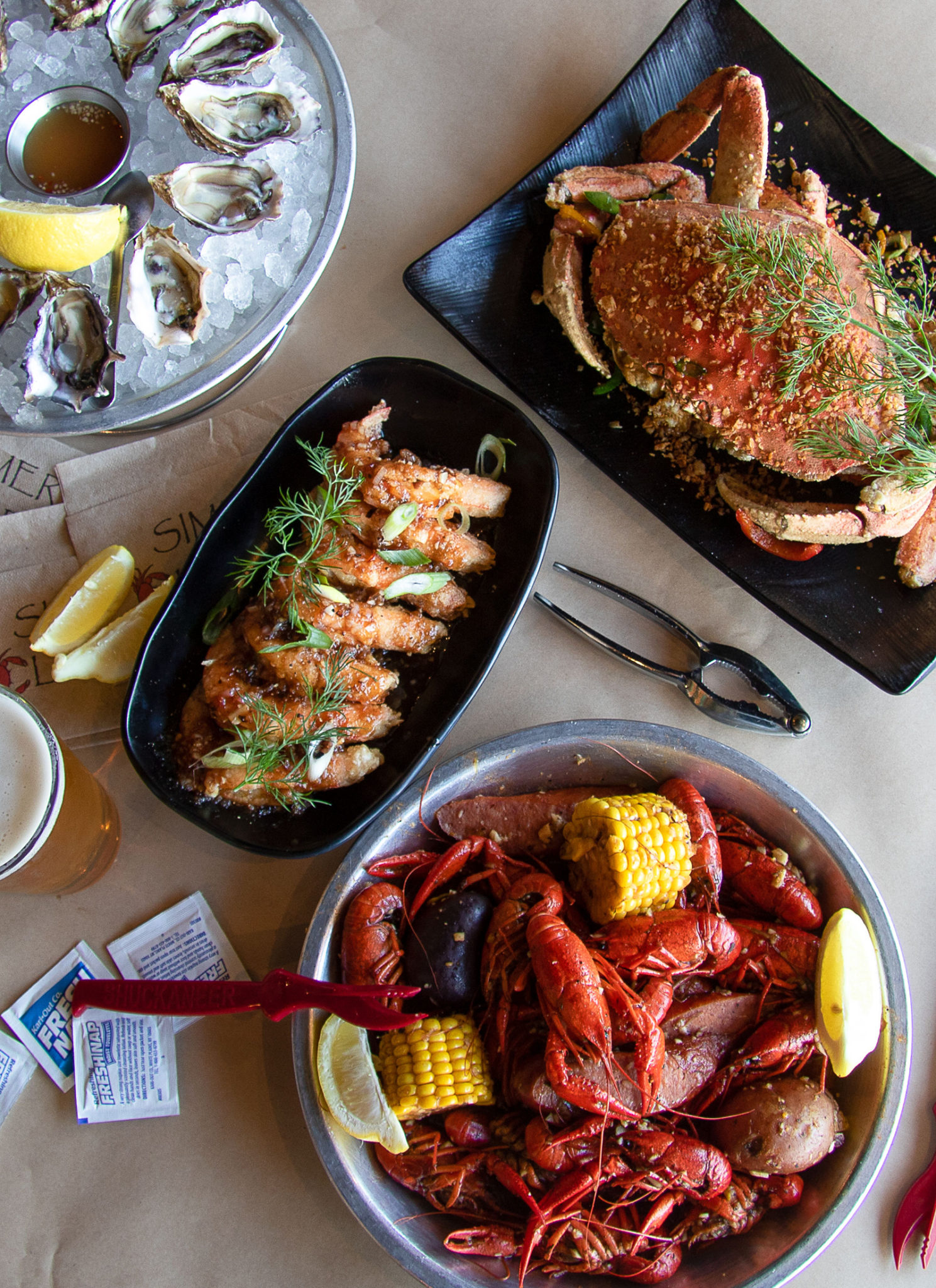 Recently opened in Rohnert Park, the sprawling restaurant features a mashup of Vietnamese and Cajun cuisine, or Viet-Cajun.
Though Simmer Claw Bar is the first of its kind in Sonoma County, the trend of Southern-meets-Saigon seafood boils has been making its way across the country for several years. In fact, Momofuku Chef David Chang's Netflix show, Ugly Delicious, spent an entire episode delving into the not-as-weird-as-you'd-think culinary friendship.
"People might think it's weird, but it's all based on French techniques," Le said. It's a style of food he frequently traveled to find in Oakland or San Jose but couldn't get locally.
So how did these culinary cousins come together? A large Vietnamese immigrant population in Houston married the bold seafood boils of the Gulf region with familiar flavors from home and created a hybrid that speaks to the French and regional influences of each.
At Simmer Claw Bar, that means live crawfish flown in from Louisiana with a signature sauce that includes garlic, butter, citrus and — that's as far as Le will go with his secret recipe. There's also simple lemon pepper, garlic butter and Cajun sauces, each with its own fans.
This kind of food is best experienced socially, as anyone who's been to a seafood boil can tell you. Popping the heads off shrimp with your bare hands tends to be something best shared with close friends, though it's also a bellwether of a strong relationship if you can chow down on gobs of garlic together.
If you're squeamish about seafood looking back at you from the plate, "Claw Bites" like fish and chips ($12), fried frog legs ($12), coconut shrimp ($10) or chicken tenders may be more your speed. Korean Short Ribs ($18) or shaking beef ($21) made with filet mignon are both delicious and flavorful as an alternative or side dish.
Best Bets
Seafood Boil: Much of the seafood is sold at "market price," with prices on the daily specials board. Typically available are head-on shrimp, snow crab legs, King Crab legs, crawfish, Dungeness crab, Manila clams, mussels and lobster.
You can mix and match or buy by the pound, and sauces (lemon pepper, garlic butter, Cajun or their signature Simmer Sauce) kick up the party. Choose the heat level and add-ons like corn on the cob, sausage or potatoes.
You'll get plastic bag filled with steaming crustaceans and shellfish you'll dump into a pie pan for sharing. Or eat right out of the bag if you want. Go nuts.
The Whole Shebang, $75: Five pounds of boiled seafood that includes crawfish, clams, shrimp and mussels with corn, potatoes and sausage. Pick your sauce and your heat level.
Salt and Pepper Crab, MP: Local Dungeness is quartered and flash fried, with a sweet, fresh flavor you can only get from live crab. A large tank in the kitchen is a temporary home to both crab and lobsters, who make a short trip from pot to plate. We especially love the fried bits left attached inside the shell that are sweet, briny and crunchy.
Tamarind Prawns, $14: Whole prawns (shell on) get a shellacking with sweet-sour tamarind sauce that compliments the sweetness of the prawns.
Garlic Noodles, $8: Slippery noodles with gobs of pungent garlic. As if you needed more garlic (you do).
Simmer Claw Bar is at 595 Rohnert Park Expressway, Rohnert Park, 707-806-2080. Open Monday through Friday from 2 p.m. to 10 p.m. and weekends from 1 p.m. to 10 p.m. Happy hour 2 to 6 p.m.
The post A Delicious Mess at Simmer Claw Bar in Rohnert Park appeared first on Sonoma Magazine.