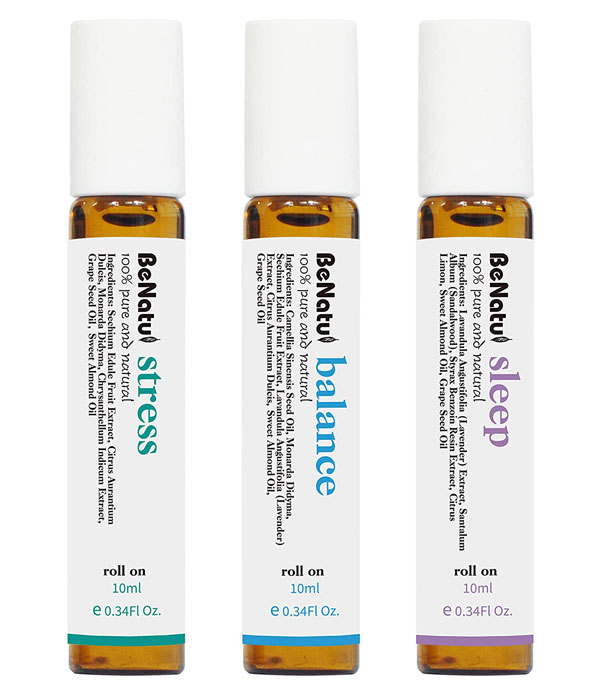 From Hecate: I got those essential oils roll ons we featured for a little daily pick me up and I really like them. The scent lasts and the sleep one lasts almost all night. It worked much better than I expected. I also got the mini donut maker. We all enjoy this and my kids have used it as much as I have. The recipe book is great with easily modifiable recipes. But the donuts are more like madeleines than donuts. I might look for a cake donut recipe to see how that turns out. Definitely tasty, but don't expect a fluffy fried doughnut. Lastly, my mom got these s'more forks and we've used them every time we've been to see her. They do exactly what they promise, extend, hold marshmallows and clean easily. The storage bags makes it easy to keep them all together in the cupboard. And, they are long enough that when you have extended family, namely siblings, you can annoy the hell out of them by poking them without them knowing who did it. So that's a bonus.
A travel table to keep kids entertained in the car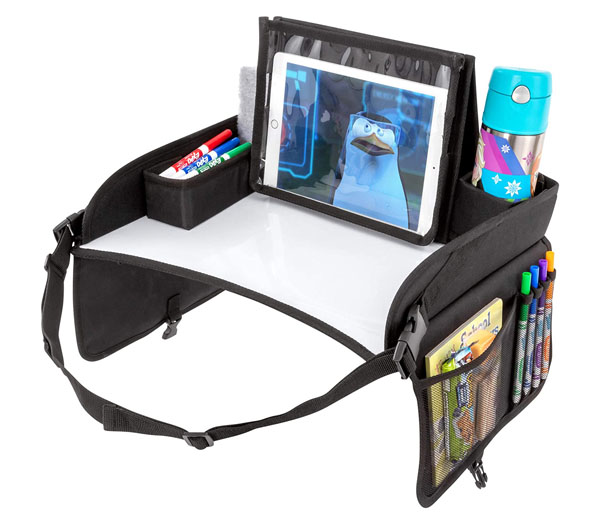 From Hecate: I would have loved these tables when my kids were still in car/booster seats. We'd routinely drive several hours to Northern California to see my folks and I tried to set up the back seat with all the creature comforts they needed for the four-hour drive. Drawing and activity books were big ticket items. These laptop tables have everything right there for you! There's a belt to attach around the seat so the kid won't lose them. There's a drink holder and pockets for crayons, papers and activity books plus some zippered pockets for storage. It also has a tablet holder. Plus, the table top surface is dry erase so they can doodle while they watch their shows. The table comes in five color options, each for $27. Over 9,000 reviewers gave it 4.3 stars, which ReviewMeta confirmed. Most parents said it was a lifesaver for their car rides. Some got inventive and turned one of the pockets into a trash bag, "We ended up using the side zipper pocket for his own little trash can. I put a ziplock bag in there and it worked great so there wasn't little snack trash all over the back seat." Others complimented its flexibility, "The Velcro pieces can be placed anywhere around the top so it was great for him to put his cup in when he was eating." A few warned that these don't fit inside carry-on luggage or backpacks, which means you have to carry them separately for flights. But still, if it keeps the kid quiet, that's a small price to pay.
An eco-friendly dish cleaning set would make a great house-warming gift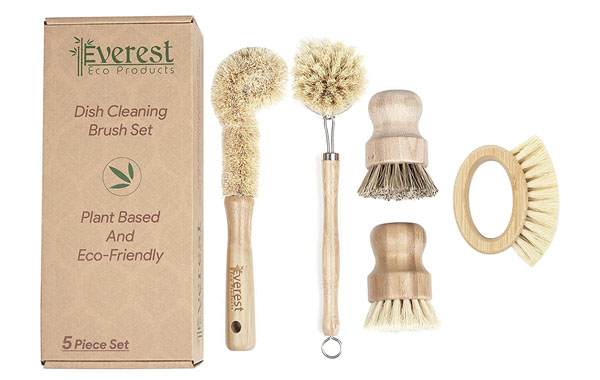 From Hecate: This pretty bamboo dish cleaning set is only $20 for five pieces. The set includes a coconut bristle bottle brush, a sisal all-purpose brush, a sisal dish brush, a palm dish brush and a sisal vegetable brush. These are biodegradable and said to be long lasting. They are fairly new to Amazon, so there aren't a ton of reviews yet, but enough to get 4.8 stars and an A from Fakespot. Customers said they clean a variety of items, "It gets used on my cast iron and green non stick pans. Nothing has been scratched. It cleans the cast ion pans very well." A couple different customers said they preferred these to their plastic brushes, "I really liked the fact that no plastic was used to make this and that they actually work better than the plastic brushes!!" The biggest drawback seems to be that the bottle brush is a bit short.
A long hoodie to wear as a light jacket or robe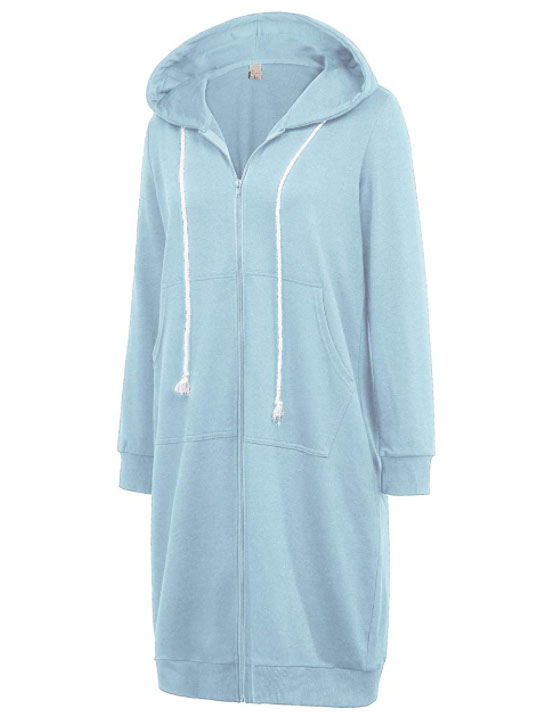 From Hecate: This is something my daughter would love. I want to get it for her for Christmas but if I buy it for her now, I know I'll end up giving it to her… now. Maybe it can be a back-to-school present. I really like the versatility of this hoodie. It can be worn as a regular hoodie, of course. Or, unzipped and layered for a casual fun look. But it also makes a great light housecoat or robe, especially for teens, which I bet is what my kid will end up using it for. It comes in many different colors and sizes small to triple XL, ranging $17-$42 depending on color and size. I love the white one, but that'll get filthy, so I'm eyeing one of the blue ones, especially the peacock blue. Almost 7,000 customers and ReviewMeta gave the hoodie 4.5 stars. It's important to note this is more of a cover-up than a sweatshirt because of the lightweight fabric, "I bought this to wear around the house on lazy days- you know the days when you are just so sick of the world all you want to do is sit on your butt and stuff your face without any judgement? Yep, perfect for that." Since it's lighter than a sweatshirt, you can wear it for more situations, "I love being casual and this allows me to have that casual hip look in warmer weather." The description said it's hand-wash only, but several customers said how easy it was to wash, so I'll bet it can go in the machine on cold or delicate.
An all-natural multipurpose cleaner and polish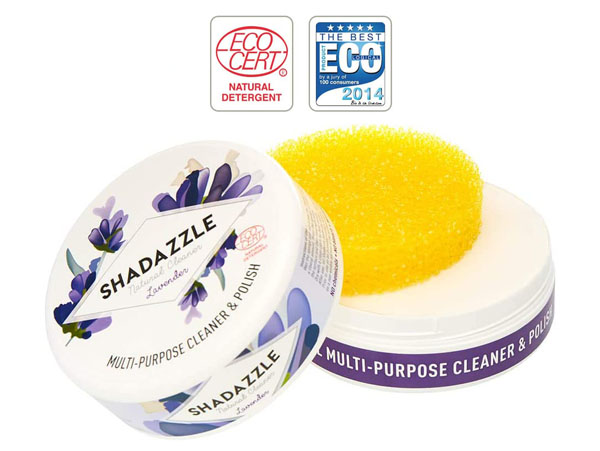 From Hecate: While looking for environmentally friendly cleaners, I was attracted by the pretty packaging and name for this product. Shadazzle is a natural all-purpose cleaner with no harmful chemical or phosphates. It cleans a variety of surfaces and the small container lasts longer than those big bottles in your cleaning closet. Plus it comes in three really wonderful scents: lemon, lavender and eucalyptus, each for only $10. According to the description, this cleaner can be used for, "any kind of metal, ceramics, porcelain, marble, wood… Very effective on stainless steel, silverware, jewelry, glass shower doors, glass stove tops, or even car wheels." The photos show someone cleaning sneakers with it. That would make it worth its weight in gold. It earned 4.3 stars from 458 reviews and Fakespot gave it a B. Customers love the results, but also that they can feel good about using it, "I like the fact that I am not killing any sea creatures when I wash this down the drain! It does a great job on kitchen and bath surfaces" Many said it consistently stands up to the job, "the product is excellent and does what it says. Really leaves a beautiful, shiny, water resistant finish." I guess the sponge it comes with isn't great so maybe have some rags on stand by.
A bug bite suction tool for quick relief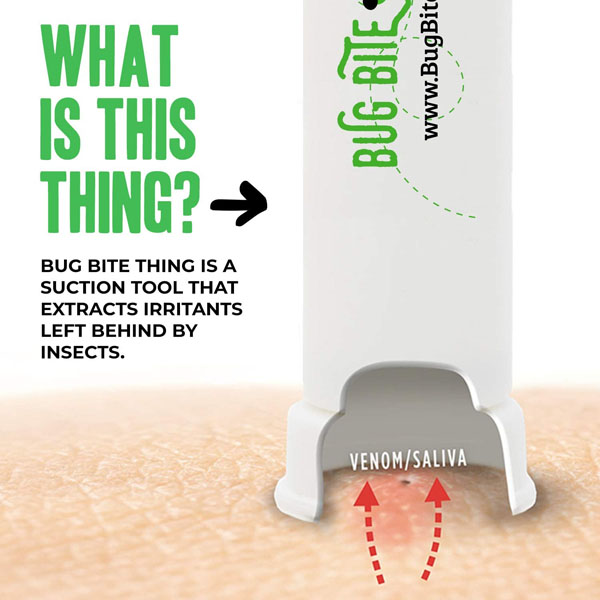 From CB: Last weekend I got two wasp bites hiking. They hurt, but were ok until they got all hot and red a week later. I wiped them with bug bite treatment right away, but they ended up getting infected and I had to go on antibiotics. With this tool in my bag I could quickly pull out stingers and venom and hopefully avoid infections. The Bug Bite Thing is a little suction tool that pulls venom and insect saliva out of a bite to quickly reduce itching and redness. This has 4 stars, over 37,000 ratings and a B on Fakespot. People call it a "lifesaver for wasp and bee stings" and say it really works. You do not want to use it on your face though because it will leave a mark. They write "This is the absolute best thing I've ever used on mosquito bites in my life. I have a rather large veggie garden and spend lots of time in it, harvesting veggies and getting eaten by mosquitoes. Yesterday I had 24 bites on my leg… Today I have just a couple of tiny red dots left where they were." I don't know why that person doesn't use bug spray, but it sounds like it works.
The seasoning salt movie theaters use for movie theater popcorn at home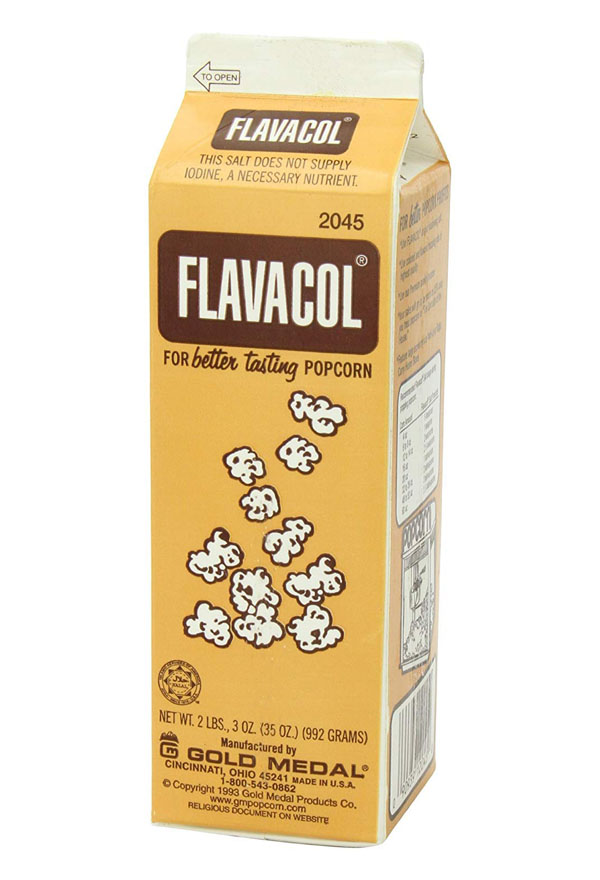 From CB: Flavacol seasoning salt is the old school popcorn seasoning used by movie theaters. It's said to make delicious movie theater popcorn at home. This has over 6,400 ratings, 4.7 stars and an A on Fakespot. Reviewers say there's nothing like it and they can't stop eating popcorn. "The popcorn comes out great, big popped corn and perfectly seasoned with that real movie taste, you can add butter (I don't ) but either way it's very good. Movie night at home is now even better.""If you want the flavor of theater popcorn at home, this is a must, along with coconut oil." Sold! Now all I have to do is get one of these stovetop popcorn makers and I'm all set.
A rollup dish drying rack that's so versatile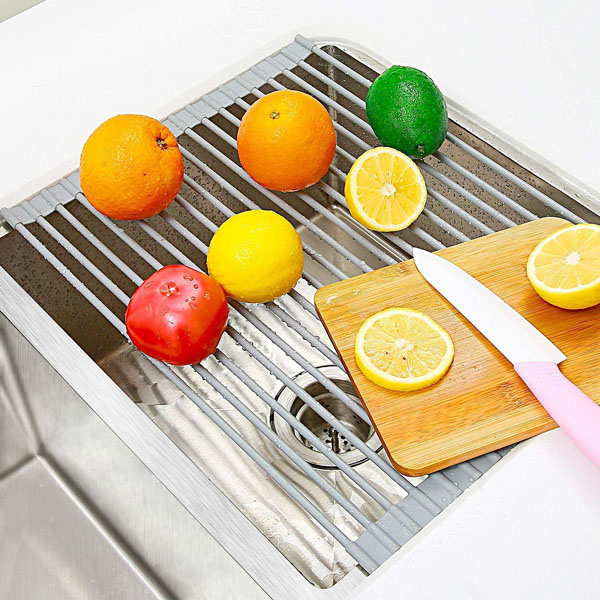 My mom loves this roll up dish drying rack so much she bought three as gifts and gave one to me. It's really sturdy and easy to use. It expands over the sink and can be rolled up and put aside when your dishes are dry. This has over 3,300 ratings, 4.7 stars and an A on Fakespot. This would be great for anyone with a small kitchen who needs more space. Reviewers say it works great and has so many uses. "This thing is a true multitasker. It's for spanning the length of one side of the sink to increase your dish drying space. It's for setting your colander on when you want to drain potatoes or pasta. It's for setting wet vegetables on." "Really a great idea as well as an excellent execution in building this item. Extremely sturdy and can be easily rolled up and put away when not needed. We absolutely love ours and highly recommend this."
Thanks for reading and commenting on our affiliate post! If you make any purchases through these links we get a percentage and appreciate it!