Are you ready to DIY Burlap Utensil Holders? Today I am sharing a tutorial with you for how to make your own Burlap Lace Utensil Holders. This is an easy DIY crafting project that's quick! This project is perfect to make for any time you are looking for a rustic dining table setting, outdoor table setting or you can create these anytime for your table decor at home or for an event such as a rustic wedding or even a special dinner for two. Don't forget, Thanksgiving table decor setting, fall table setting… 
Looking for something else to make? See all our sewing projects. 
If you are new to sewing this project is perfect as it is super easy, all straight stitching and no pattern needed. Before you know it you will be making a batch of these burlap utensil holders for yourself or even as gifts. See below for the no-sew option. 
Not a sewer? you can purchase fabric glue or even use a hot glue gun to create them just by gluing around the edges, following the instructions where you would sew. Just make sure you use glue that dries invisible, is extra strong and works well on fabric. We have a no-sew video at the end of this post along with other resources to help you make these silverware holders or a version of them. And if you don't sew and are looking for other projects to try, here's where to see our index of craft ideas. 
Burlap Lace Utensil Holders
This type of utensil holder is perfect for any type of gathering, event or wedding. Now onto the Burlap Utensil DIY!
DIY Burlap Utensil Holders 
Supplies you will need for this DIY
These products are all similar to what I used and sourced from my affiliate Amazon. I do earn a small commission for qualifying purchases. 
The number of supplies you will need vary on how many utensil holders you make.
Instructions for how to make burlap utensil holders
1. The first thing is either make out a template or just measure & cut one using it as a template for the rest. The measurements I used to leave enough room to add a napkin into them. Total Size: 6 inches wide x 13 3/4″ for each one you want to make. I made 8 so I cut this size 8 times.
2. Next, cut your lace pieces about 6 1/2″  for each one. (OR) You can put lace into place folding lace across then tuck under edge pin & cut to size. To find placement just fold up your burlap fabric about 4-3/4″ (but, do not sew it yet) I placed mine exactly one inch from where the bottom was going to be & a little over 1-1/2 inch from where #2 is in the photograph & opening of utensil holder pocket is.
As you see you fold up your 6 x 12- 3/4 " fabric 4-1/2″ to create the pocket. All sewing prior to the third step is done without folding for the pocket as shown in the image below. (envision your total size burlap flat unfolded to do first steps, hope that makes sense)
3. Once you do steps one and two you fold up burlap. Then pin at each side in place start at one corner and go the entire way around. It isn't necessary to sew across the bottom, sew along one side, across the top, and down the other side like it's a ( u ) shape. I did this so the burlap edges wouldn't unravel and to make the fold of pocket.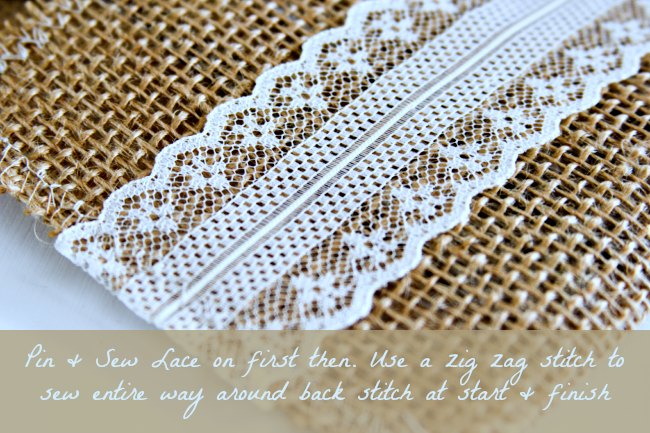 When your sewing the lace onto burlap you sew across the side edges (on each side) where you will sew around a final time. If you have questions just ask and I'll try to answer them.
Now you can do this assembly style after you make one, after seeing how easy it is to sew up! Sometimes if you are newer to sewing it's easier with a video or more detailed photos, but I hope I explained it well enough for you to try.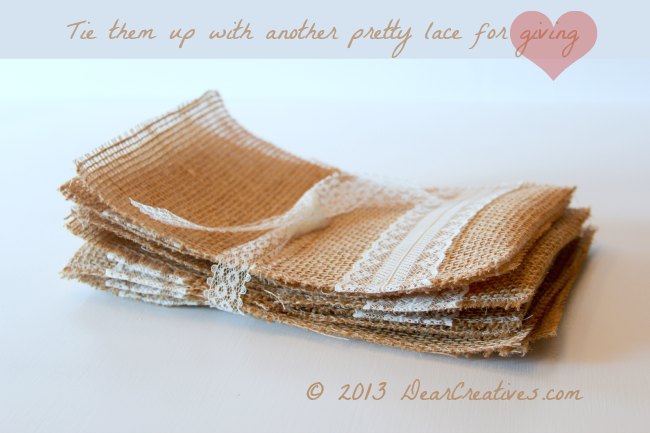 Now your all ready to have some rustic decor to your festive tabletop. The lace I used was vintage I had of my grandmas. I know just by changing the type of lace you use you can alter the look and feel of these. If you make a Burlap Lace Utensil Holder or set of them, I'd love to see them! You can email me or leave me the link in comments, tag us on social media @dearcreatives or submit your project to us.
Next, you might even find yourself sewing up some pretty napkins out of fall fabric to add right into your holders too! Need more help here are a few more no-sew silverware holder ideas and resources for you. These DIY utensil holders were made for a summer party and table setting. When or what even will you make yours for?
Helpful Video Tutorials DIY No-Sew Silverware Holders

This tutorial for silverware holders uses iron-on tape. This is another option that is perfect to use instead of sewing, glue or hot glue. 
Handmade Wedding: Burlap Cutlery Holders has a few more ideas to go with a rustic themed event or wedding.
Looking for more ideas to make? 
Related Content 
DIY Mustache Props – Tutorial (Fun wedding or party idea)
DIY Upcycled Utensil Holder (To Match Your Theme/Party or Event) 
New here? Be sure to subscribe! 
Pin it for Later 
Looking for more fall crafts or content? 
You might want to make some Velvet Pumpkins to go with these! Visit this pumpkin decor DIY post to see this easy how-to, grab a tutorial to give it a try!
See all our Craft Ideas 
Helpful posts that are related
This post has been updated to include more helpful content, resources, and information. 
The post DIY Burlap Utensil Holders – Sew and No-Sew Options appeared first on Dear Creatives.