Lodge at illi Shimokitazawa for a Deeper Tokyo Experience
Upper-left picture courtesy of illi Shimokitazawa
Shimokitazawa (or, "Shimokita" for short) is a neighborhood in Tokyo a quick train ride away from Shibuya and Shinjuku. Known for its stylish galleries, eateries, bars, and music venues, most non-residents visit Shimokita for the afternoon or day, and leave. This is changing, however, as the accommodation, illi Shimokitazawa is providing the chance to experience this quirky area in-depth.
Opened December 2019, the sleek design of the rooms and the group-friendliness of this lodging makes it easy to get a fulfilling, local experience to share with travel companions. Read more about this ideal accommodation for enjoying the best of Shimokitazawa!
Spacious Rooms for Groups! Each Unit Takes Up an Entire Floor
Picture courtesy of illi Shimokitazawa
When it comes to accommodation in Tokyo, one shouldn't expect wide spaces. However, the rooms at illi Shimokitazawa are 50 square meters (around 538 square feet) or more, and each occupies one level of the building.
Up to six guests here will be comfortable here while feeling like they're getting an authentic, resident-like experience with this modern, apartment-style lodging. The interior design of each room is different, but all are contemporary and minimalistic, offering just the right level of comfort.
The space has an open floor plan in the main room, divided up into an area for sleeping and socializing. Each room has a different design and layout, but all contain two double beds on the ground, and two single matresses on the second level, creating a private, but close setup ideal for a fun sleepover experience. The mattresses and bedding are high-quality and will ensure everyone gets a good night's rest.
Stylish touches and plenty of greenery brighten the simple design of the space. You'll feel at home from the second you step inside (be sure to change into the room slippers by the door).
Please go to Booking.com to view further details on each room and booking availability
Picture courtesy of illi Shimokitazawa
For amenities, guests can use the mini-refrigerator (with complimentary water bottles inside), microwave, BALMUDA electric kettle, and coffee bean mill in the main room. Along with coffee beans and tea, there are plates, silverware, cups, and necessary kitchen tools in the cabinets for light cooking or food preparation.
The sink area in the restroom has a modern style with wooden and black finishes throughout, equipped with high-quality soap, towels, toothbrushes and toothpaste, and other bathroom essentials. There is a spacious shower in the next room over and a washing machine.
There is also a balcony or terrace deck area adjoining each room that guests are free to use. Enjoy relaxing outside in the spring and summer with a refreshing beverage, or bundle up in the fall and winter with a cup of warm coffee while taking in Shimokitazawa from above.
Extra Amenities and Hospitality! Local Guides, Books, and Fast Internet
Guests can also get help with planning their day and exploring Shimokitazawa. Local guides with pre-made Google lists and maps of suggested cafes, restaurants, shops, and bars are in every room. Read the QR code with your phone to view what's nearby and fits your current mood.
There are also books in English about coffee and other topics, and a Pocket WiFi device in addition to the in-room WiFi, making it easy and fast to connect.
Great for Friends! Relax with Records and Coffee
illi Shimokitazawa is designed especially for groups. This is present in the layout of the room (mentioned above) and the amenities. A record player and speaker system allows you to play music, and games like Cards Against Humanity can be fun entertainment in the evening.
In the kitchen area, enjoy a full coffee experience with complimentary beans that you can hand-grind in the coffee mill. There's nothing quite as satisfying as good coffee during a trip, and brewing it just the way you like is one way to guarantee this.
There are even Biscoff cookies to pair with your coffee and enjoy with friends.
On a clear day, you can see an impressive view of Tokyo Metropolitan Building, Tokyo Tower, and Tokyo Skytree. The city nightscape from Shimokitazawa is also very beautiful.
How to Get to the Lodging and Check-In
Shimokitazawa Station (Odakyu and Keio entrances). Photo by Pixta
Secure and easy self-check-in for illi Shimokitazawa is done at Shimokitazawa Station (Odakyu and Keio). Guests can check-in starting at 16:00. Head to the Key Station, located just outside the ticket gates. Lodgers will receive a special confirmation number to enter and then confirm with the staff on-duty, and you will then receive your key. When checking-out (by 10:00), you will return this key to the same slot in the Key Box.
illi Shimokitazawa is just a 1-minute walk from the station, making it very convenient even for those with luggage. The rooms are on the second through the sixth floor of the building, and there is an elevator and a staircase.
To get to Shimokitazawa Station from Narita Airport, ride the Narita Express to Shibuya Station, and change to the Keio Inokashira Line. Get off at Shimokitazawa Station. It takes around 90 minutes in total.
For those coming from Haneda, ride the monorail to Hamamatsucho Station and change to the Yamanote Line to get to Shibuya Station. Then, transfer to the Keio Inokashira Line and ride to Shimokitazawa Station. It takes approximately one hour from Haneda Airport. For those coming from Shinjuku or planning on using Shinjuku Station, take the express train on the Odakyu Line.
Details and room availability for illi Shimokitazawa: see Booking.com.
Things to Do Nearby in Shimokitazawa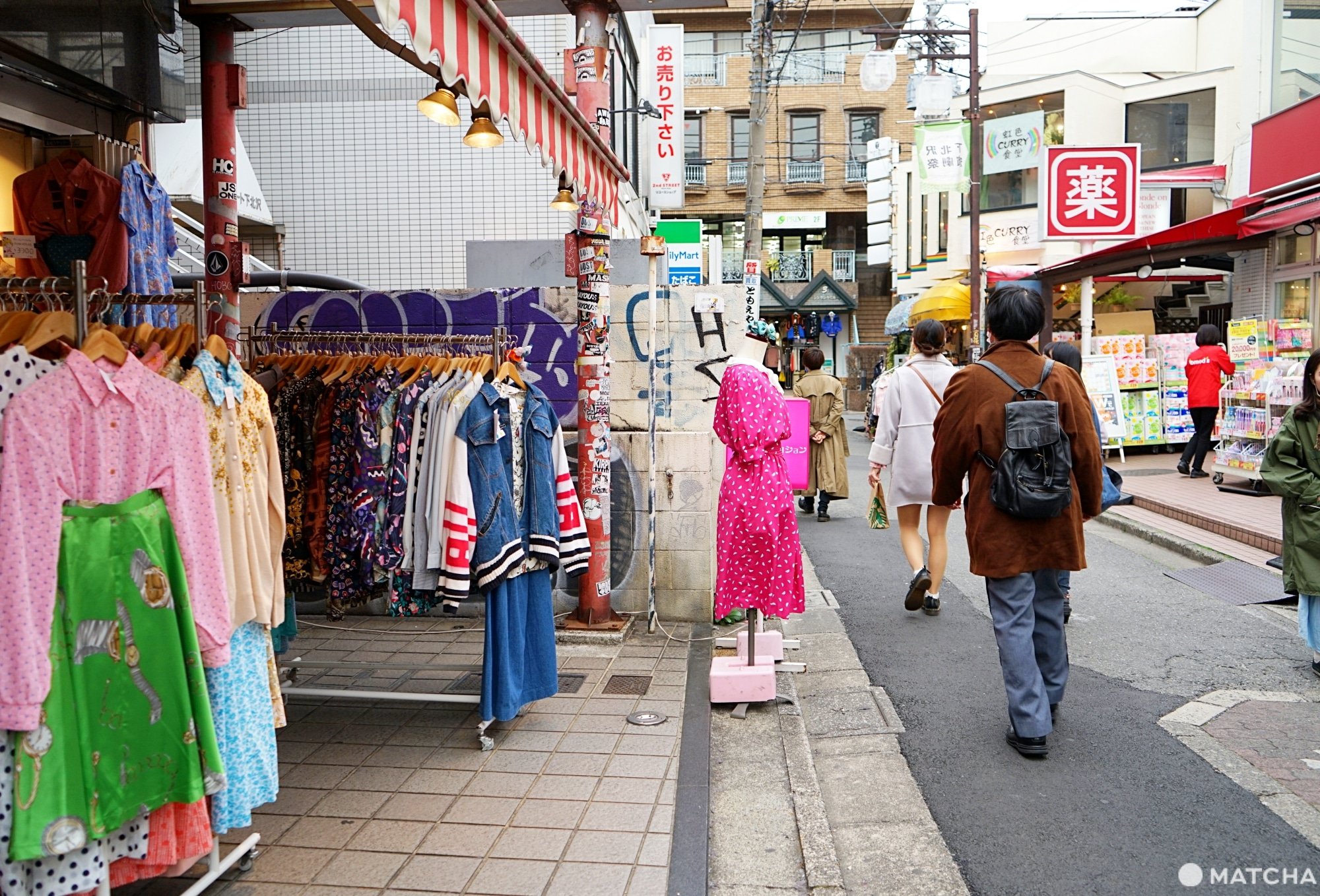 Shimokita is a vibrant neighborhood with lots of things to do and see. Browse through some of the numerous vintage clothing shops, relax at a cafe or bar, or enjoy some local food (curry, in particular, is famous in Shimokitazawa). With so much at the tip of your fingers, it may be hard to decide what to do––use the local guide in the room or just walk around and go wherever piques your interest. For those looking for a small snack, a famous, old-style senbei (rice cracker) shop is right next to illi Shimokitazawa.
Shibuya and Shinjuku are one train ride away, so those wanting to head into the major neighborhoods of Tokyo can in less than ten minutes via train.
Make illi Shimokitazawa your base when staying in the capital with your friends, family, or loved ones, and enjoy an artistic, playful side of Tokyo found nowhere else but here.
Details and room availability for illi Shimokitazawa is available on Booking.com.
Main image courtesy of illi Shimokitazawa
In cooperation with illi Shimokitazawa