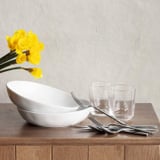 The holidays will be here before you know it and, if you don't want to scramble to buy last-minute presents, you might want to make a list of your inner circle now. (And check it twice, of course.) But, while a gift is a great way to give your friends and family members some extra love, finding the perfect present can be stressful. After all, it's not every day you can find something that's pretty, practical, and affordable. Well, at least that's what I thought before I heard about Leeway Home's genius bundles.
Founded by Sam Dumas and Lyle Maltz, Leeway Home was built on the principle that life's full of changes. (One day, you're living in small, studio apartment. And the next? You're calling a spacious suburban abode home sweet home.) Instead of buying mismatched plates, silverware, or glasses whenever you upgrade spaces, the brand's bundles make it a lot easier for the homebody in your circle to embrace life's changes. (All without breaking the bank.)
And after receiving a bundle myself, I'm convinced this will make an epic present for the avid hosts in your life. Want to see what all the hype is about? Keep scrolling to learn more about this standout gift idea.