Americans spend an average of just under 6 hours a week in their kitchens cooking.
Add on the hours you spend working on homework at the kitchen counter or eating a snack at the table, and thats a large portion of your life spent in the heart of your home.
If your kitchen is a mess, it can be tough to enjoy your time there.
Keep reading to learn how you can take back your space and maximize your storage with these smart kitchen organization tips.
Ditch Packaging for Clear Containers
Your grocery store purchases come in all shapes and sizes. From big boxes of cereal too tall for your shelves to bags of chips that never sit upright or stay closed once youve opened them, it can be almost impossible to keep a full pantry organized.
By getting rid of the store packaging and instead of storing your food in standard sized, clear plastic or glass containers, you can organize your pantry while also making it easy to spot what youre looking for.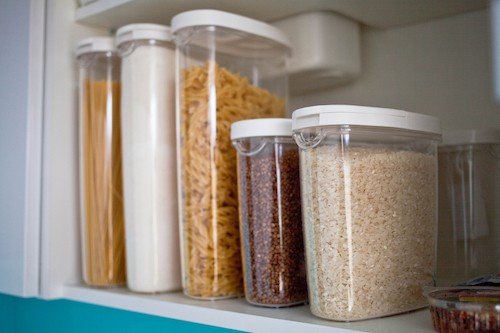 Plus, cute clear plastic containers add a modern touch to your kitchen while glass jars give it a country feel. This makes either ideal for displaying items you use every day, like coffee or cereal, right out in the open on your countertops.
Use Risers in Your Cabinets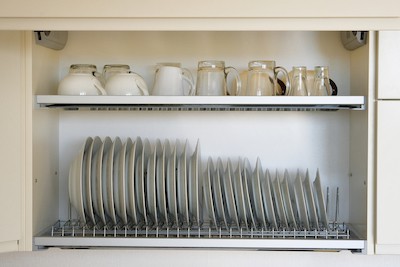 Many cabinets feature shelves spaced too far apart. When youre stacking plates, bowls, cups, and other items, you have to choose between stacking different kinds of items on top of each other, making your piles insecure, or stacking them separately, which means lots of wasted vertical space.
Risers can help you maximize your space without creating leaning towers of China.Metal or wooden risers allow you to stack different sizes of plates, bowls, cups, and more on your shelves, using up valuable vertical space that would otherwise be empty.
Pots and pans are bulky and never stack quite right, no matter how carefully you organize them. Even just a few pans can end up filling an entire cabinet. And each time you need to get one out, youll have to rearrange them all.
To get your pots and pans organized and make it a breeze to grab exactly what you want, you need to install a pot rack.
Mounted on the wall or hanging from the ceiling, pot racks are metal frames designed to hold pots vertically from hooks. You can also hang cooking utensils like spatulas and spoons so that you can grab them quickly as needed.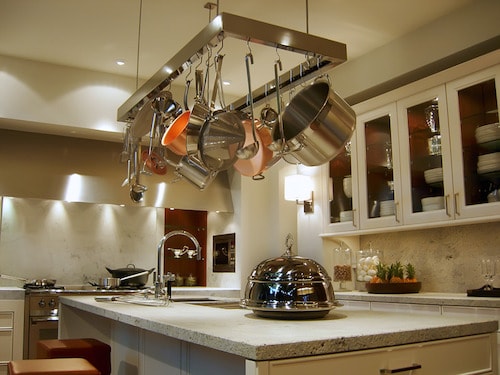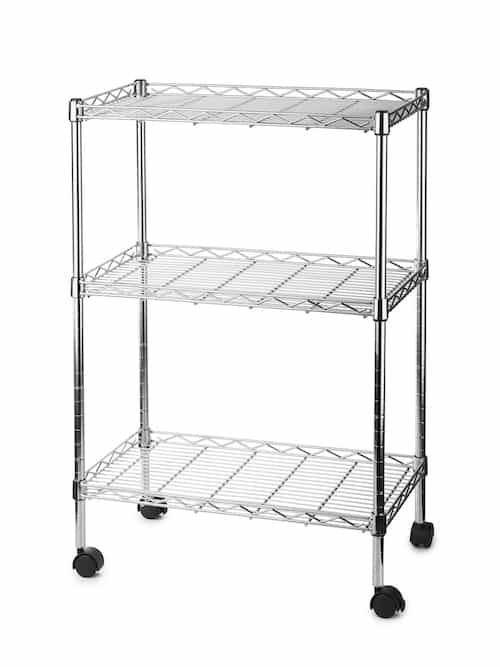 Some kitchen organization ideas require a bit more work, but can also make your life much easier and help you maximize your storage space. Rolling shelves are one such idea.
Rolling shelves are installed inside of cabinets and can be easily rolled out to make it easy to reach items in the back of the cabinet. This eliminates the need to dig through several layers of storage to find what youre looking for.
Rolling shelves are ideal for cabinets below the countertop because you wont have to get down on your hands and knees to find items stored in the back. They are also perfect for narrow, deep pantries and cabinets.
Hang Hooks on the Inside of Cabinet Doors
Command hooks make it easy to attach things to the inside of your cabinet doors without ruining the finish or adding holes to the wood.
Having a few Command hooks inside of your cabinets so that you can easily store smaller items, like measuring spoons and cups.
These items are a pain to store in drawers because they take up so much space and never stay stack properly. But inside of a cabinet, theyll be out of the way while still being easy to grab when you need them.
Plus, by hanging each one separately, you can quickly find the right size rather than having to sort through the stack to find it.
Install Hooks Under Cabinets for Coffee Mugs
Kitchen cabinet storage ideas arent always solely for convenience. This tip is also a cute way to add some character to your kitchen.
Installing metal hooks under your cabinets is a fun way to display your favorite coffee mugs or a great excuse to buy some new ones! Choose mugs that match your decor, or display your favorite cups youve collected on different vacations!
Youll no longer have to worry about how to stack coffee mugs in the cabinet, and theyll be right by your coffee maker for a quick grab.
Use Bins to Organize Small Like-Items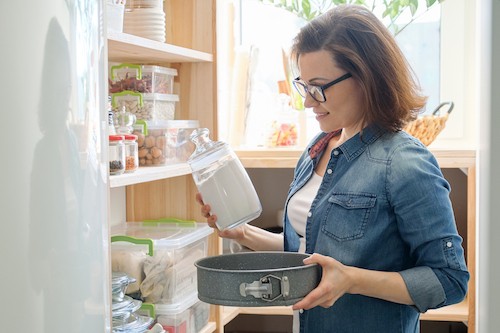 From spices and herbs to food coloring and cupcake liners, your pantry and drawers are likely full of little items that are constantly falling over or impossible to find.
Grouping these items in storage bins makes it easier to find them, and also helps to keep your cabinets and pantries organized. Choose from clear plastic bins to make it easier to find what youre looking for in a crowded pantry, or cute containers that can be placed on shelves and out in the open in your kitchen.
Use a Silverware Organizer in Your Junk Drawer
Everyones kitchen has one; a junk drawer full of odds and ins like ink pens, tape, batteries, and last months grocery list.While clearing away some of the clutter is a great idea, youll likely still be left with a few items you want to keep around. Instead, its time to organize your junk drawer.
Silverware organizers are perfect for creating spaces for different types of items in your junk drawer.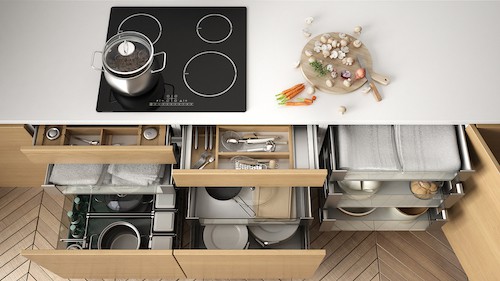 We cant guarantee that it will stay that organized, but it should at least help encourage a bit of organization amid the chaos!
Taking Your Kitchen Organization to the Next Level
Even with all of these kitchen organization tips, if your kitchen simply doesnt have enough storage space, its likely to become cluttered and disorganized again right away.
If this is the case in your home, maybe its time for an upgrade.
Check out our custom cabinet options to see how we can help you design a beautiful kitchen that works better for your family!