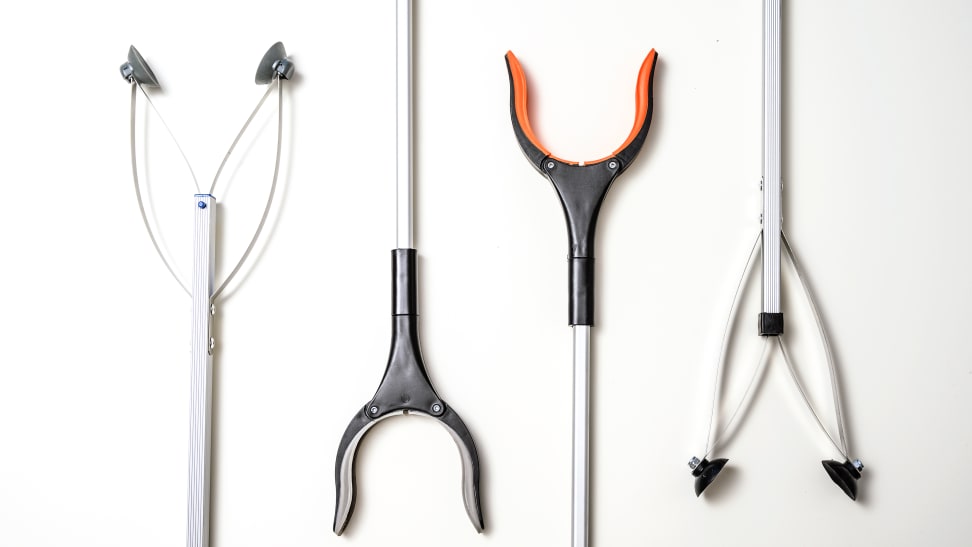 — Recommendations are independently chosen by Reviewed's editors. Purchases you make through our links may earn us a commission.
Ever feel like something—whether it's the TV remote, a dropped vitamin, or a book—is just out of your reach? If so, you may have considered getting something called a "reacher-grabber" tool—that is, a long metal or plastic instrument with a claw on one end and a trigger on the other, that serves as an extension for the arm, hand, and fingers.
Many people use and love these tools for scooping up dropped items without having to bend down, or collecting things from a high-up shelf without climbing on a step stool. But there are a lot of them for sale out there, with different features like suction-tipped claws and even LED lights, making it difficult to know what the right one to get is. We tested 10 popular grabber-reacher tools—including the well-advertised Birdrock, Grab-It, and Gopher—and landed on the Vive Rotating Grabber Reacher (available at Amazon) as the best option.
These are the best reacher grabbers we tested ranked, in order:
Vive Rotating Reacher
BirdRock Home 32 Inch Long Grabber
Grab It Ratcheting Grabber
Ontel Gopher II Pick-Up & Reaching Tool
Vive Suction Cup Reacher Grabber
Zayad/Saymeto reacher grabbers
Unger Professional 36″ Nifty Nabber
Sammons Preston Standard 26" Reacher
RMS Featherweight The Original Reacher (26-inch)
How We Tested
The Tester
I'm Sara Hendricks, the Emerging Categories writer here at Reviewed, which means I've covered all sorts of products, from compression socks to period underwear. I've previously written about accessibility, such as products that make the bathroom more user-friendly for folks aging in place, so I was excited to try out reacher-grabbers, which many people use to put household items closer at hand.
The Tests
Our testing of grabber-reachers had three rounds: Two "objective" rounds, in which I tested the tools' capability at performing various tasks, and one "subjective" round, in which I evaluated the experience of using each grabber-reacher for the various tasks.
For the first objective round, I used each tool in a series of tests that mimic its common uses:
Collecting a book, a can of vegetables, and a stuffed animal from a high shelf
Pulling a notebook and a phone charger from an unzipped backpack
Snagging a half-full glass of water and a remote control from a table in front of me
Picking up a croquet ball, a stuffed animal, and a LEGO brick off the floor
Next, I used the top four best-performing reacher-grabbers—the Vive rotating reacher, the Vive suction cup reacher, the Gopher, and the Birdrock—to perform more objective tests to determine their versatility and claw strength:
Crushing an empty soda can
Picking up vitamin pills off the floor
Pinching a squishy stress ball without rupturing it
Moving sandbags from place to place with each my dominant and non-dominant hand
Picking up books of varying sizes to see if the grabber-reacher's claw had a weight limit
Finally, I reviewed the user experience of each grabber-reacher: what the handle felt like, how natural it felt to hold, how adjustable it was, and how using it differed between my dominant and non-dominant hand.
What You Should Know About Reacher-Grabber Tools
A grabber-reacher is a tool that works as an extension of the arm. There are different variations of the tool, but most have a claw-like end that grips items that would fit in someone's hand, a 2- to 3-foot long rod in the middle, and a handle with a trigger on the opposite side to manipulate the claw. These tools allow users to pick things up without bending down, or pull things off of high shelves without straining or climbing on top of things. They are also commonly used as trash picker-uppers, for cleaning up litter along the roadside or in a park.
---
Other Reacher Grabbers We Tested
More Articles You Might Enjoy