As an architecture enthusiast and avowed Bill Bensley fan, I'd heard rave reviews about one of his larger hotel projects, the JW Marriott Phu Quoc Emerald Bay Resort & Spa in Vietnam, since it opened in December 2016. 
The other hotels I've visited that were conceived by the hyper-imaginative, Bangkok-based hospitality designer — Capella Ubud, Capella Hanoi, Rosewood Luang Prabang and Shinta Mani Angkor — have all been relatively intimate in scale when it came to the number of rooms available. Their smaller sizes seem to ensure that Bensley can construct elaborate backstories for the hotels and his design inspiration.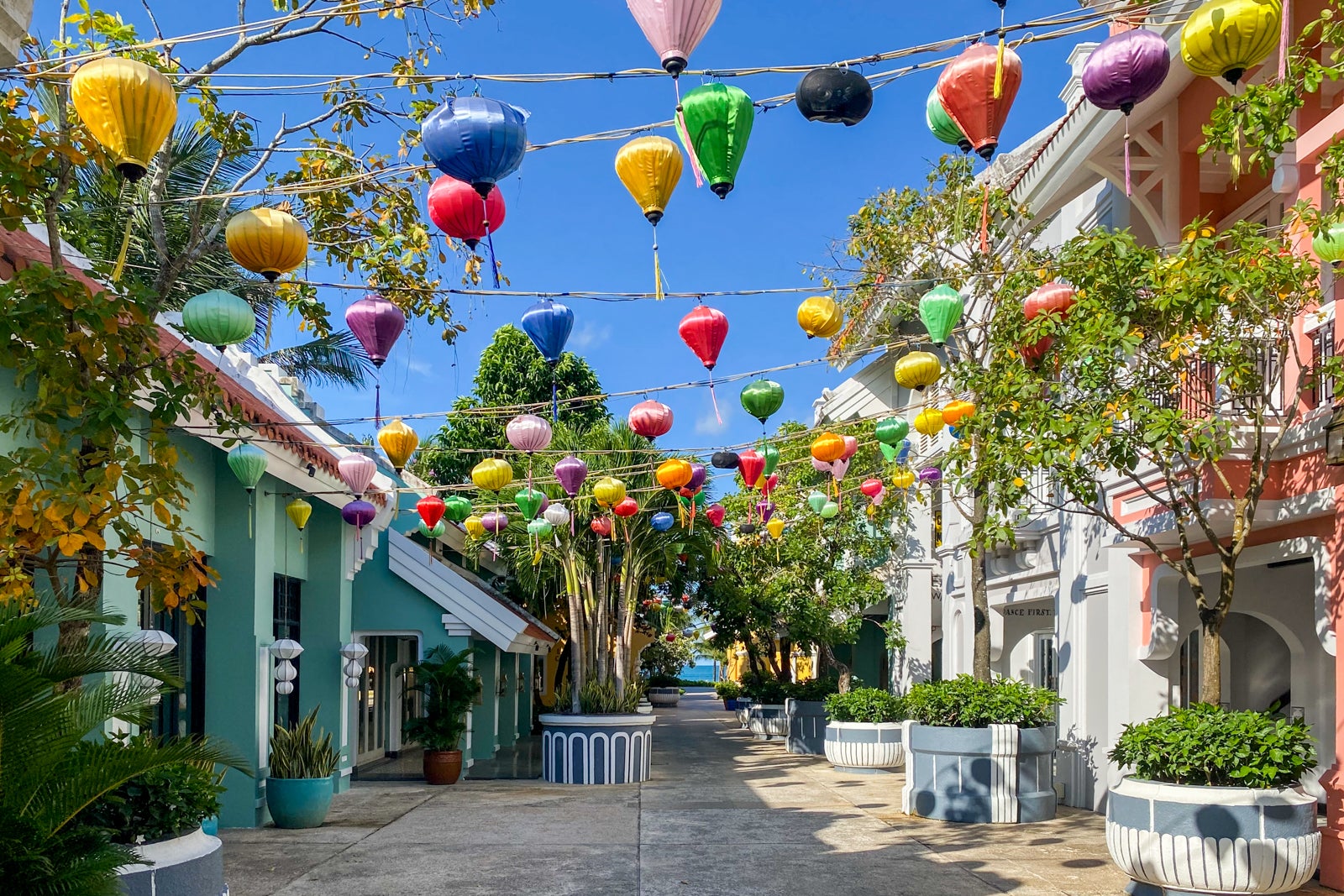 By contrast, this 234-room and -suite beach resort on Vietnam's buzzy Phu Quoc island is something of an outlier. How could he spin his magic over such a large footprint and within the parameters of a brand that's decidedly less boutiquey than some of his other calling cards?
Well, apparently, since the resort has won several awards and was the first true luxury property to land on this rapidly developing island five-and-a-half years ago.
For more TPG news delivered each morning to your inbox, sign up for our daily newsletter.
Here's what I discovered during a whimsical two-night stay at Lamarck University, aka JW Marriott Phu Quoc Emerald Bay Resort & Spa (backstory below), and why it might have lost some of its magic since it debuted nearly six years ago.
Booking
I booked this hotel over a weekend in June, several months after Vietnam had reopened. Opting for a standard 1 King Bed, Garden View, Emerald Bay Room, the total cost was approximately $345, including taxes. The Member Flexible Rate I chose included breakfast, as it's not possible to book directly without it. 
The same room would have cost 45,000 Marriott Bonvoy points per night, netting me a value of around 0.77 cents per point, which is just slightly below TPG's valuations.
I wound up booking the paid rate using my Chase Sapphire Reserve card since I earn 3 points per dollar on travel. And ultimately, thanks to an upgrade, we ended up in a Deluxe Emerald Bay View King on a higher floor, which typically goes for $28 more per night than the standard room I'd booked.
In my booking email, there was a notice that "some hotel facilities or services may not be available to guests for a period of time due to maintenance/renovation." I didn't find out what those were until we arrived.
Location
This property sits on the protected southeastern coast of Phu Quoc island, which has seen a rise in development since this particular hotel opened in late 2016. Situated 6 miles off Cambodia's coast in the Gulf of Thailand, Phu Quoc is home to clear, calm waters and postcard-worthy sunrises and sunsets.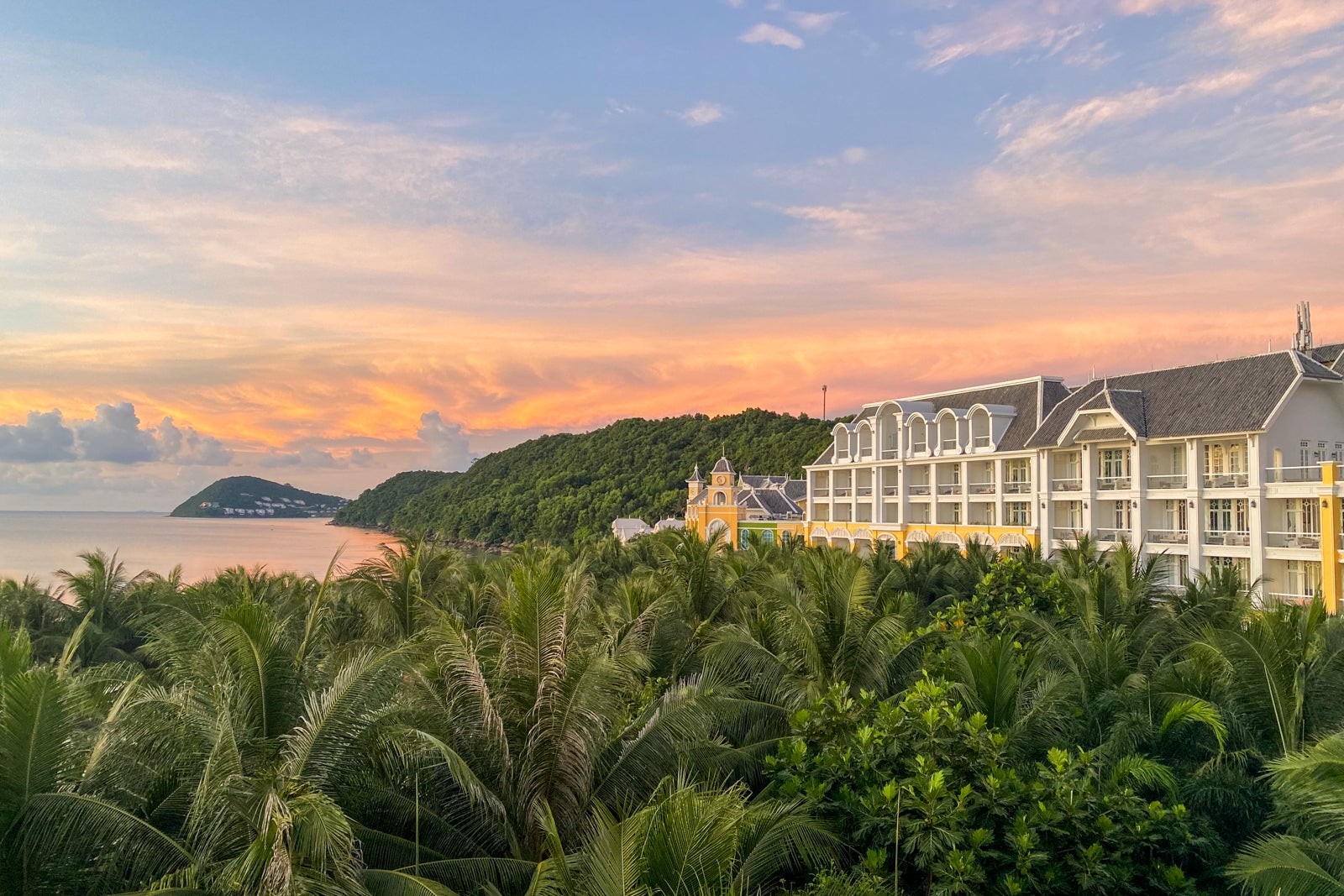 The hotel sits along the white sands of Khem Beach, which stretches around a bay that is home to other hotels as well. The island wasn't always an international tourist destination, however; it's actually famous for its pungent fish sauce as well as a tradition of fishing, and much of it is a UNESCO-protected biosphere. 
The resort is a 20-minute drive from the airport; a trip that costs around 300,000 VND ($13) in a basic taxi. Those who choose to rent a car at the international airport — which has flights from some major Asian cities such as Ho Chi Minh City and Hanoi, plus Singapore and Kuala Lumpur, Malaysia — can self-park for free. 
Check-in and lobby
I was already on Phu Quoc with my family, having stayed at Regent Phu Quoc. From there, we took a taxi after checking out and drove 20 minutes southeast to the lower tip of the vaguely ice cream cone-shaped island. We arrived at the JW Marriott around 2 p.m., passing two enormous bronze dog sculptures at the entry with the words "Bienvenue A Tous Université Lamarck." I knew we were about to step into a complete fantasy world à la Bensley, though every property he creates is so unique I couldn't have guessed what was coming.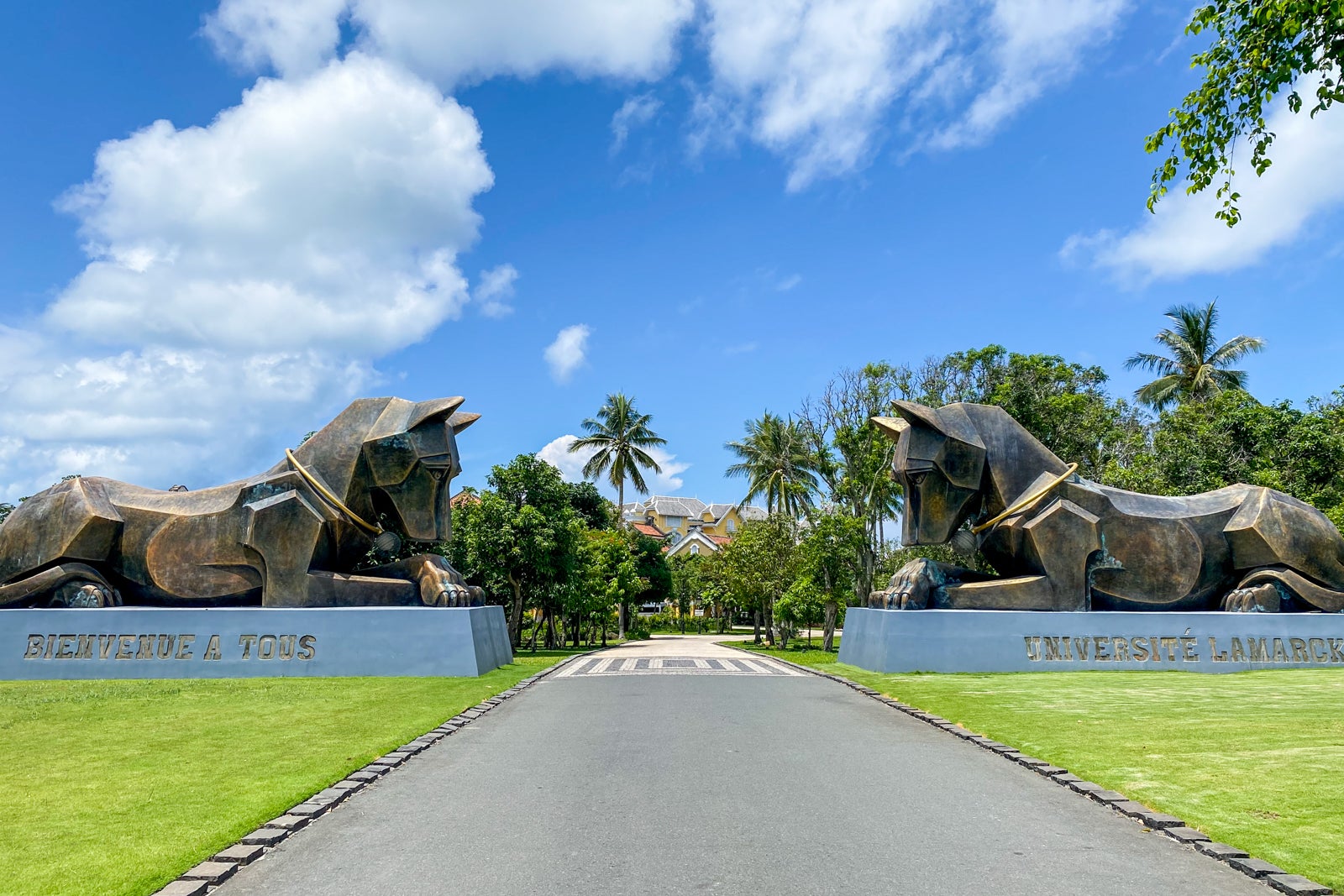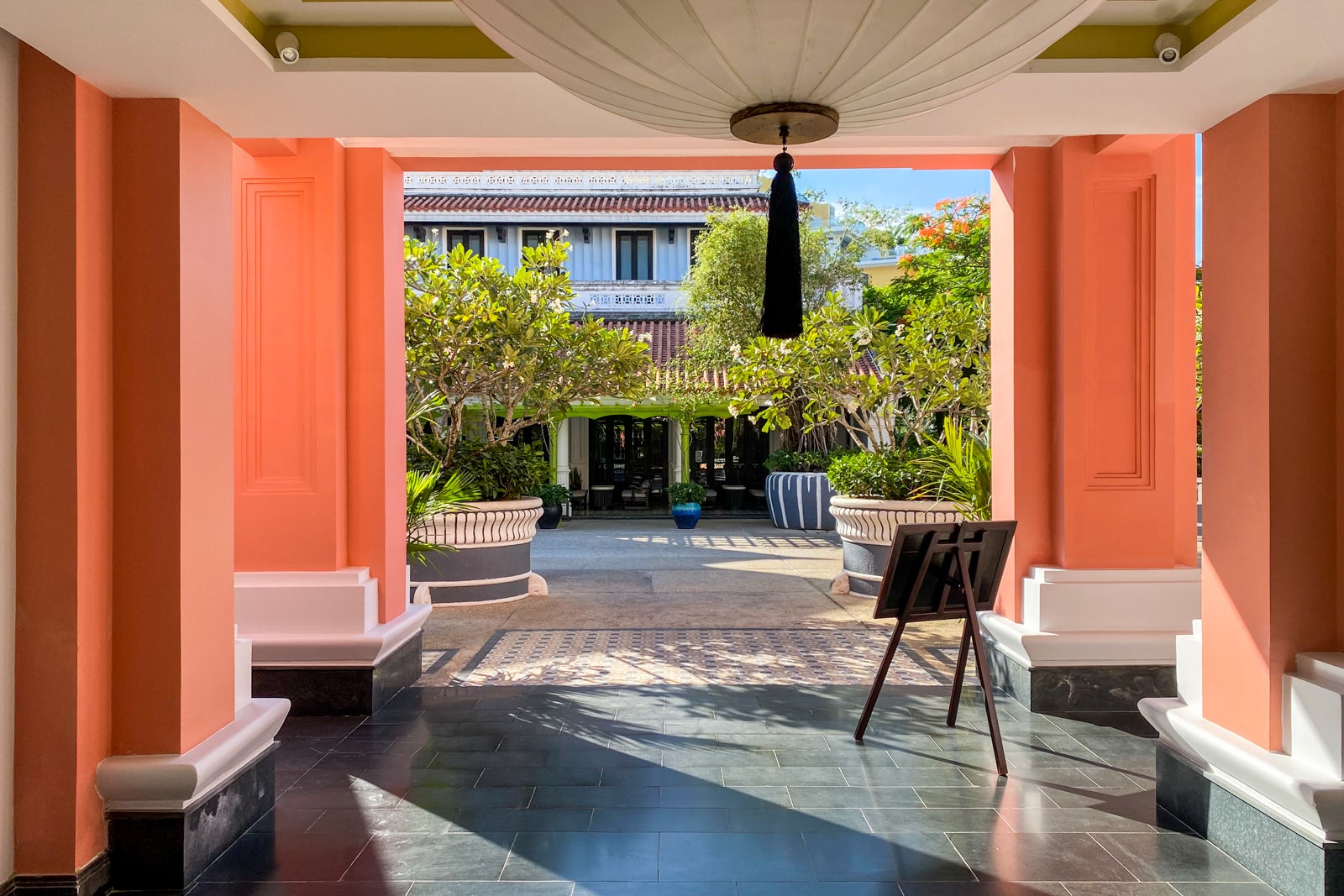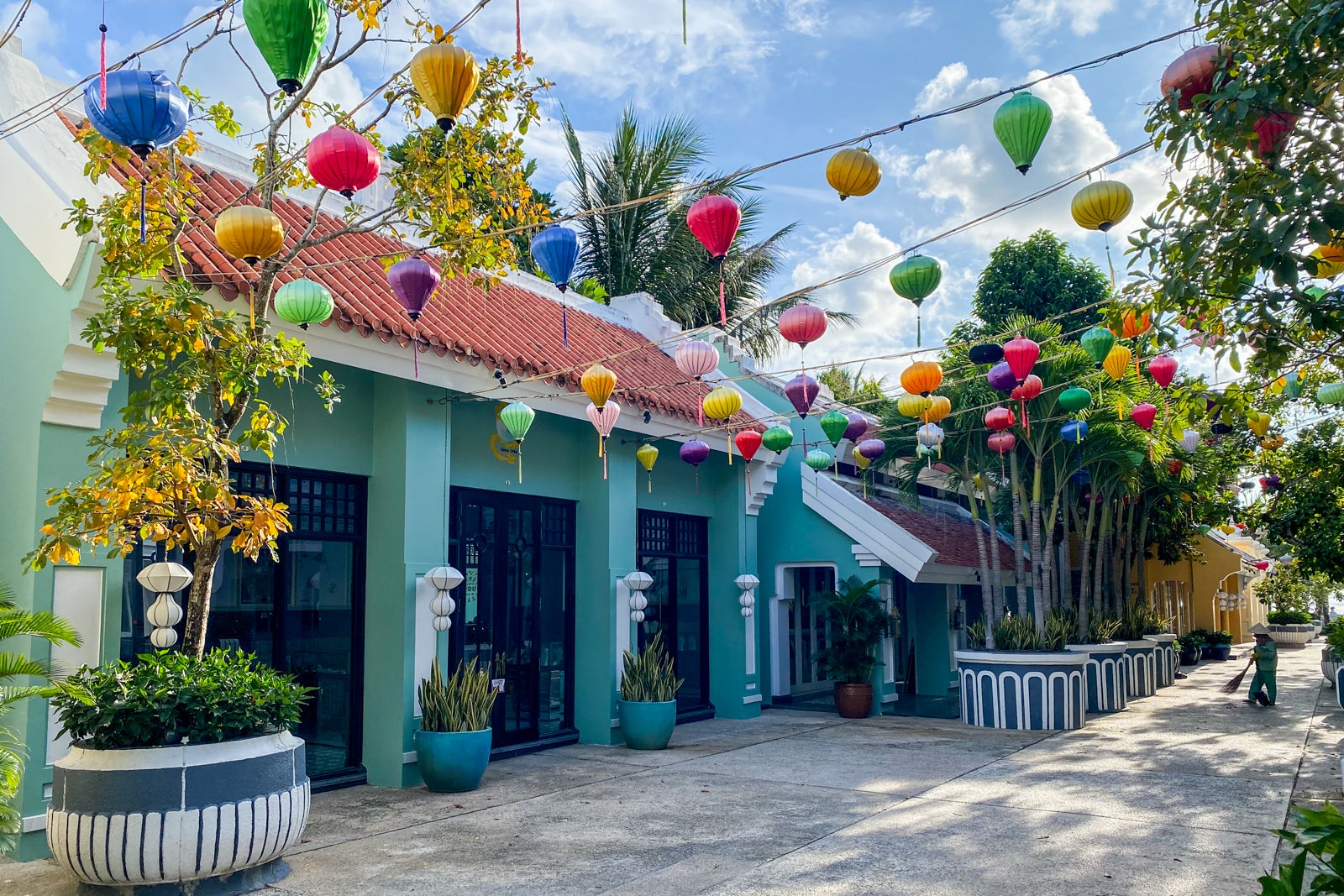 When we arrived at the lobby, there was a floor mosaic with a seal of the imaginary Lamarck University Ridgebacks and a concierge desk holding dozens of vintage bells, plus official-looking portraits and pendants, antique globes, books and busts, all beneath dramatic arches and vaulted ceilings.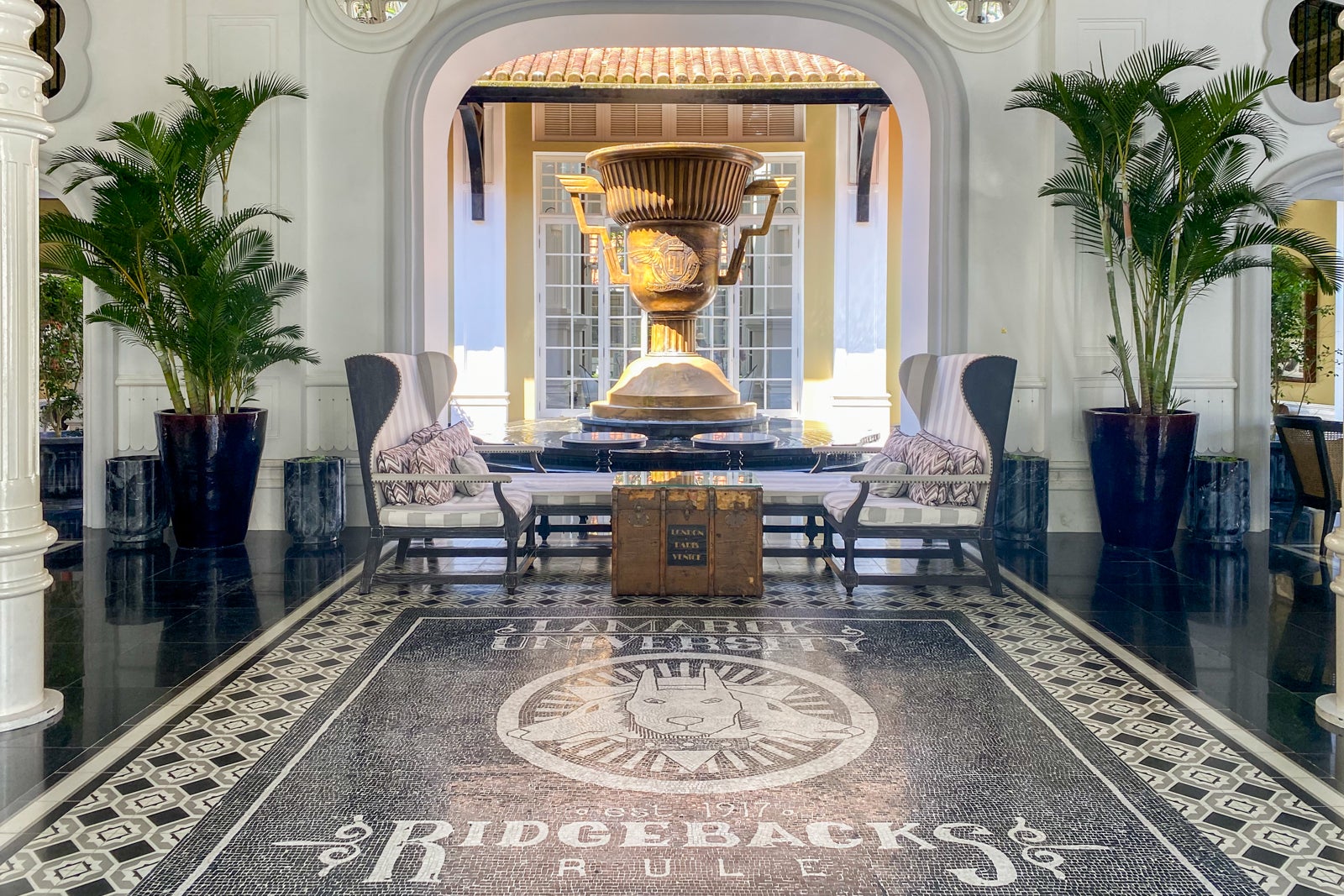 The decor, with marble tables, massive columns, graphic tiled floors and antique cane chairs, walked the line between quirky and collegiate.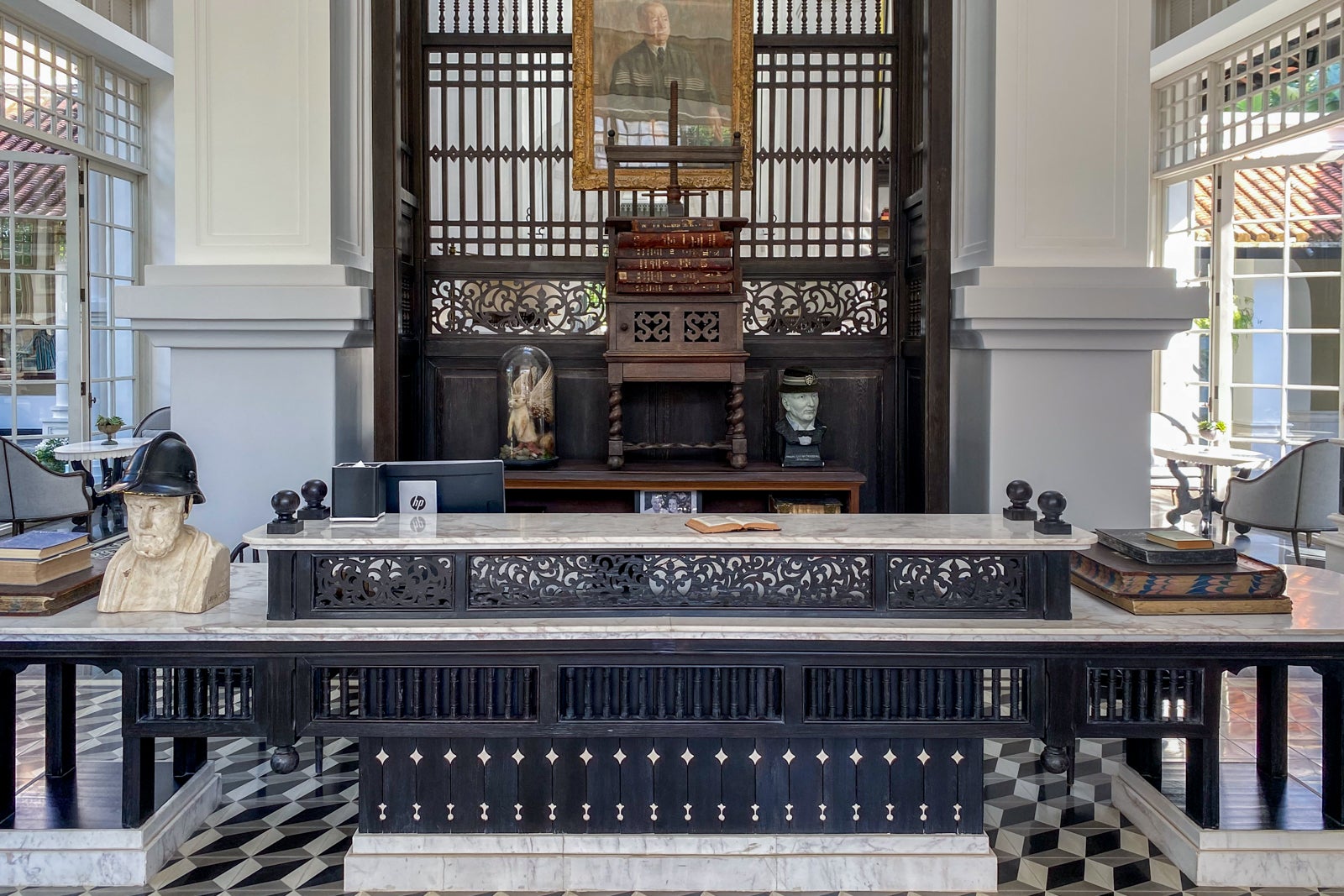 Check-in was handled by fabulously dressed staff whose wardrobes felt like a fun marriage of '20s flapper flair and buttoned-up vintage prep school uniforms. We sat on a swinging daybed, taking in the many curiosities that were staged and hanging around us.
We were brought cold towels and refreshing iced hibiscus tea with Phu Quoc honey and mint leaf picked from the resort garden, with a card explaining it was made specially in the Department of Chemistry bar. I couldn't help but wander the bright, library-like space as we waited. In true Bensley fashion there was much to see, like cases of vintage sports equipment, photos and faux awards.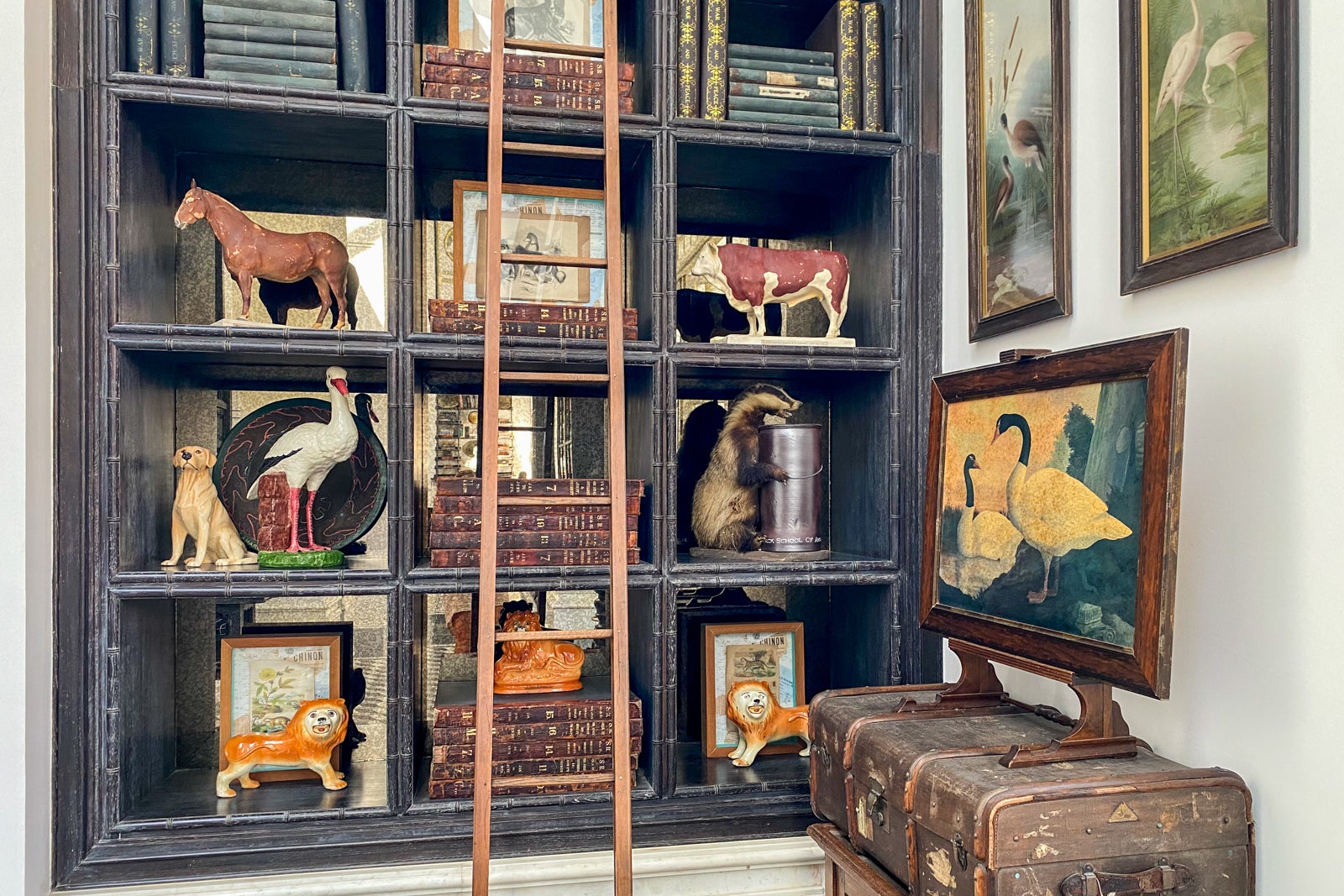 During the check-in process, the staff member helping us mentioned we had been upgraded to an ocean view room "in appreciation for choosing this hotel." I hadn't told anyone I was coming or that I was doing a review — I just booked our stay like any other traveler, so perhaps the low occupancy worked in my favor.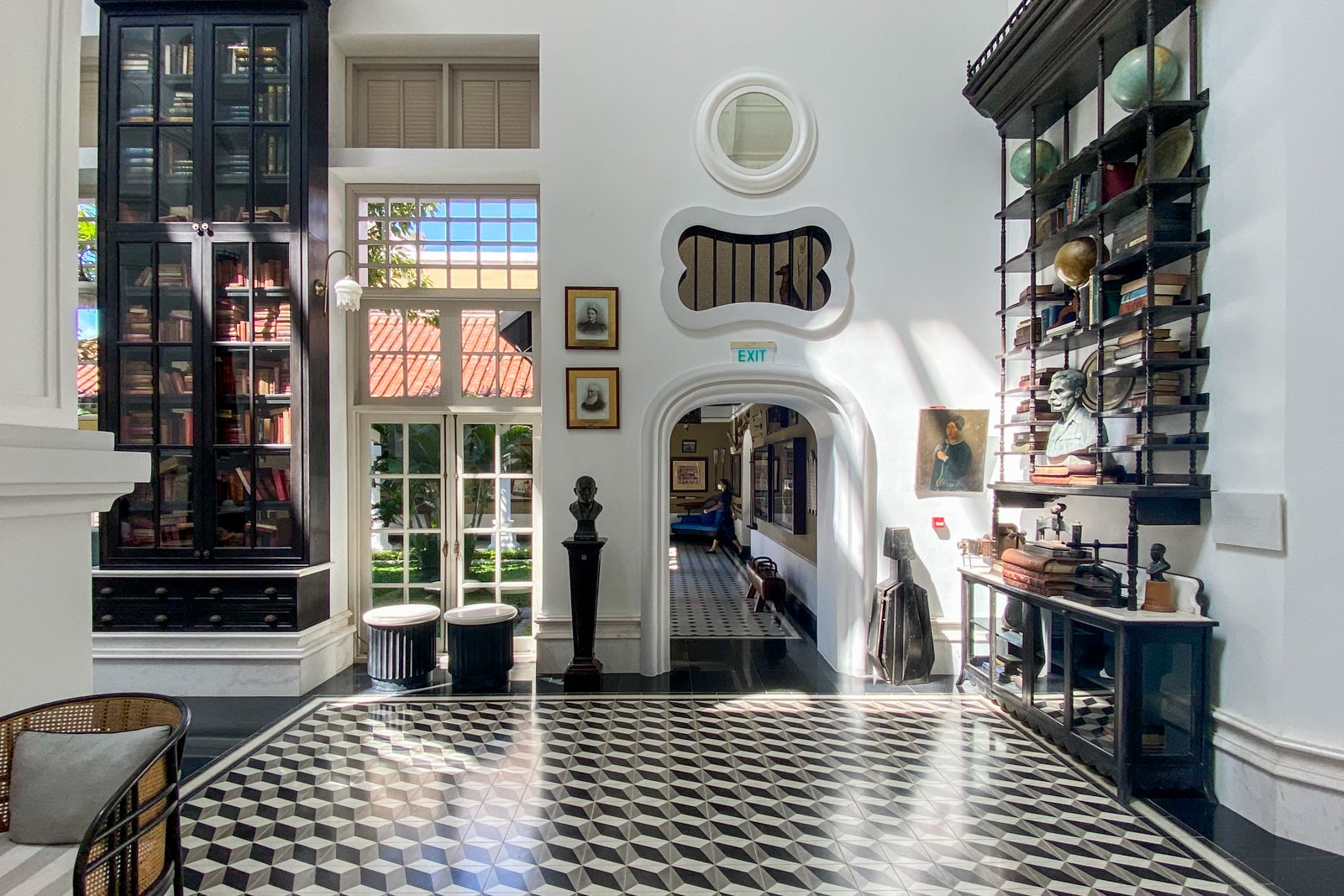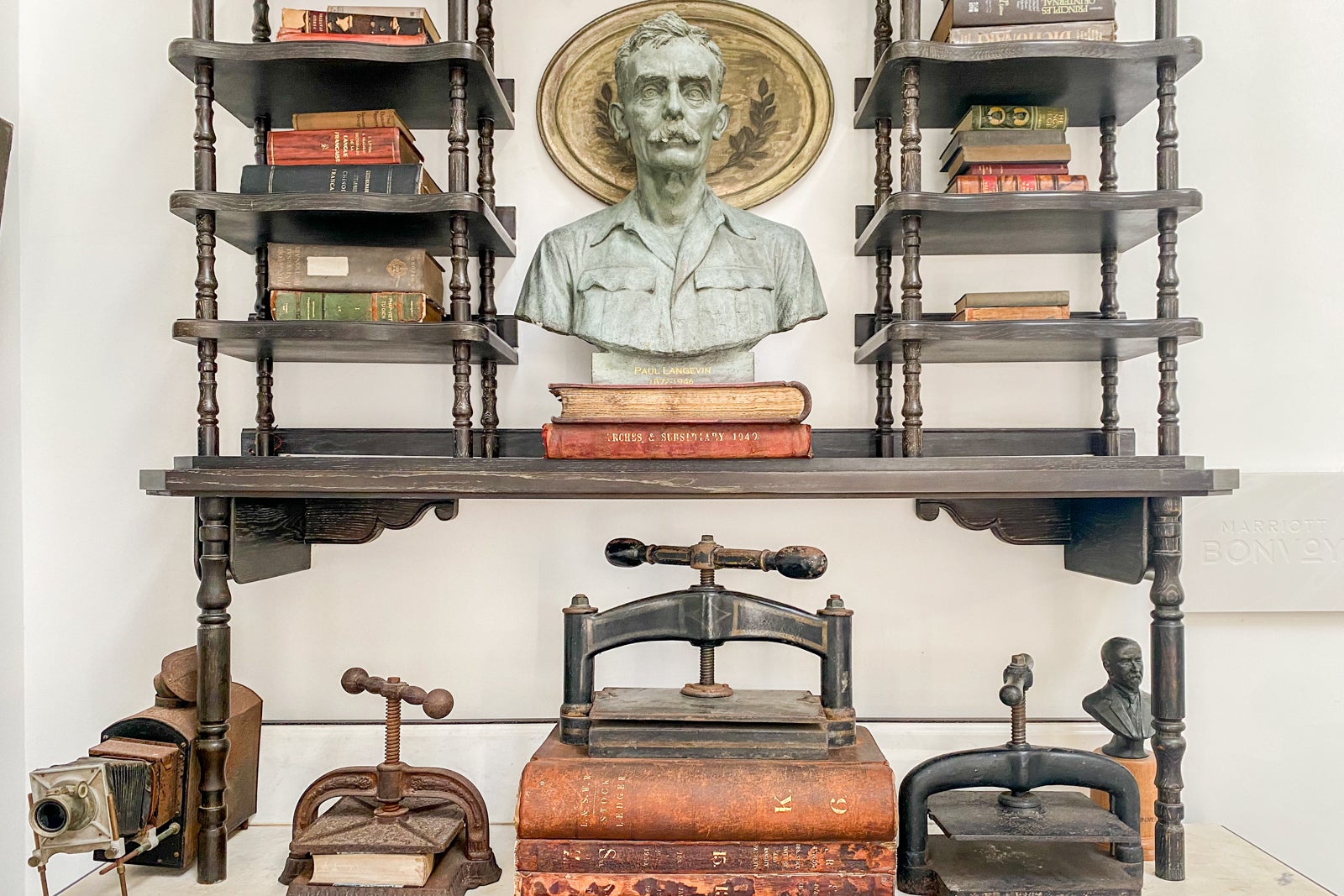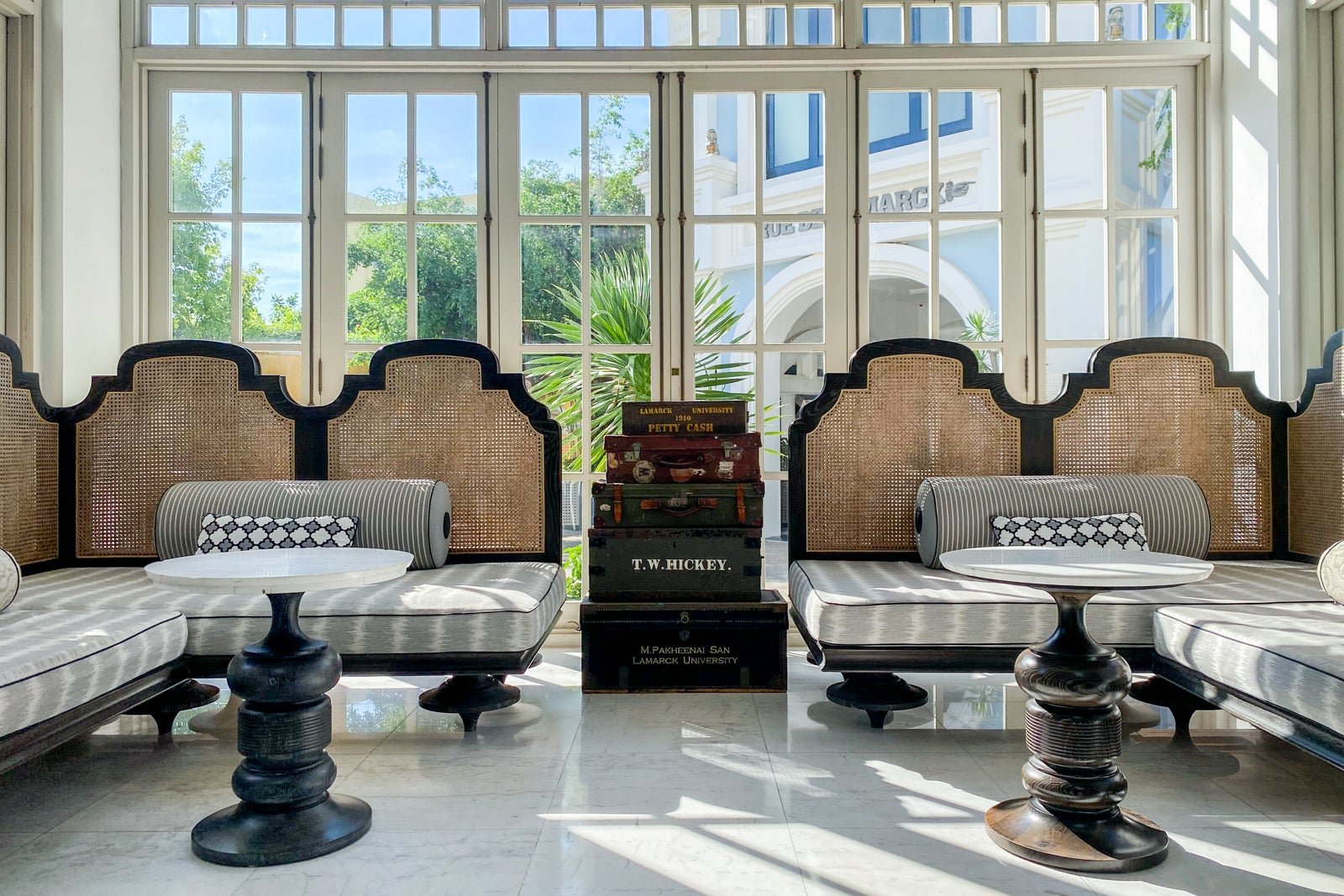 The standard rooms are apparently on the lower floors with more of a garden view, whereas we'd been assigned a fourth-floor room with a wide panorama of the bay and the rest of the resort. He also told us that as Marriott Bonvoy members we got 10% off food, not including in-room dining or special restaurant promotions, and walked us through the hours of operation of the restaurants and bars, as outlined in the Lamarck University Student Book pamphlet, which came complete with a "campus" map and activity calendar. 
Since our room wasn't yet ready, we were offered a buggy to drive us to the restaurant for lunch. We hopped in and, seconds into the ride, my first impression was that we'd landed at a film studio lot. We passed bright, theatrical facades and caught sight of the sea past a line of palm trees before arriving at Tempus Fugit, the Department of Architecture. But more on that later.  
Room
It was 3 p.m. on the dot when a receptionist delivered our room keys to our table in the restaurant, where we were having lunch. After we finished eating, we asked for a buggy to take us to our room, since we had no idea where we were going. Soon we were dropped off in front of the blue Department of Zoology building, supposedly dating to "circa 1924," with animal sculptures and an elephant-shaped topiary in the front.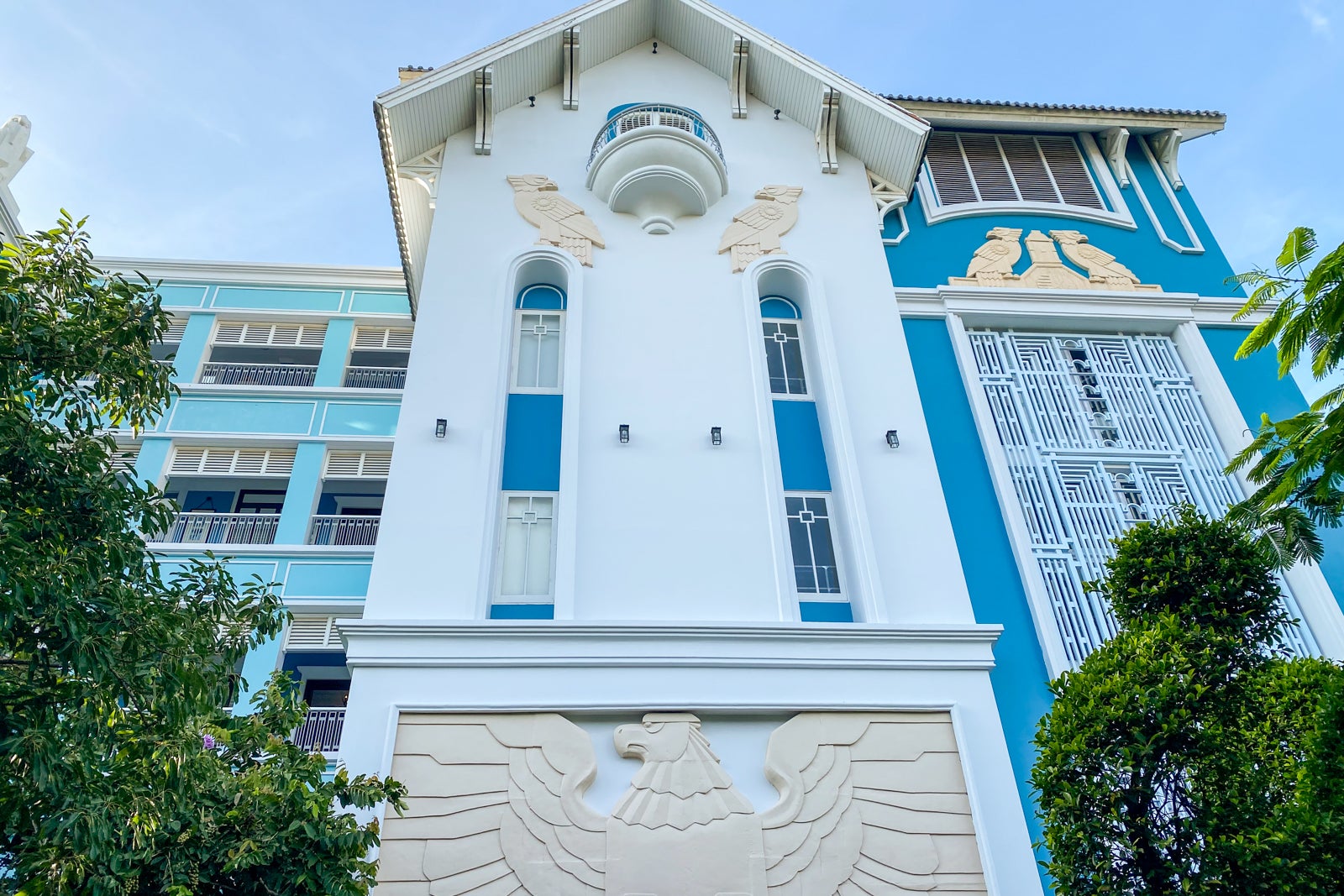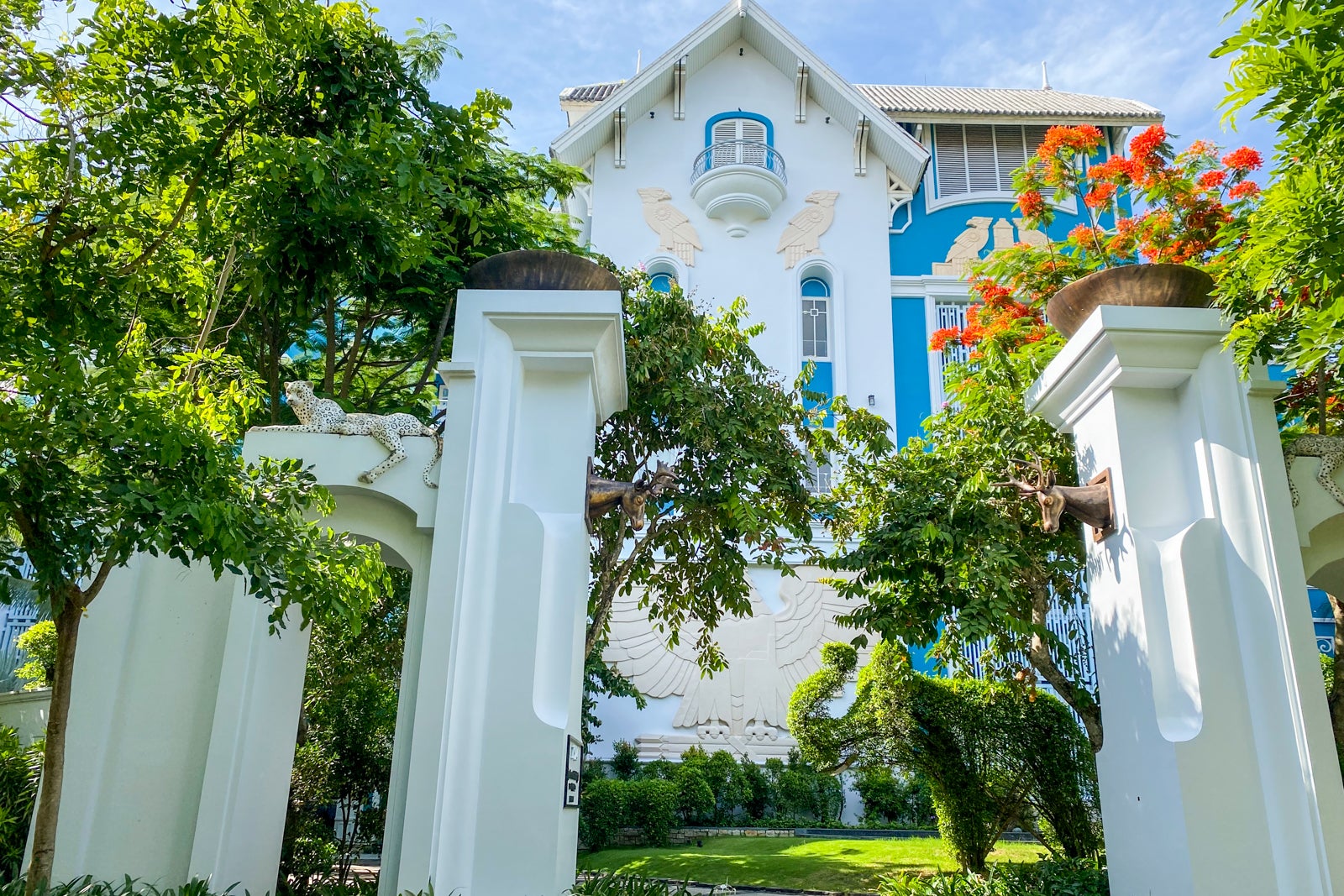 We went up an elevator with fun animal facts written on its chalkboard interior and down a bright blue open-air hall dotted with images of wildlife before turning into an alcove with two lofty guest room doors.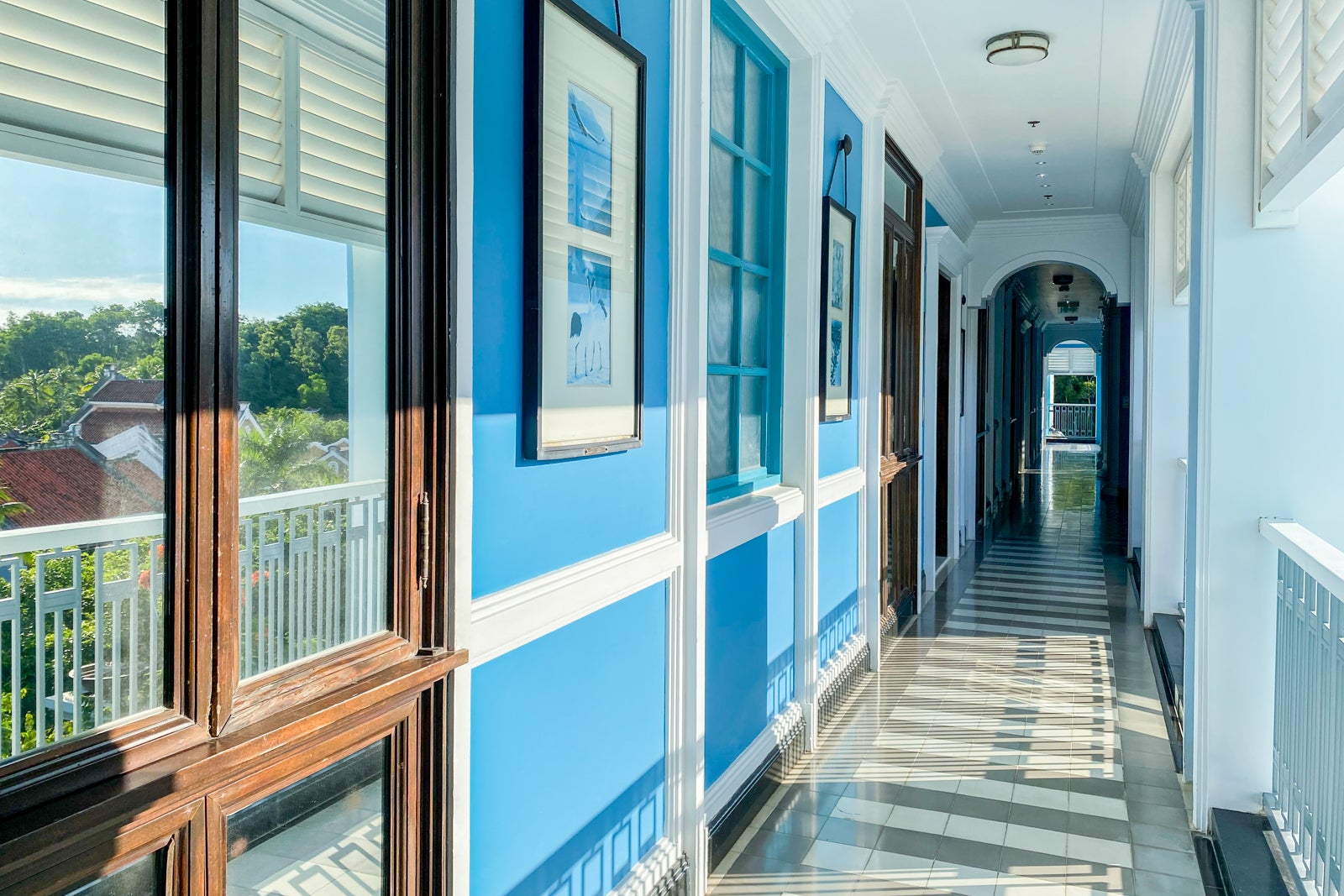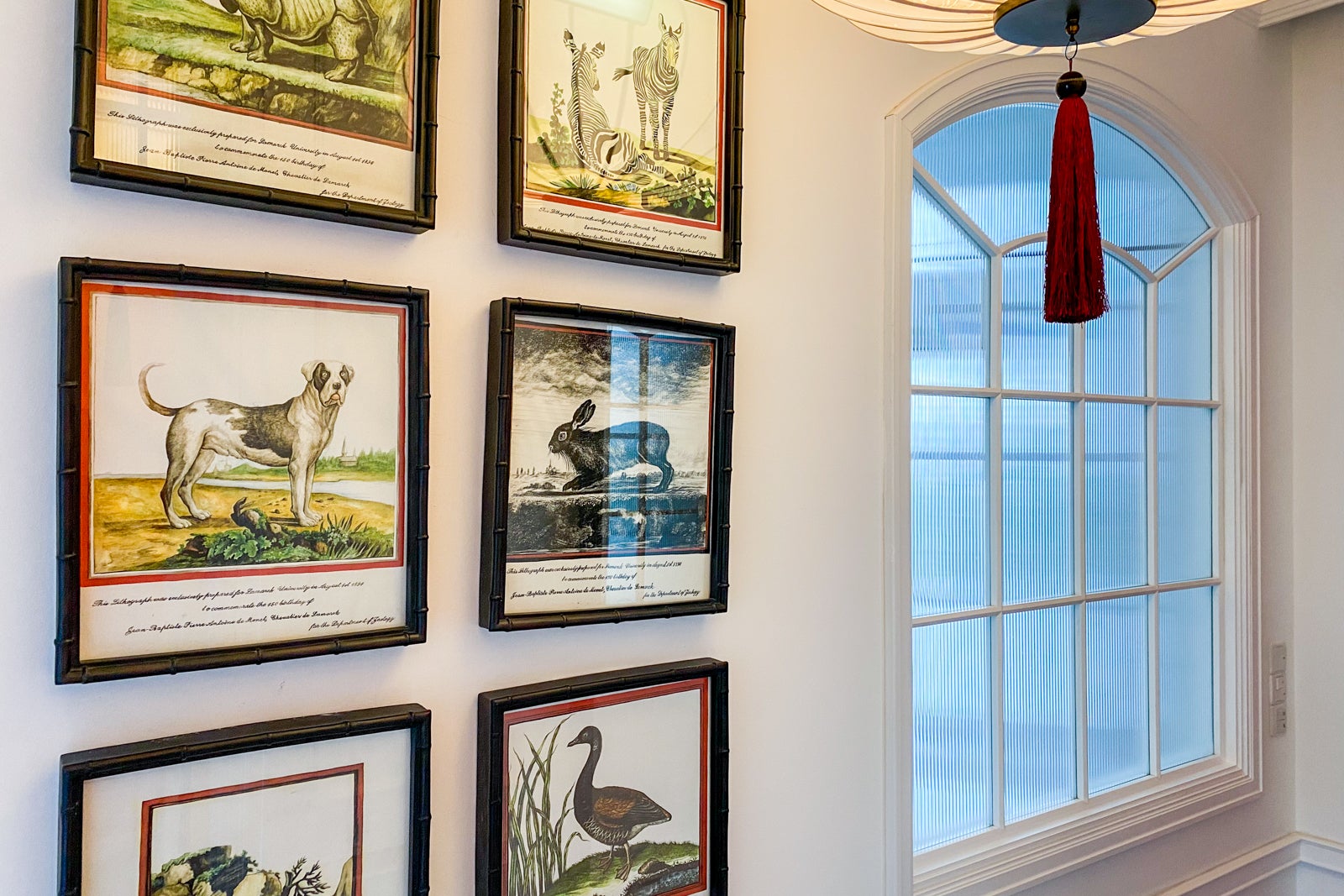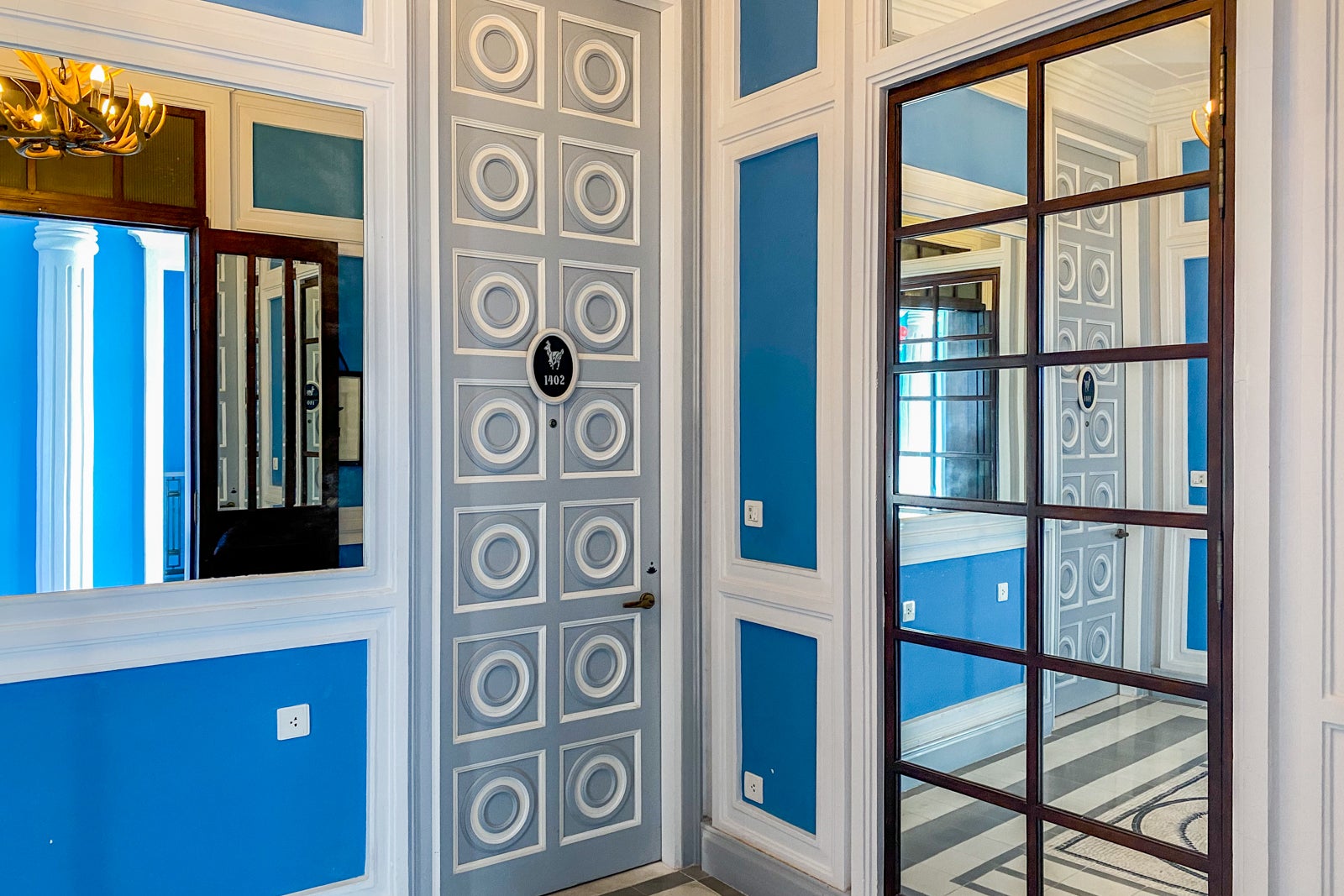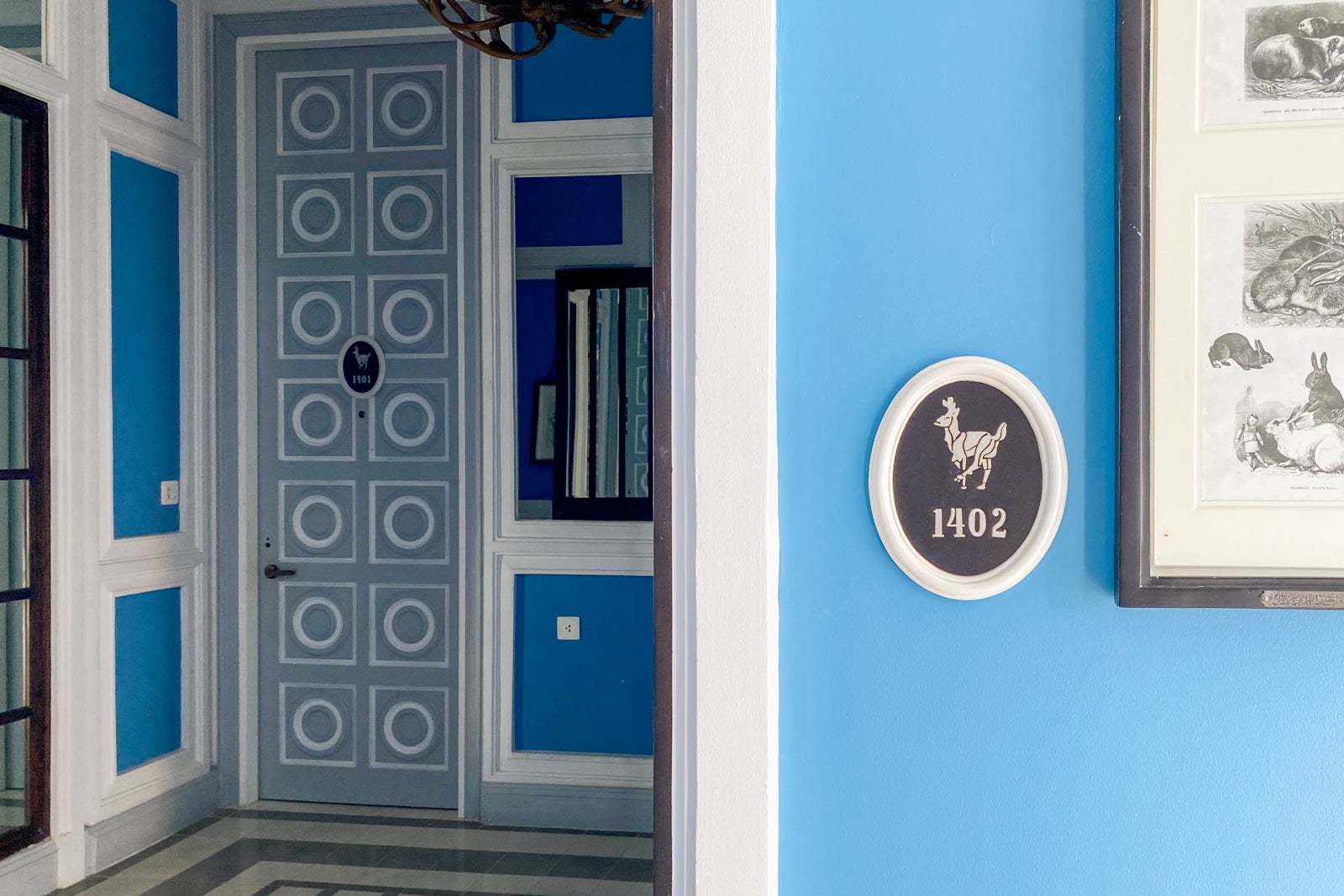 Inside, a hallway was decorated with framed drawings of animals, a full-length mirror and a bulbous silk lantern. The toilet was in its own tiny room through a door on the left, while the bedroom was straight ahead and the bathroom was to the right. 
Hubcap-like mirrors reflected in playful ways throughout the space, which was furnished with a king bed, bright red loveseat, tiny desk and minibar. The light fixtures were lighthearted and were paired with high coffered ceilings, lots of mirrors, bamboo-print wallpaper behind the bed and giant prints of birds that our daughter was fascinated by.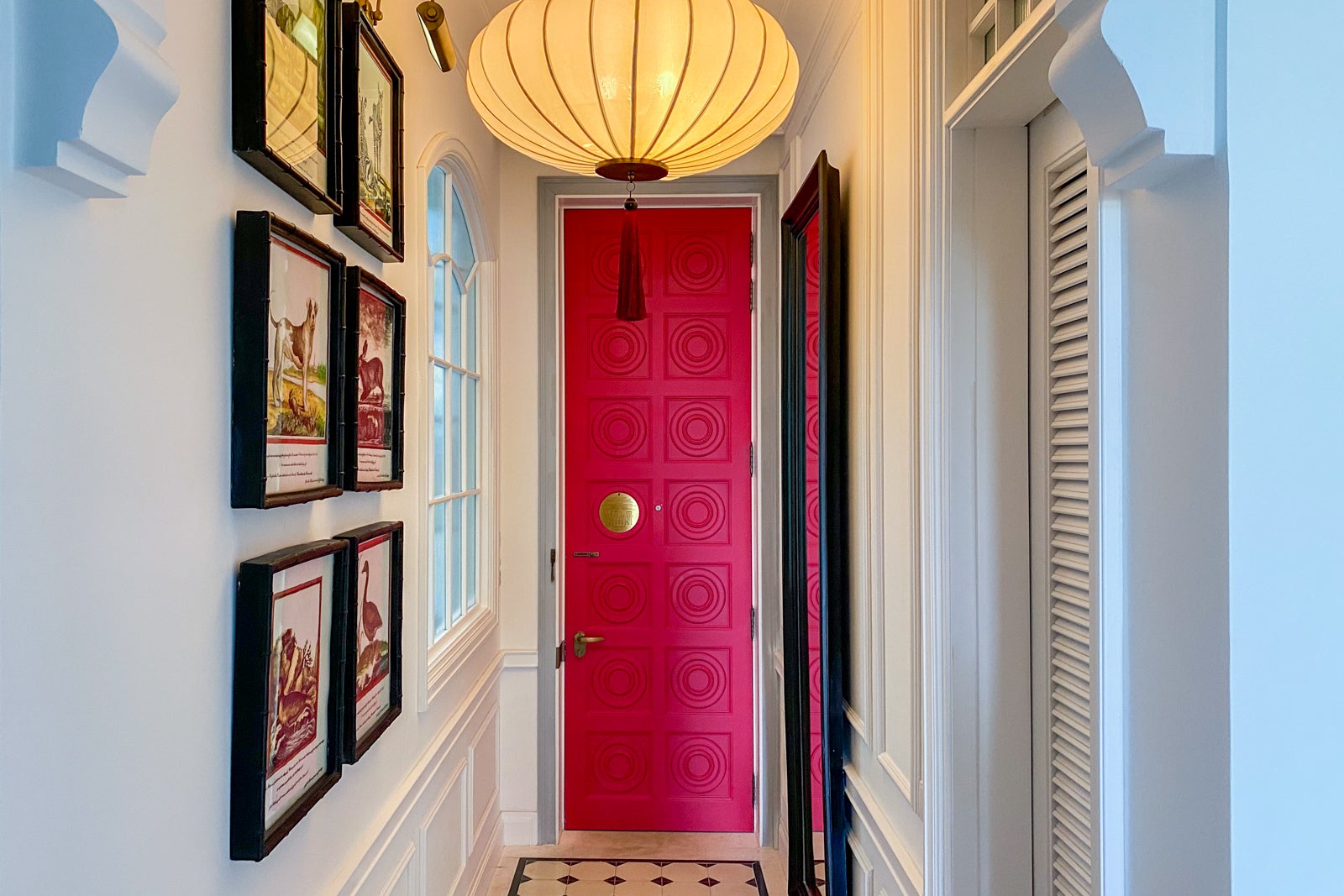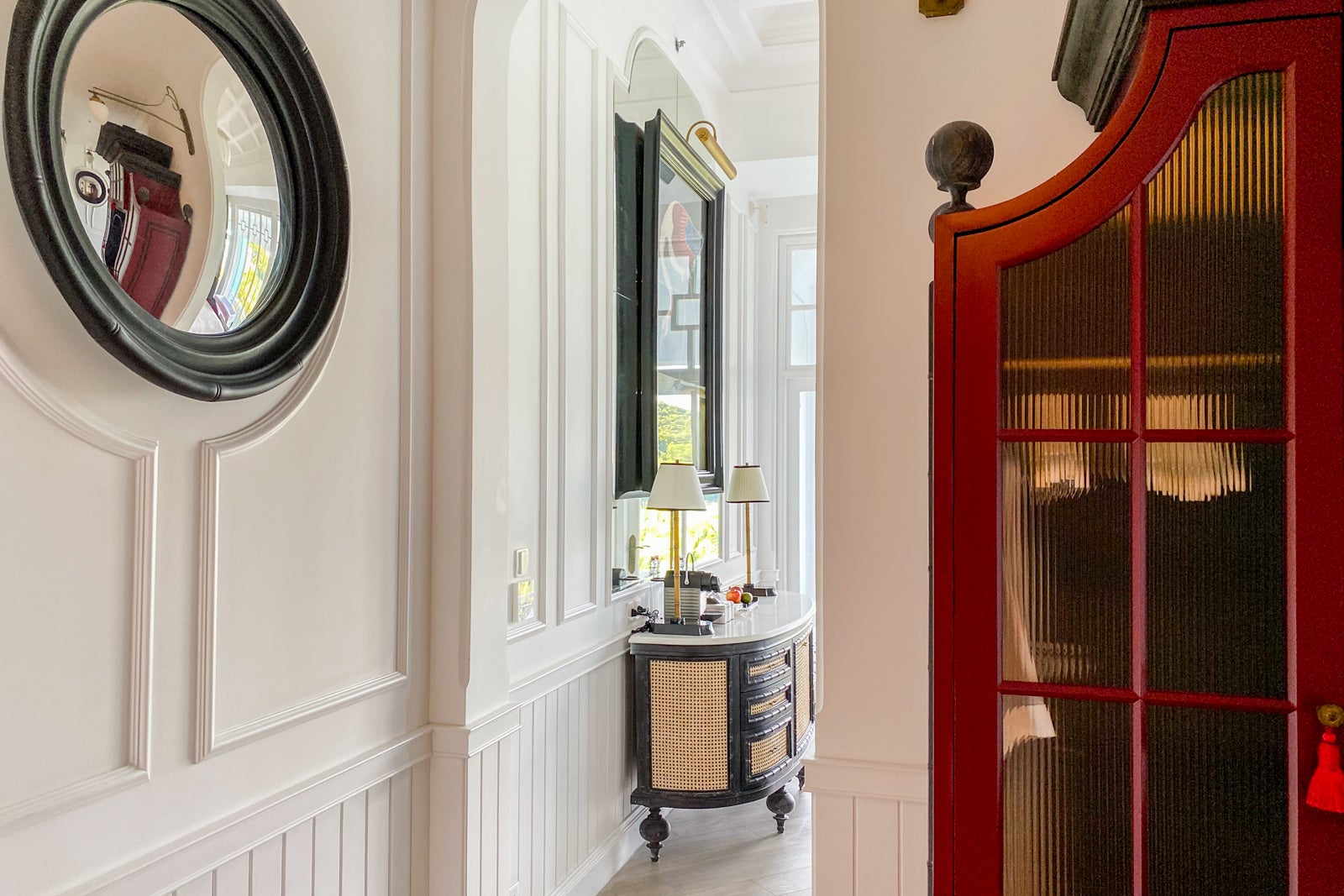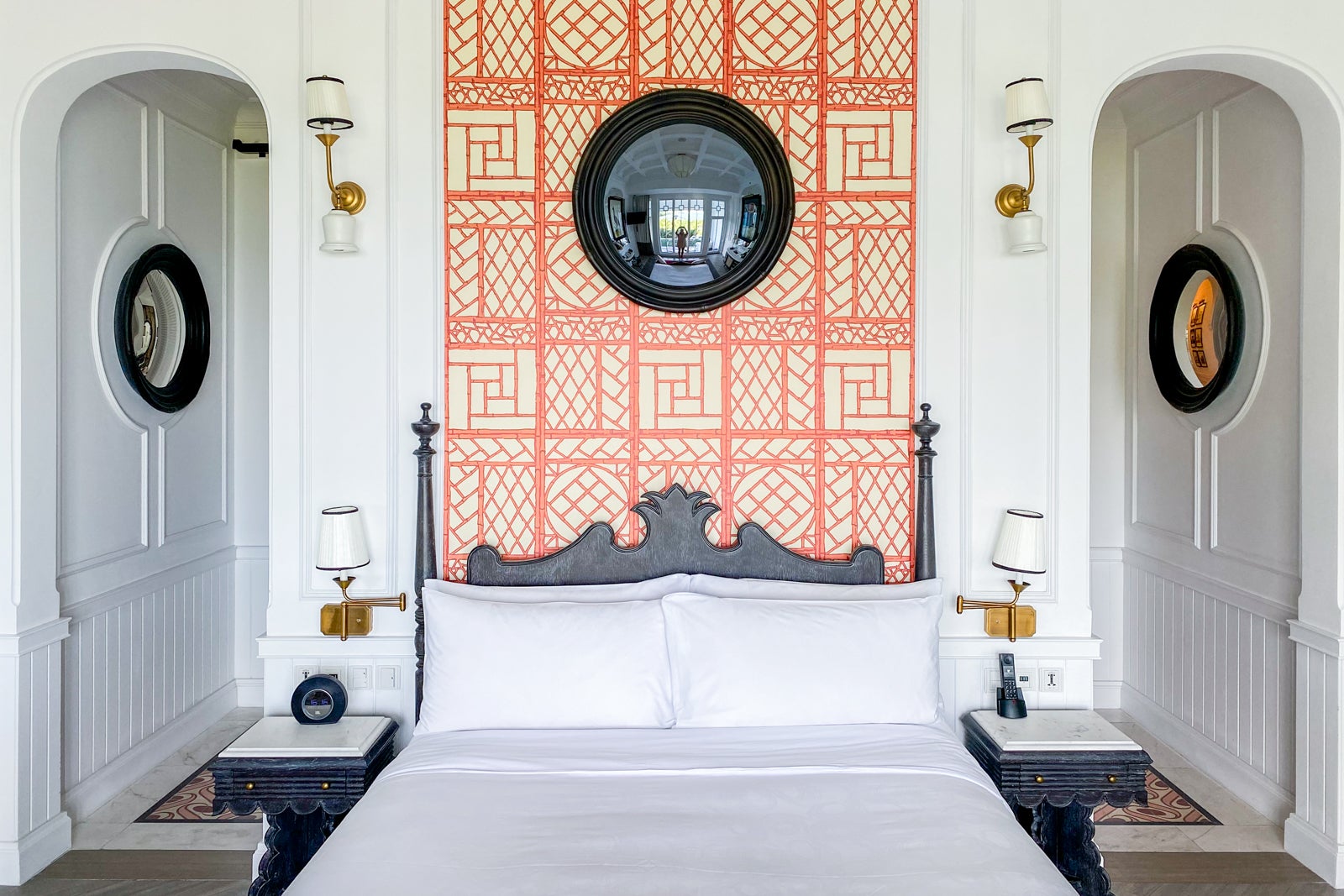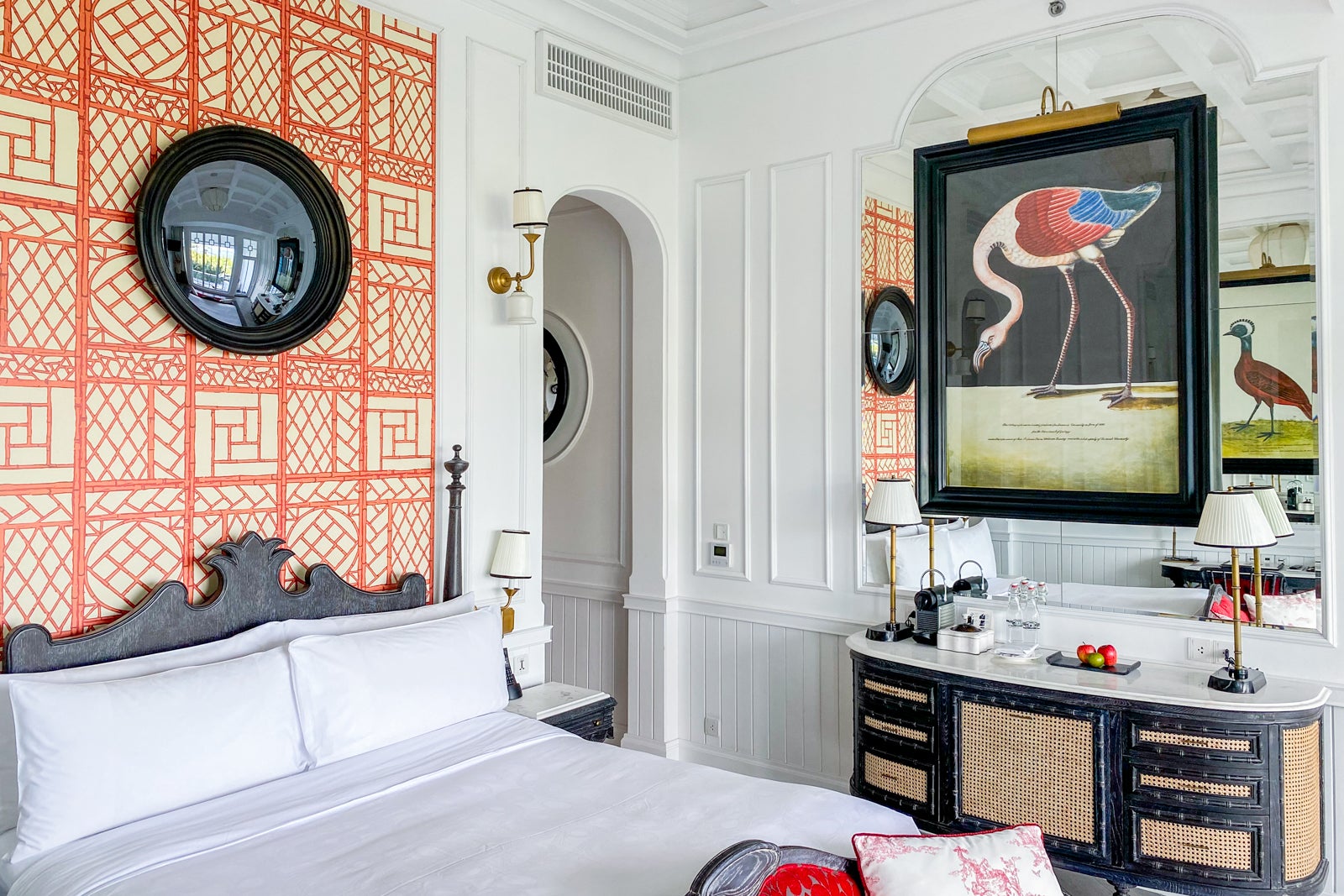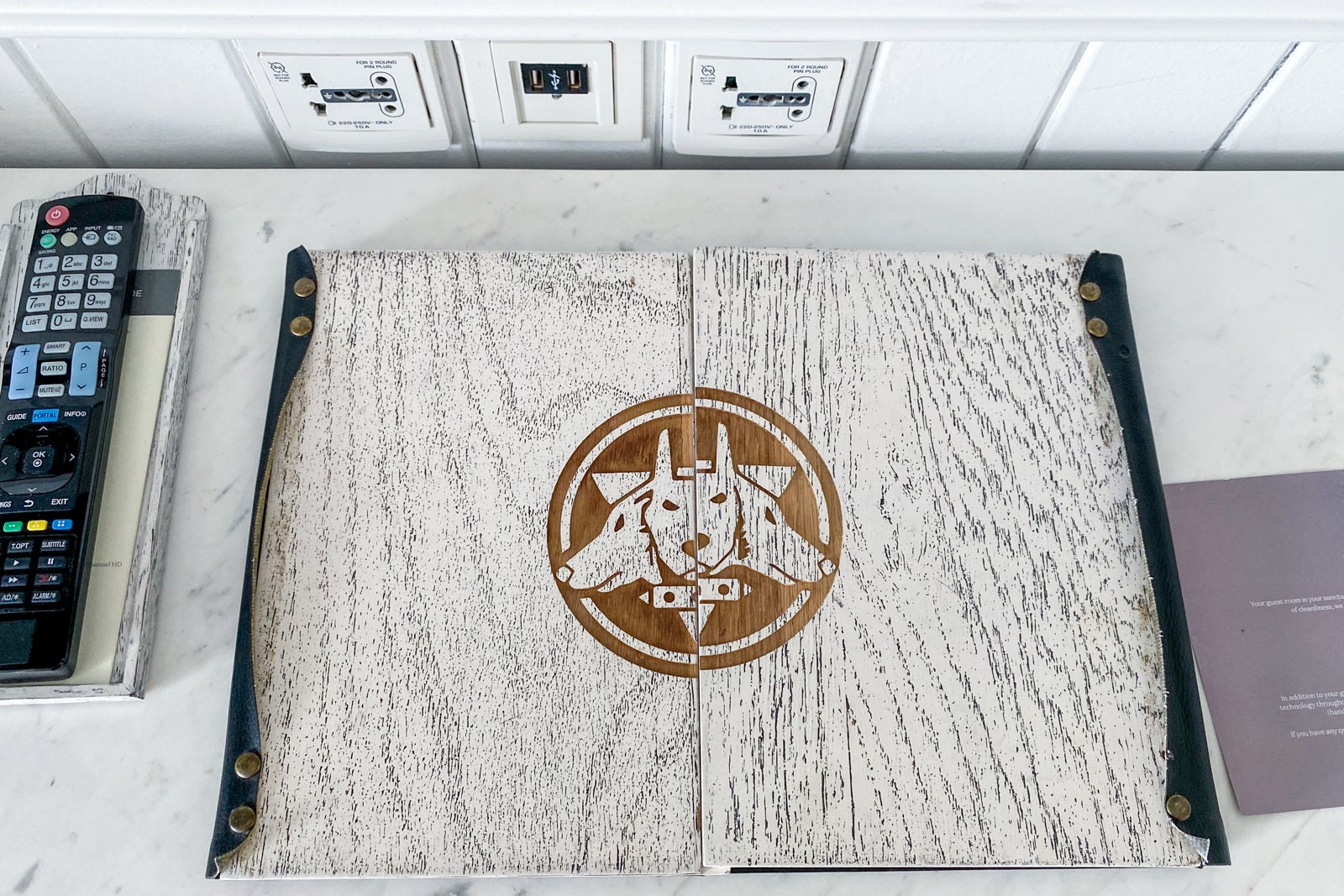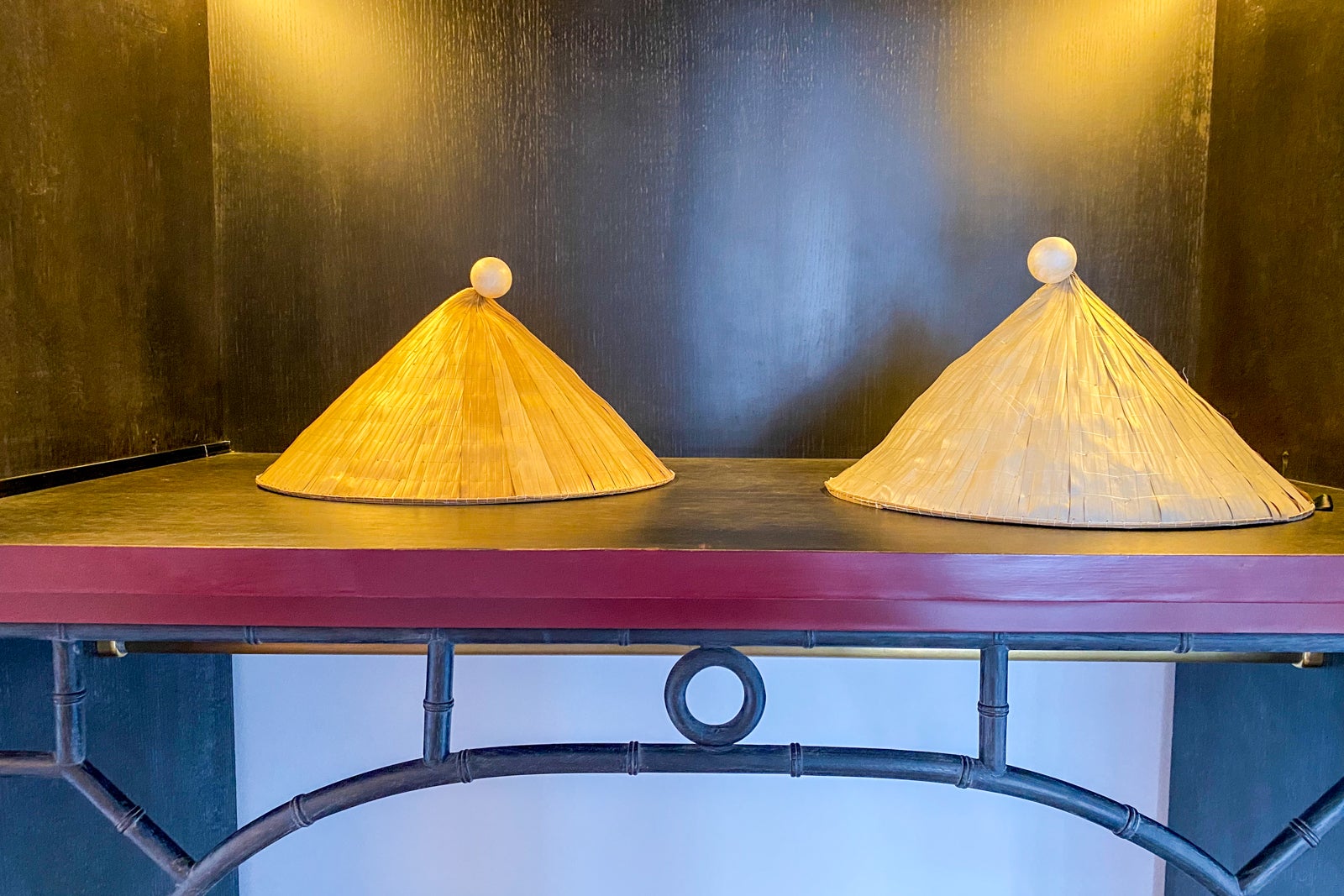 An Asian-styled red armoire with tassels had space to fit two small suitcases and automated lights that came on when the doors were opened to reveal JW-branded bathrobes — which felt unfortunately plain after the Regent's robes — slippers, hangers, an iron and an ironing board, flashlight, shoe shine kit and laundry bags. Two traditional nón lá hats sat on an upper shelf and had been Bensley-fied with large pearl-like balls.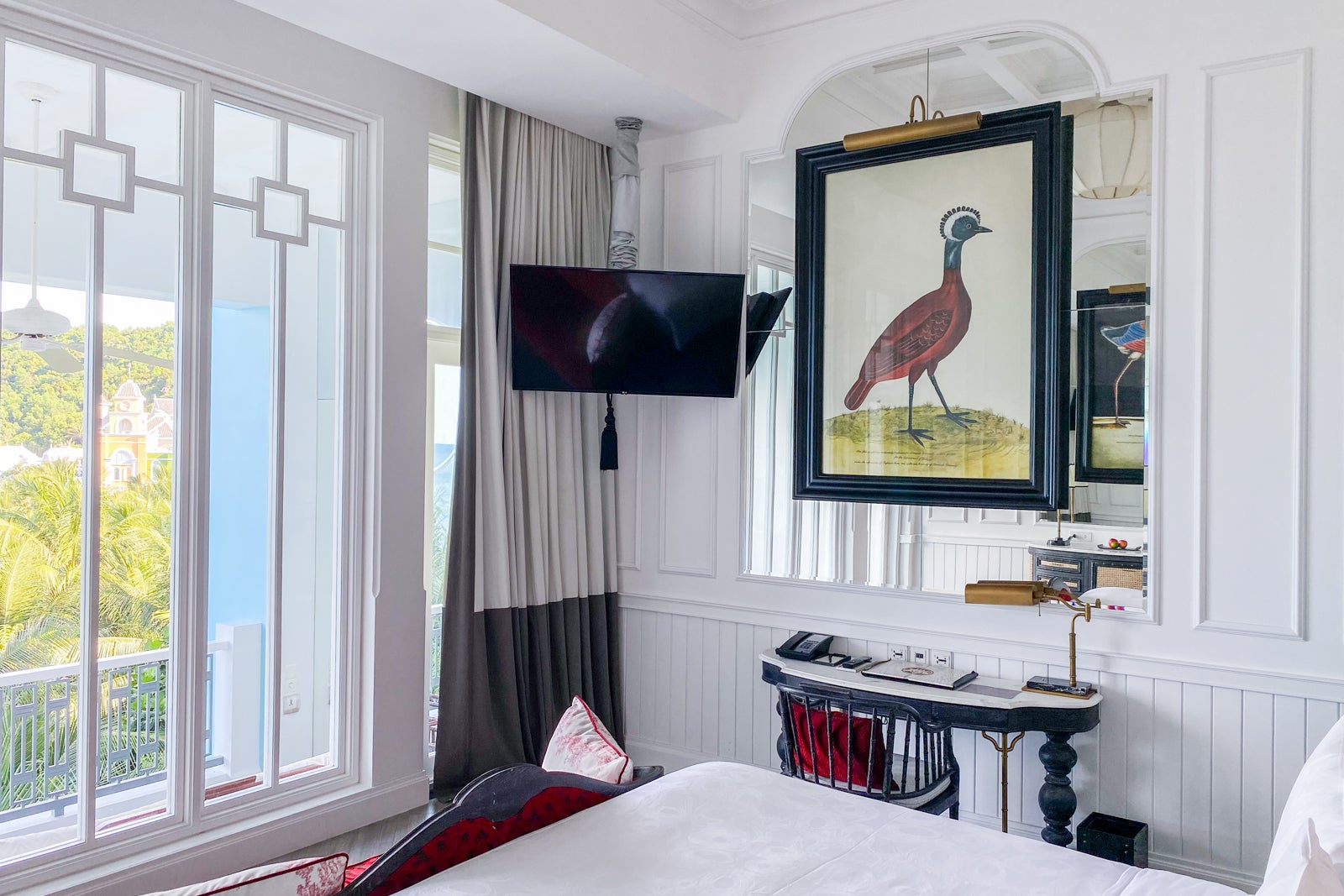 The balcony has scenic views and was placed several steps below the room level so as not to block the vistas from the bed. It had a full wall of mirrors that reflected the sapphire waters of the bay to stunning effect. We could see half the resort from there, which almost appeared to be forested due to the amount of thick green trees and plants.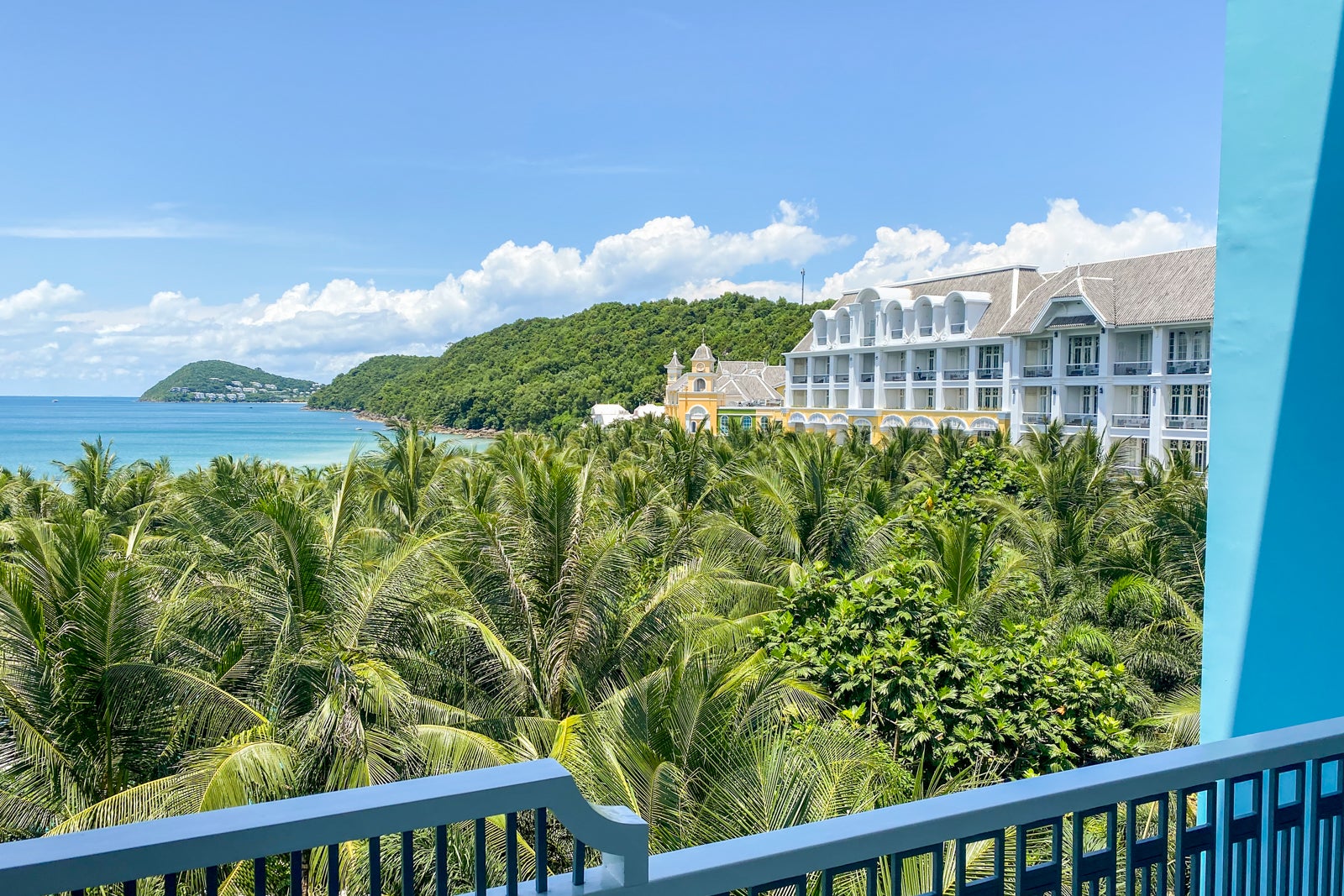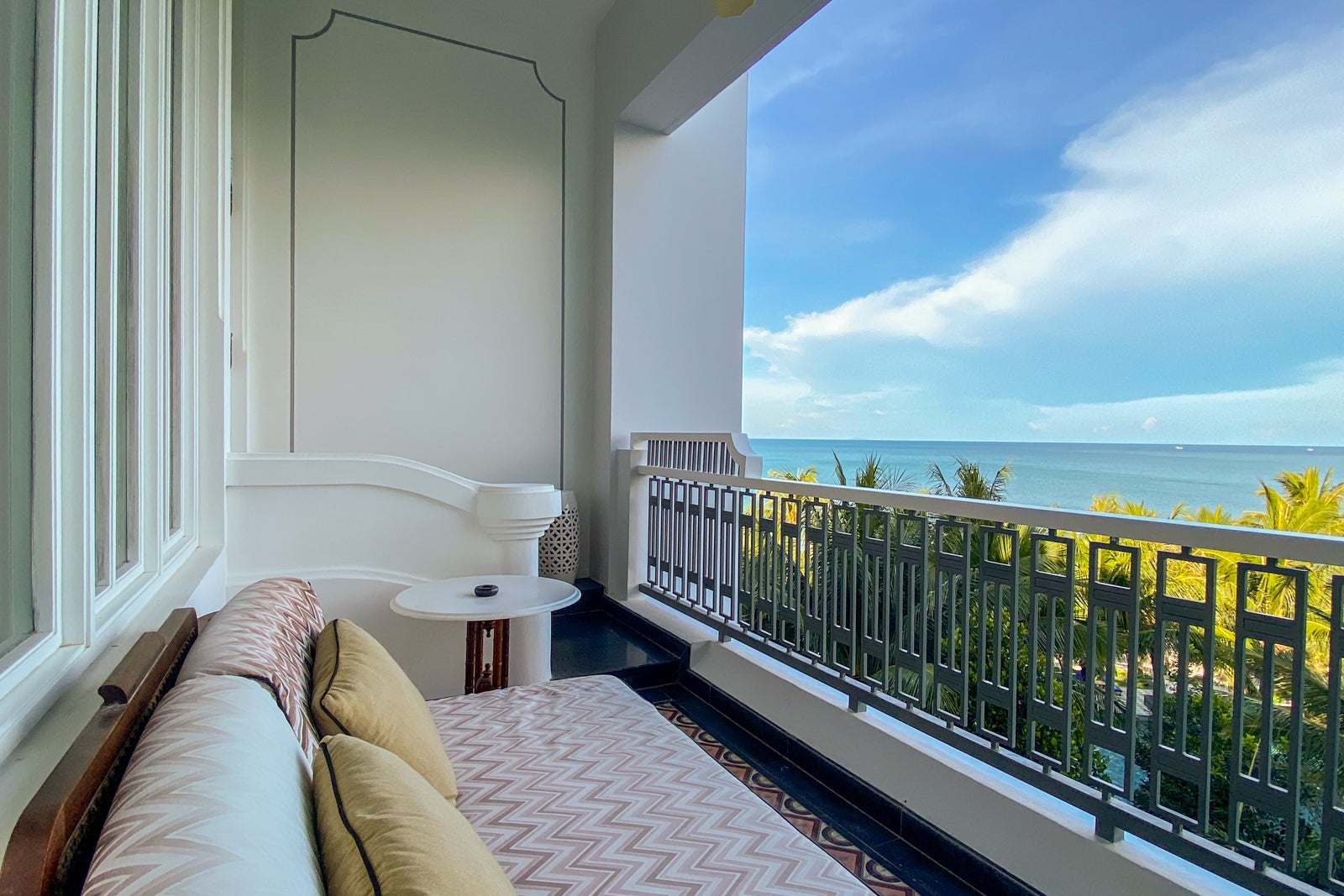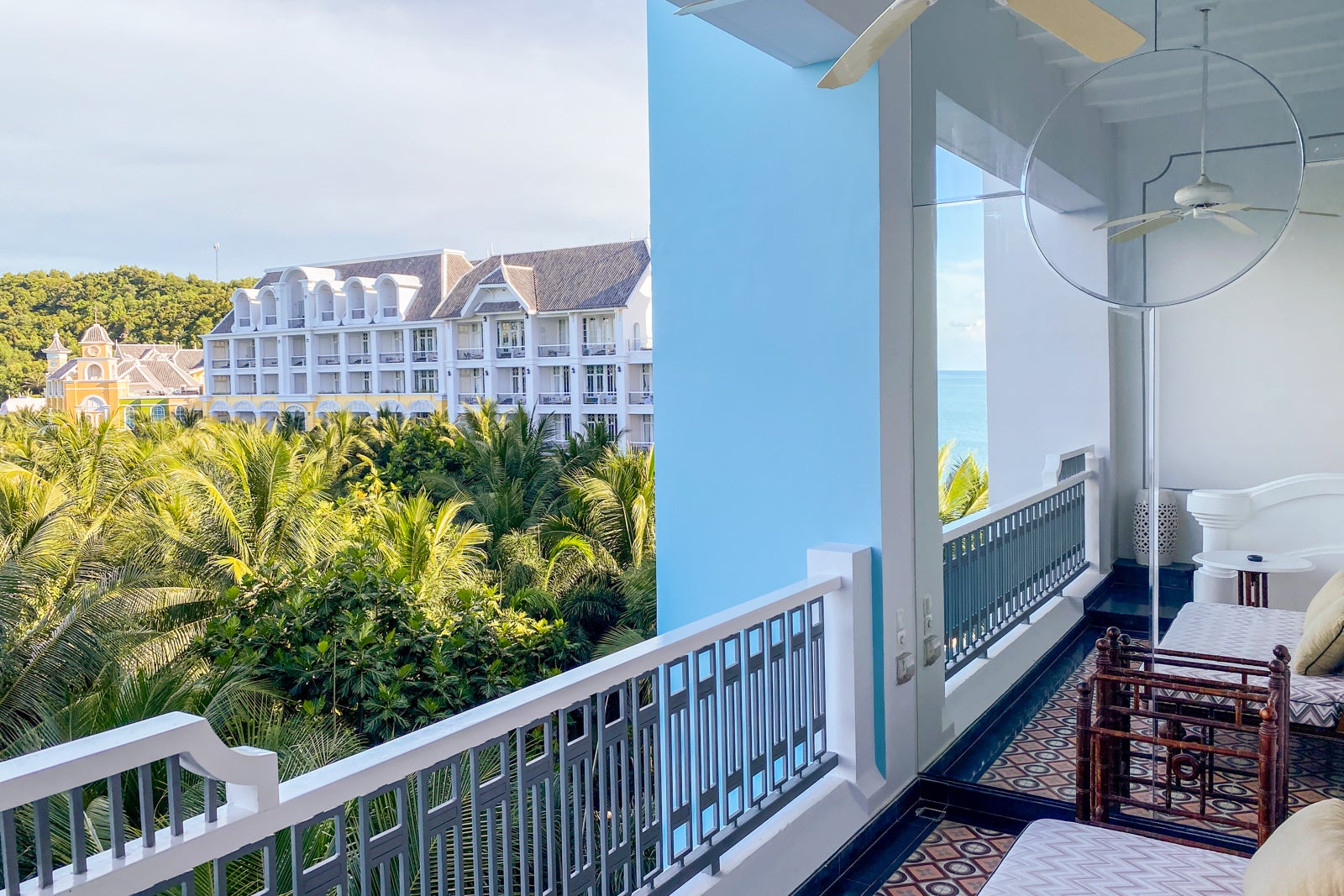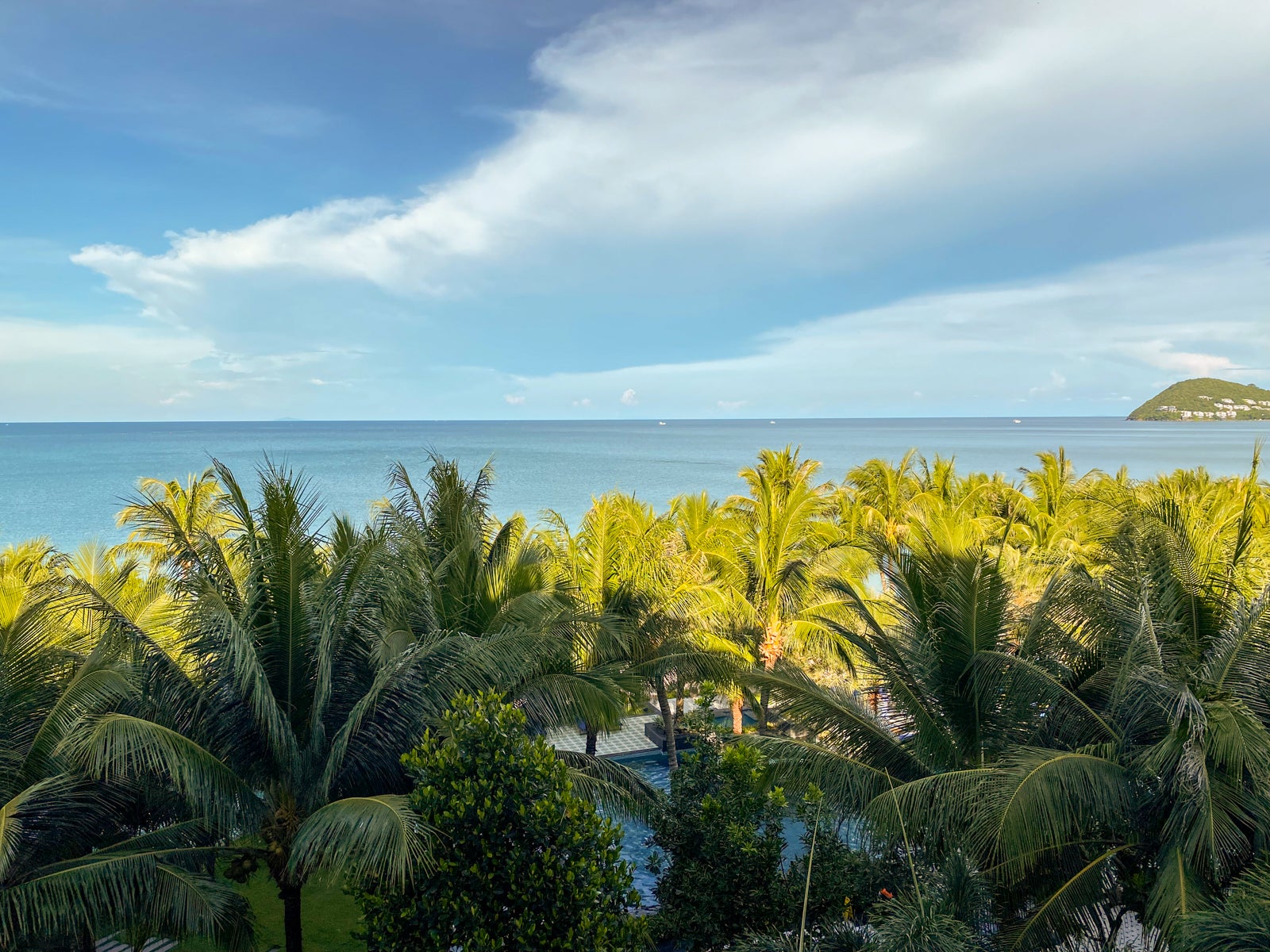 We left our curtains open at night so we could wake up to the gorgeous cotton-candy sunrises.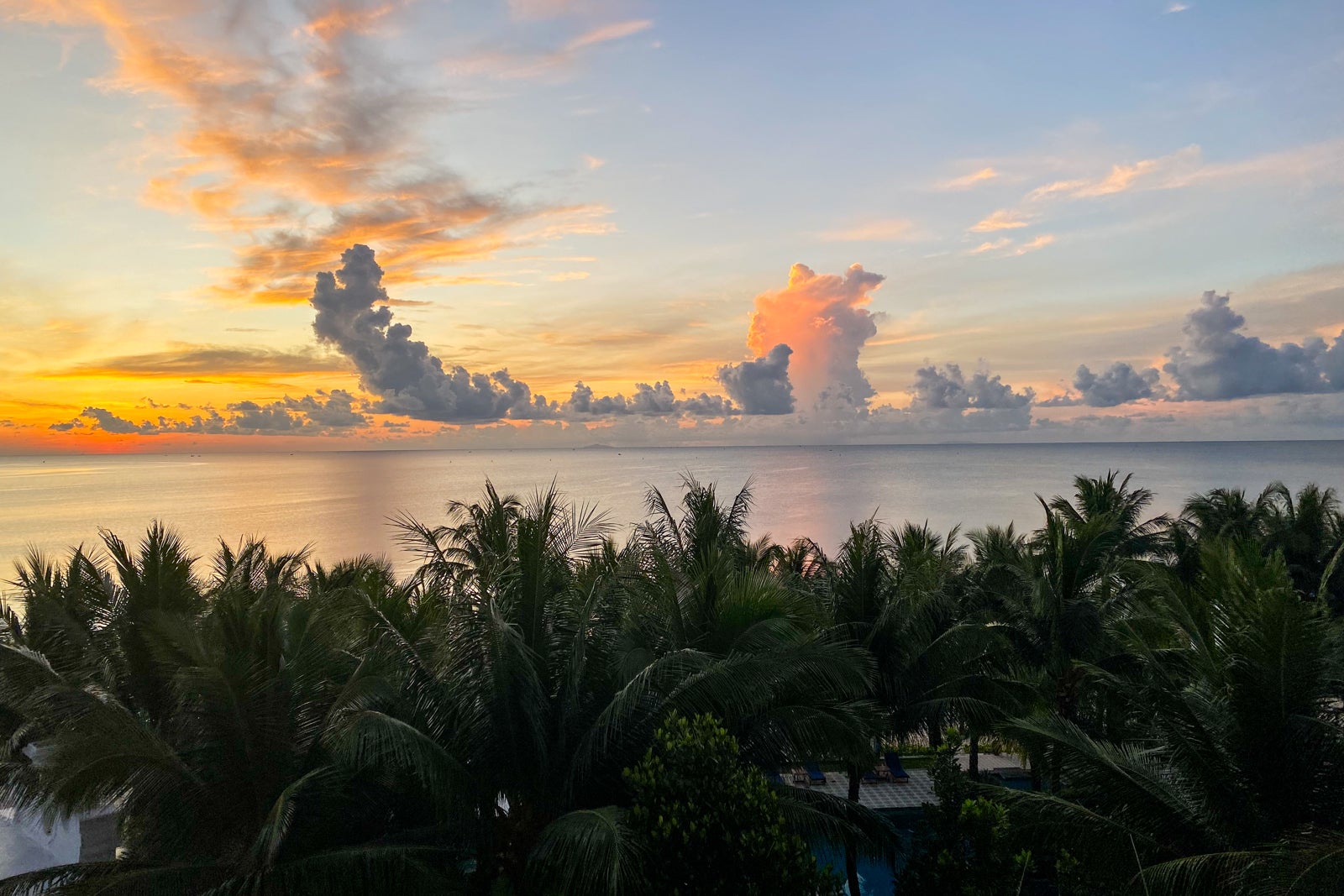 The natural light-filled marble bathroom with a black-and-white theme was made even lovelier thanks to hanging pendant lights with tassels and ferns suspended outside its window.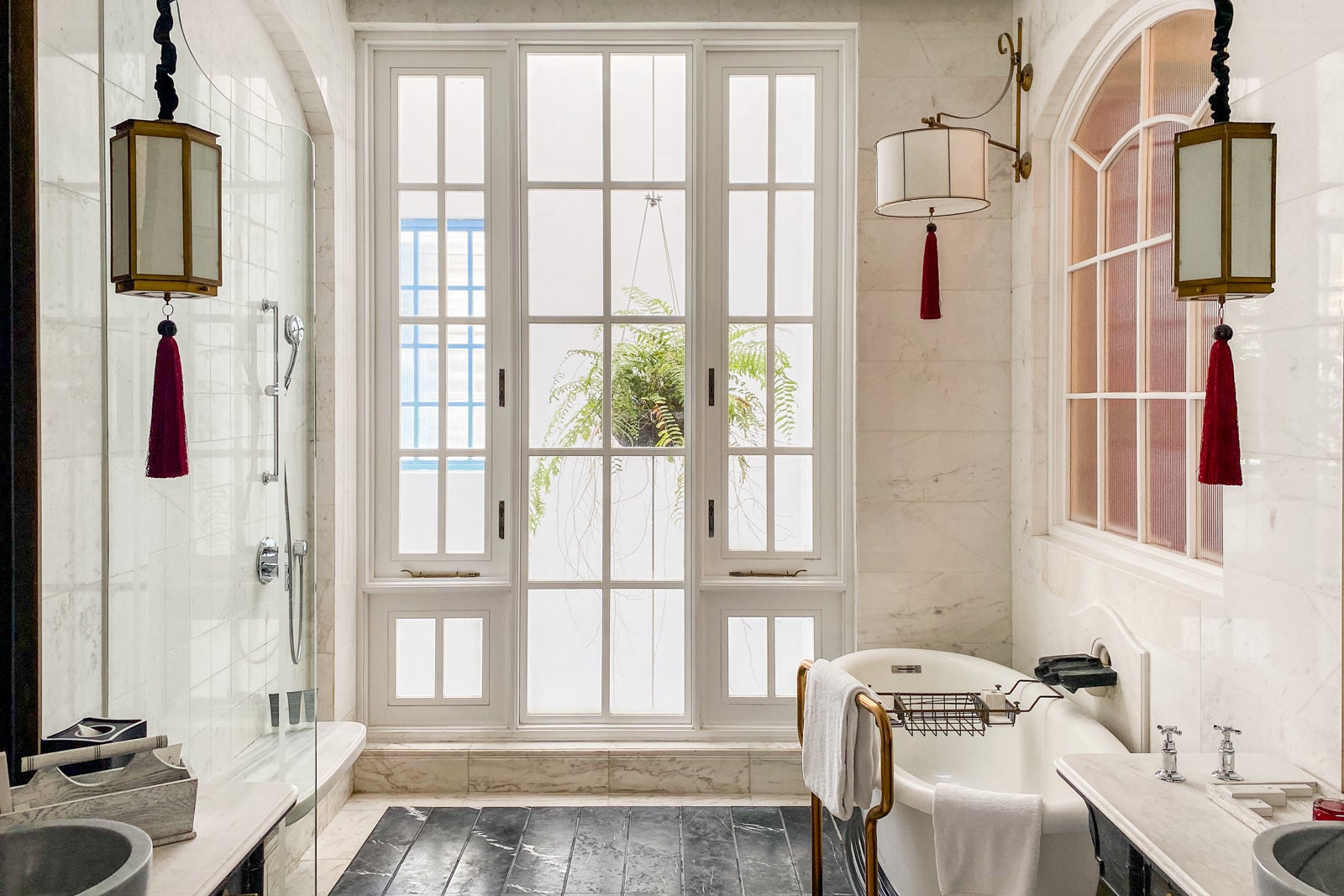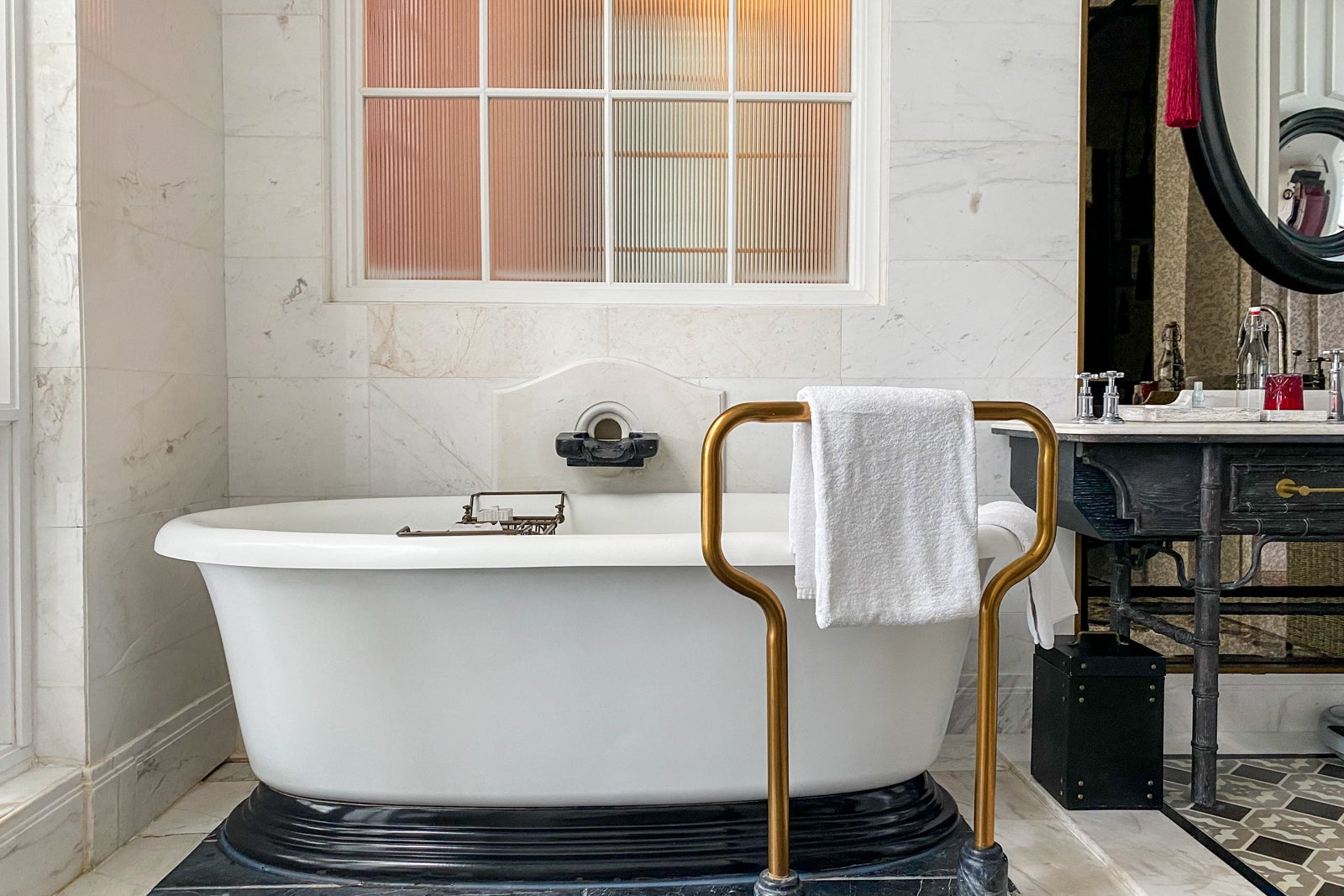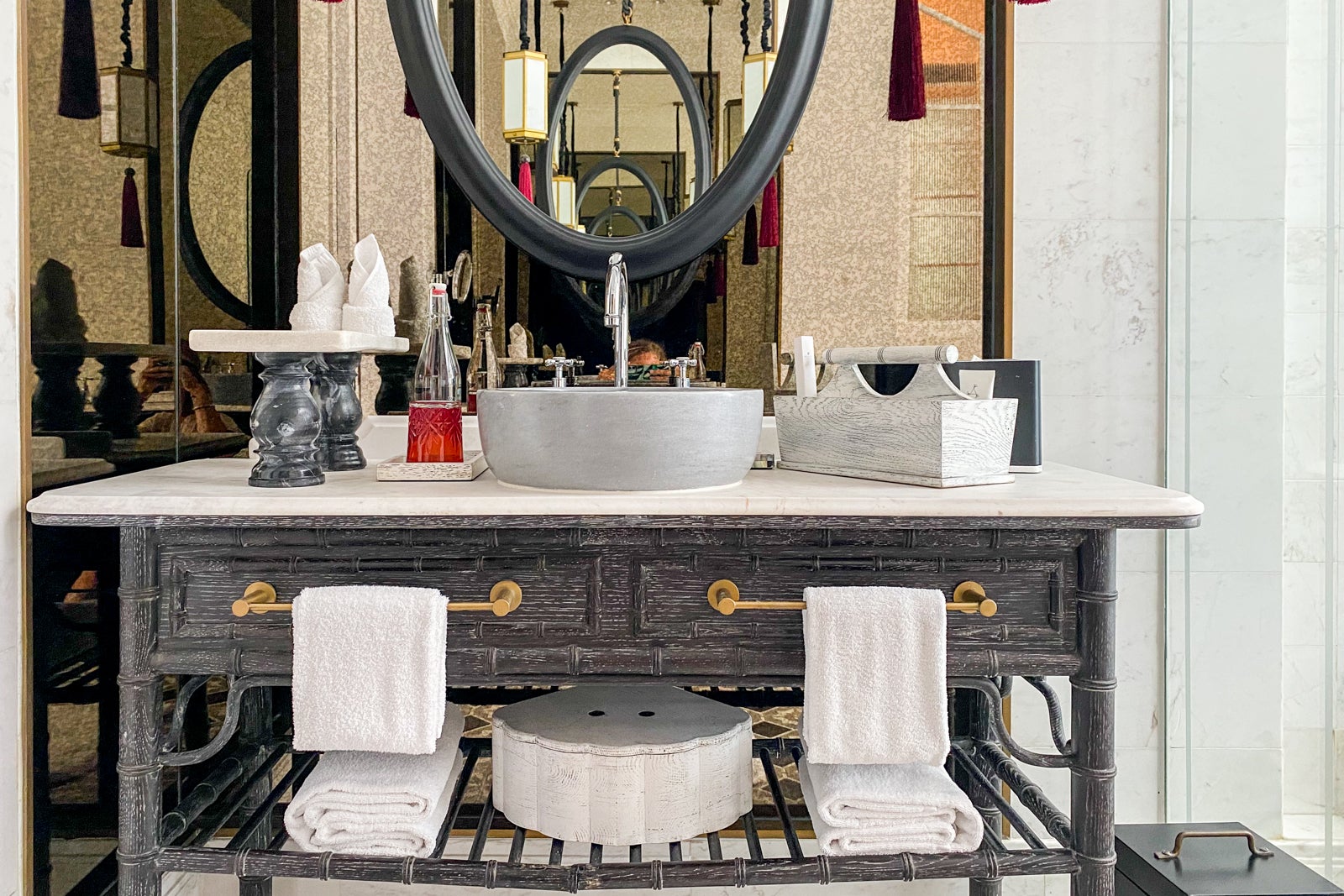 There was a large open shower with a rainfall head and Aromatherapy Associates rosemary and ylang ylang products, plus a vintage-style tub and two separate vanities. The bathtub was comfortable and filled quickly from an unconventional marble spout. Unfortunately, it drained slowly and noisily during my bath, despite being plugged.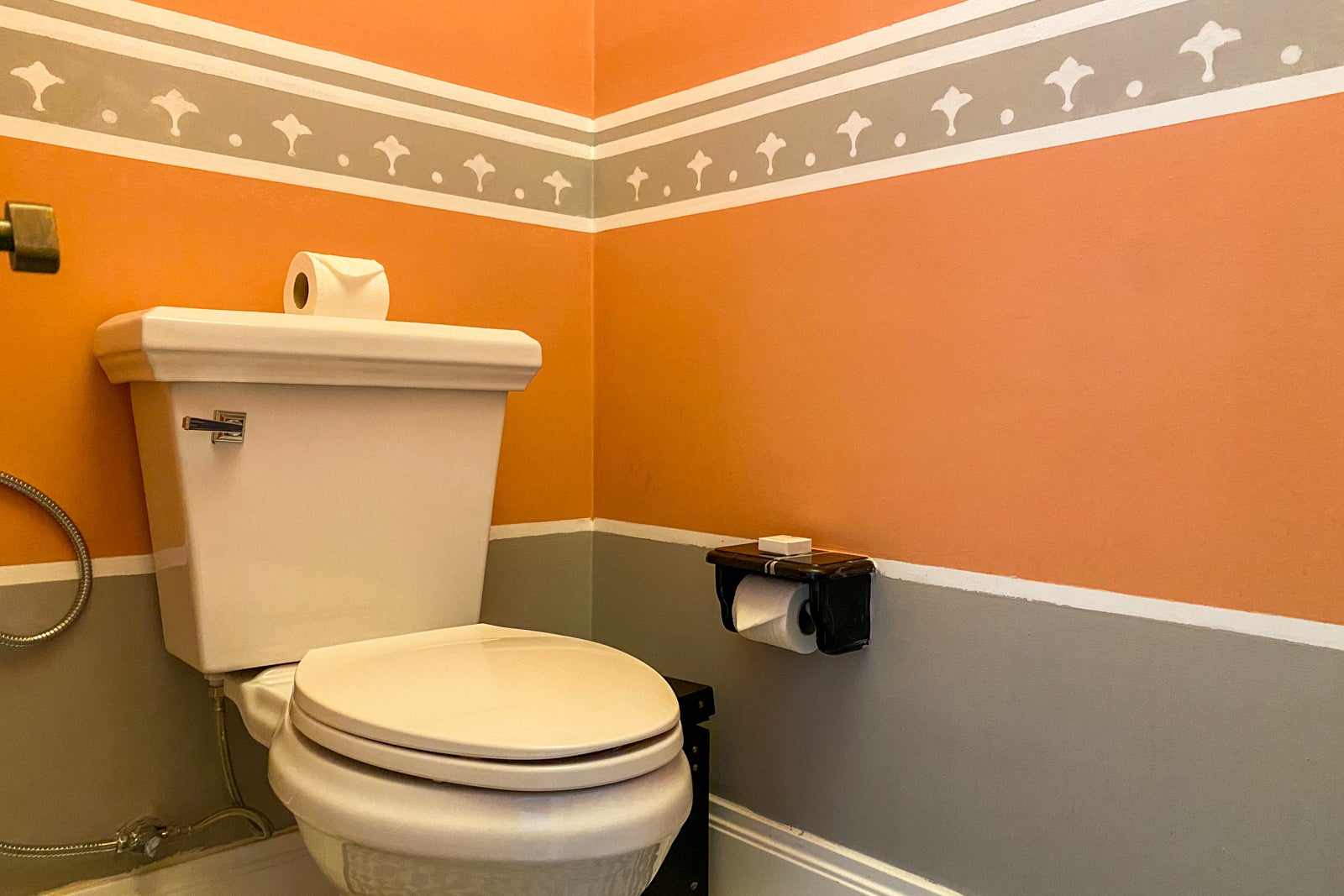 Condoms in the bedside table felt like a funny nod to college shenanigans, but otherwise, the minibar offerings were relatively pedestrian, with chips, mixed nuts, a Kit Kat bar and Pepsi products alongside Perrier and Evian waters. There were just two pods for the Krups coffee maker and three teabags, each a different type. Water was free, in refillable branded glass bottles, and was always delivered quickly when we called to request more. We had no trouble with Wi-Fi, and the TV was equipped with Miracast, enabling my husband to screen mirror from his Android.
Despite the exuberance of the decor, there were several noticeable ways the room felt it had aged beyond its five and a half years. The blackout curtains, when pulled closed by hand, were spidered with cracks letting light through, and one of the outdoor sofa cushions was so faded that the vibrant zig-zag pattern had almost disappeared. It was even more noticeable beside a new-looking cushion. The shell-shaped box holding the hair dryer was dingy and scuffed, as were the items on the desk, and a pair of lamps on the minibar credenza did not work. Whereas at the Regent we'd had a bountiful bowl of half a dozen types of fruits, the two apples and one orange on a dish here seemed sad by comparison, though we did appreciate them.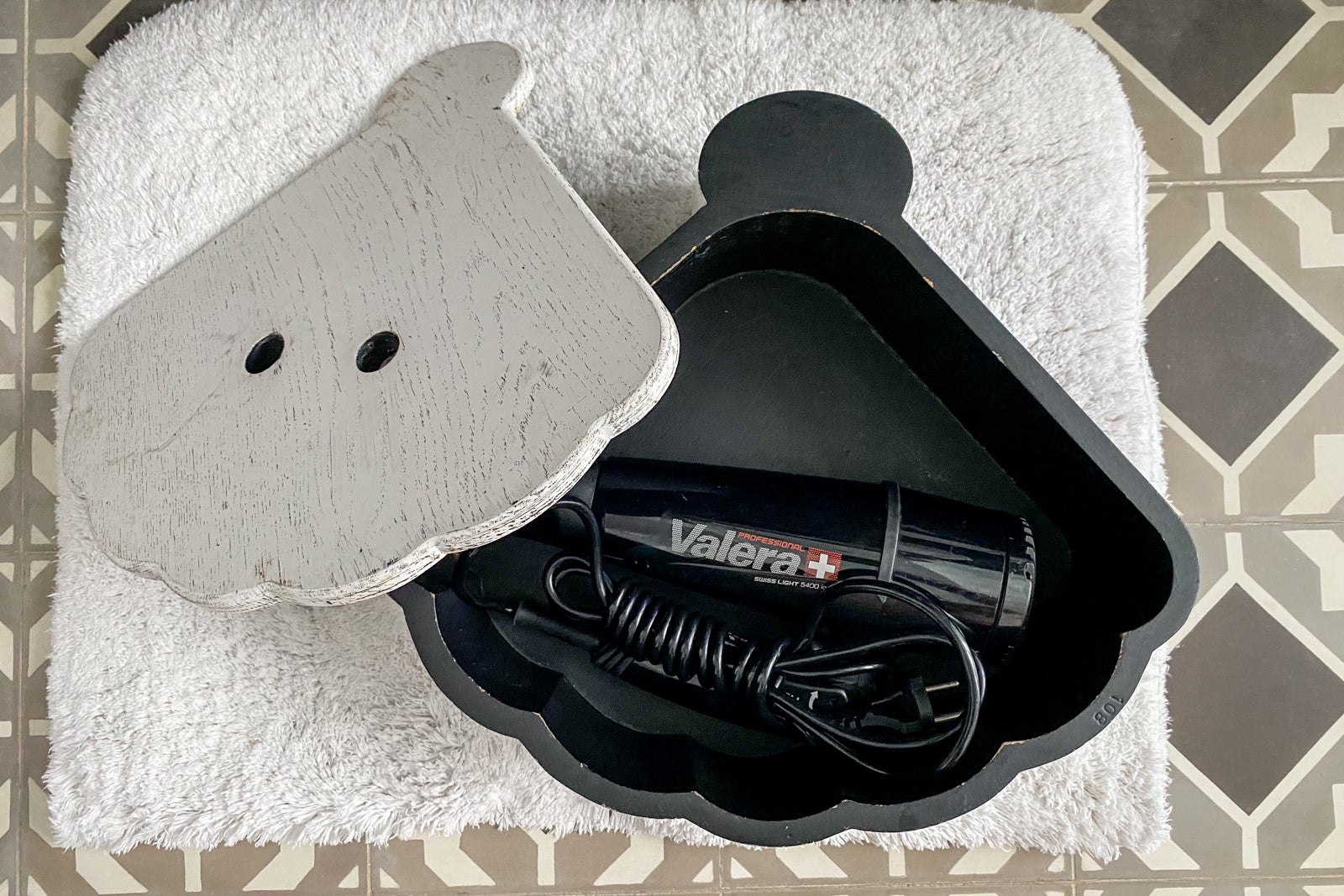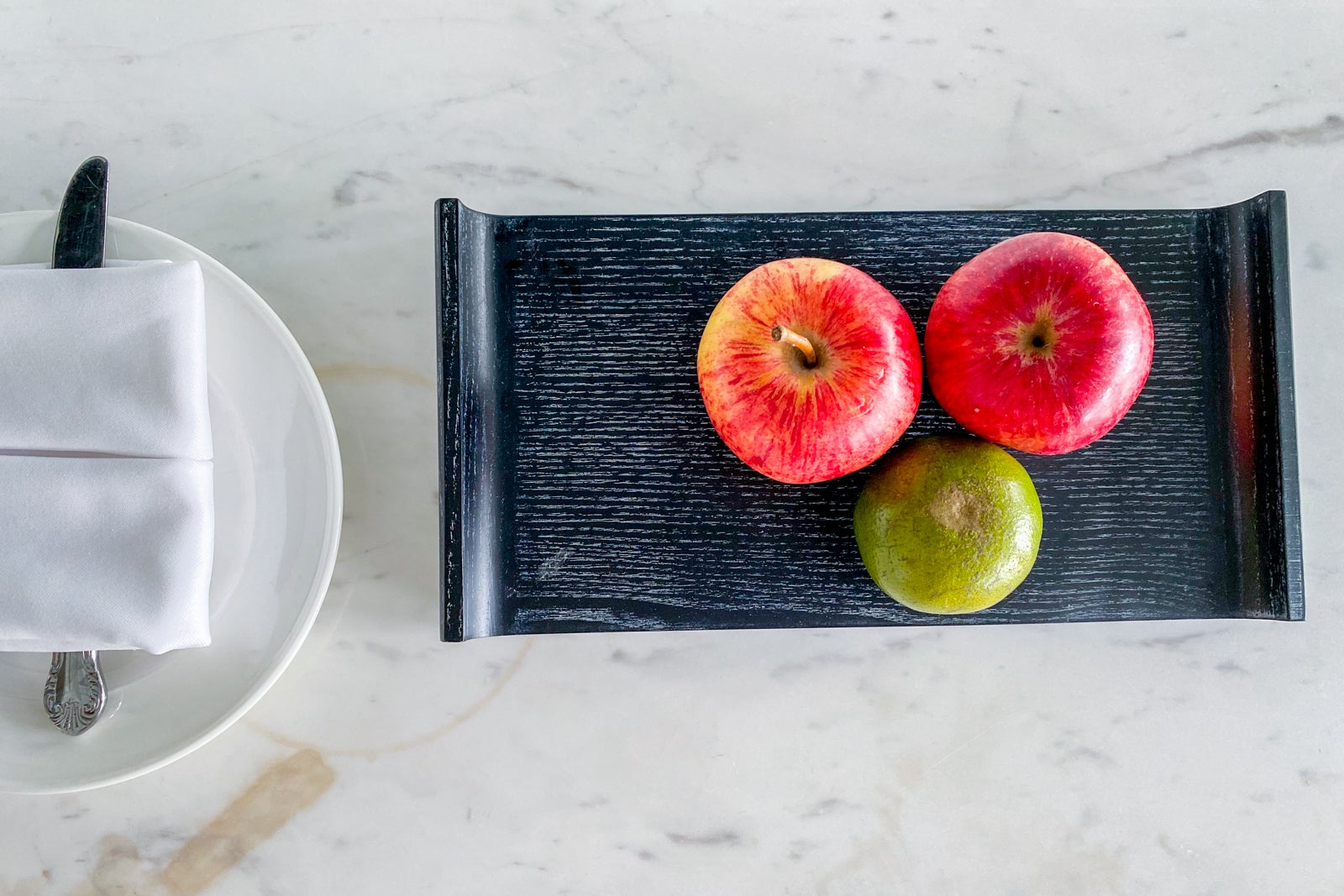 Food and beverage
The resort advertises five food and beverage outlets, but during our stay, the choices felt quite limited. 
The Pink Pearl, a French fine-dining restaurant that is usually open for dinner, was unfortunately closed, apparently for renovations. The French & Co. cafe, although cute with marble bistro tables and red leather banquettes, seemed much more of a place for an afternoon coffee and decadent confection than a meal. They did not nail a coconut milk cappuccino we ordered — it was almost undrinkable.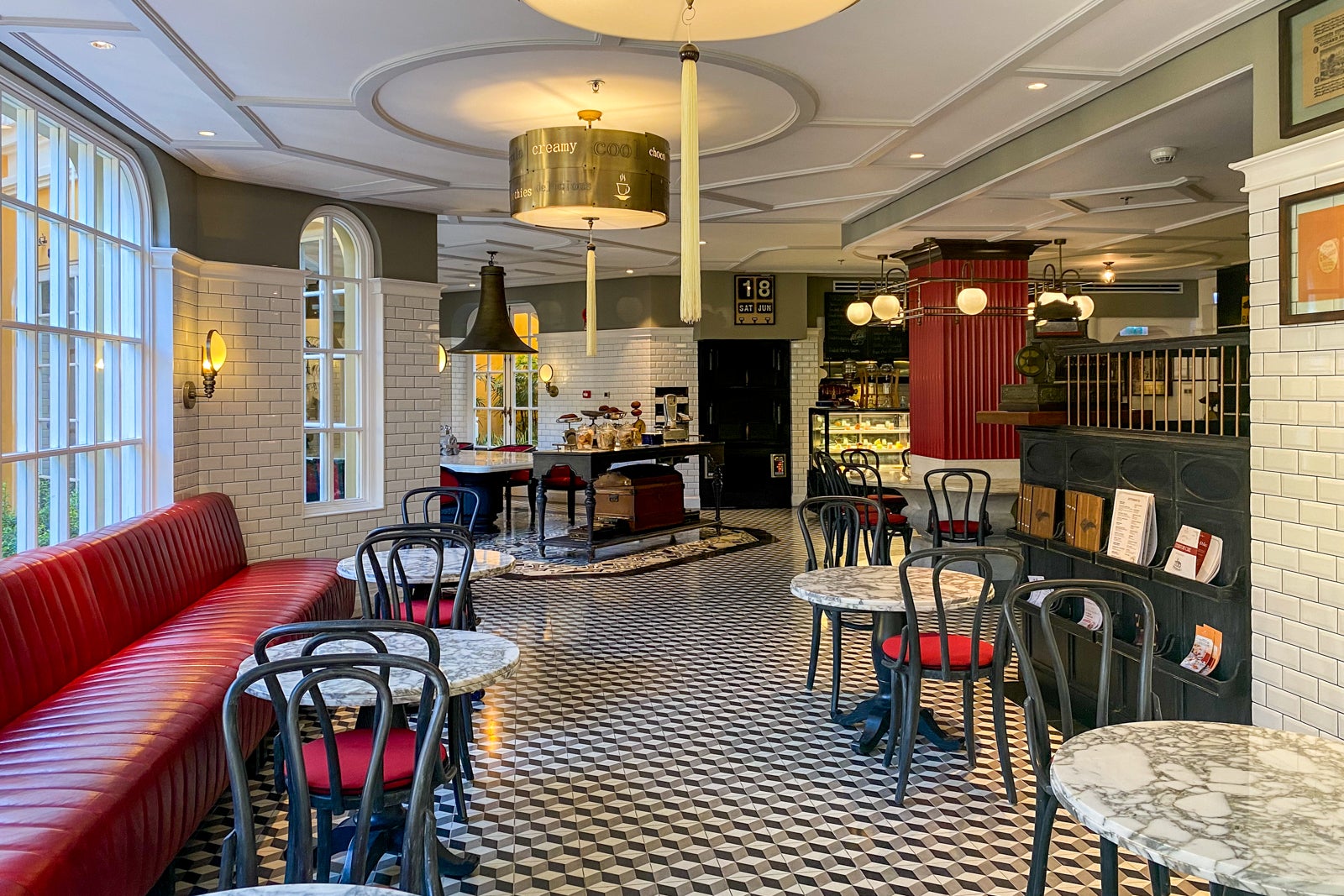 We didn't make it to Red Rum, which was described as a bar to us at check-in but, as I discovered later, served a small menu of items, including calamari, nachos, hot dogs, chicken quesadillas and octopus salad, ranging in price from $8 to $17, in addition to an array of — you guessed it — rum cocktails. Their buy one, get one free happy hour was from 3 to 5 p.m. Red Rum servers, in sailor ensembles, man the beach and brought us cups of ice water at our loungers. 
My favorite venue was the Department of Chemistry bar, which very much evoked a laboratory, though in a fabulous (and pink) way. There were apothecary drawers, hanging plants and the periodic table emblazoned on the walls, plus a domed ceiling with planets hanging from it and comfy daybeds with ocean views. The bartenders wore lab coats and glasses as they mixed up strong and seriously creative cocktails embracing Vietnamese herbs and flavors.
I appreciated the two-for-one happy hour from 5 to 7 p.m., and though it didn't extend to the whole cocktail menu, it did include a tasty and refreshing calamansi lemongrass mojito, which was $13 for two. The added touch of deliciously spiced peanuts in test tubes earned it an A in my report card. Our favorite drink was the well-named Same-Same But Different, with house-infused Sampan Rhum Vietnam and Vietnamese chilies, lemongrass from the JW garden, calamansi juice, peach syrup, young coconut water and a dash of full cream milk. The staff was very pleased to hear we enjoyed the drink, which came in a beaker. The bar also served classic bar food — sliders, fish and chips, pizza, truffle cheese fries ($10 to $21) — but we didn't try any of it.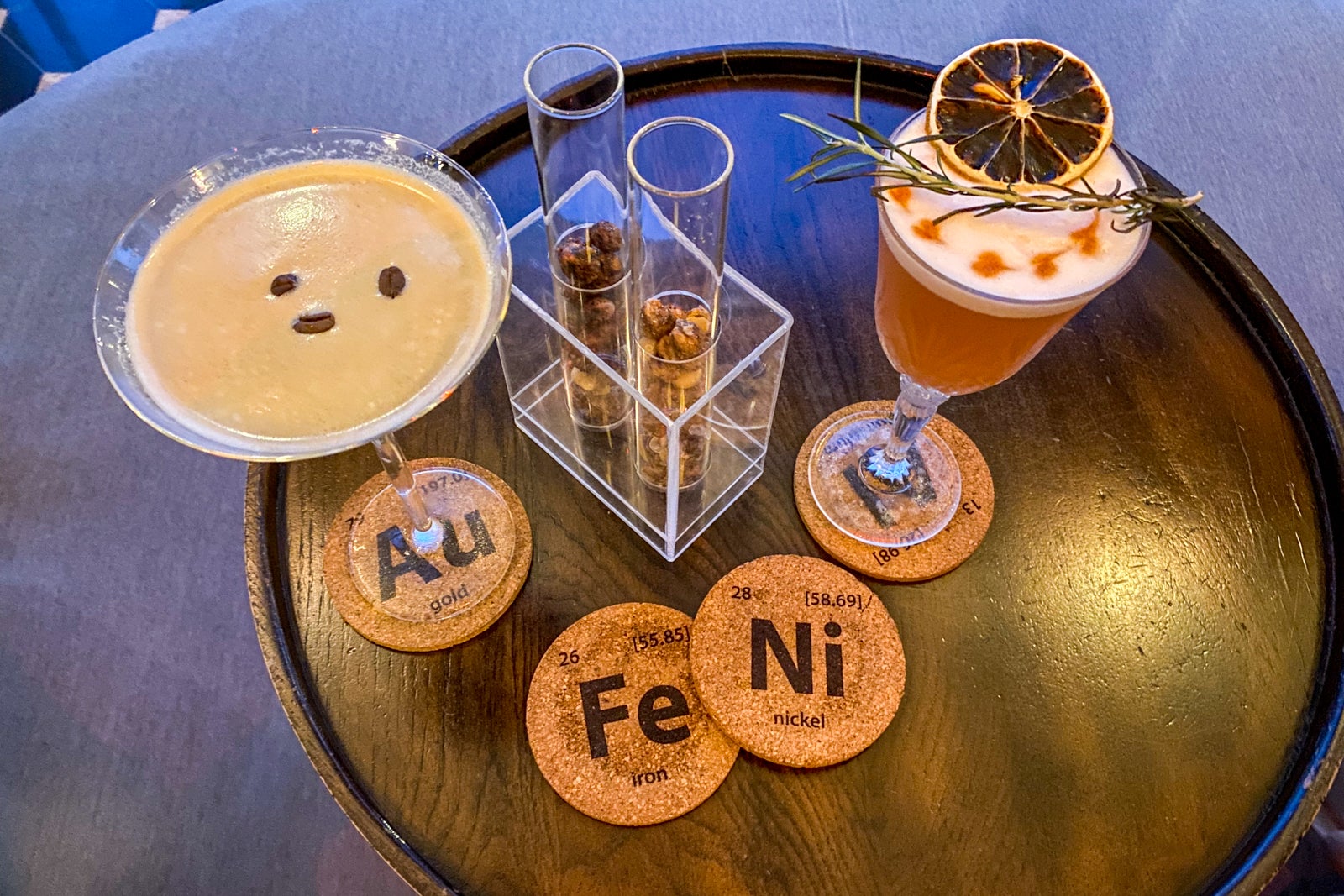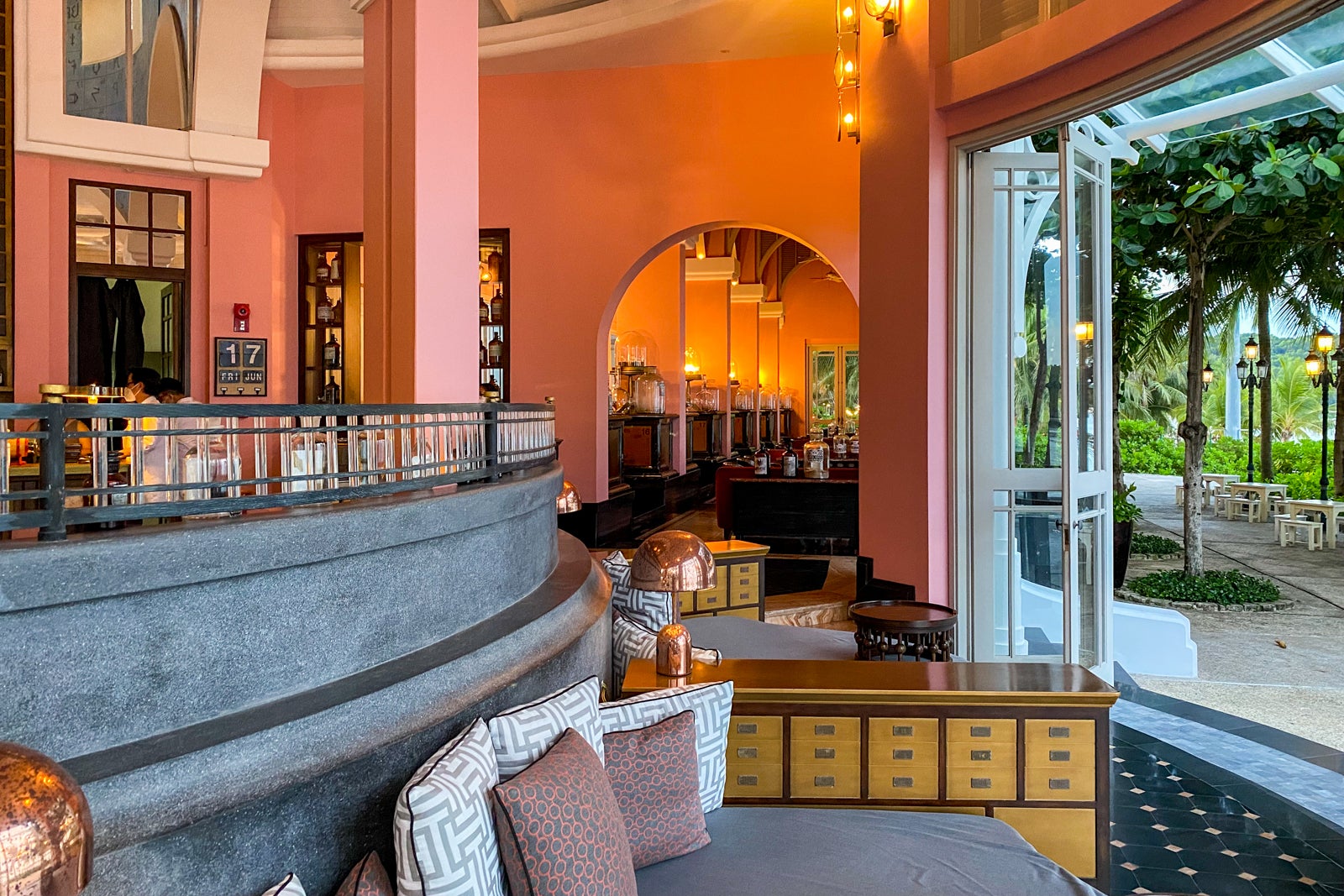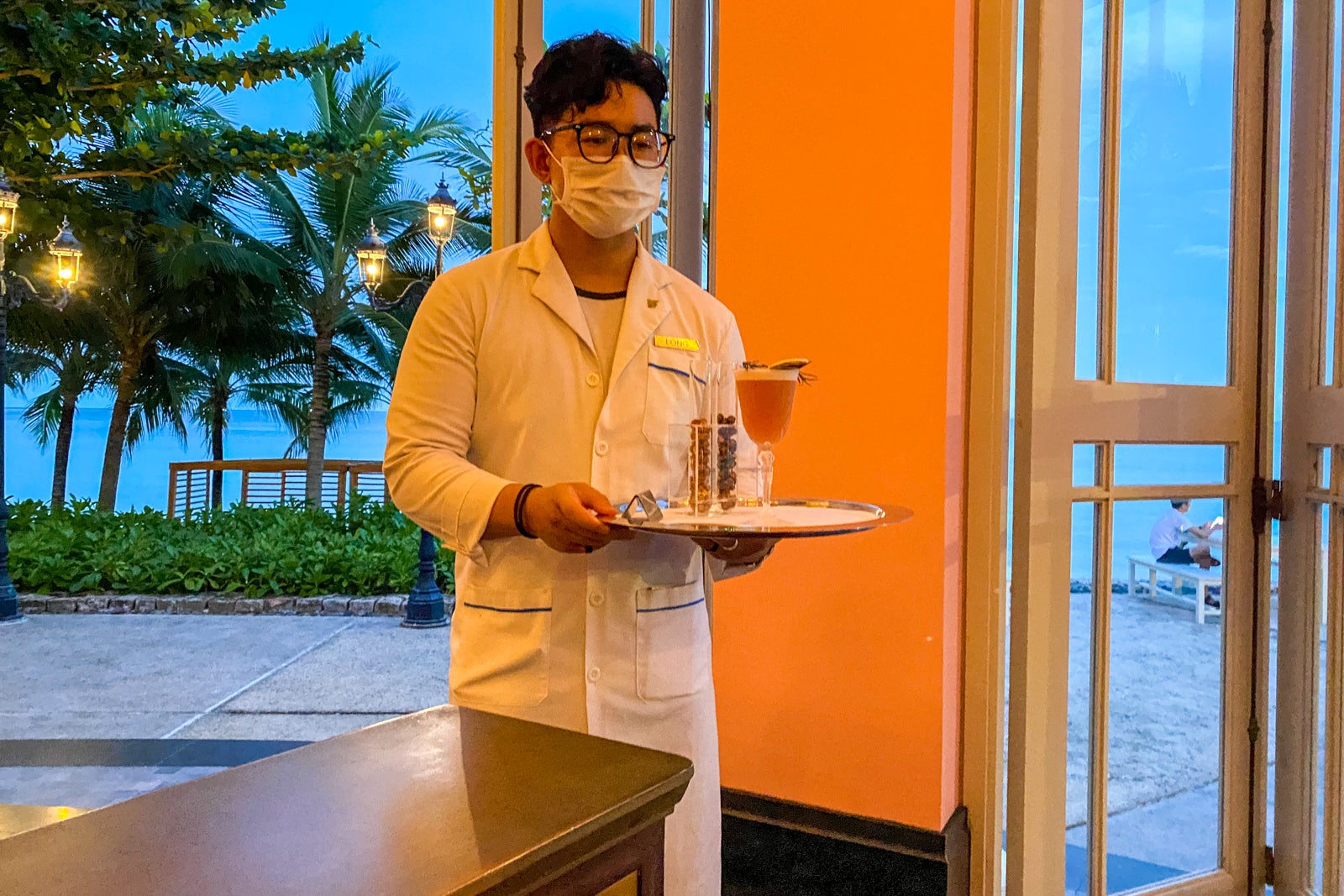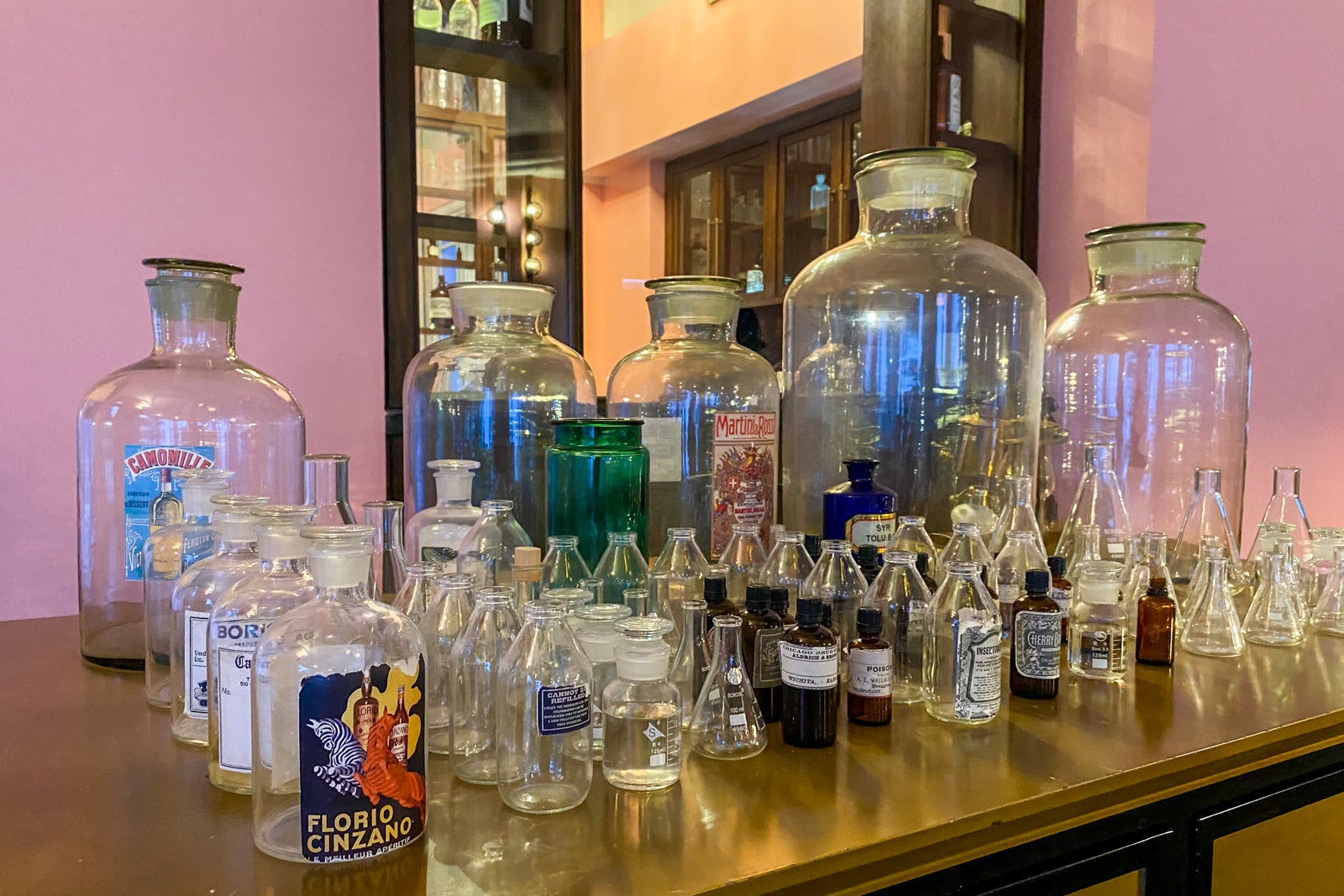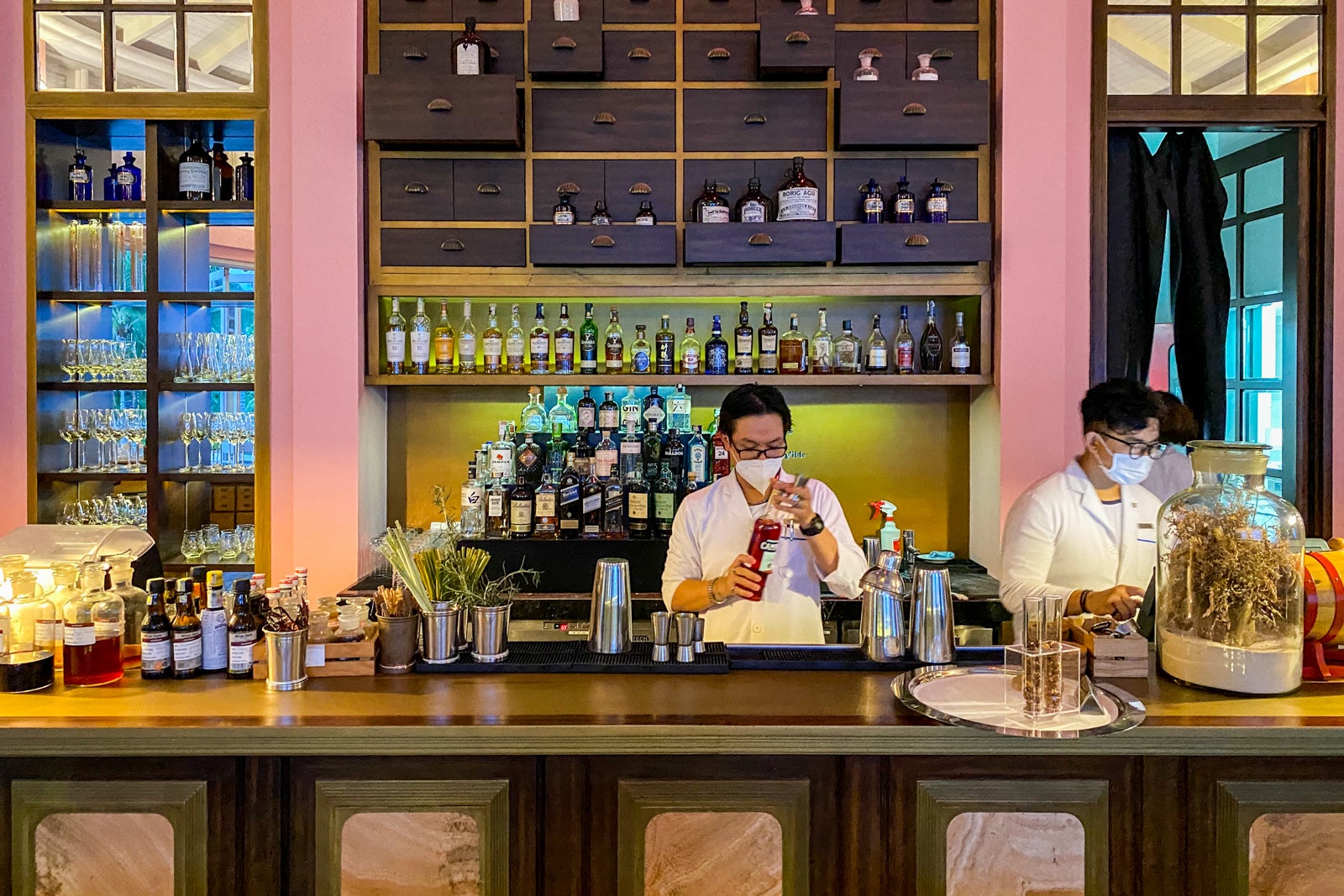 When it came to the main all-day restaurant, Tempus Fugit — which was the only full-service restaurant open during our stay — it felt as though the fictitious school theme was almost too on point. Having visited my sister at her New England boarding school, I felt the restaurant mimicked a scholarly dining hall a bit too much for my taste. The Department of Architecture theme was evident throughout in little models placed in niches, architectural drawings, lofty ceilings and black-and-white portraits, plus an antique sketch pattern on the glass-topped tables.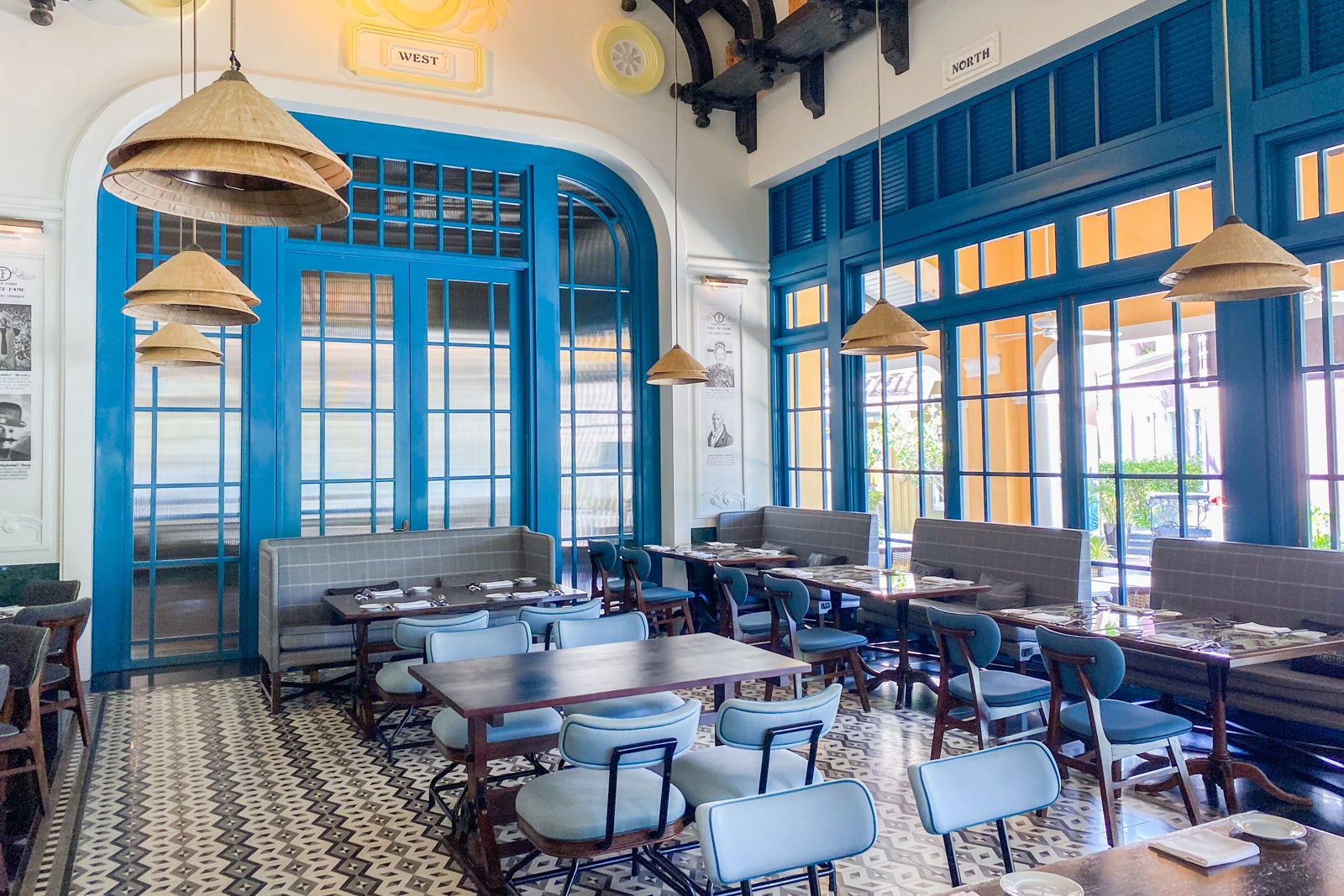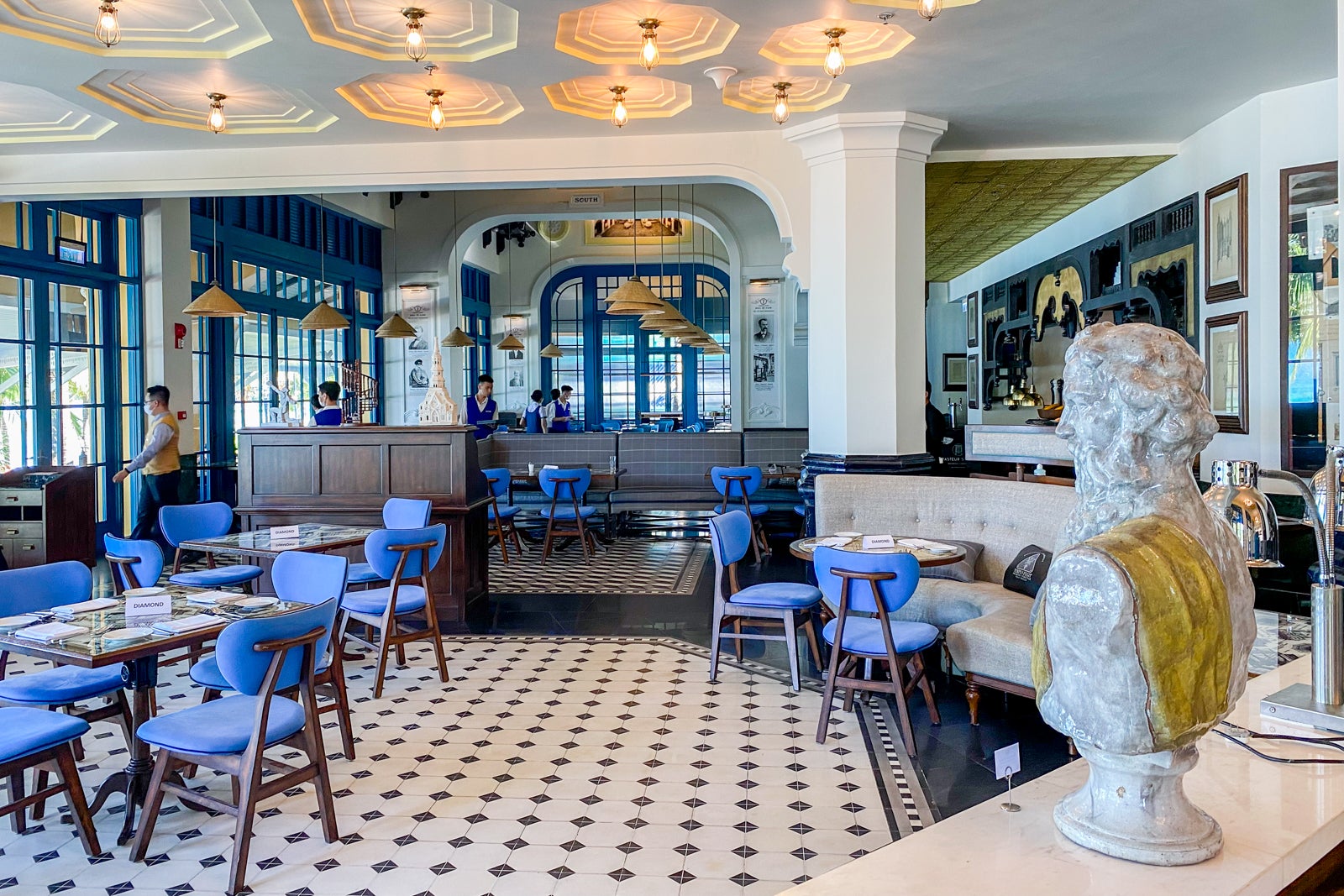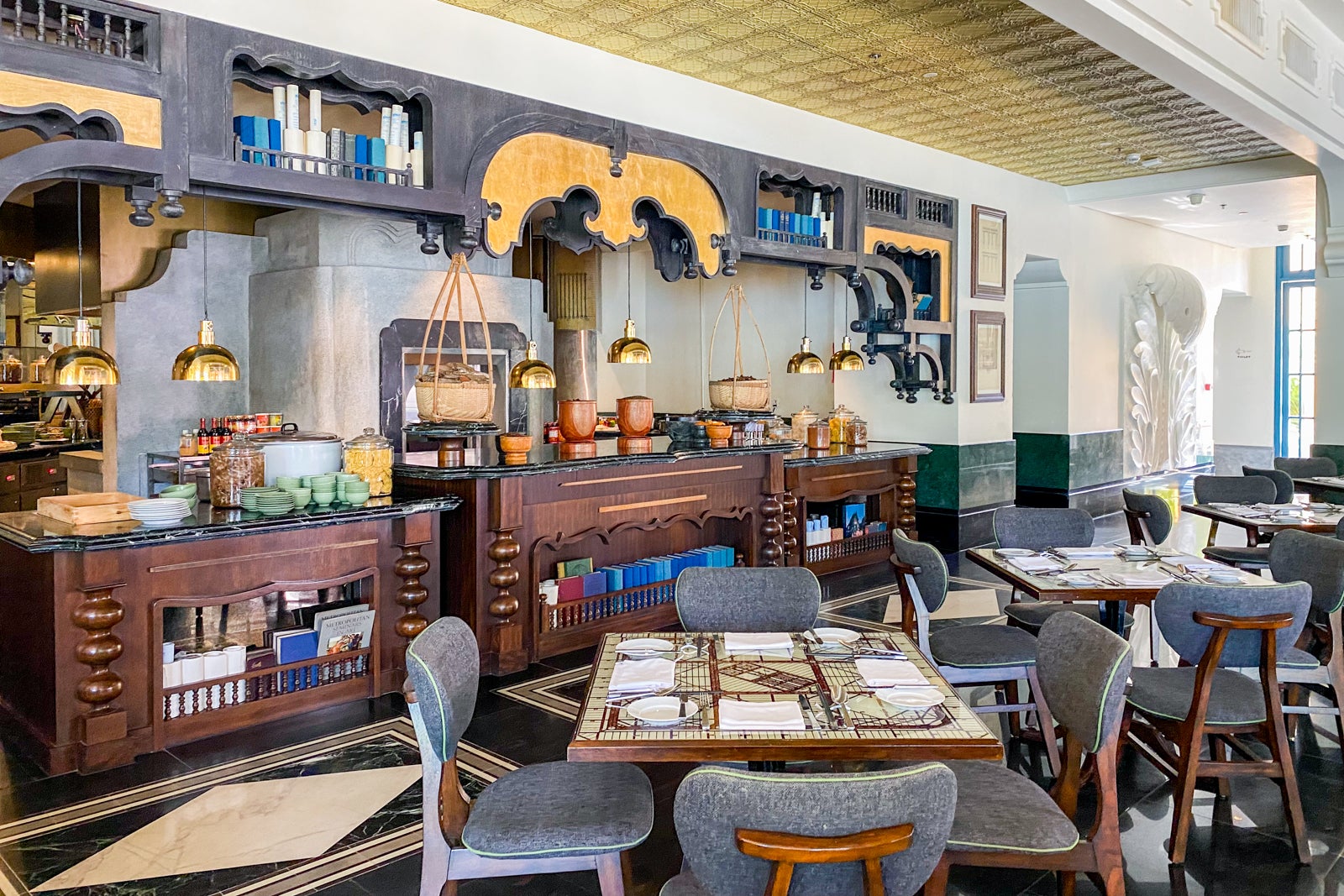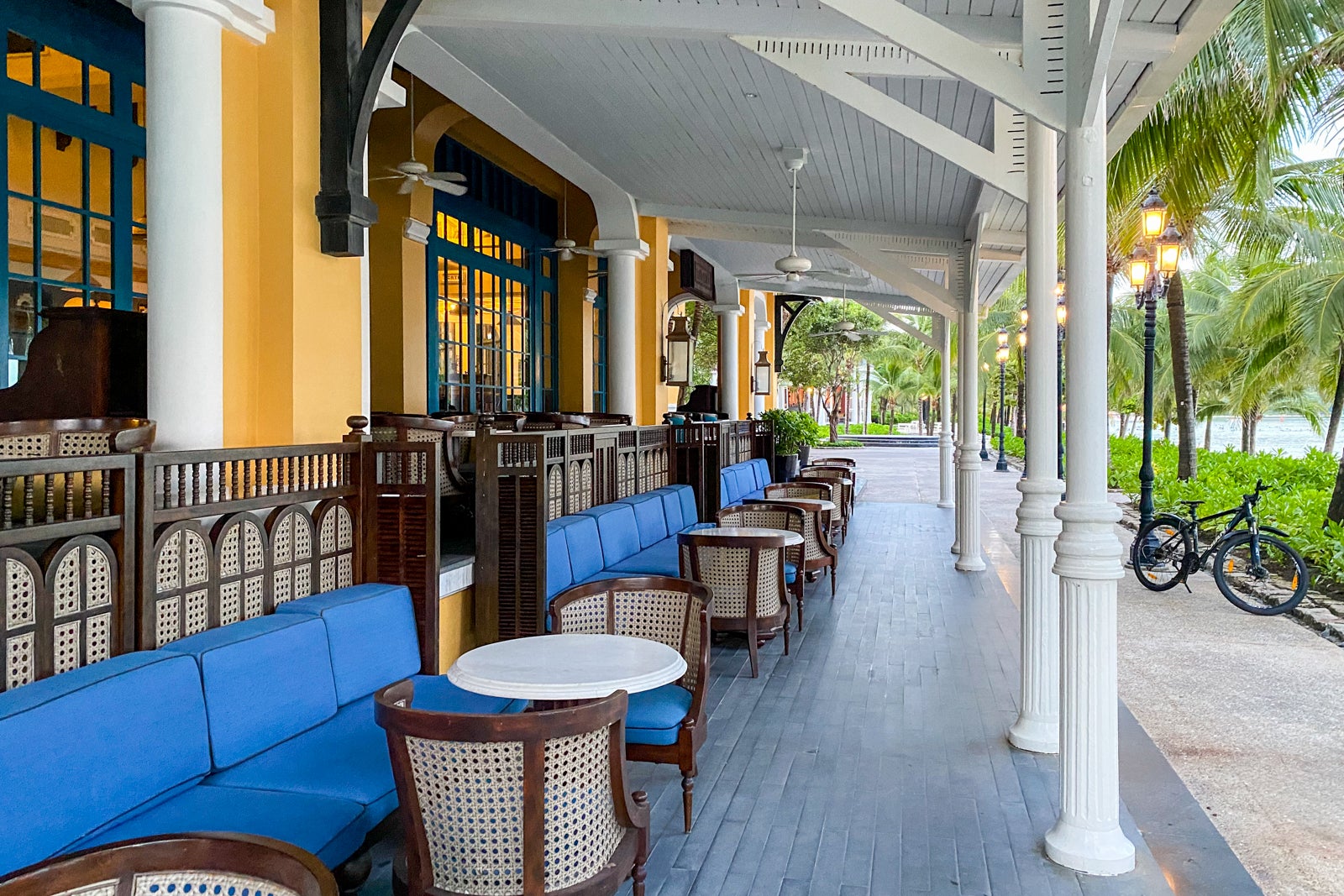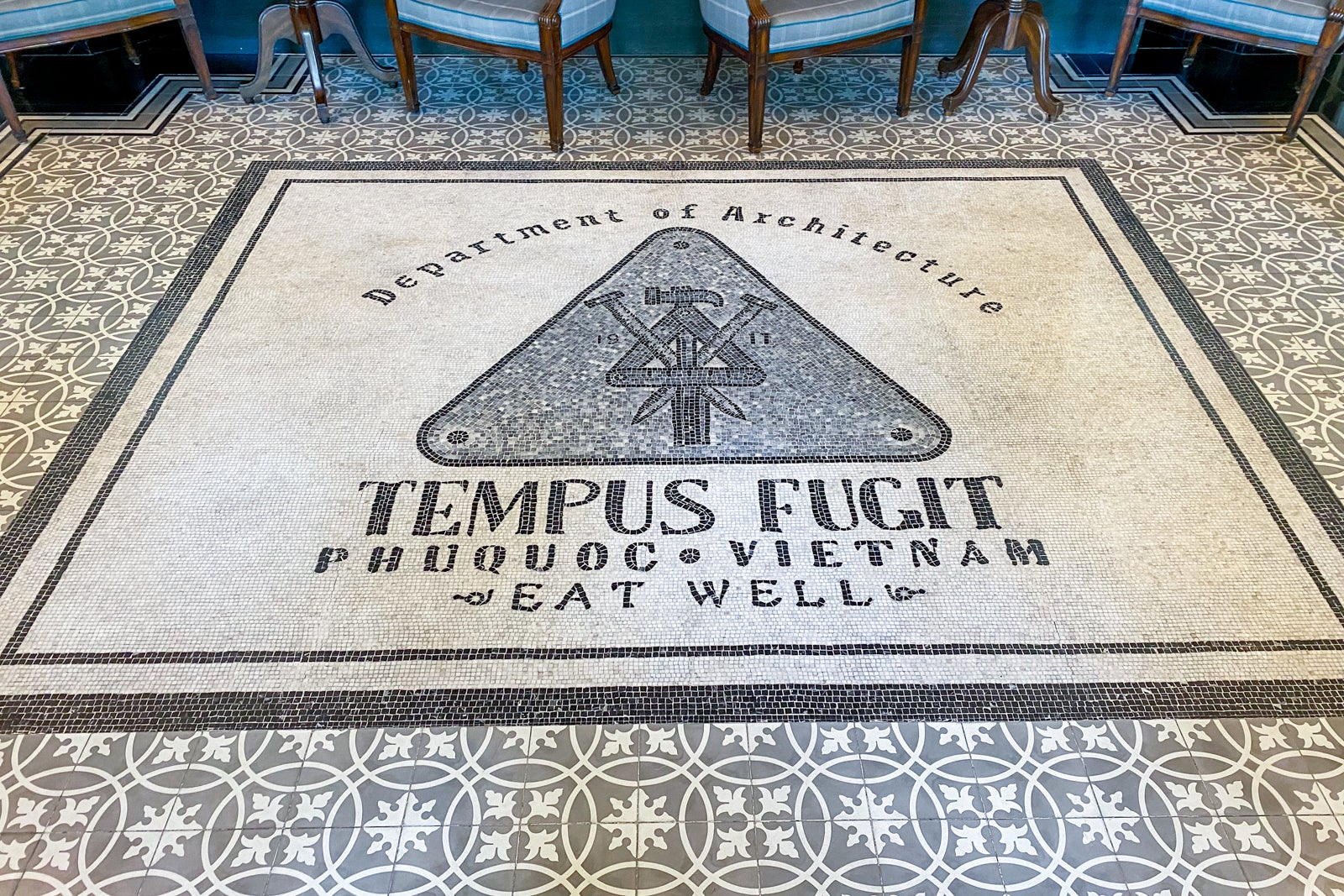 At our first lunch, we waited more than 15 minutes for a bottle of water. Maybe it was because it was an odd time to be dining — though there were several other tables of families eating, too — but there were significant delays in our orders being taken and getting our food. The server didn't know if there was a kids menu, which seemed odd, though she checked with someone and eventually brought over a paper one plus a reusable plastic plate and disposable plastic fork and spoon for our toddler.
The menu for both lunch and dinner was the same and featured half Vietnamese and half Western dishes. The lack of unique offerings in the evening made it feel less special to me. Everything we ate at Tempus Fugit was good but not outstanding, my favorite being Hanoi-style bún chả in a deeply savory, tasty broth ($14).
For dinner, we sat out on the patio, and maybe it was our fault for ordering the $13 Quang-style chicken noodles clay pot Phu Quoc cobia ($18), but neither really hit the spot. I was surprised when my cocktail, a gin-based drink with mango and basil, arrived blended into an herbaceous smoothie; it proved just about as filling as my noodles, the two being a strange combination.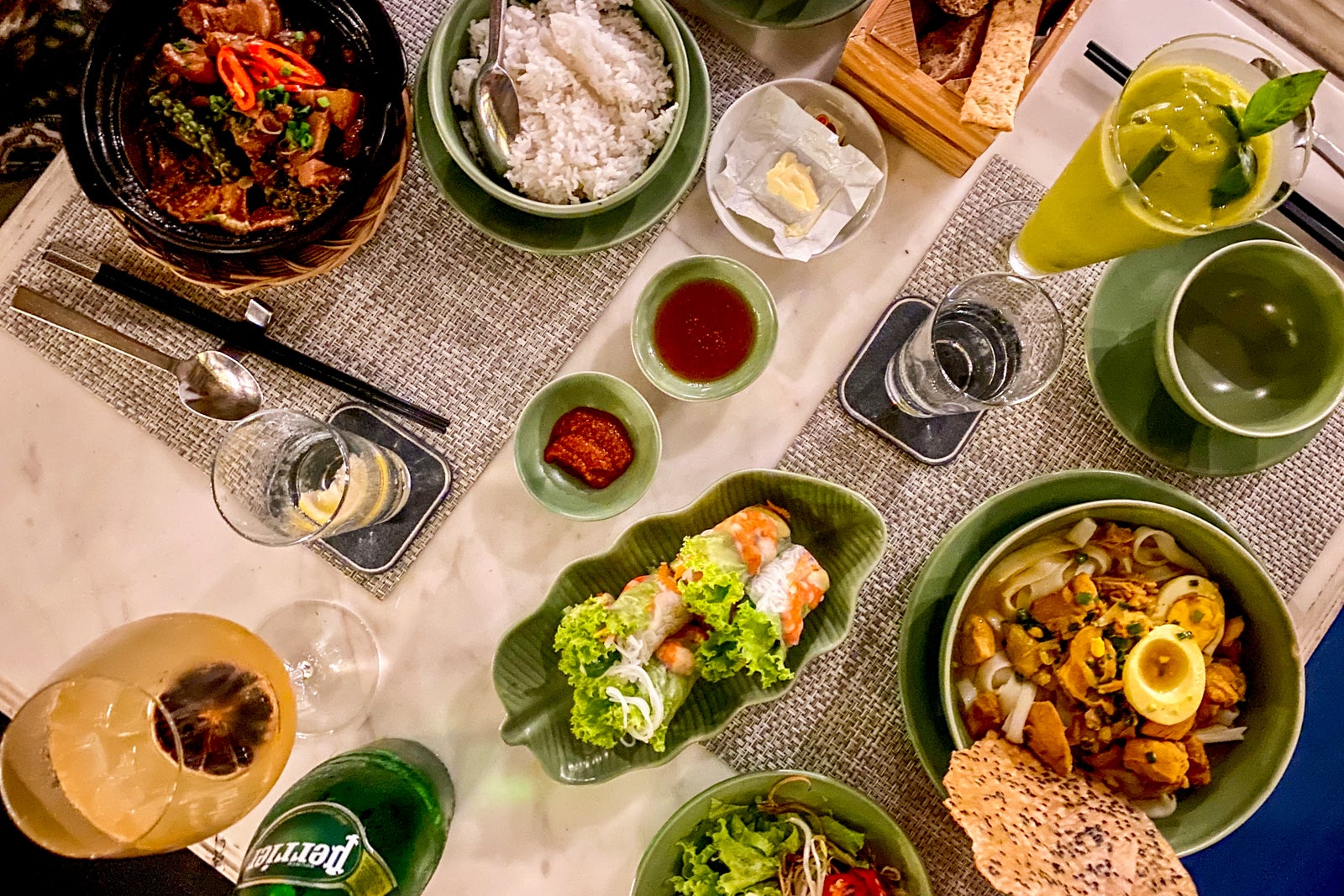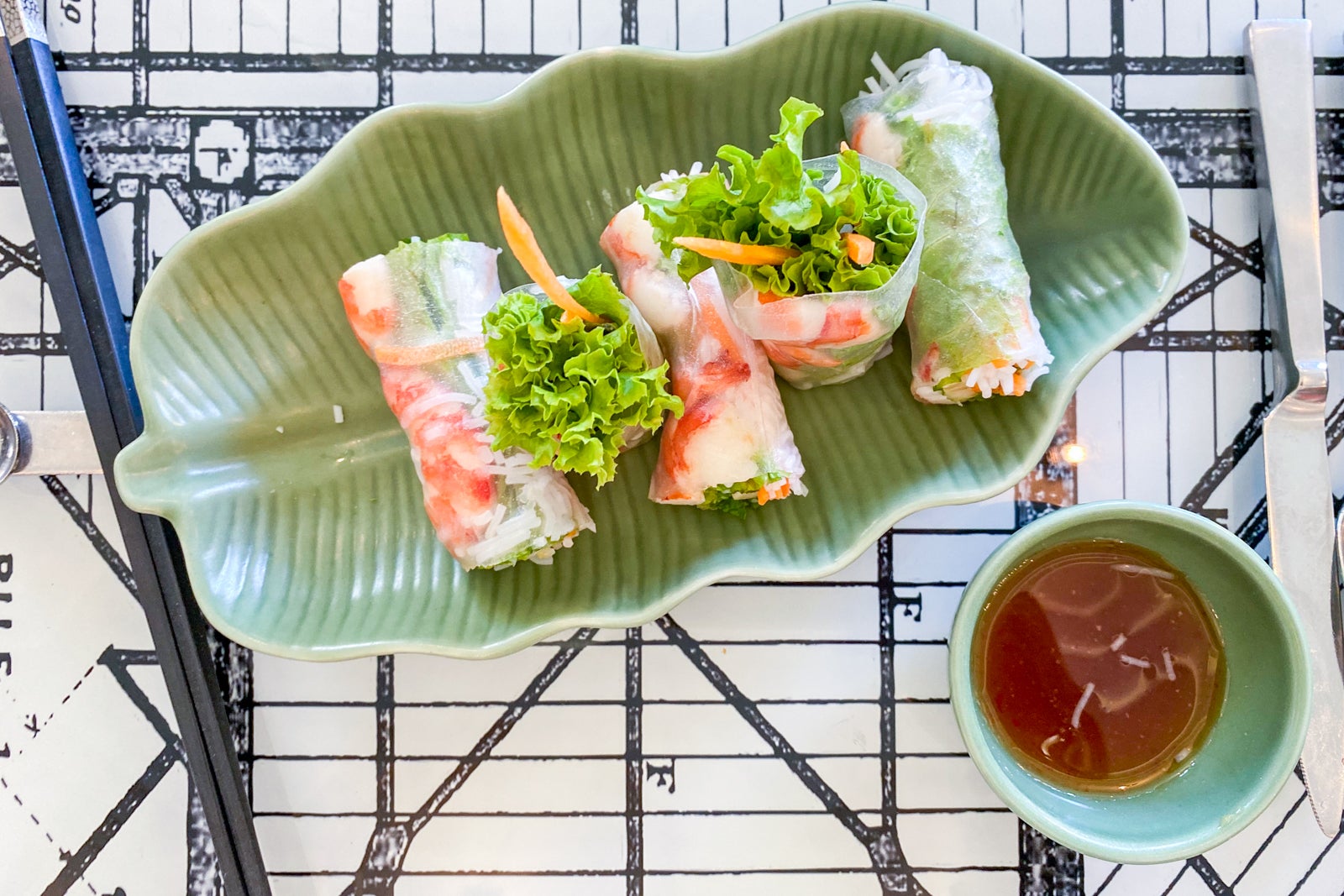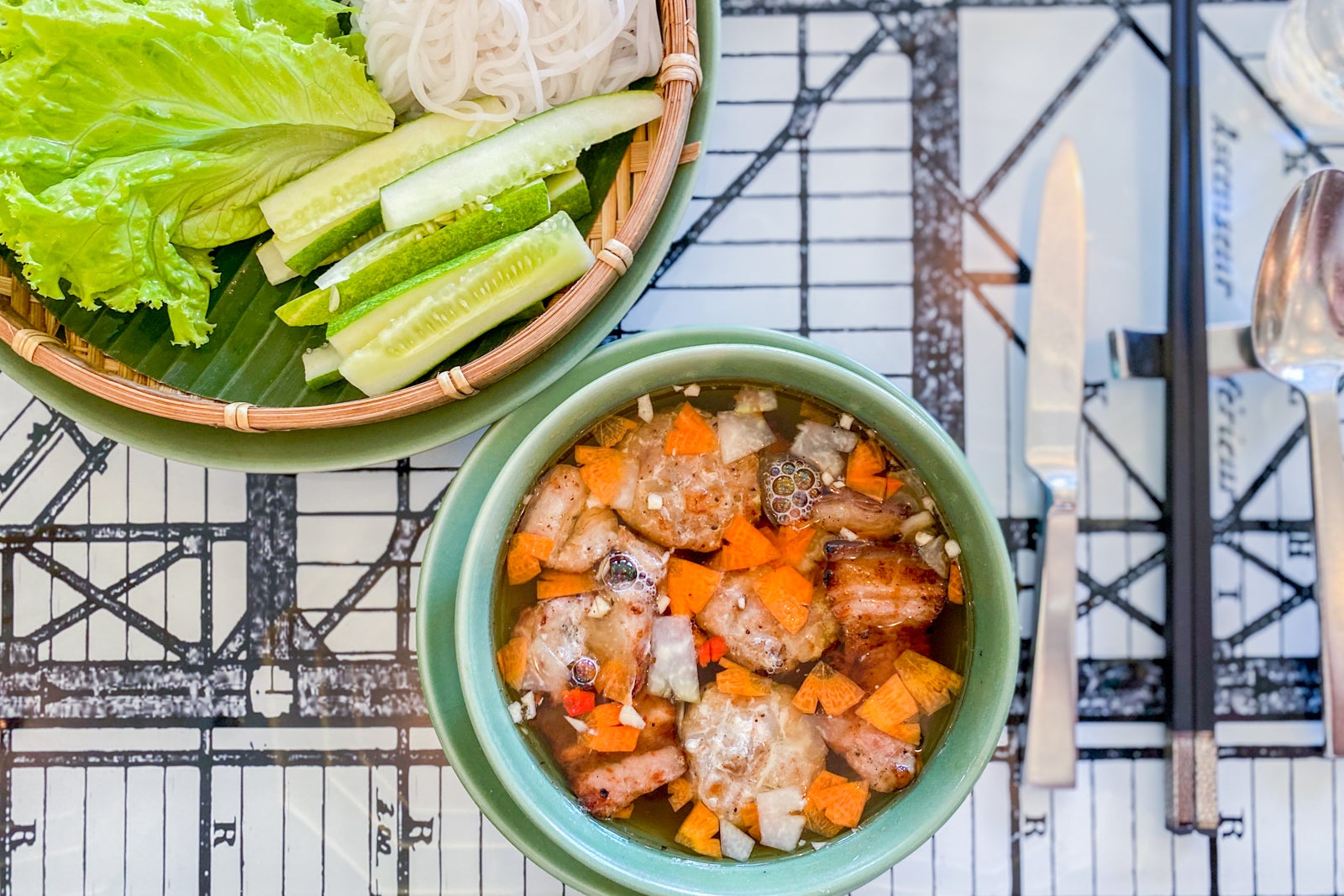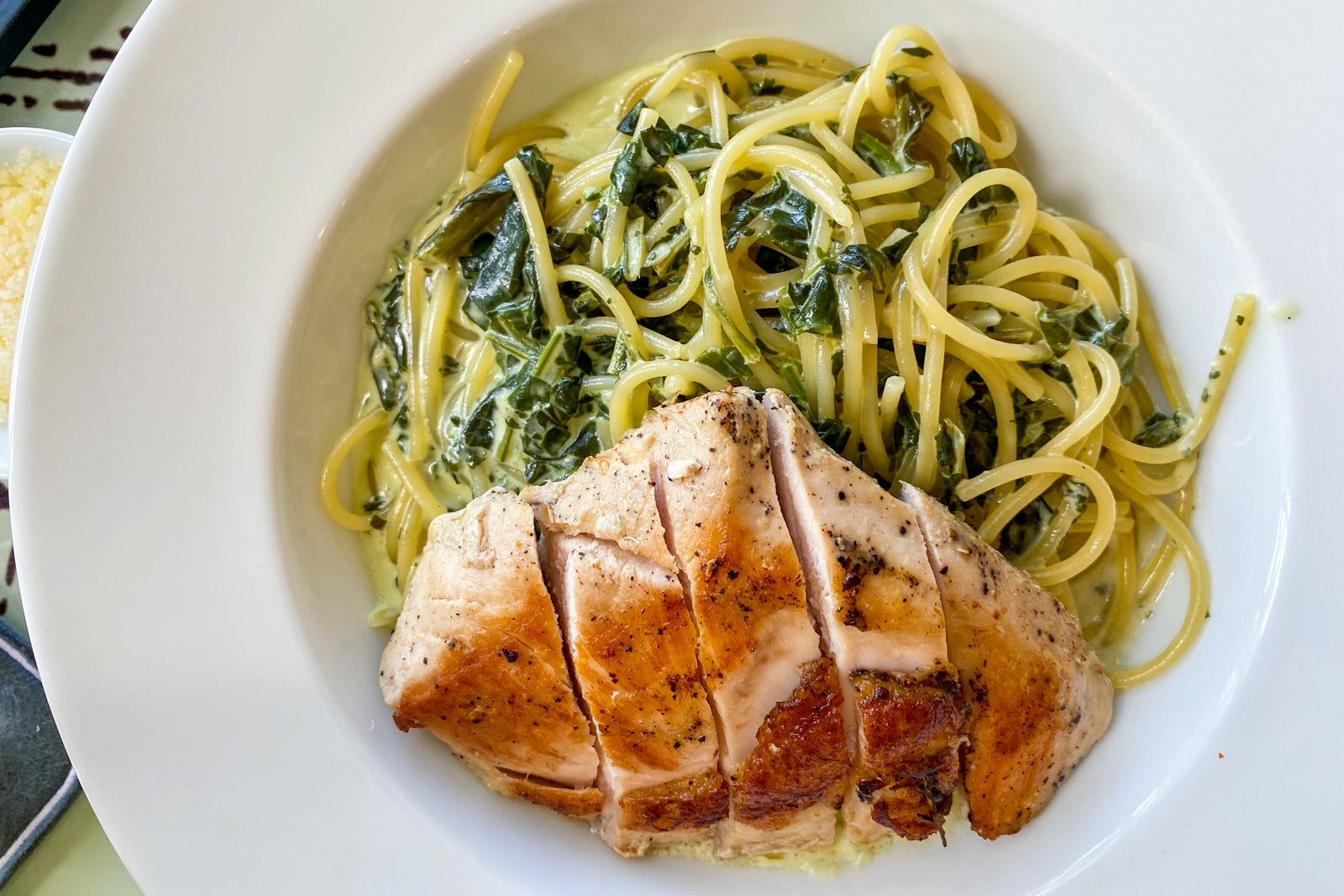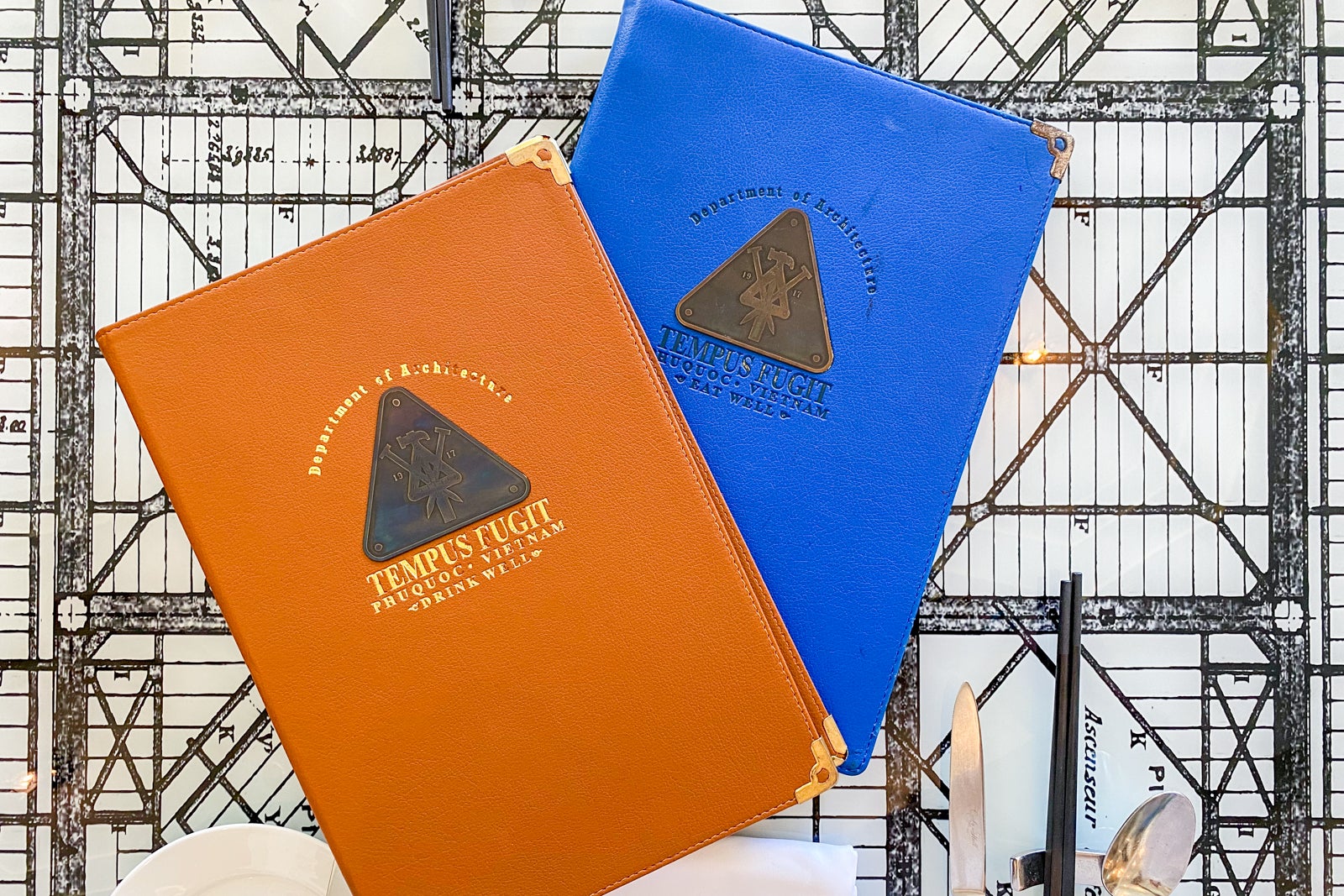 The buffet breakfast had a global, gourmet ambiance. The Asian offerings were the most prolific, including not only Vietnamese noodle soups and bánh mì but also sushi hand rolls, bibimbap, congee and lots of kinds of fish.
Of course, there was an egg station and one where a chef made pancakes, crepes, French toast and waffles to order, and even a selection of ice creams and toppings. Juices and water were self-serve, and Vietnamese iced coffees came with lemongrass straws, a sustainable touch I appreciated.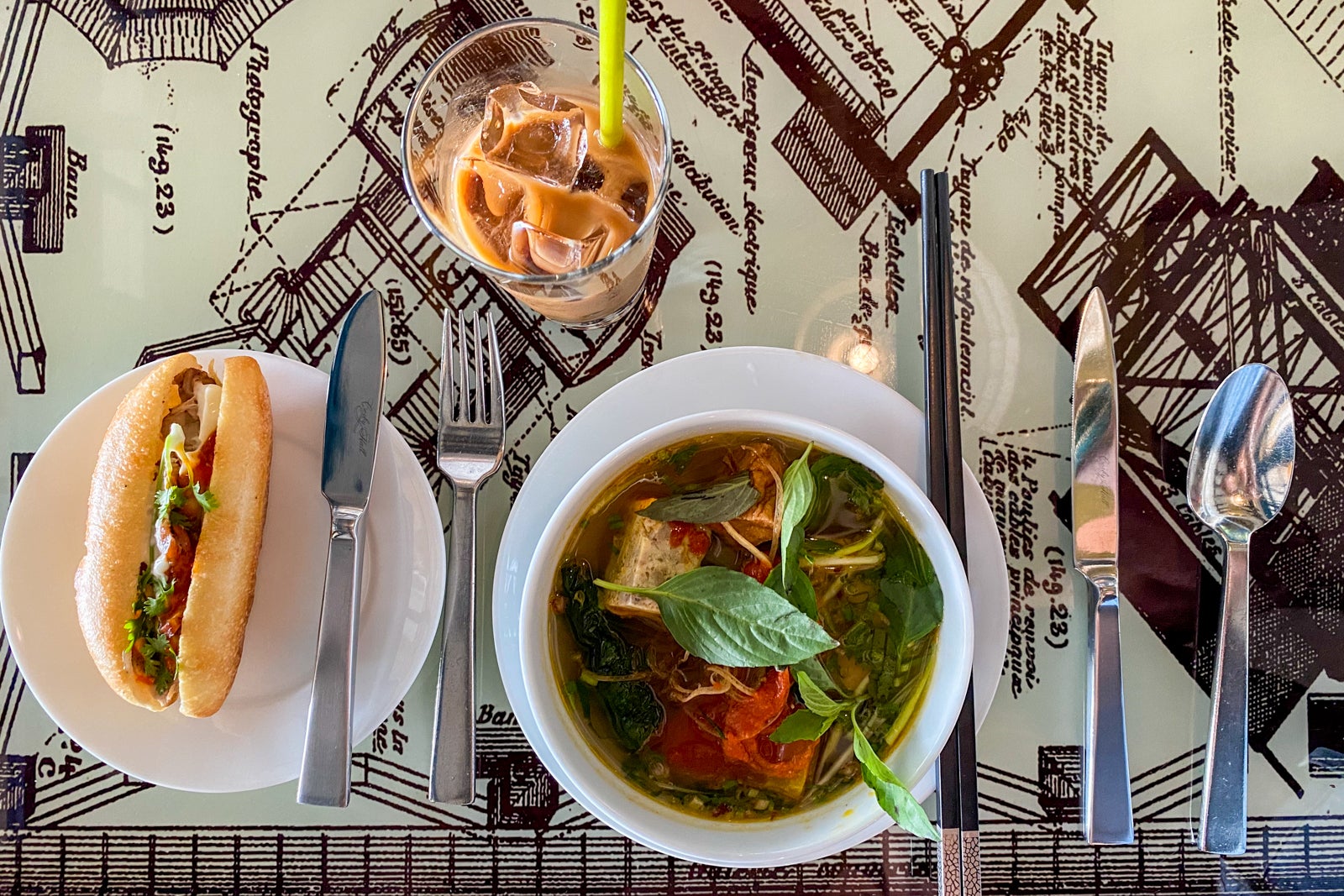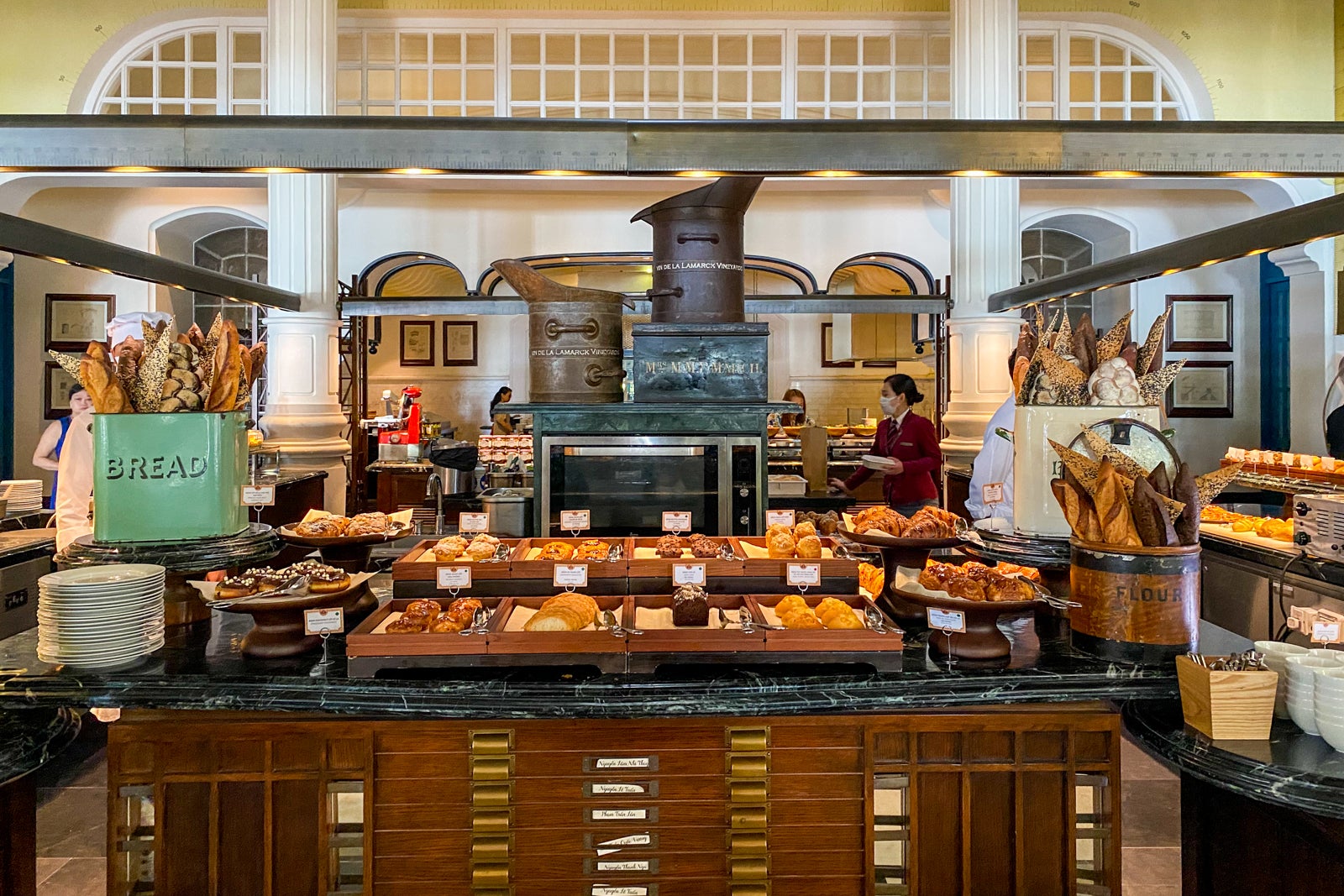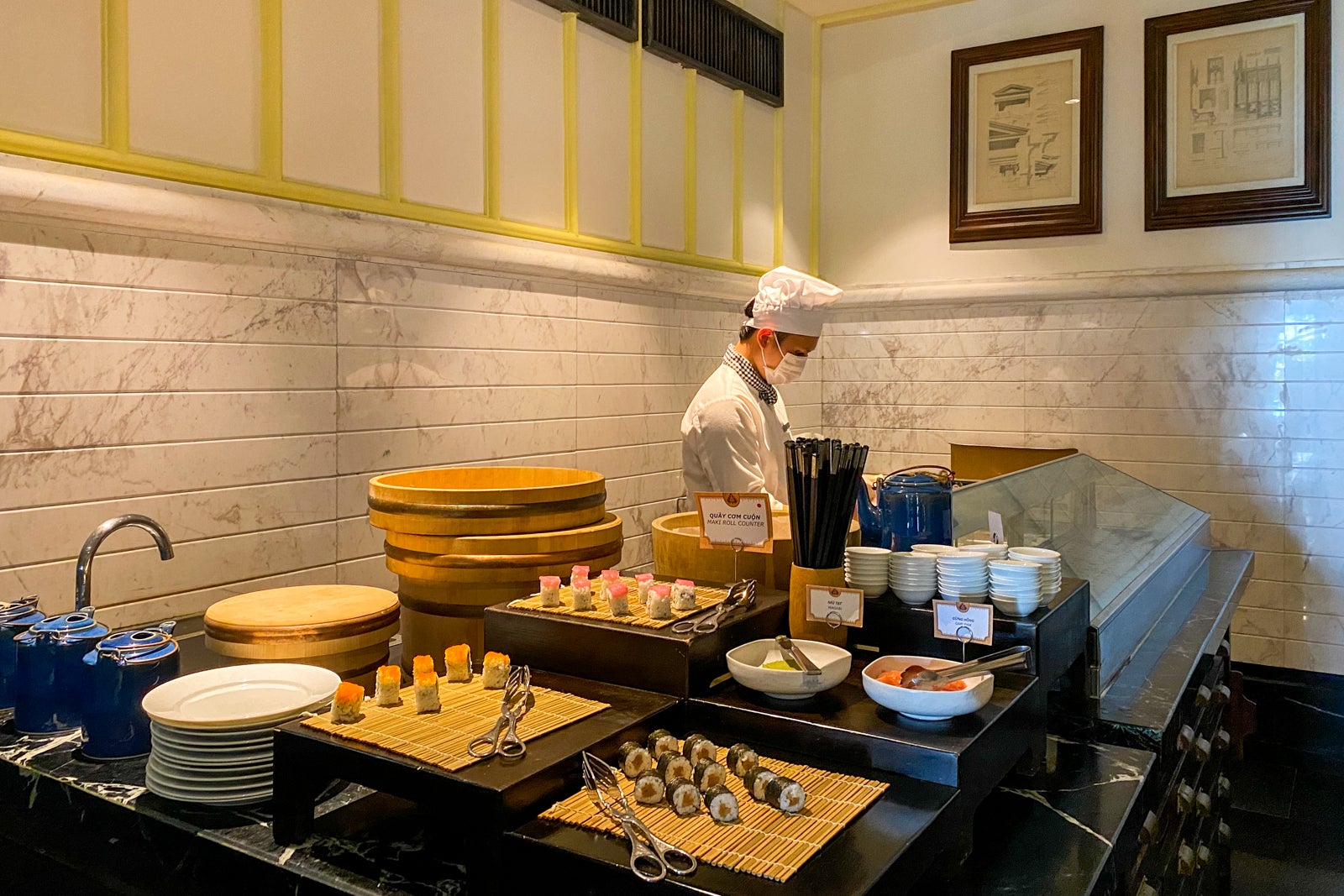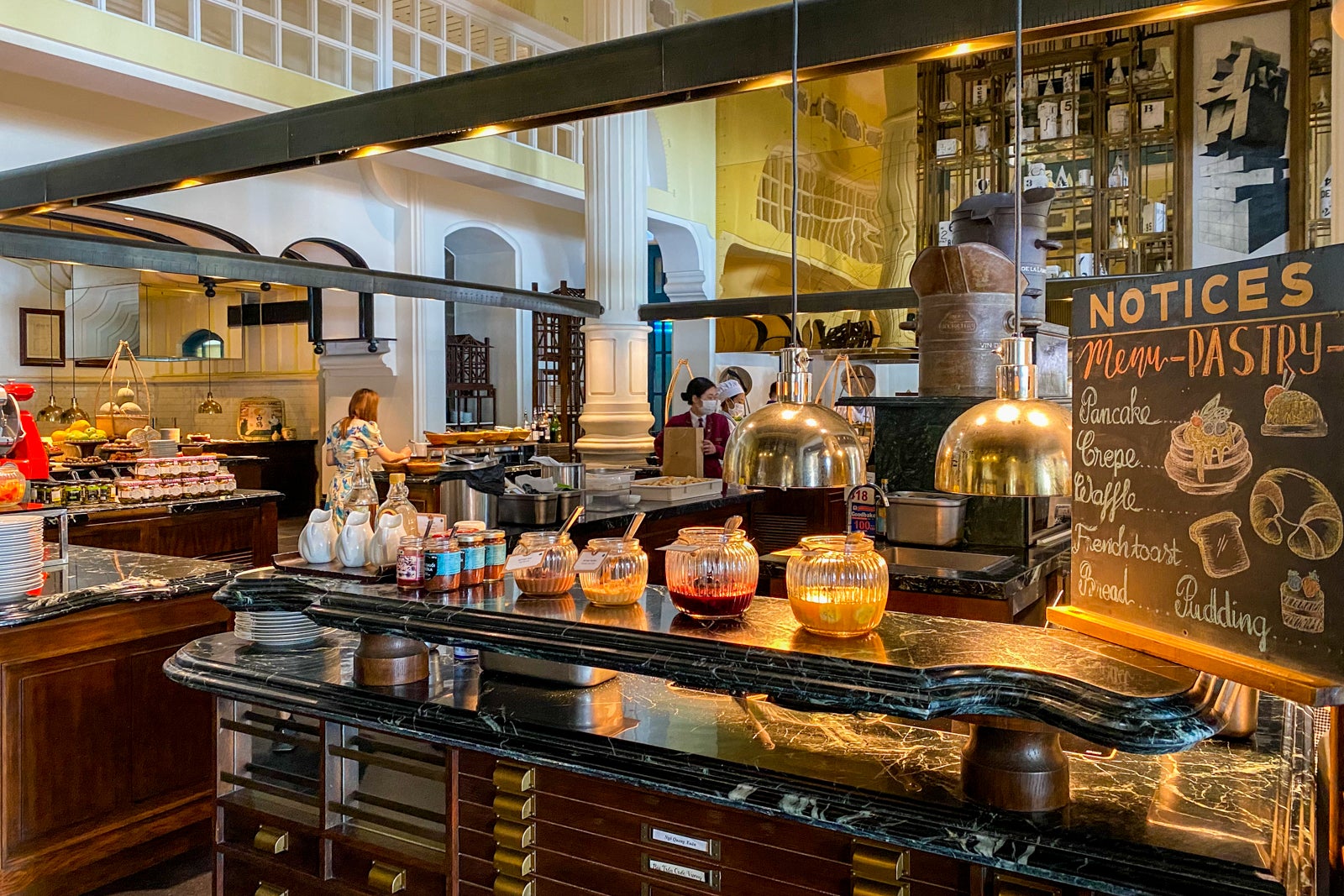 In-room dining was a letdown, both when it came to the limited menu and the presentation of our food. Especially coming after a thoughtful, fresh flower-ornamented experience at the nearby Regent, it was disappointing to have a server simply drop off a tray holding some odd silverware, a single napkin, plastic-wrapped seafood fried rice ($11) and a pizza box ($17). There was no setting anything up on the balcony table and no water, and the food was unremarkable at best.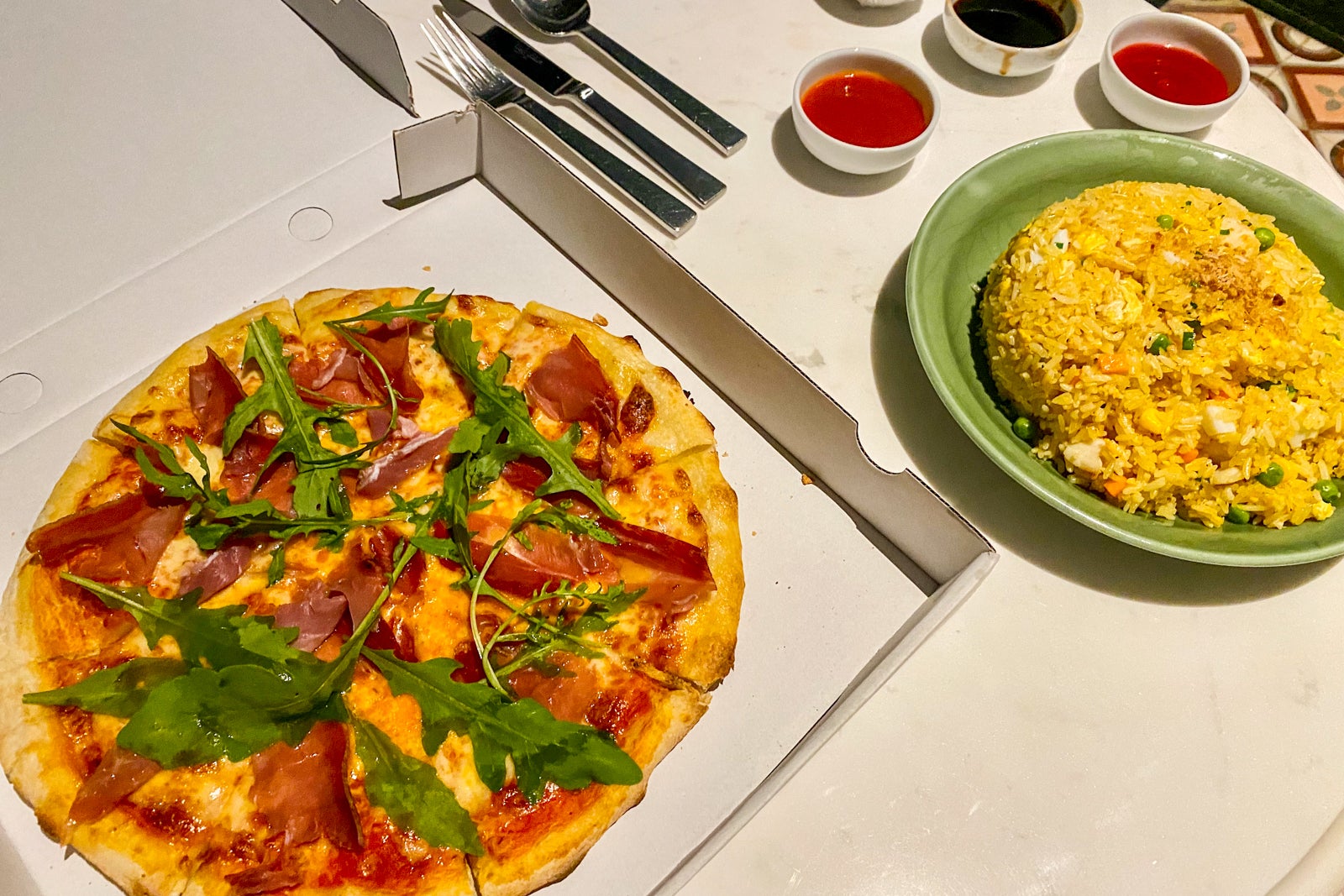 Amenities
The resort truly shines in terms of its amenities, though. First, its setting on Khem Bay looked and felt like heaven. In the mornings and early evenings, the water shimmered and shone so pale that it reflected the rosy sunrises and sunsets like a mirror. And during the day, it was a brilliant lapis blue, with plenty of complimentary lounge chairs under umbrellas, as well as hammocks on the sand and in the water. 
The sea was so still at times it felt like a lake, making it perfect for using the complimentary equipment including stand-up paddleboards and kayaks. There were also water shoes for guests to borrow since, as we were warned at one point, there can be sea urchins. Most of the time we were the only guests at the JW portion of the beach, until quite late in the day when families flocked for fun just before the sun went down. There were consistently crowds within sight just north of the resort's section of sand, making me grateful for our serene spot.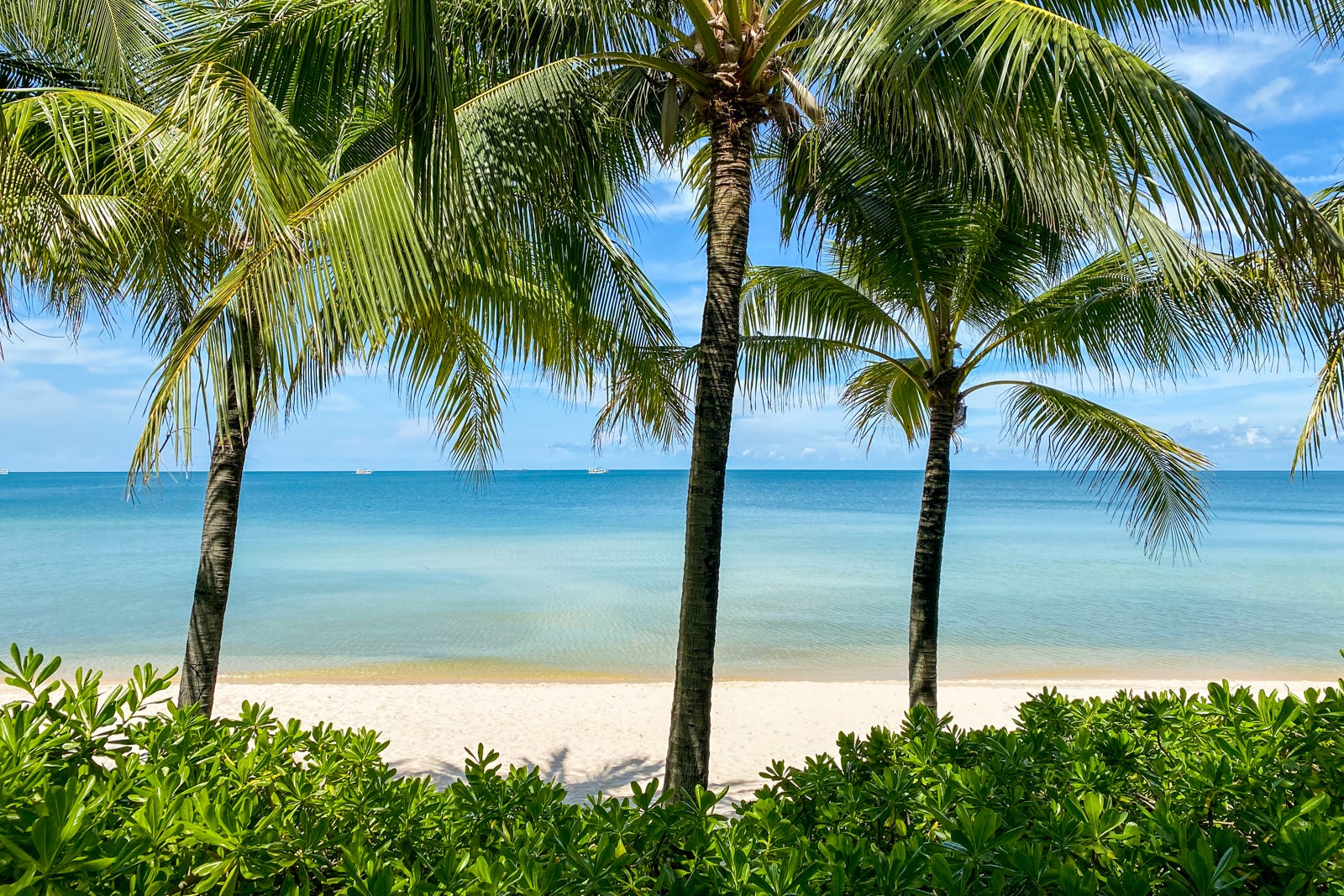 The resort has three pools, though the Sun pool was closed during our stay, also for renovations. The iconic Shell pool with its scalloped edge was open, though it seemed to be the larger Sand Pool with its various sections and bridges that was most popular with guests and kids. Massive, cartoonish, wave-shaped showers scattered throughout the lushly landscaped pool decks were fun places to rinse off after swimming or playing in the sand.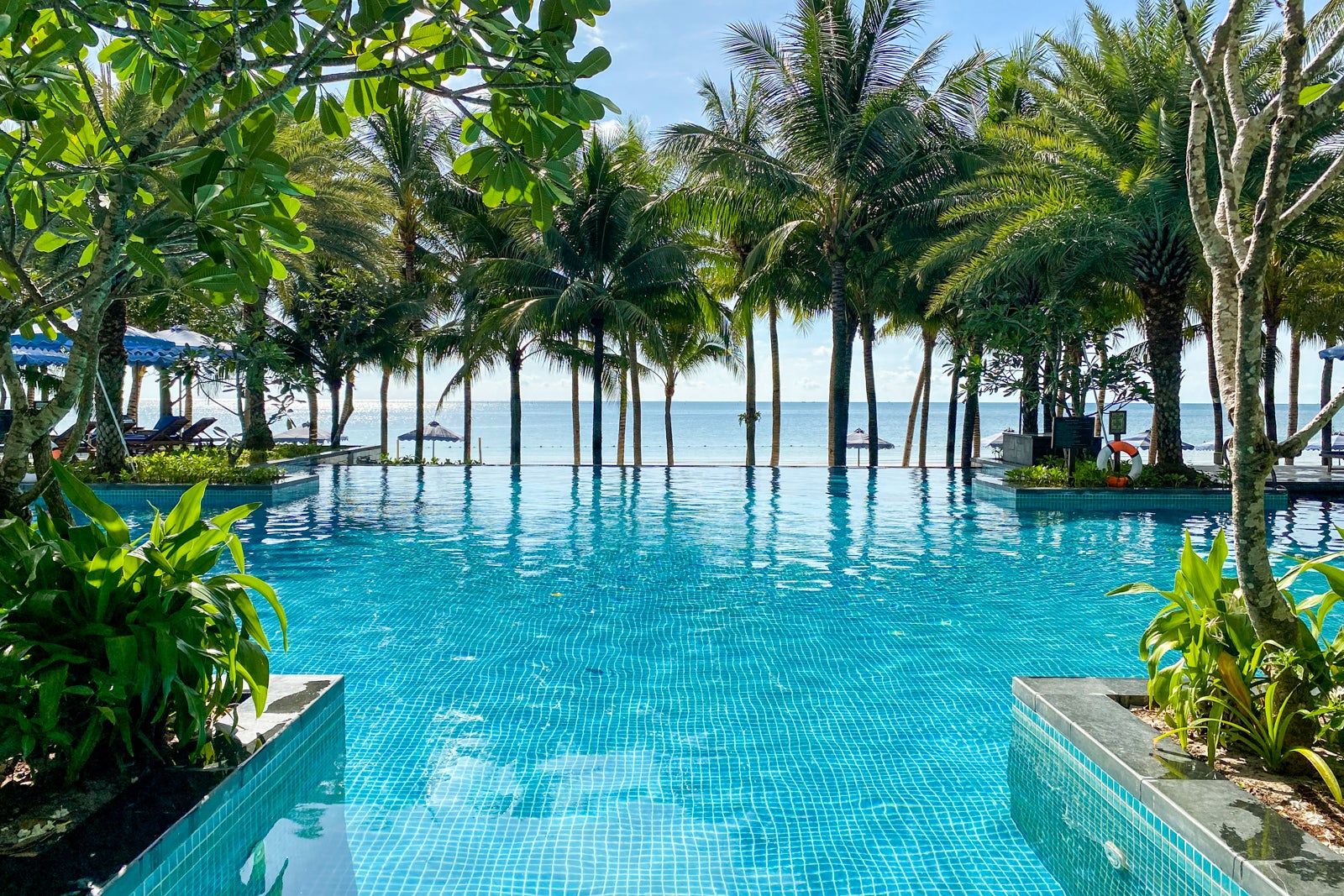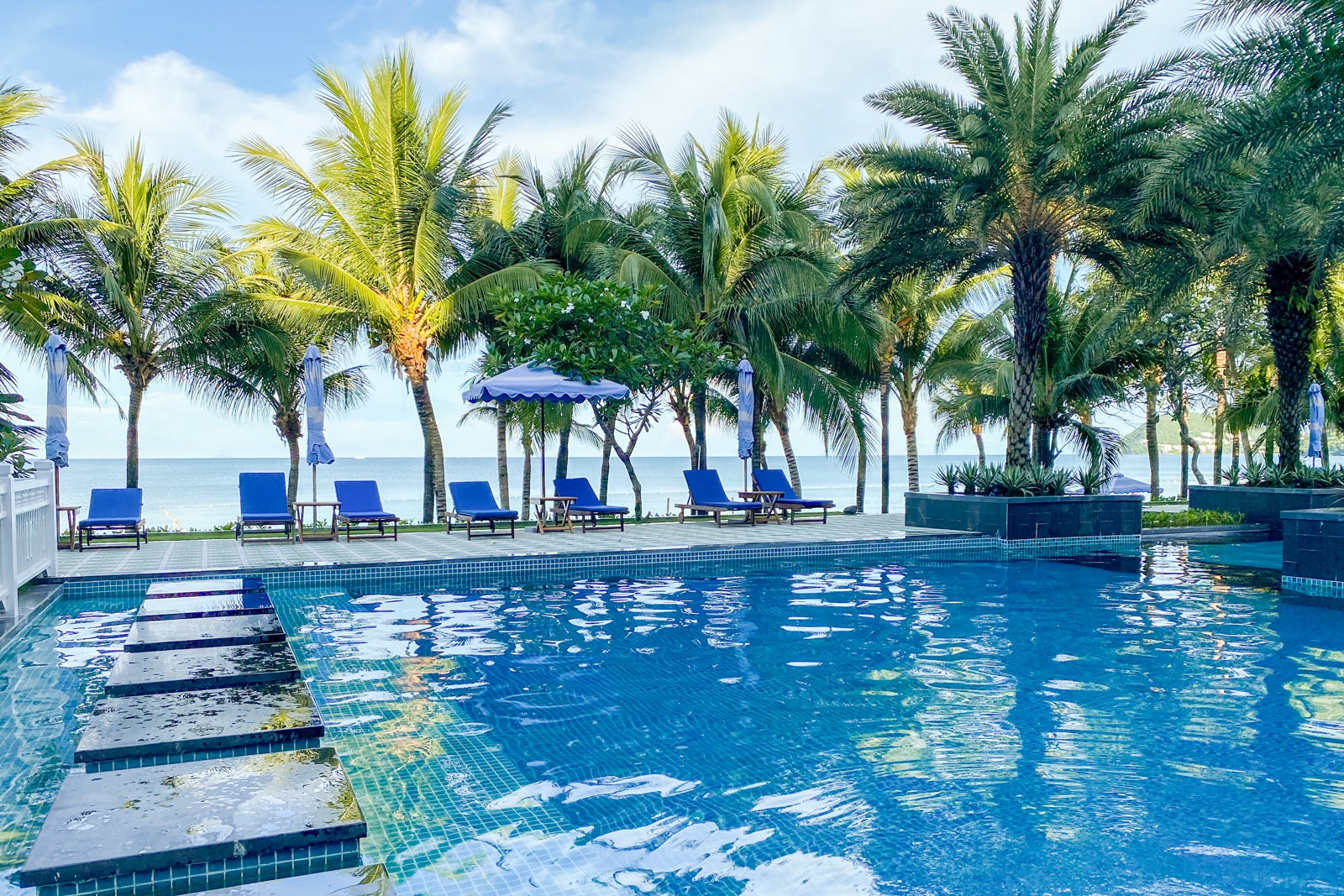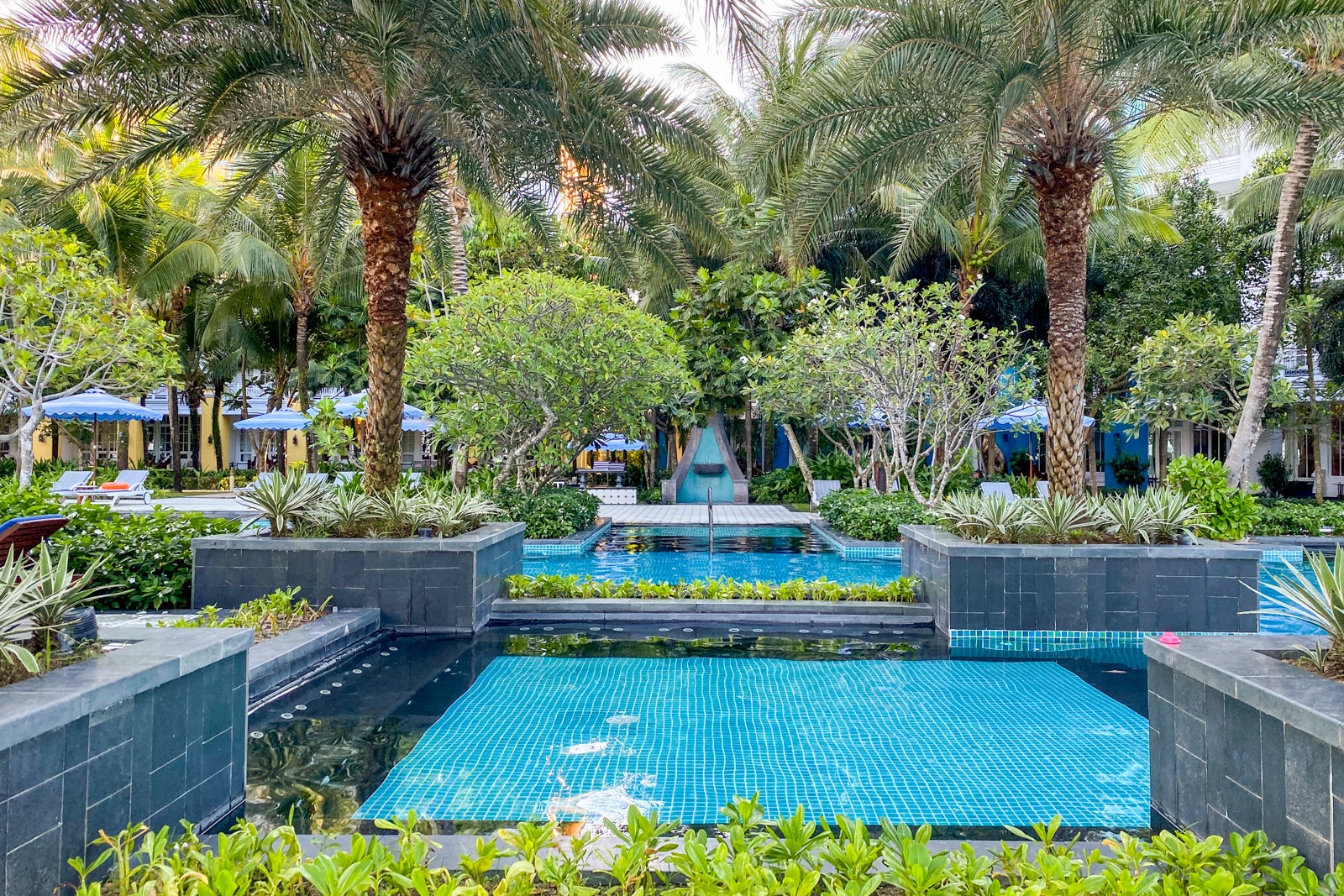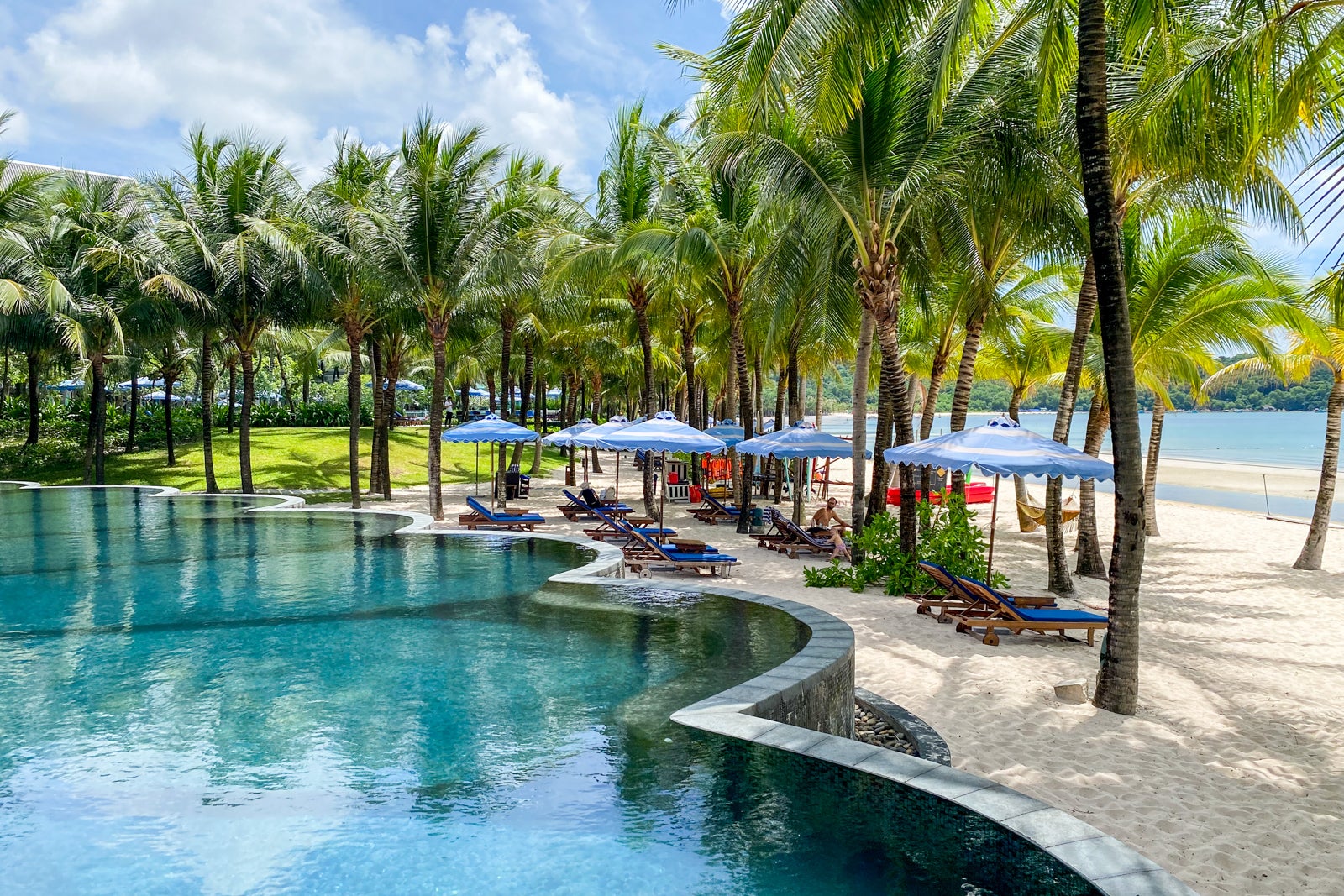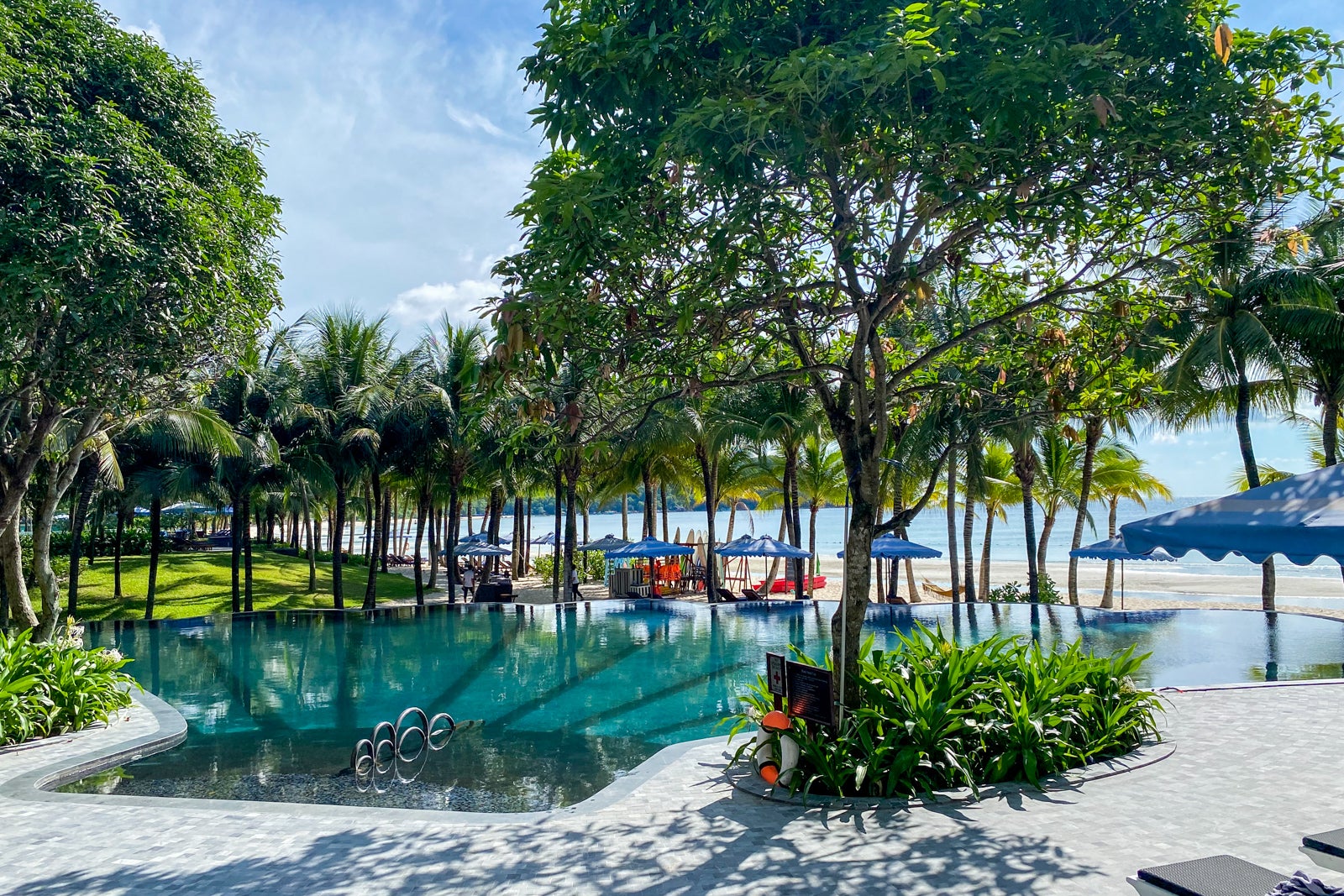 The Department of Physical Education — as the nicely sized, 24-hour fitness center was named — was delightful in keeping with the university theme and had colorful sports banners and boxing equipment along with standard workout machines. It was there guests could meet for complimentary jogging tours and daily bike tours that visited places like Coconut Prison and the fish sauce factory. There was also a running track around an oval-shaped soccer field, complete with goals, a miniature scoreboard and stadium seating.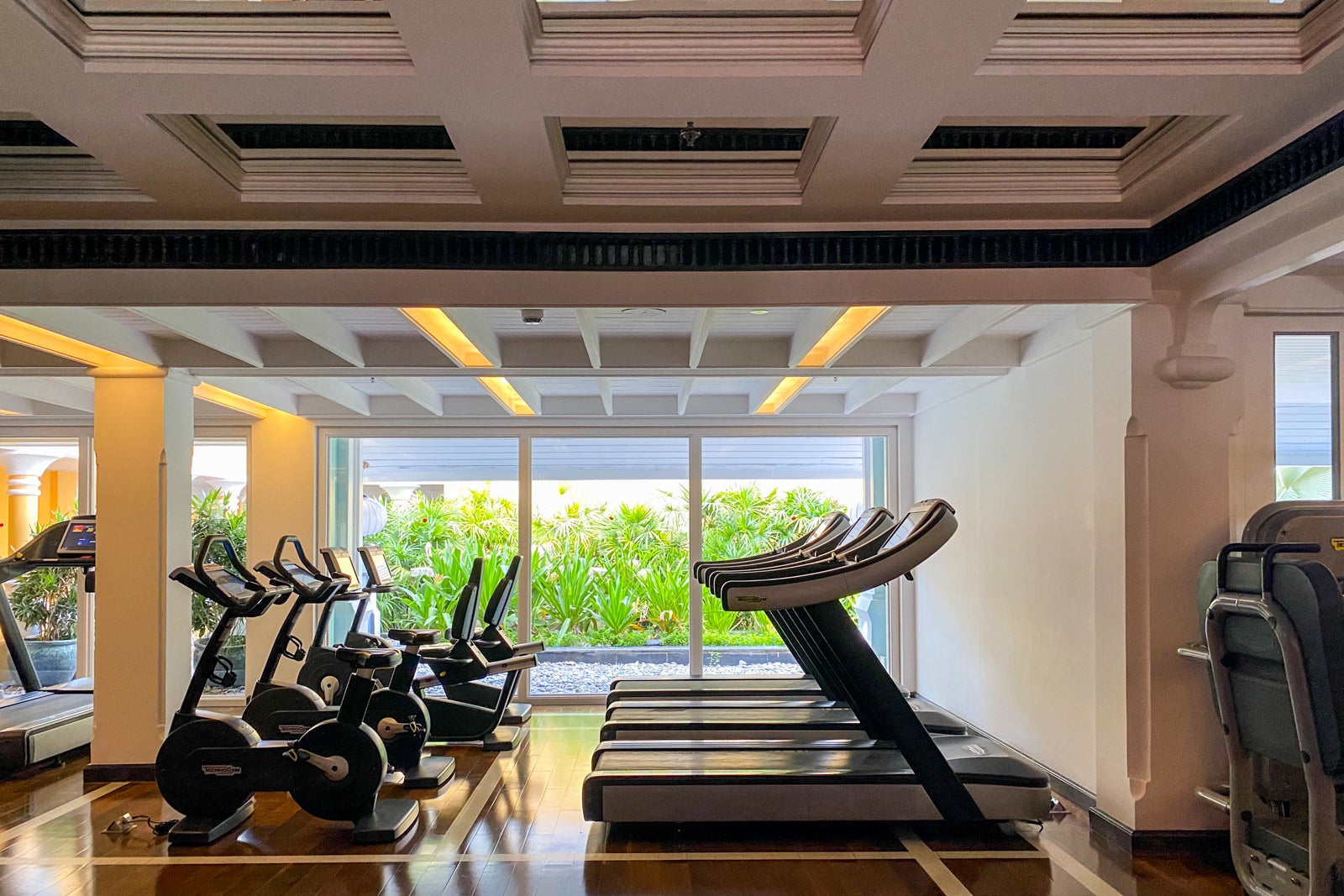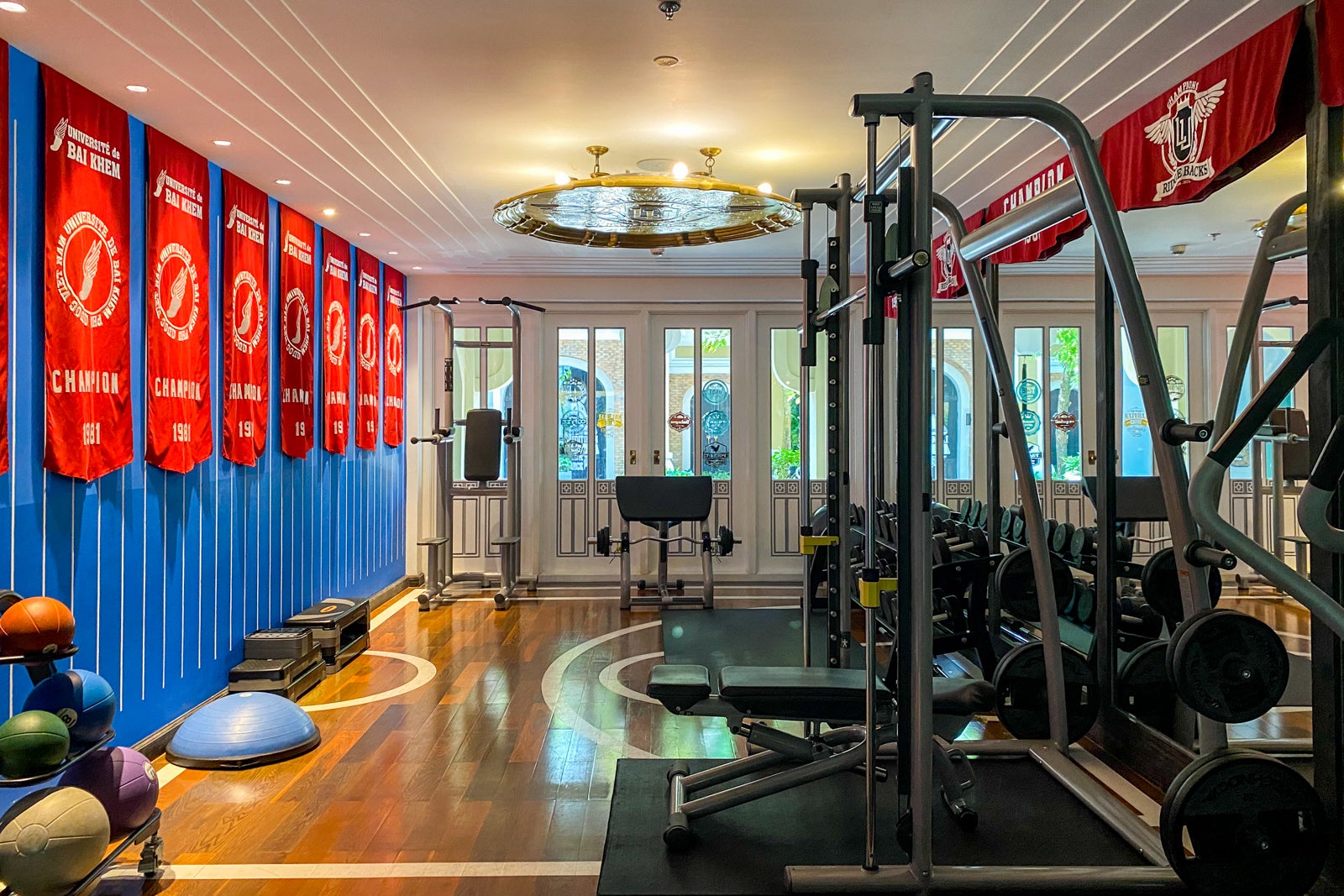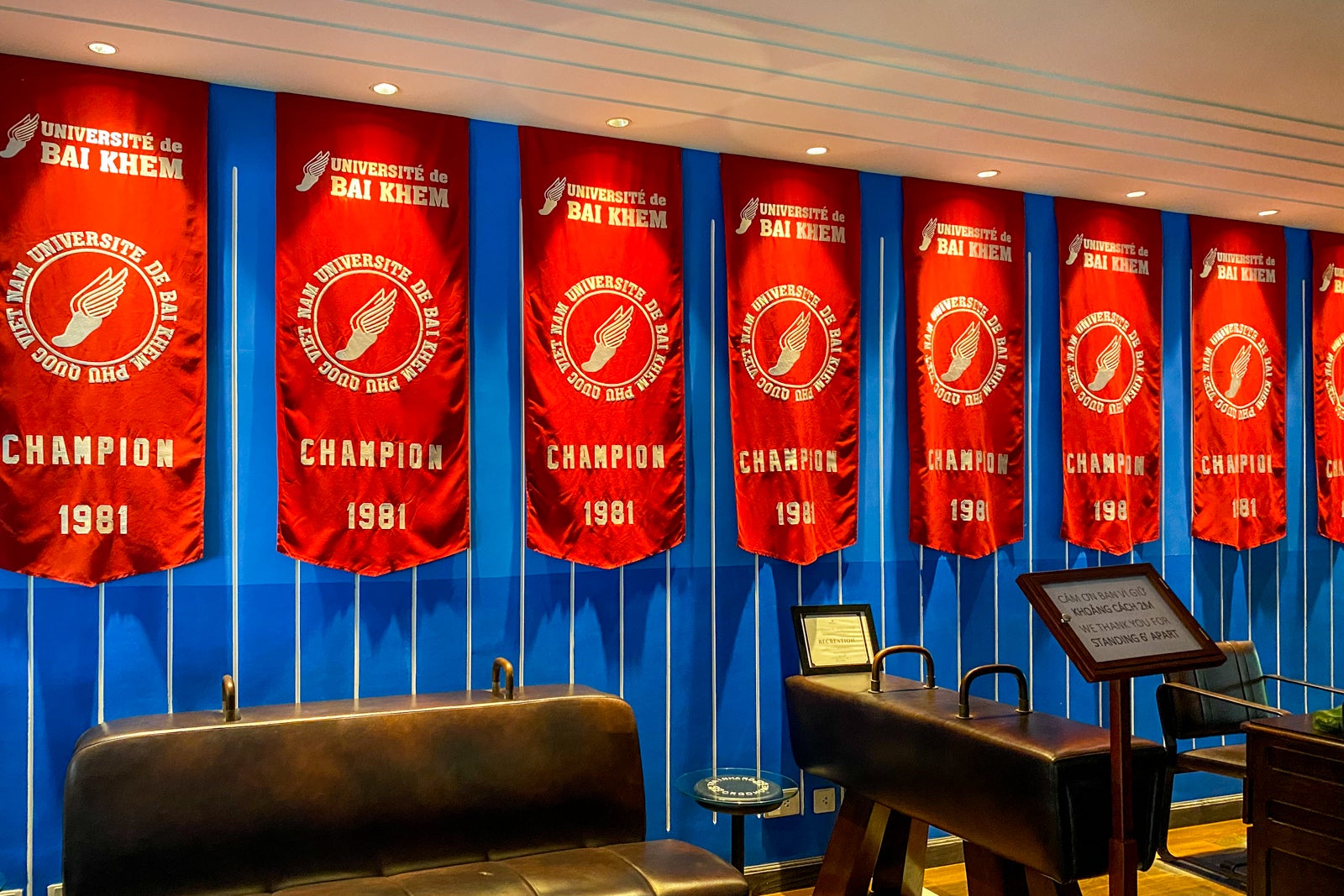 Many daily activities took place in the Lantern Room, joyfully strung with Hoi An-style silk lanterns of varying sizes and colors. Every afternoon there was a lantern-making class on offer (for approximately $6 plus taxes and service), as well as workshops like hat-painting and t-shirt painting for the same rate. Complimentary Ashtanga yoga and Zumba classes were held there, too.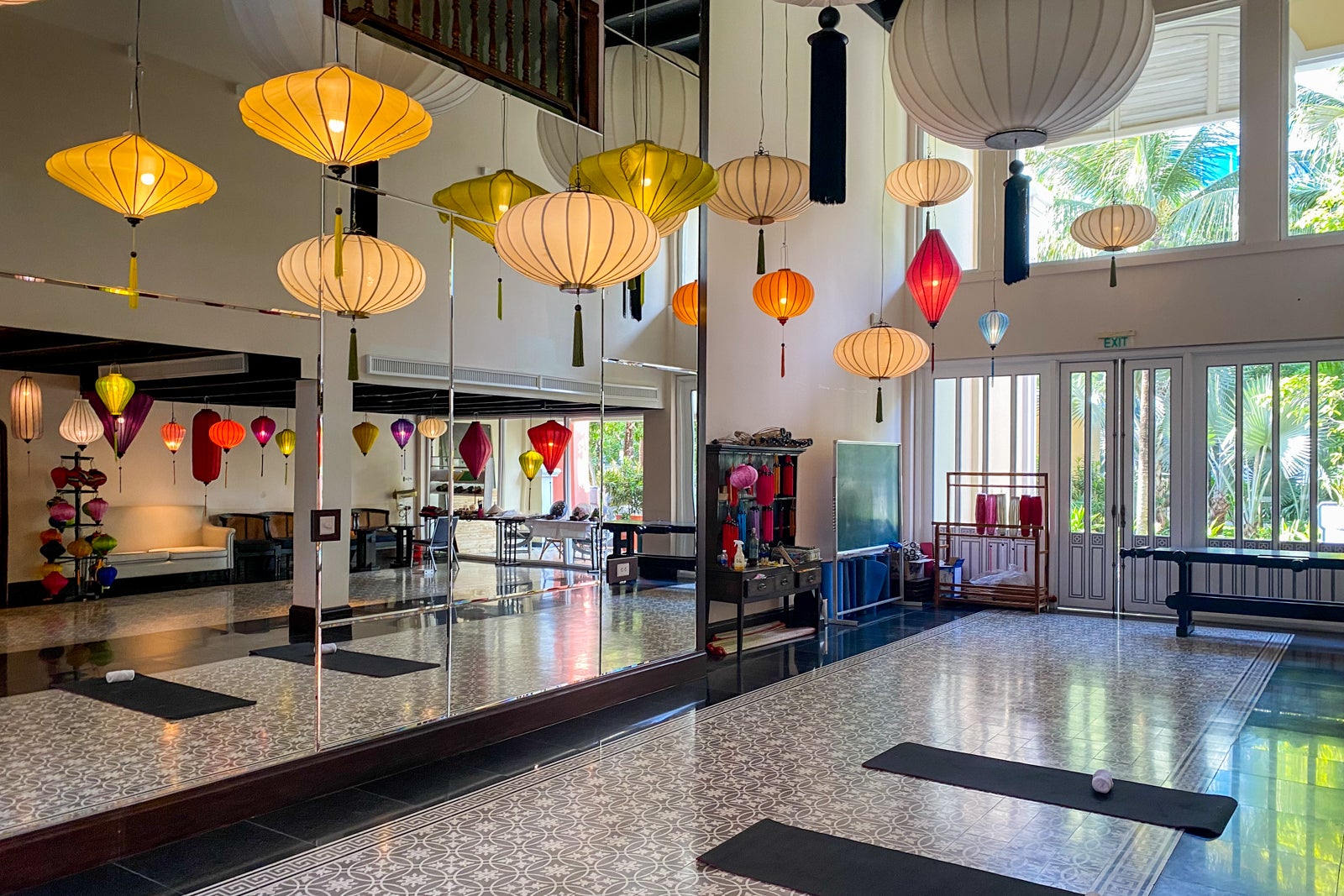 I almost forgot about Spa Chanterelle since it was not prominently placed in the resort but set off to one side. There was a crumpled paper spa menu in our room, and when I did walk over, I discovered a chalkboard advertising a promotion of 25% off that might have made me spring for a treatment, which included massages starting at 2,600,000 VND ($112 for 60 minutes) and body wraps and polishes from 1,800,000 VND ($77). The mushroom theme was repeated in the whimsical decor, and there was even a Mushroom Herbal Mycology massage on the menu.
The kids club was a cute space with sweet staff members and a nice selection of toys and activities including origami, painting conical hats and pottery- and card-making. Apparently, there used to be a wide array of artisanal shops along the resort's cheerful main drag, Rue Lamarck, with its colorful lanterns, alleyway murals, painted quotes and other curiosities. But during our stay, most of the storefronts were just that, bright yet deserted facades with, in some cases, naked mannequins and empty displays. It felt like a deserted horror film set, but maybe that was due to COVID-19.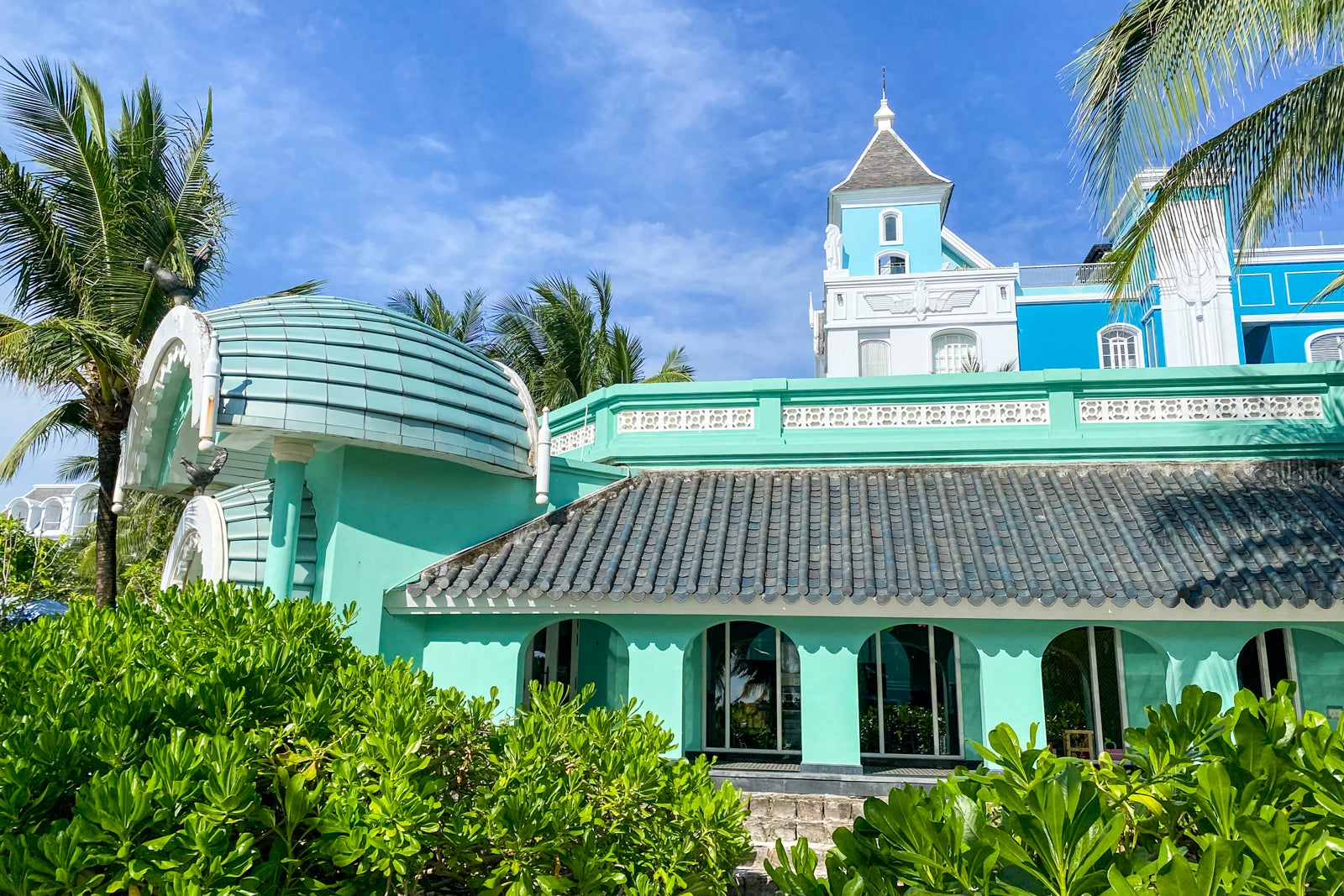 Service
All the staff we interacted with were very kind, but for the most part, they didn't go beyond the call of duty conversationally. Not everyone seemed to speak English at the same level, which made communication a bit challenging on occasion and at times left things lost in translation. Still, some of the team asked our daughter's name and remembered it, and the beach staff pointed out plastic toys she could play with in the sand. The food and beverage manager greeted us during dinner at Tempus Fugit and, the following morning at breakfast, came to say hi, remembering my name.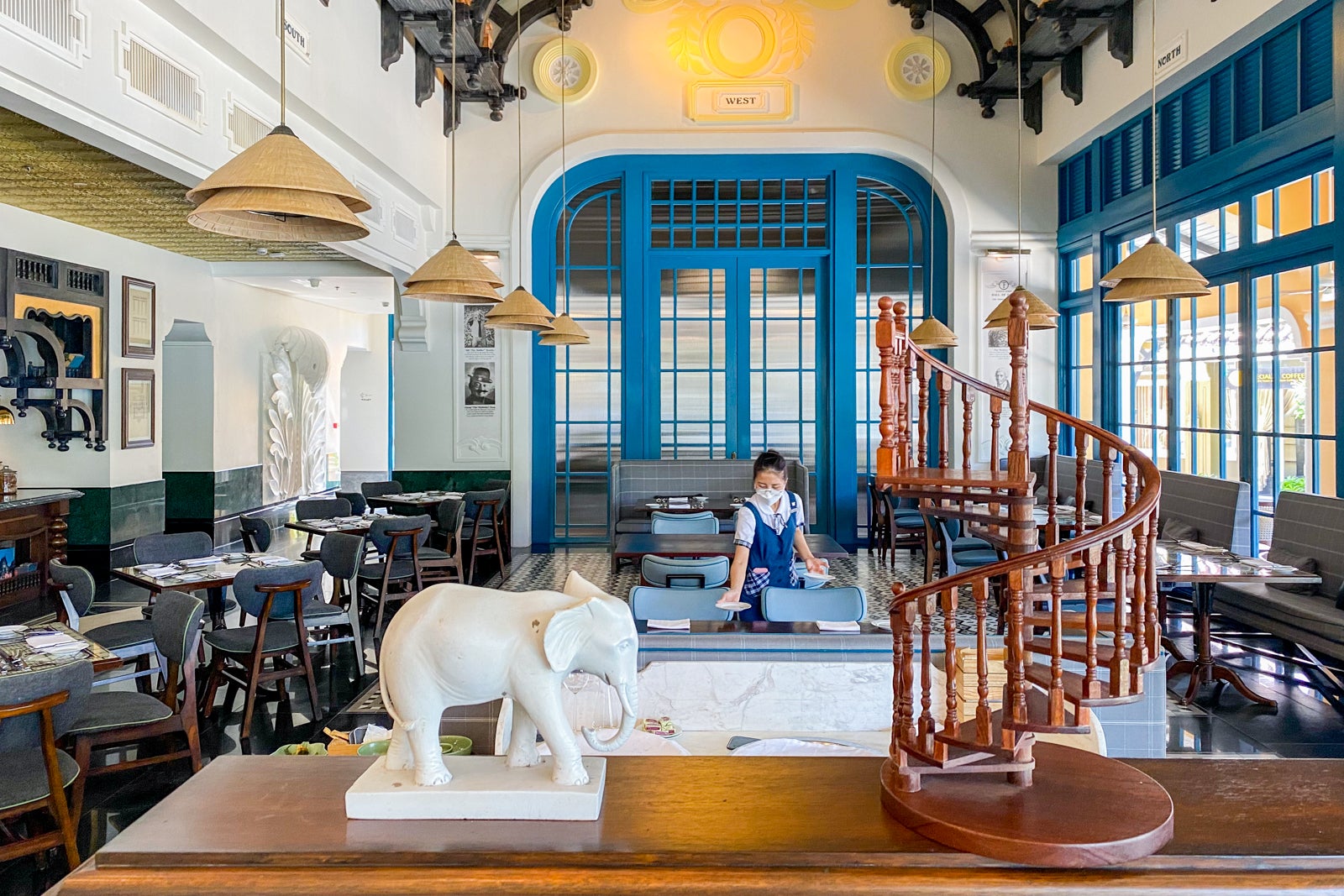 Our room was cleaned well and efficiently, and turndown was minimal in that it only consisted of closing the curtains and setting water on our nightstands. I would have loved a tiny bedside treat.
The concierge staff was very helpful after I got two separate flight time change emails on the morning of our departure. They were able to call the local airline for me to confirm and approved a one-hour late checkout if we needed to stay later. As we departed, they gave us a coloring book and crayons for our daughter and took a Polaroid of us that they put in a cute diploma-esque paper frame as a souvenir.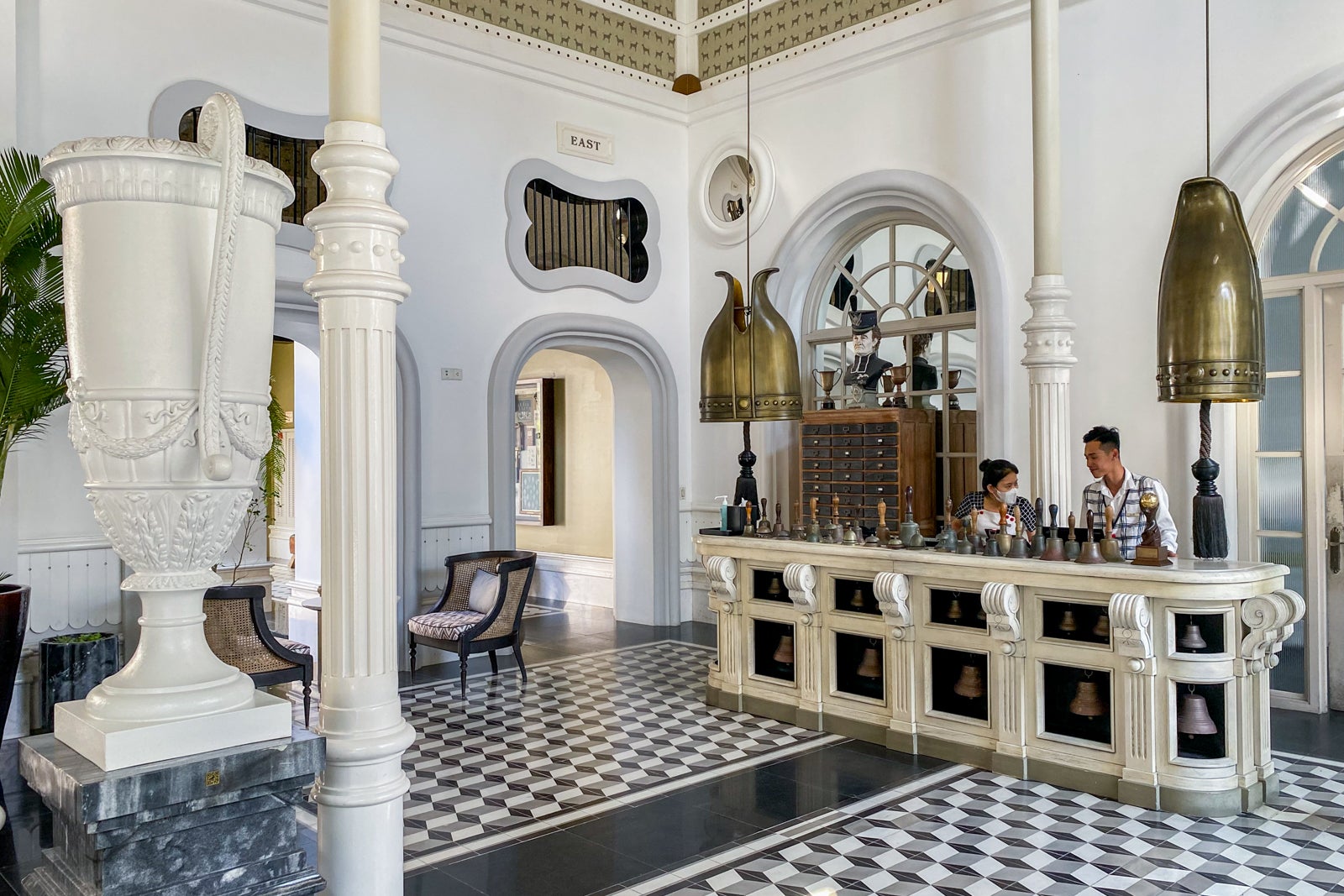 Overall impression
Though fantastical and over-the-top, this imagined university-themed resort is already showing its age via weathered paint, faded fabrics and some rundown facilities. Maybe that actually works with the collegiate theme, as my husband pointed out. Still, at the same five-star price point as the brand-new Regent, the guest experience doesn't feel nearly as luxurious, personalized or detail-oriented. 
Getting around the resort — though beautiful and bright, with its ubiquitous Hoi An lanterns — was a bit confusing, and the signage didn't help much. I also managed to roll my ankle twice while navigating cobblestones and other uneven paths, which brought me back to my own university days in Boston.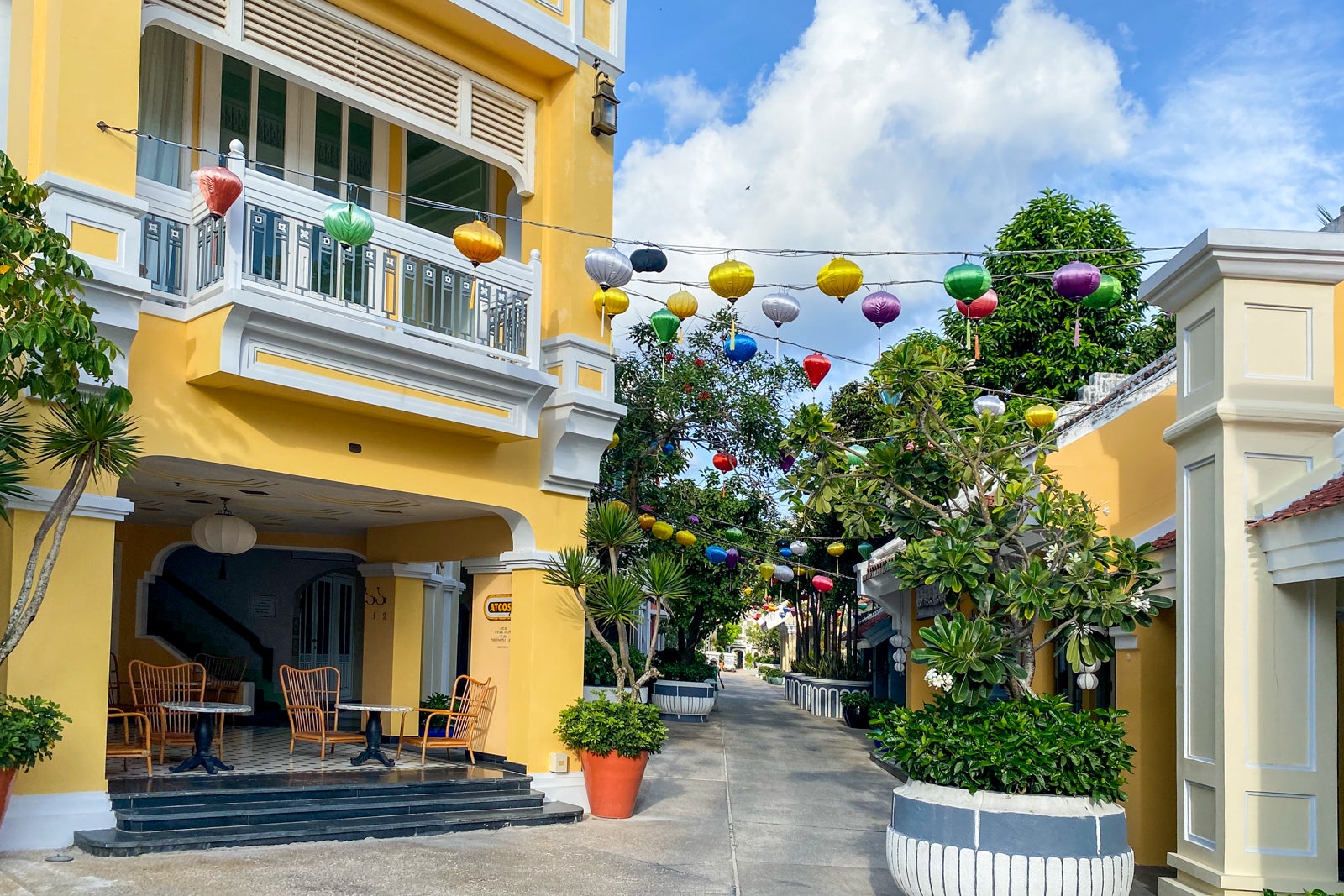 I couldn't help but feel disappointed by the limited food offerings, especially our lackluster in-room dining experience. But on the same note, I was quite impressed with the Department of Chemistry's cocktail creations, warm service and commitment to its theme. Likewise, I loved the way the uniforms of the staff were wildly different depending on their venue and job, not to mention theatrical. However, in some places like the rooms, the storytelling seemed to trail off. 
The specialness of this property is most definitely in its idyllic beach location and one-of-a-kind design, both of which we soaked up happily. I also appreciated that a couple of days in I was still discovering eccentric artifacts, artworks and curious, sort of like Easter eggs, which is something Bensley does so well. His contribution, alongside the natural beauty of Khem Bay, created magic. But even magic calls for a little refreshing sometimes to keep the experience enchanting.
Featured photo by Kathryn Romeyn/The Points Guy.