These Easy Sheet Pan Dinners come together super quickly and the oven does all the work for you. These healthy dinner ideas are a great way to eat your veggies and clean out your fridge! (Article updated January 2020)
Benefits of Sheet Pan Dinners
Most of these easy healthy dinner recipes just take a few minutes of prep time and the oven does all the work so you can shower, hang out on the couch and watch Netflixwhatever you need to do while everything's cooking. And since everything cooks together on one pan, cleanup is no problem either.
But the benefits don't stop there.
Sheet pan dinners are also a great way to clear out the fridge, and usually it's just a matter of doing some kind of sheet pan chicken breasts tossed with a bit of olive oil, a vinegar, hot sauce, soy sauce or honey mustard, and some spices from the your pantry. And of course ALWAYS garlic. Maybe some fresh herbs at the end. There's your basic sheet pan dinner formula!
Did you know that sheet pan dinners can be more than just chicken and veggies? Well, I'm here to help you with putting some new easy healthy dinner recipes on the table and FAST. I've rounded up some super fun weeknight dinner ideas from sheet pan steak fajitas to honey mustard chicken, vegetarian buddha bowls and Old Bay-style shrimp. The combinations are endless!
FREE 4-WEEK MEAL PREP EBOOK!
Subscribe for my 4-Week Meal Prep Magic eBook - it comes complete with grocery lists, recipes & 4 prep ahead plans!
Your name:
Your email:
Sheet pan recipes
I lovesheet pan dinners because they come together super quickly and are perfect for when you haven't quite planned your week out in advance.When I want to eat a quick healthy dinner I often turn to sheet pan dinners to get me through.
Take a look at the following recipes below to get some quick dinner inspiration! All of the below recipes cook within 40 minutes or less and there are ideas for steak, fish, chicken, shrimp and an easy vegetarian option to boot. You'll see all of these options organized below according to the appropriate category. Happy cooking!
Sheet pan recipes with meat
These sheet pan dinners range from steak to sausage to pork tenderloin and stir fry beef they are so versatile and a great way to use up those cuts of meat that you would otherwise use for a roast. And unlike a roast dinner, these recipes only take 30 minutes in the oven!
Vegetarian and seafood sheet pan recipes
Below you'll find my fave seafood and vegetarian recipes that can be cooked on a sheet pan. You can cook all kinds of fish including salmon on a sheet pan, as well as shellfish like shrimp. I also love to do vegetarian sheet pan dinners with crispy chickpeas and root vegetables!
Cooking Salmon on a Sheet Pan
If you're looking to make salmon on a sheet pan check out this handy resource for the perfect baked salmon, plus 5 easy marinades. All you need to add are some veggies for one healthy meal!
Cooking Chicken on a Sheet Pan
If you're looking to cook chicken alone on a sheet pan instead of adding all the veggies and sauce altogether at once, I've got a super handy guide on how to make the BEST baked chicken breast and I've even included 6 marinades and spice rub ideas!
Below you'll also find a TON of sheet pan chicken recipes they are by far the easiest when it comes to sheet pan dinners and you just can't ever go wrong with chicken!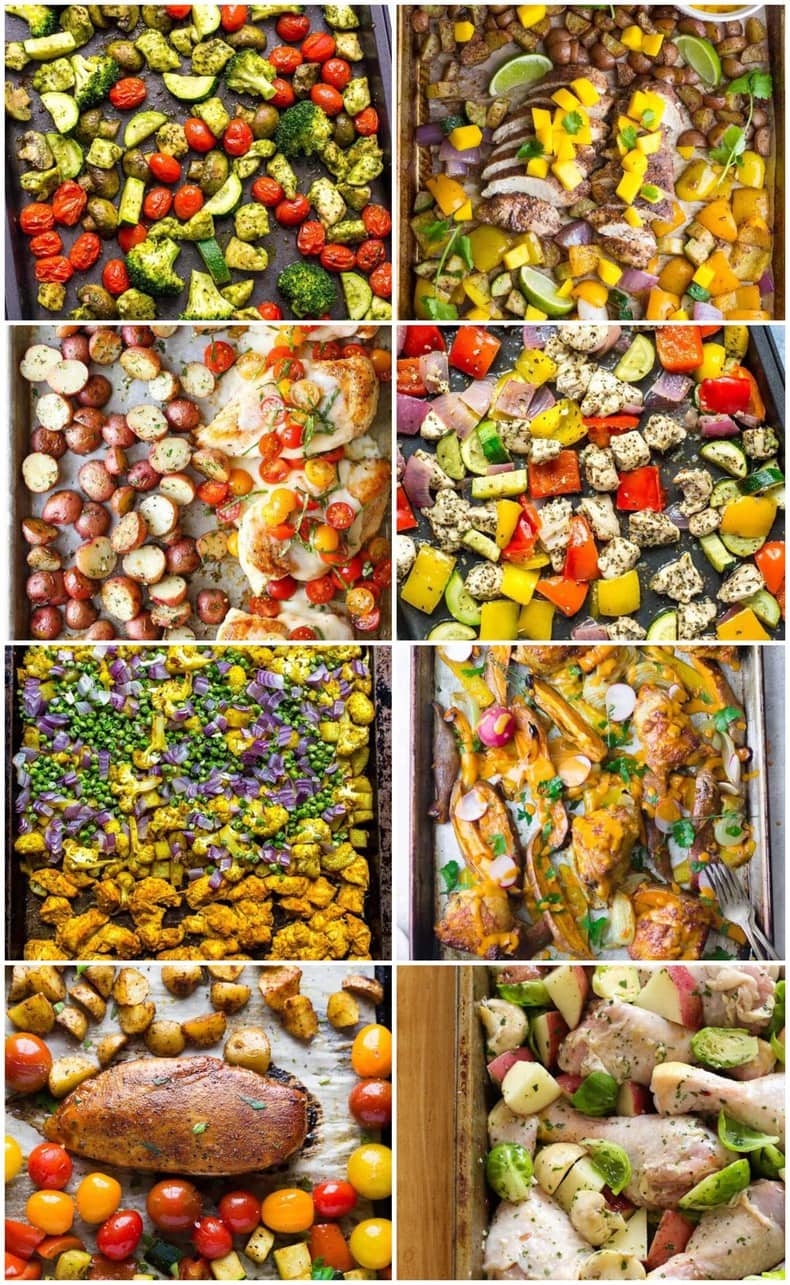 More Healthy Meal Ideas
If you're looking for more delicious meal inspiration, look no further than some of these helpful resources below!
Healthy Lunch and Meal Prep Ideas
If you're also struggling to make lunch every week, I've got some great posts to help you out!
Meal Prep Tools
Glass meal prep bowlsare so great for microwaving and reheating your food safely
My Rice Cookersaves me so much time in the meal prep process because I can cook my grains ahead of time while everything is baking in the oven
If you're looking for a more specific guide on how to get started with meal prep check out my FREE 5-day meal prep challenge below it's a step-by-step mini course sent to your inbox over five days with free printables like a grocery list and meal planner. Sign up for free below!
FREE MEAL PREP CHALLENGE!
Subscribe for my free 5-day meal prep challenge complete with printable PDF resources!
Your name:
Your email:
25 Super Easy Sheet Pan Dinners
These Easy Sheet Pan Dinners come together super quickly and the oven does all the work for you. These healthy dinner ideas are a great way to eat your veggies and clean out your fridge!
The post 25 Super Easy Sheet Pan Dinners for Busy Weeknights appeared first on The Girl on Bloor.
**Disclaimer My article often contains affiliate links. All products are ones I use. If you choose to purchase one of these items through the link , I will get a small commission at no extra cost to you. All proceeds help support the blog.