Did your New Years resolution include eating more vegetables? Its a fantastic goal and one I get behind anytime of year, but theres definitely a learning curve! Im sure weve all had this experience: ambitiously buying a shopping cart full of vegetables at the beginning of the week, only to let half (if not all) of them wilt in the fridge by Friday. Having your vegetables end up in the garbage is practically the same as throwing your money away (except more smelly), so I wanted to round up six easy ways to use leftover vegetables, that anyone can do and with very little planning. Lets reduce our food waste, save some money, and eat delicious food in the process. Sound good?
Make sure to bookmark this list so the next time you peek in your fridge and see something that is about to be on its way out you can browse these options and whip up something super tasty with those awesome vegetables!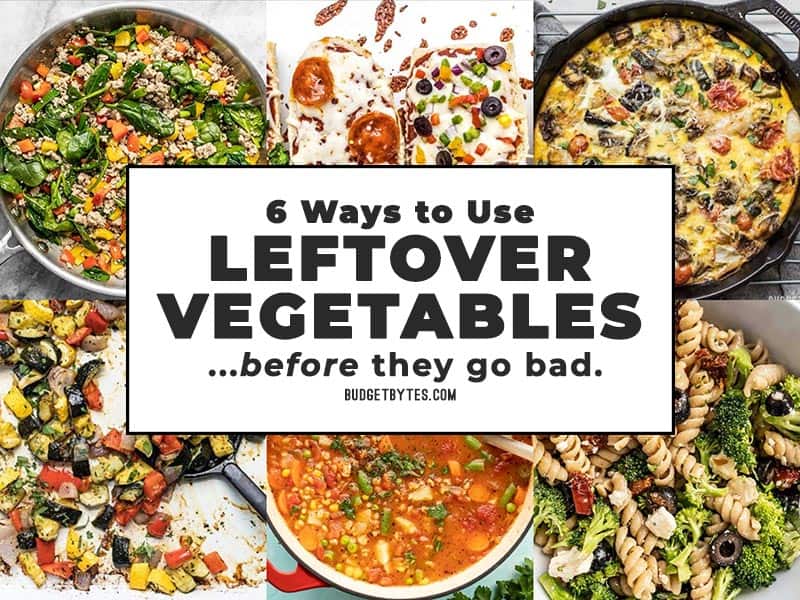 Easy Ways to Use Leftover Vegetables Before They Go Bad:
1. Stir Fry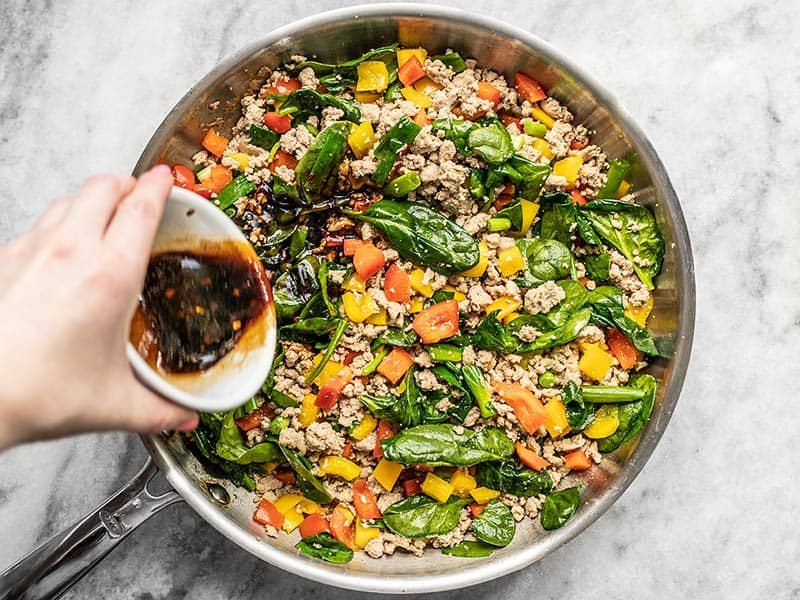 Great for: bell peppers, onions, broccoli, carrots, squash, mushrooms, eggplant, cabbage, asparagus, spinach, peas
Stir fries are my go-to easy meal because theyre incredibly fast, you can add just about ANY meat or vegetable to them, and theyre different every time. Not only will you get variety with the vegetables that you add, but you can change up the sauce every time, too. Use a basic soy based stir fry sauce like the one in my Ground Turkey Stir Fry (pictured above), a coconut based sauce like in my Spicy Coconut Vegetable Stir Fry, or even take a short cut and use a bottled sauce like in my Sweet Chili Chicken Stir Fry Bowls. And while youre at it, top that stir fry with your leftover green onion and cilantro. ;)
---
2. Pizza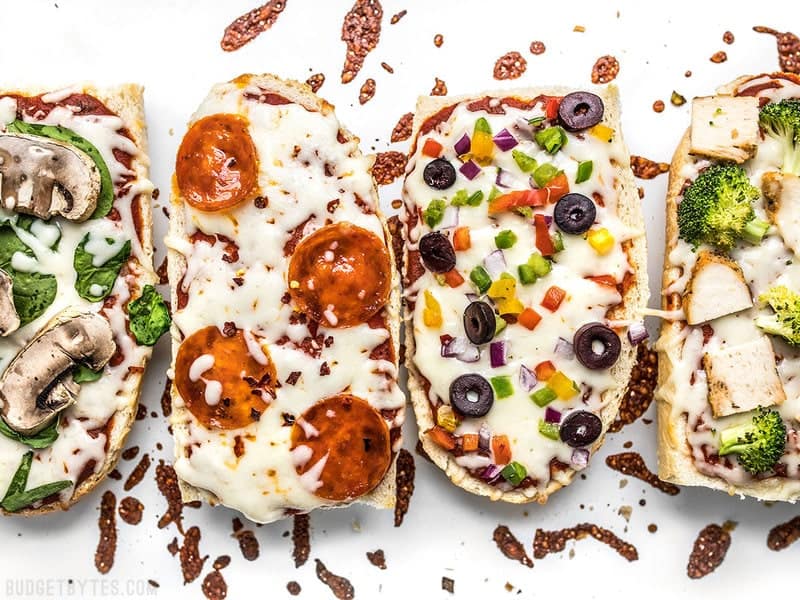 Great for: spinach, kale, broccoli, tomatoes, mushrooms, bell peppers, onions, eggplant, zucchini
One of my jobs before I was a blogger was working the pizza station at Whole Foods. When I tell you we made pizzas out of everything, I mean everything.Any unused ingredient we could find in the kitchen made its way onto one of our creative specialty pizzas and we made some amazing flavor combination discoveries in the process. So when Friday rolls around, scan your fridge for leftover vegetables, leftover cheese, even your leftover meat from the week and toss it onto a pizza. And if you want pizza night to be even faster and easier, make French Bread Pizzas (pictured above), a Quick Fix tortilla pizza, or even a Pizzadilla.
---
3. Pasta Salad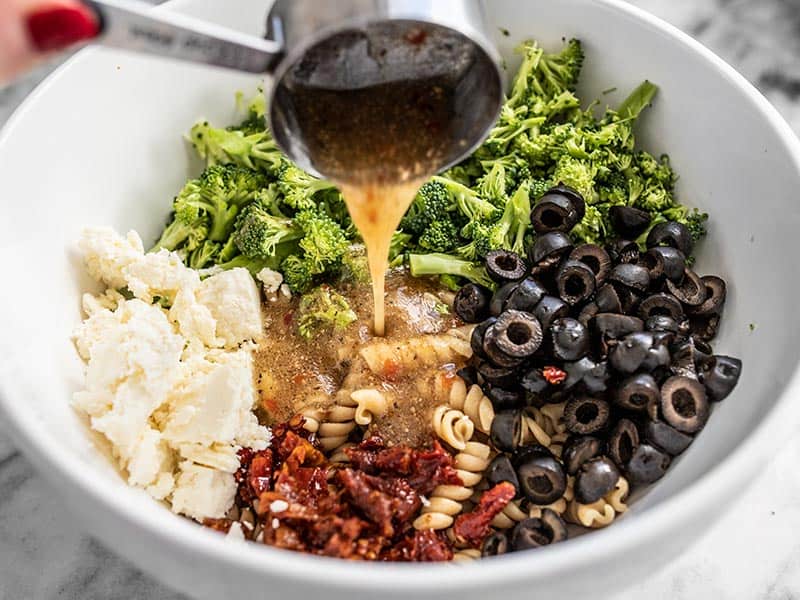 Great for: zucchini and yellow squash, onions, spinach, kale, mushrooms, asparagus, tomatoes, bell peppers, broccoli, cucumber, peas, radishes, cauliflower
Cook some pasta, chop your vegetables, add a little cheese, and douse with your favorite dressing. DONE. Pasta salad really is that easy and flexible. Again, you get even more variety with this meal if you change up your dressing. The easiest option is to use your favorite bottled dressing like in my Sweep the Kitchen Pasta Salad (pictured above), you can make your own homemade balsamic vinaigrette like in my Tomato Mozzarella Pasta Salad, a lemony garlic vinaigrette like in my Greek Chicken Pasta Salad, or even something creamy like in my Creamy Lemon Dill Pasta Salad.
---
4. Frittatas, Omelets, and Scrambles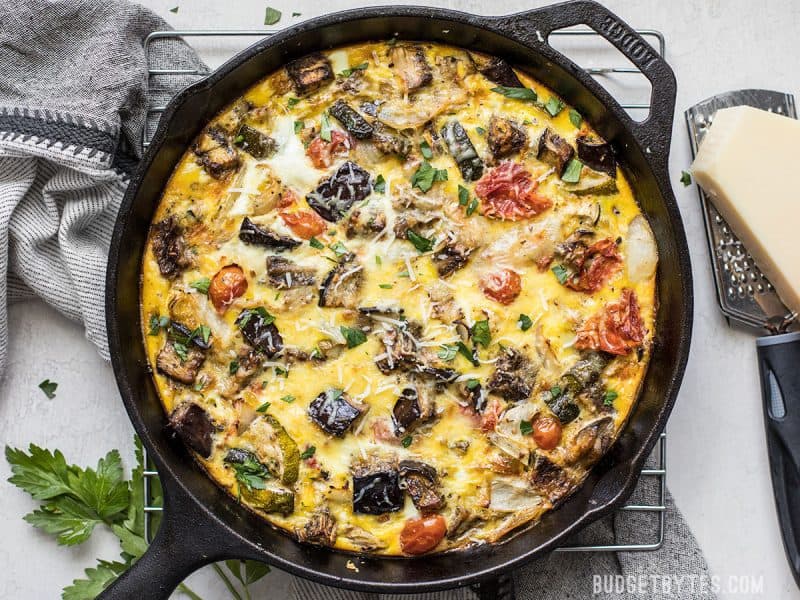 Great for: tomatoes, onions, zucchini and yellow squash, spinach, kale, mushrooms, asparagus, bell pepper, broccoli, avocado
Eggs and vegetables are total besties. I routinely chop up whatever vegetable I have in my fridge, add it to a skillet with a couple eggs, and make a super fast vegetable scramble. But you can also bake vegetables into your eggs like in the ratatouille frittata pictured above, bake them into little egg cups, fold them into an omelet, or even a breakfast egg quesadilla.
---
5. Soup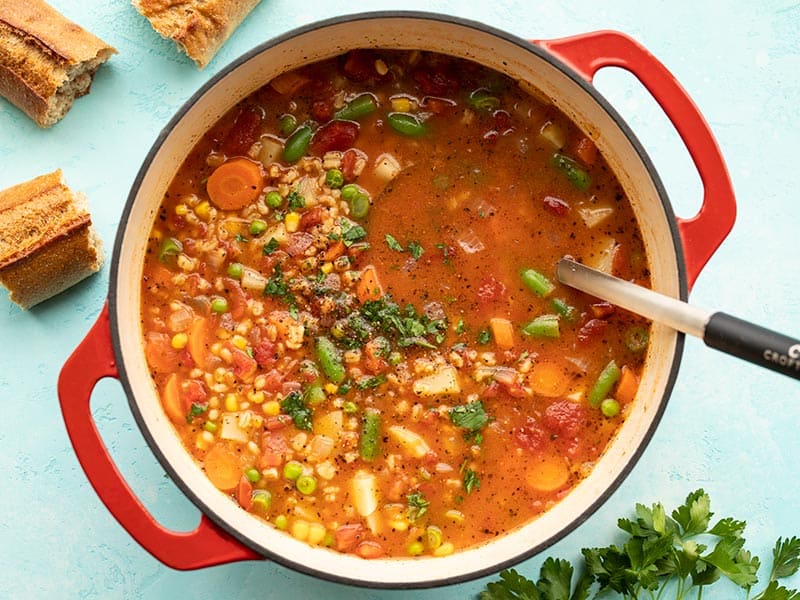 Great for: potatoes and sweet potatoes, onions, celery, carrots, mushrooms, spinach, kale, cabbage, corn, peas, cauliflower
Soup might be the original catch all recipe and theyre perfect for vegetables that may be a tad limp already (theyll be soft after simmering in the soup anyway), and hard root vegetables that need longer cooking. Its hard to go wrong when it comes to soup. Just toss whatever you have in a pot, add some water or broth, a bunch of herbs and spices, and its almost guaranteed to taste good. One of my favorite quick ways to use leftover vegetables in soup is to just toss whatever I have into a bowl of instant ramen. But many other soups, like the Vegetable Barley Soup pictured above, my All You Can Eat Cabbage Soup, or Beef and Cabbage Soup can really have just about any vegetable added to them without changing the flavor profile too much. Bonus, most soups are freezer friendly so its a 1-2 punch on food waste!
---
Roast Them!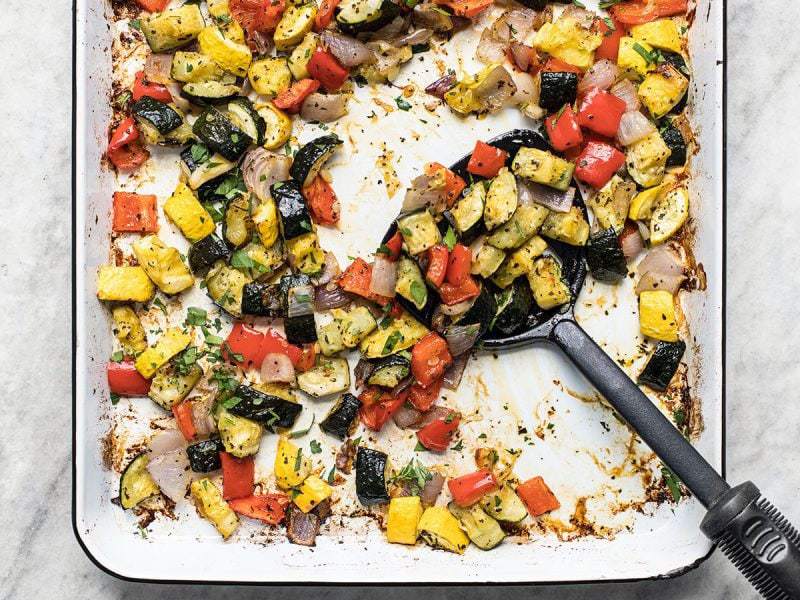 Great for: potatoes and sweet potatoes, carrots, radishes, carrots, mushrooms, eggplant, bell pepper, broccoli, winter squash (butternut, acorn, delicata, etc.), beets, cauliflower
Roasting vegetables is like giving them a second chance at life. Its a great option for vegetables that may already be a touch soft (and when I say soft, I dont mean rotten, just not super crisp). Chop them up, toss with oil, salt, pepper, or your favorite seasoning blend, and roast in a 400F oven until theyre caramelized. Once roasted vegetables are great on salads, sandwiches, bowl meals, pizzas, pasta, burritos, tacos, omelets, or more. Or you can roast them right on the sheet pan with some meat, like my Smoky Roasted Sausage and Vegetables, and make a whole meal right on the sheet pan.
---
Got any tips for fellow readers? What are your favorite ways to use leftover vegetables before they go bad? Leave your tip in the comments below!!
The post 6 Easy Ways to Use Leftover Vegetables appeared first on Budget Bytes.
**Disclaimer This article contains affiliate links. All products are ones I recommend. If you choose to buy one of these products through the URL , I will get a small commission at no extra cost to you. All proceeds help support the blog.