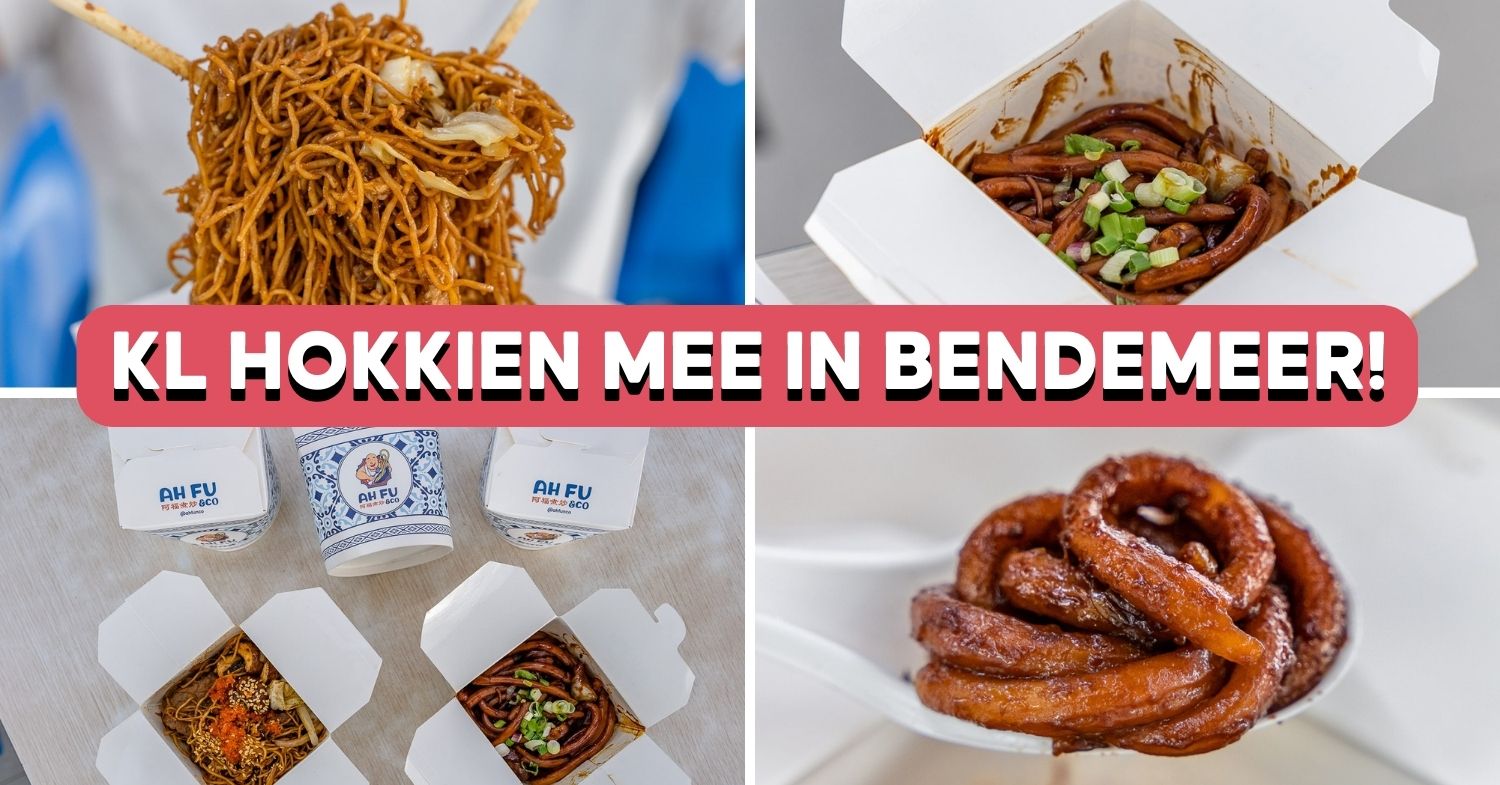 Ah Fu & Co for Malaysian Hokkien mee by an ex-restaurant chef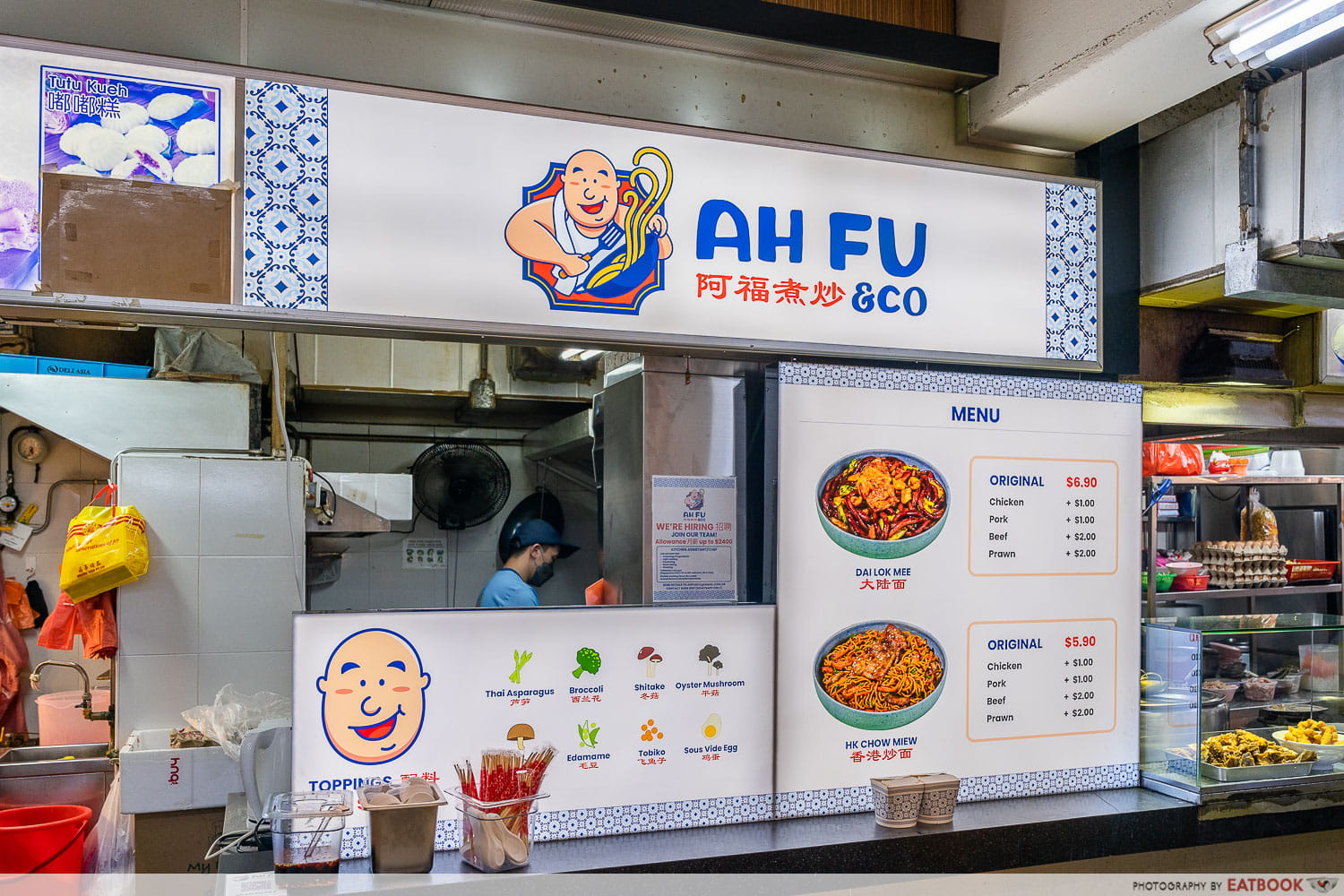 When Singapore went into lockdown in March 2020, Malaysian chef Ah Fu found himself missing his hometown and thought of a way to recreate a piece of it. After two years of conceptualising and fine-tuning his recipes under the guidance of Hong Kong chef Dee Chan, the ex-Clan 7 chef finally opened Ah Fu & Co in October this year. Located on Bendemeer Road, the stall specialises in Malaysian noodles with a modern twist and has become a hit, especially among those who are missing home—myself included.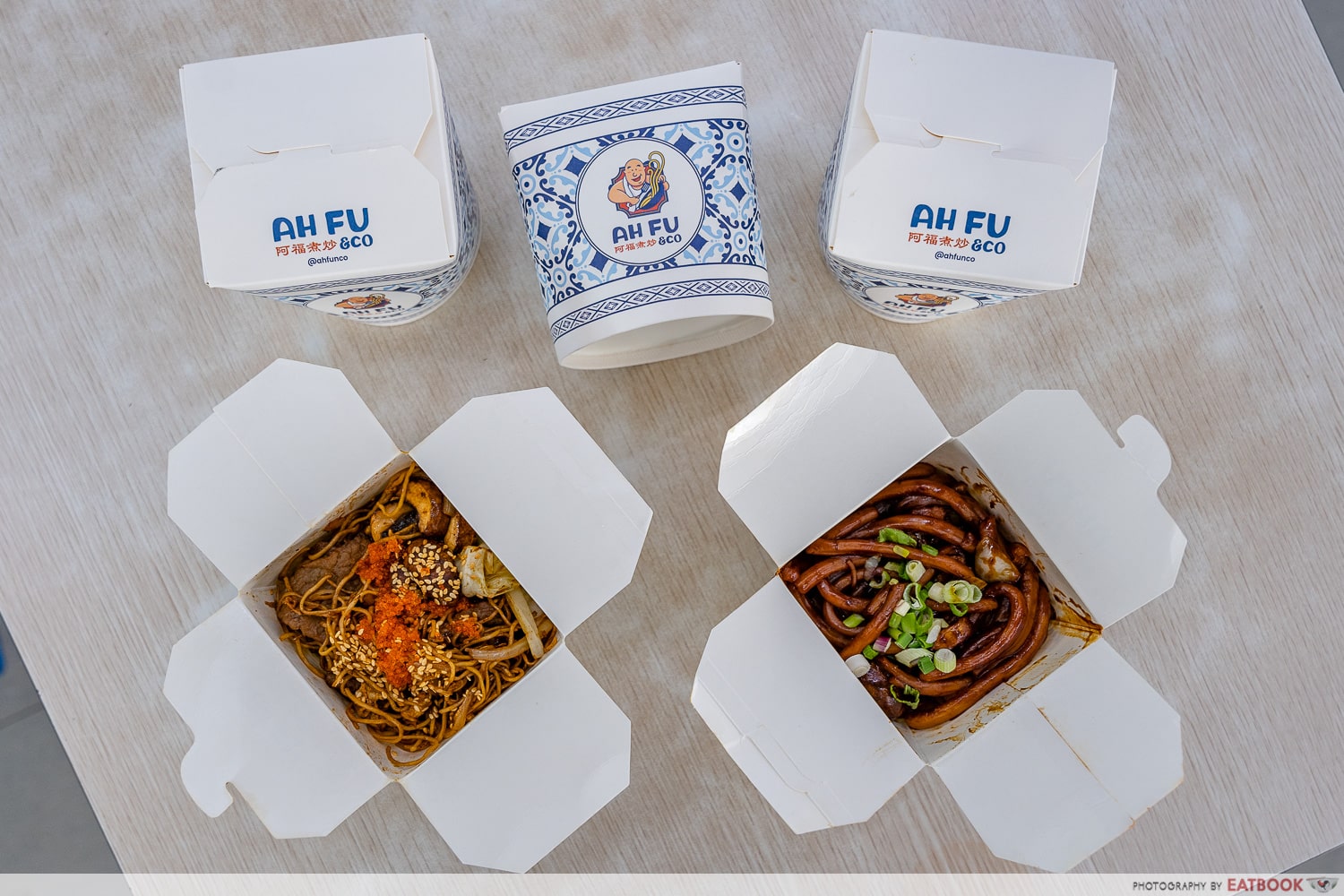 Ah Fu & Co only has two items on the menu: Dai Lok Mee ($6.90) and HK Chow Mien ($5.90). Served in blue and white Chinese takeout boxes similar to those you see in American sitcoms, the noodles are packed with simple ingredients, including cabbage, onions, and egg. You can also add on $1 to have your noodles topped with asparagus, broccoli, oyster mushrooms, edamame, and tobiko.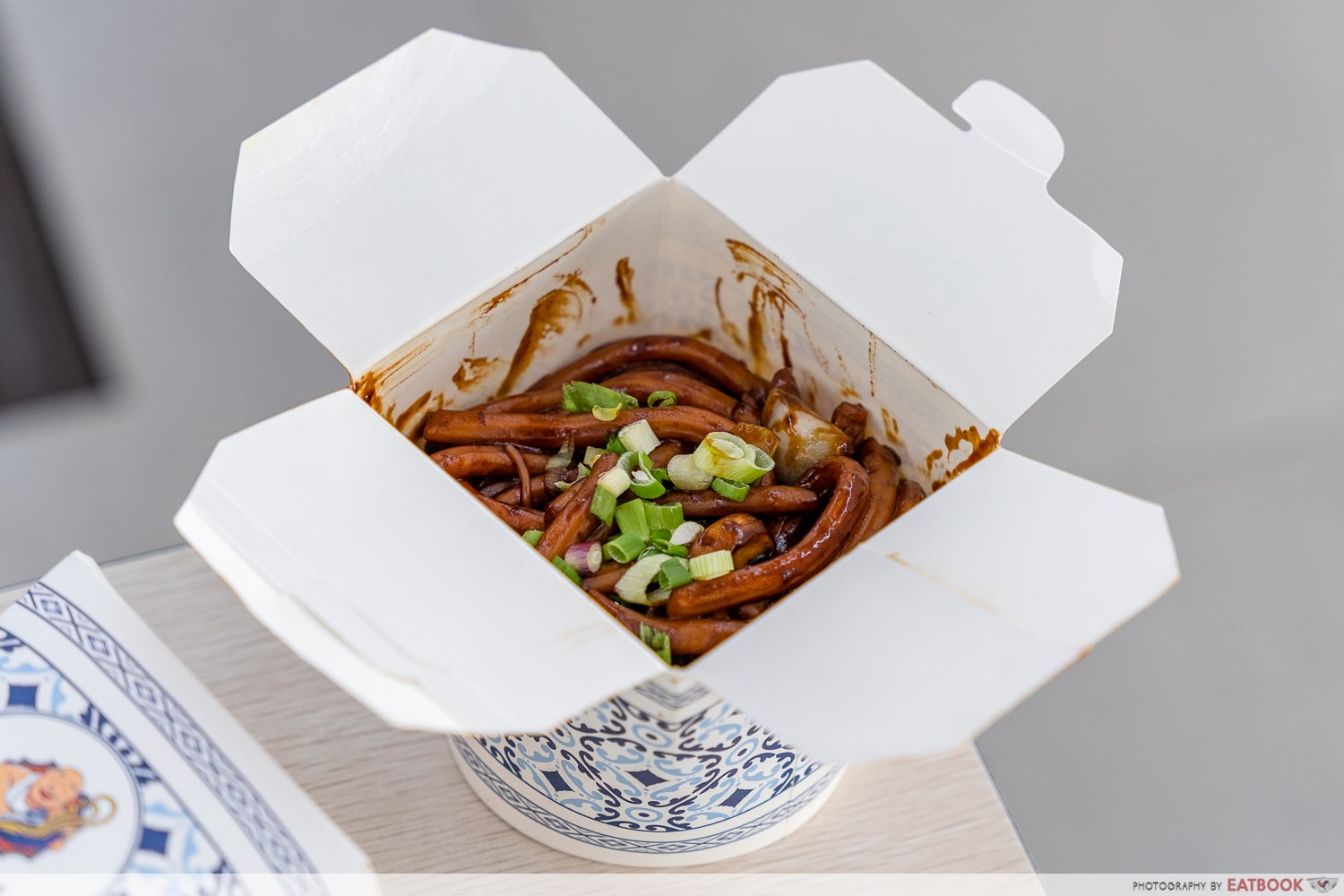 Dai Lok translates to "thick noodles" in Cantonese, which is characterised by the fat, udon-like noodles in the dish. We chose to have our Dai Lok Mee with pork (+$1) and shiitake (+$1).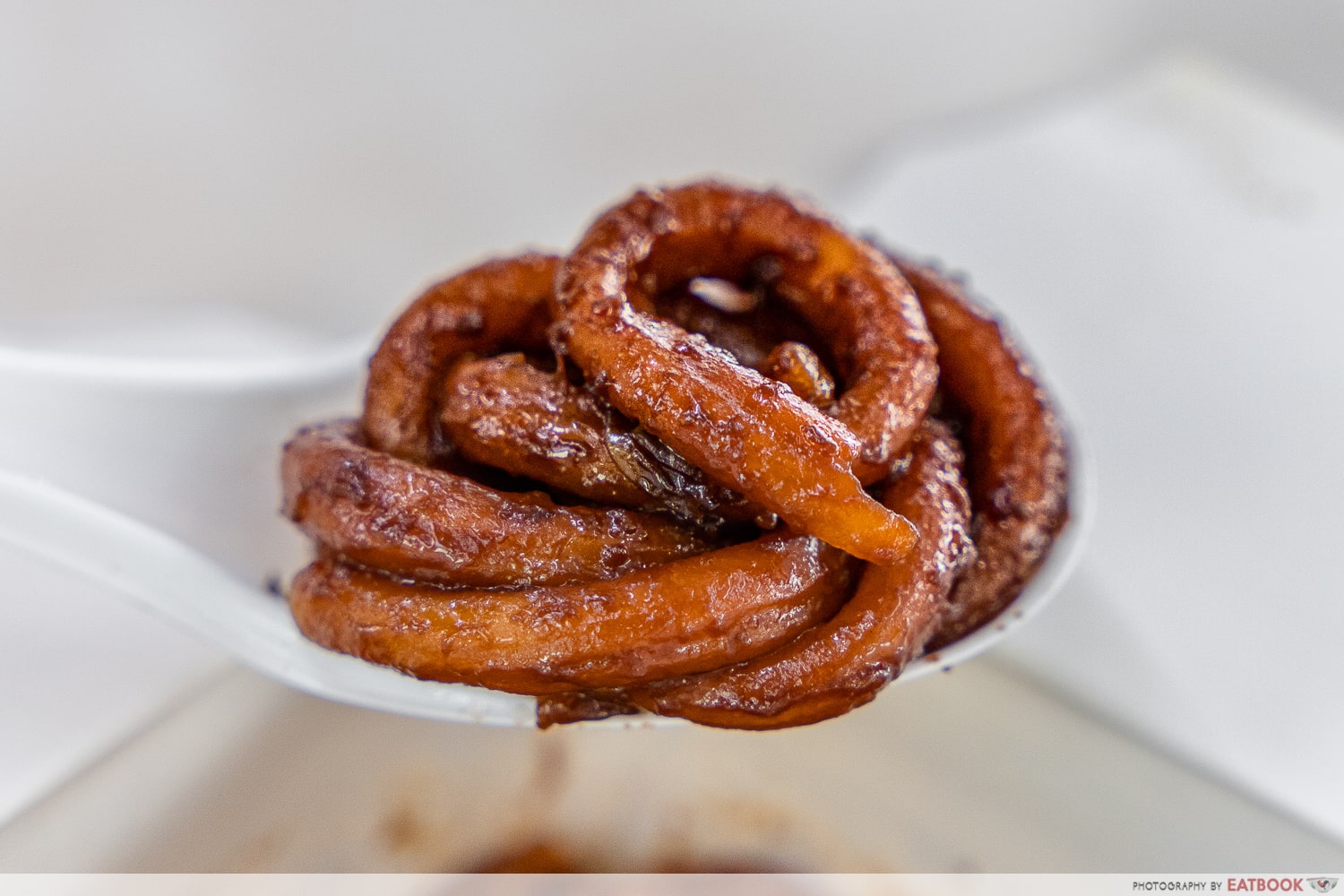 The noodles were blanketed in a dark, caramelly soy sauce, and I could instantly smell its smoky aroma. I dug in excitedly, and could immediately feel the weight of the noodles as I lifted them with my thin wooden chopsticks. Despite being so thick, the noodles were slightly soft but had a subtle alkaline taste, which is common with thick noodles such as these.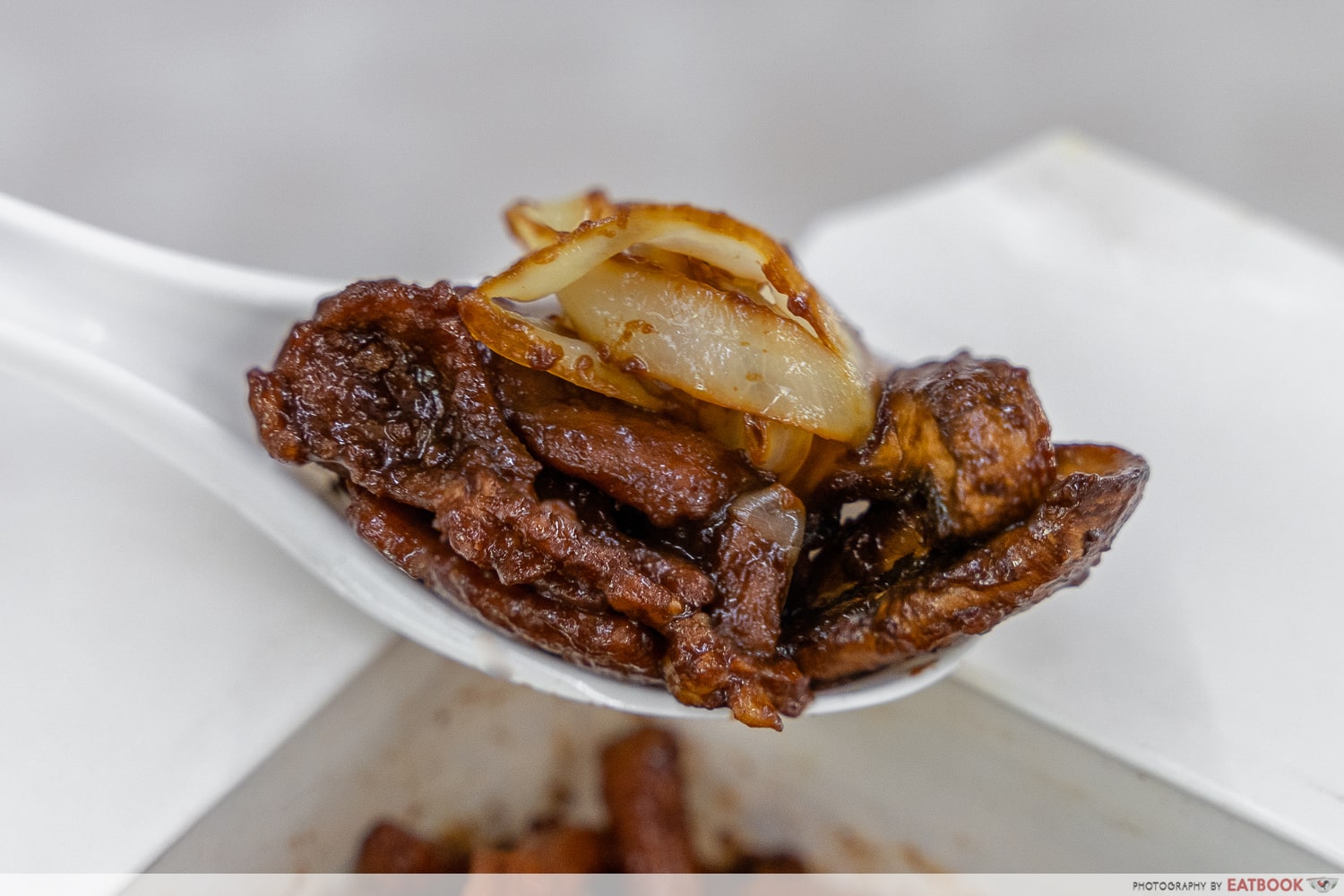 I especially liked the crunchy cabbage slices, which offered a light sweetness that cut through the rich black sauce. As for the soft shiitake mushrooms, they added a layer of earthy savouriness with each bite.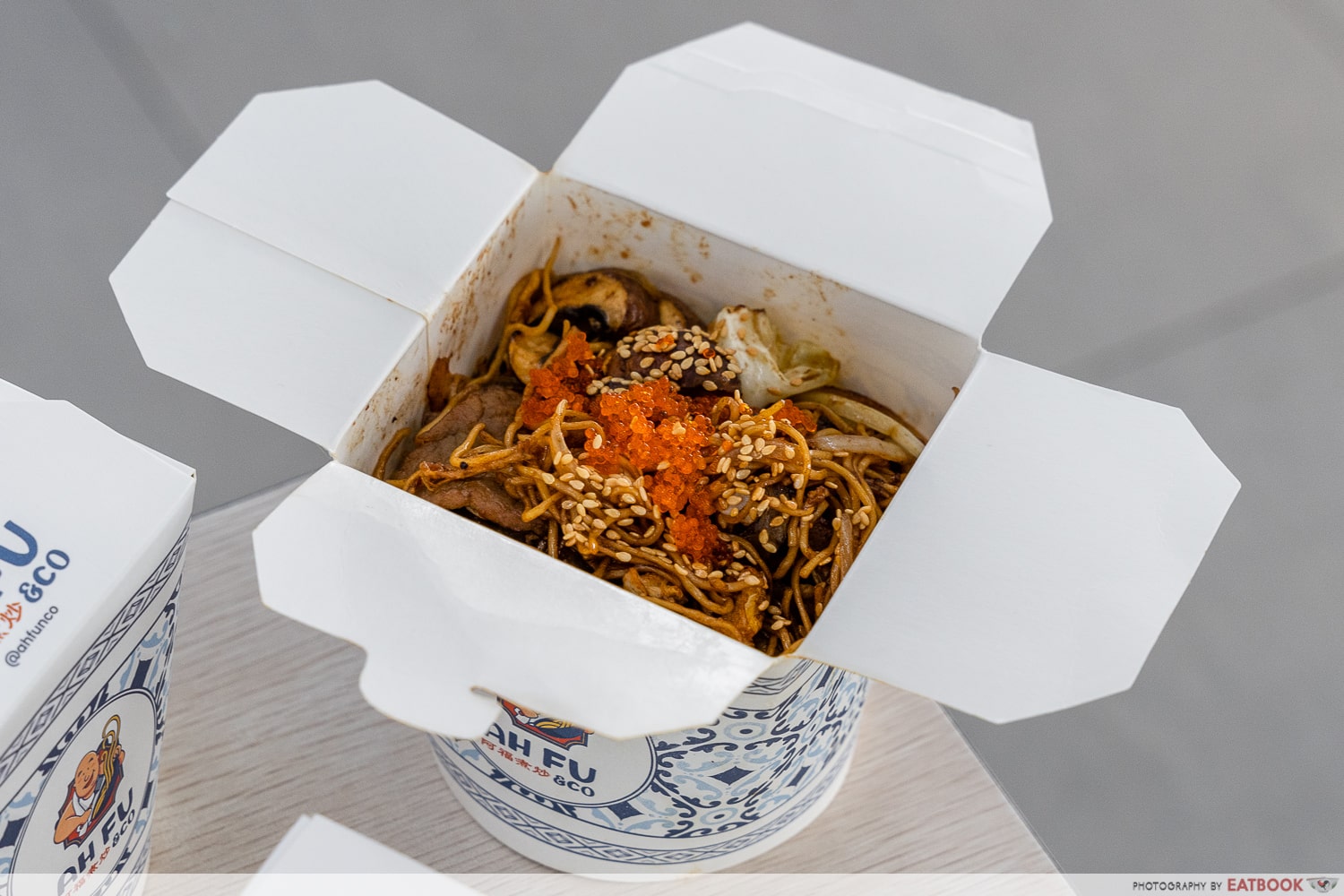 We also tried the HK Chow Mien, which came with our chosen additional ingredients, beef (+$2) and tobiko (+$1). These thin, stir-fried egg noodles were cooked with cabbage and onions—popular add-ons for Chinese-style wok-fried noodles. While the chow mien lacked in wok hei as compared to the dai lok mee, I liked the noodles' crispy edges and springy texture. The noodles can become quite greasy, especially the strands sitting on the bottom of the box, so be sure to mix them well!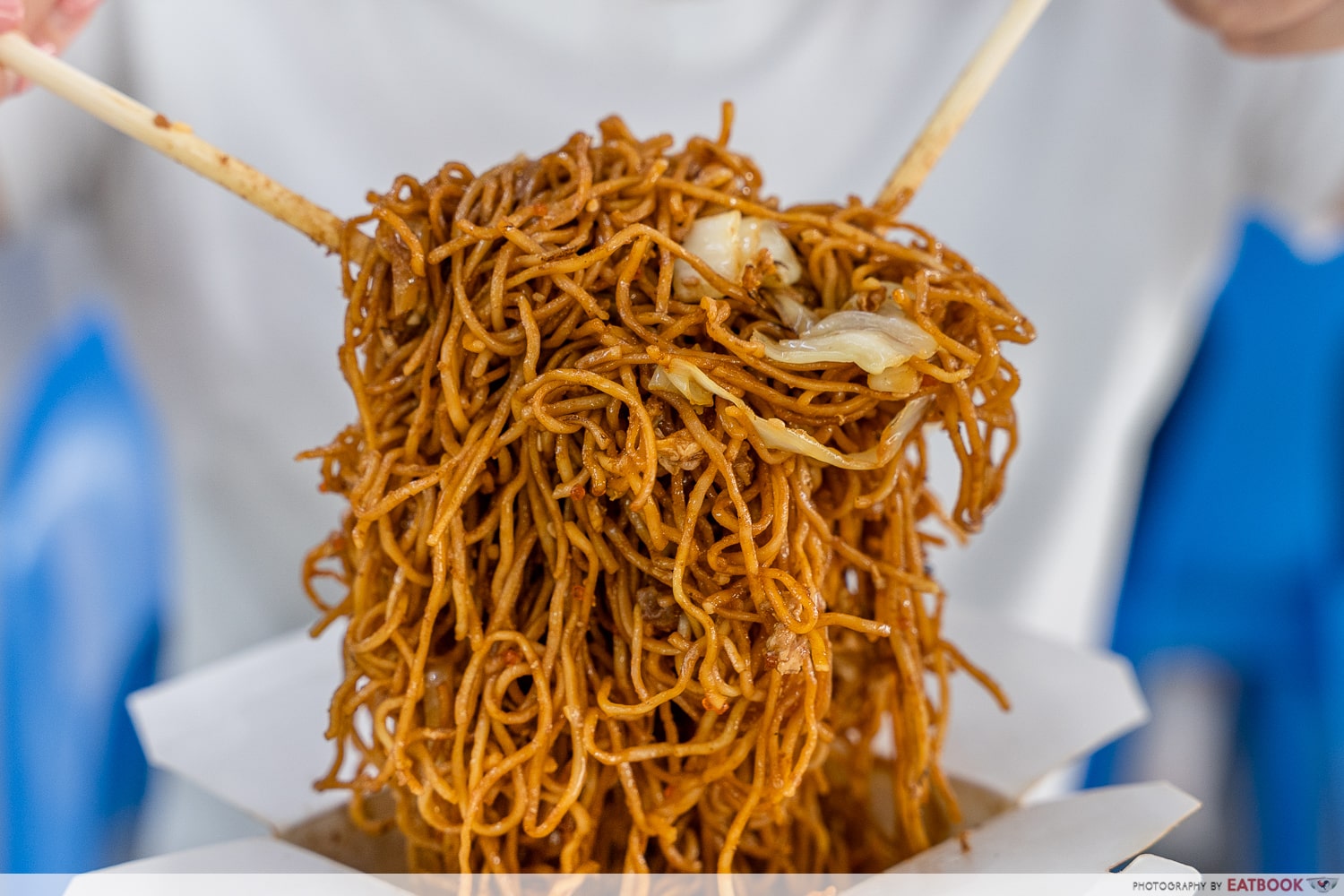 The cabbage here were also a little charred, giving off an addictive, smoky flavour. As for the tobiko, they were a good addition as they added some brininess to the dish.
Bossi Ban Mian Review: Malaysian Hakka-Style Ban Mian With Chye Poh At Serangoon Gardens
Ambience at Ah Fu & Co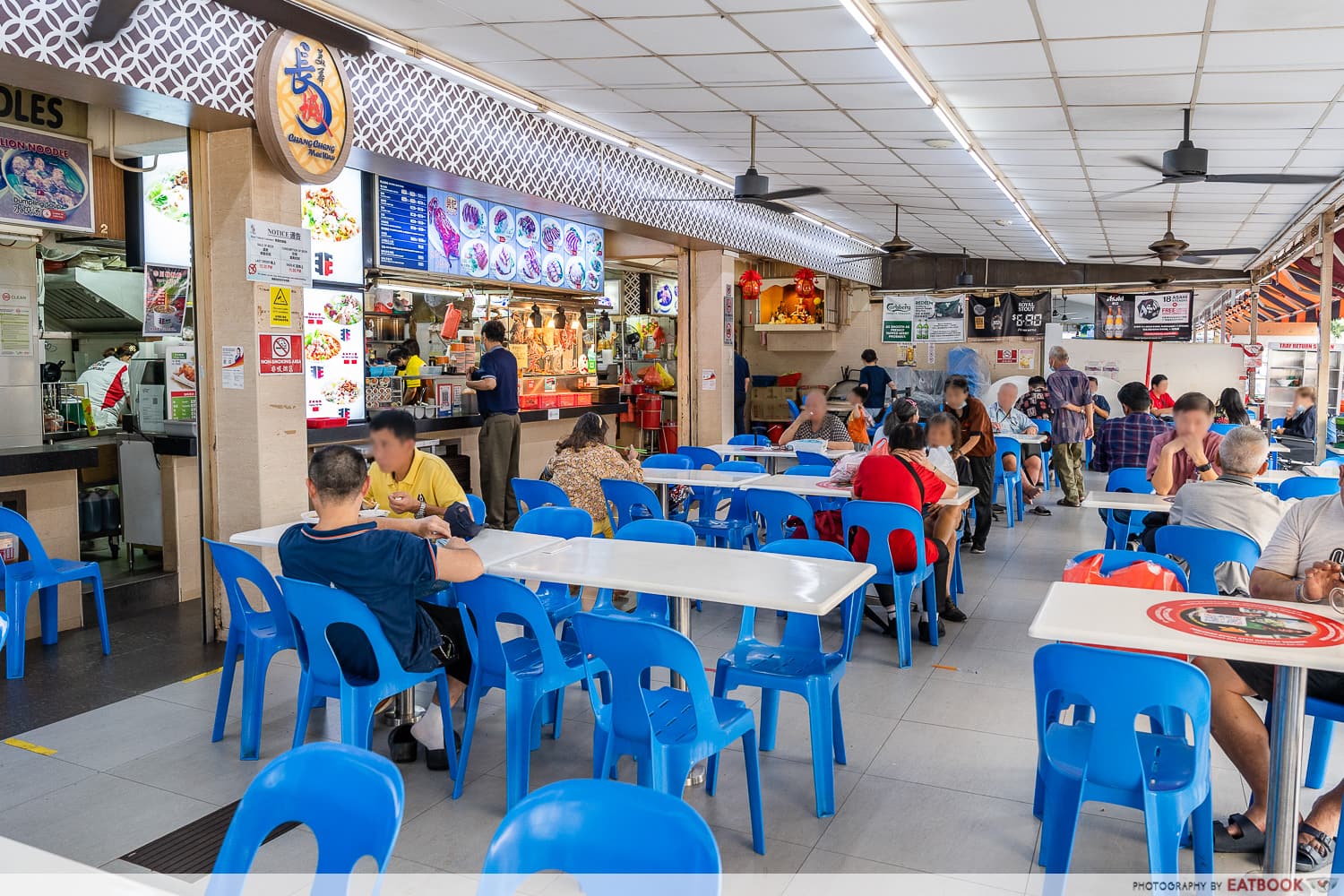 Ah Fu & Co is located in the bustling coffee shop just beside Boon Keng MRT Station, and is near other popular hawker stalls such as Mentai King and Tai Wah Pork Noodle. The stall stands out from the rest with its blue signboard and cute mascot: a smiling bald cook. If you're thinking of trying their noodles, be sure to come by before 6pm to avoid the long wait that comes with the dinner crowd.
The verdict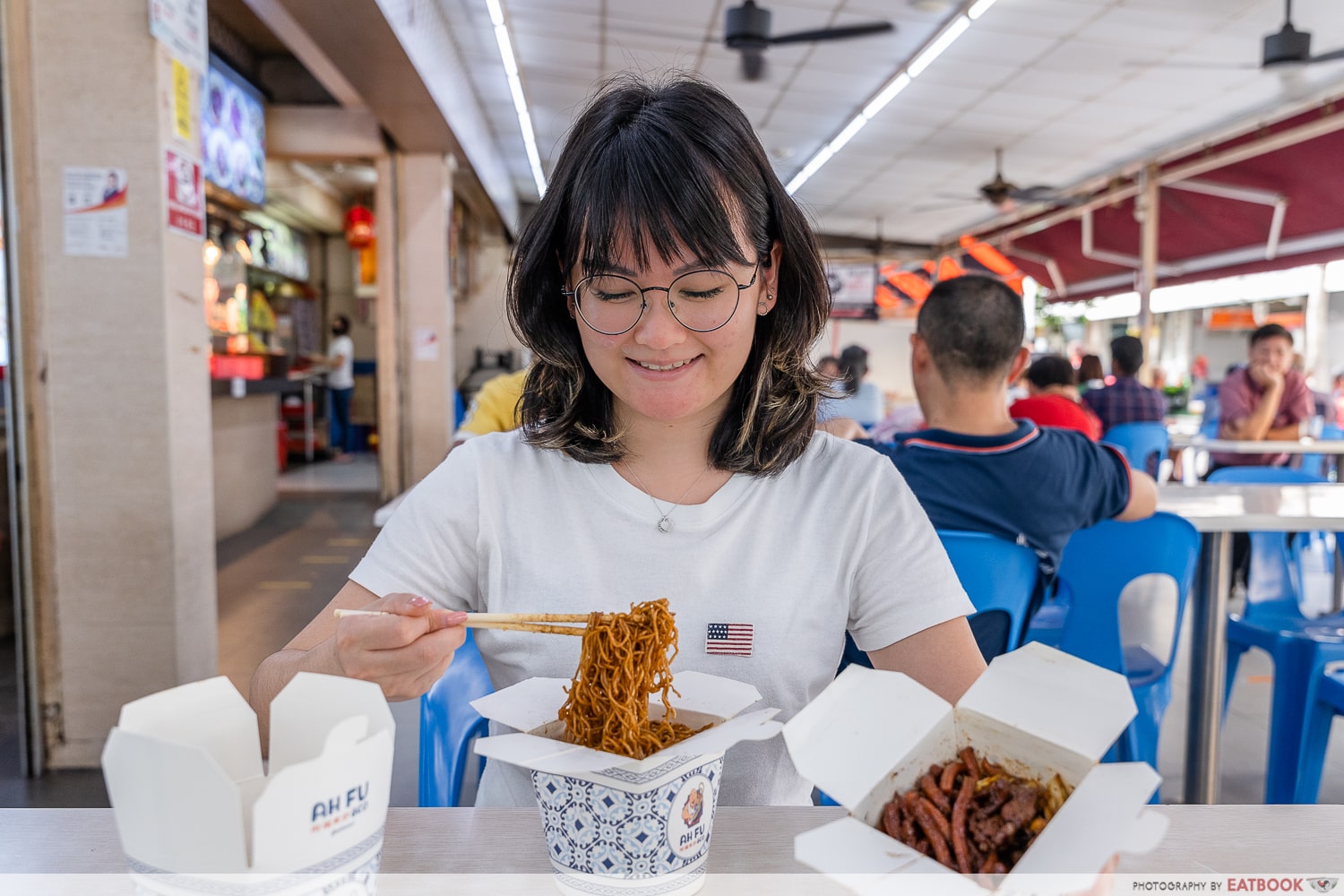 Ah Fu & Co's delicious wok hei-kissed noodles satisfied my cravings. As the Eatbook office is located near Boon Keng, I am glad that I can drop by whenever I want. We were also informed that the brand is opening a second outlet in Clementi with an expanded menu to include fried rice and Penang char kway teow, so I look forward to that as well!
For more good food near the area, check out our 18 Serangoon cafes food guide. If you're looking for more KL noodles, read our review of The Noodle Memories for chilli pan mee and mala soup noodles.
Address: 27 Bendemeer Road, #01-659, Singapore 330027
Opening hours: Daily 11am to 8pm
Website
Ah Fu & Co is not a halal-certified eatery.
The Noodle Memories Review: Legit KL-Style Chilli Pan Mee By Young Hawkers In Chinatown
Photos taken by Tan Zi Hui.
This was a media tasting at Ah Fu & Co.
The post Ah Fu & Co Review: Legit KL Hokkien Mee By 24-Year-Old Ex-Restaurant Chef appeared first on EatBook.sg - Local Singapore Food Guide And Review Site.
This post contains affiliate links. All products are ones I love. If you choose to buy one of these products through the URL provided, I will receive a small commission at no extra cost to you.