Pin this recipe or leave a comment: Almond Parmesan Baked Salmon on Green Healthy Cooking
Baked salmon is a quick and nutritious meal. Its rich in flavor with this almond parmesan crust and is ready, start to finish, in less than 30 minutes.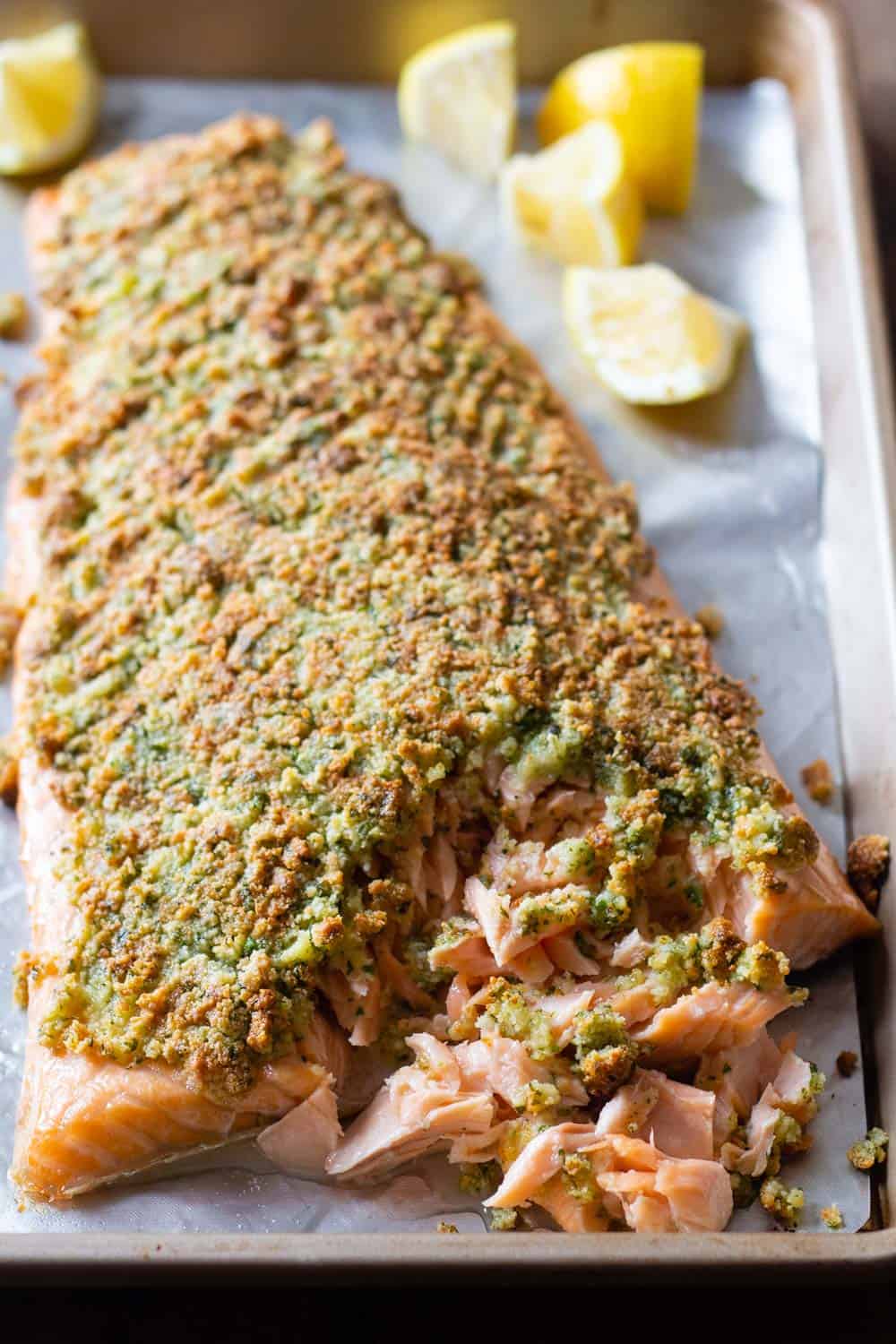 Salmon is easy to find in the grocery store and super healthy with lots of omega-3 fatty acids. Its flaky and moist when cooked correctly and can be seasoned in a variety of ways.
What is good to season salmon with?
To make almond parmesan-crusted baked salmon, you will need:
Cilantro
Almond flour
Parmesan cheese
Melted butter
However, once you understand the process, you can use this cooking method for any flavor of salmon you want to cook. Try it with Cajun seasoning, Italian seasoning or an Asian flavor such as sesame ginger. In place of the butter, you could try citrus juice or Greek yogurt.
How do you make baked salmon?
You want to start with a good quality salmon fillet. The best salmon is wild-caught and sustainably harvested. When selecting fish, look for flesh is that is shiny, bright and moist. These are signs of fresh salmon.
Baked salmon makes a quick weeknight meal. Just follow these few tips for great tasting salmon in 15 minutes.
Let the fish come to room temperature. Set it out for about 15 minutes. This ensures even cooking.
Line the baking sheet or pan with parchment paper or reusable lining materials or grease it well.
Pat the fish dry to prevent sticking. Put the salmon skin-side down on the baking sheet. The skin protects the flesh of the fish during the cooking process so you dont end up with overcooked rubbery fish.
Bake at 400 degrees. There is no need to cover the salmon.
You can tell salmon is done when it easily flakes with a fork when it is inserted in the thickest part of the fish. It should read 145 degrees with a meat thermometer. Plus, it will change from red to pink as it finishes cooking.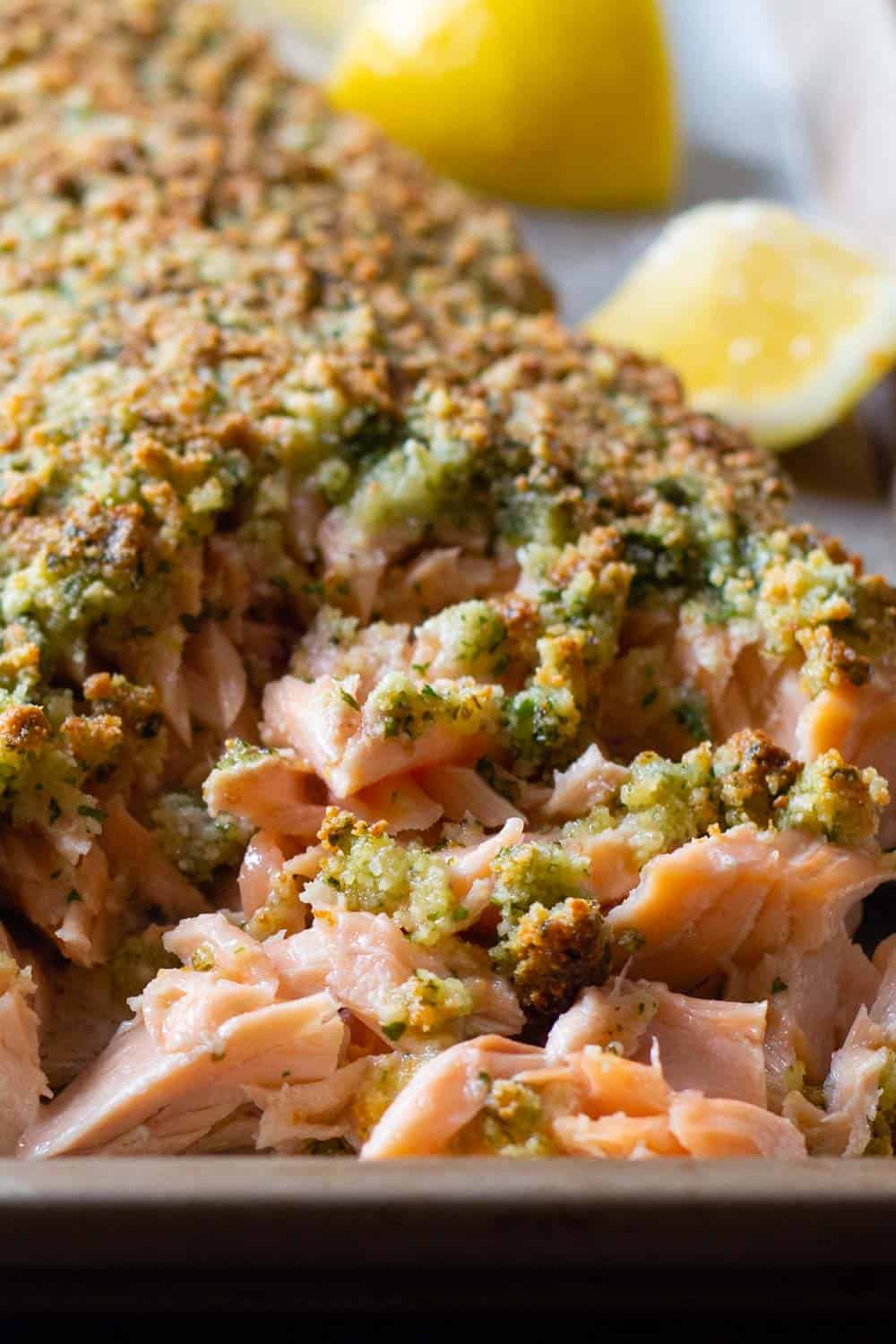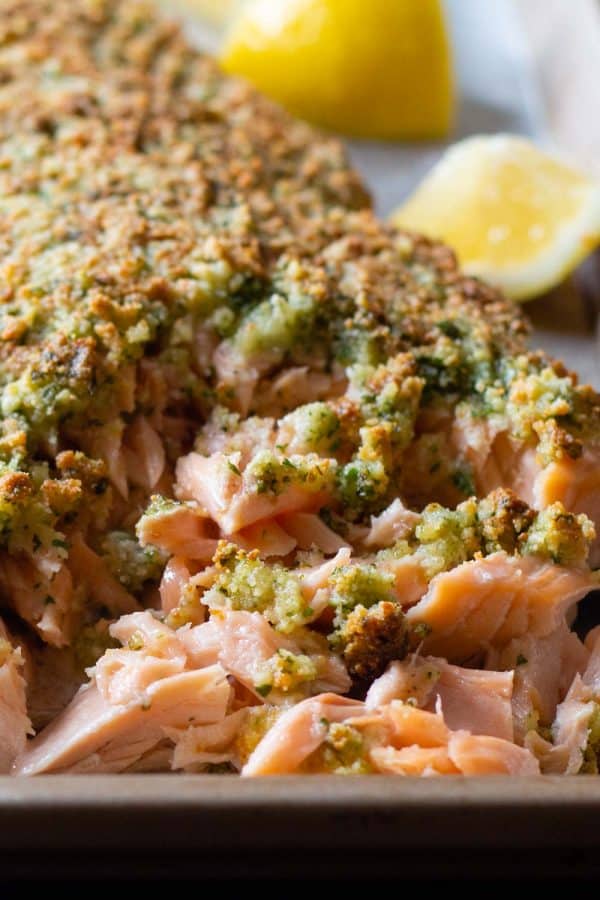 Do you eat the skin on salmon?
The salmon skin is perfectly fine to eat. It has many of the same valuable nutrients as the flesh. Especially if you know that your salmon comes from clean water, the skin is great for your diet.
When grilling or pan-frying, the skin will crisp slightly and the flesh will still be flakey. This creates the perfect texture for the meal.
In fact, leaving the skin on while baking the fish protects the meat and keeps it from drying out. So even if you dont intend to eat the skin, select a fillet with the skin on for a better cooking experience. After it is cooked, you can lift the fish fillet right off the skin by sliding a spatula between the flesh and the skin. Super easy!
What goes with baked salmon?
Salmon is full of omega-3 fatty acids, protein and B vitamins. Its low in calories and fat so it makes a fantastic meal, regardless of your diet plan.
If you love the taste of baked salmon, youll be able to use this quick method to prepare protein to top a salad or for a sandwich.
Youll need some sides to make this a complete meal if you are serving this salmon as the main dish. Try some of these:
Broccoli
Carrots
Sweet potatoes
Cauliflower
Asparagus
Pasta
Scalloped potatoes
etc.
Almond Parmesan Baked Salmon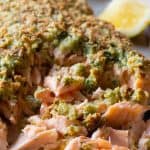 1 salmon fillet ((800-900g / 28-30oz))
3/4 cup almond flour
3/4 cup grated Parmesan
1 bunch cilantro
1/3 cup melted butter
sea salt
pepper
Preheat oven to 400F.

Wash, dry and destem cilantro. Then finely chop cilantro leaves.

Add chopped cilantro, almond flour, Parmesan and melted butter to a bowl and use a fork to mix into clumps.

Line baking sheet with baking paper or reusable foil, place salmon fillet skin down on the baking sheet and lightly season with sea salt and pepper.

Add almond flour parmesan crust with your hands on top of salmon fillet.

Bake for approximately 15 minutes or until cooked through.

Serve with salad.
My article contains affiliate links. All products are ones I love. If you choose to buy one of these items through the URL provided, I will receive a small commission at no extra cost to you. All proceeds help support the blog.