In todays bento, the rice is covered withBraised Beef and Burdock with Ginger (Shigureni)which makes the rice so tasty. Shigureni Bento is accompanied by simmered pumpkin, pickled daikon, blanched asparagus and tomato wedges. It is a balanced colourful bento box.
Because Shigureni comes with a tiny amount of braising sauce, it is best placed on top of the rice just like the Japanese Beef Bowl (Gy-don).Shigureni can be made ahead so todays bento is not hard to make.
Whats in Shigureni Bento
Here are the ingredients of todays bento box.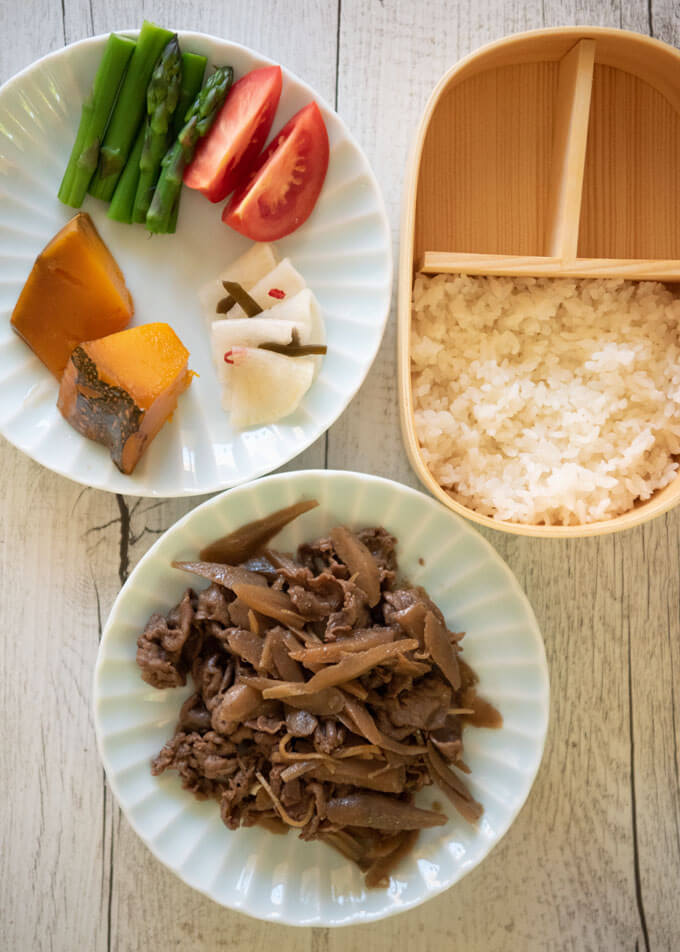 Cooked Rice please refer toHow to Cook Rice the Japanese Way. It is best to cook rice for bento fresh in the morning if possible, but it can be made ahead. Pack the cooked rice in a bento box while the rice is still hot or warm as it is easier to shape. Let it cool down before adding other ingredients. Do not add too much rice as you will put the Shigureni on top of it. If you prefer not to place Shigureni on the rice, you could replace plain rice with mixed rice such as Rice with White Radish (Daikon Tamikomi Gohan).
Braised Beef and Burdock with Ginger (Shigureni) leftover from dinner or make ahead. The Shigureni in this bento is about a quarter of the quantity in the Shigureni recipe, which contains about 50g of sliced beef. You can increase the proportion of meat to burdock if you need more protein.
Simmered Pumpkin (Kabocha no Nimono) leftover from dinner or make ahead. I packed only two pieces as my bento compartment can only take two. It depends on the size of the pumpkin pieces and your bento compartment.
Senmai-zuke Daikon this is a modified version of Pickled Turnip (Senmai-zuke). Instead of turnip, I used daikon. Daikon Senmai-zuke takes less time to marinate. This is also a make ahead dish.
Blanched Asparagus I needed to add green to the bento box as the major part of it is brown. When blanching green vegetables, you add a pinch of salt to keep the fresh green colour of the vegetables, but in this case I added an extra pinch to give a subtle salty flavour to the asparagus. Any other green vegetables are OK as a substitute, e.g. broccoli, green beans, snow peas, etc.
Tomato Wedges I also add tomatoes to give a bright colour to the bento. I used wedges here but of course, you can use baby tomatoes instead.
Substitute for Braised Beef and Burdock with Ginger (Shigureni) on Rice
In the introductory paragraph above, I mentioned Gy-don. Both Shigureni and the topping for Gy-don are very similar in flavour, and the texture of the beef. They also come with a small amount of sauce.
Instead of placing Shigureni on the rice, you can make it a Gy-don Bento if you pack the rice and the topping just like the way I serve Gy-don in my recipe Japanese Beef Bowl (Gy-don).
Another dish to similar Shigureni and Gy-don topping is Sukiyaki. Sukiyaki contains more ingredients but if you put aside some meat and a few other ingredients cooked in Sukiyaki with some sauce and place them on the rice in a bento box, you can make a Sukiyaki Bento.
Reheating Bento
Most traditional Japanese bento are meant to be eaten at room temperature and you shouldnt have any need to reheat it. Even if the bento box has a piece of grilled fish in it, you dont reheat.
I think that reheating grilled fish in the microwave increases the fishy smell and I dont enjoy the fish as much as when it is at room temperature. But this is just my preference.
There are exceptions, though. Todays is much nicer if you reheat the bento, particularly if the meat is slightly marbled like wagyu beef.
When you reheat a bento box, make sure that you remove uncooked vegetables, tomato wedges and senmai-zuke in the case of todays bento. In anticipation of reheating the bento, I placed the senmai-zuke in a little paper cup.
The tomato wedges are easy to just pick up and remove from the bento box before reheating. But for a dish like senmai-zuke, which is wet and a little bit slimy with konbu strips, it is better to place it in a small container for easy handling.
It is just to show a little consideration for the person reheating and eating the bento.
Yumiko

Bento Box Shigureni Bento
The rice is covered with Braised Beef and Burdock with Ginger (Shigureni). Shigureni Bento consists of rice with Shigureni, Simmered Pumpkin and some vegetables, all of which contribute to making the bento box so colourful.
Because bento is usually made mostly from left-over dishes or make-ahead dishes, the time indicated in this recipe only shows the time to pack the bento box.
1 cup cooked rice ((note 1))
quantity of Braised Beef and Burdock with Ginger (Shigureni) (recipe (note 2))
2 pieces Simmered Pumpkin ((note 3))
5 slices Senmai-zuke Daikon ((note 4))
2 spears asparagus (, end trimmed (note 5))
2 tomato wedges ((or mini tomatoes))
A bento box of your choice
While the rice is still hot or warm, place it in the largest compartment of the bento box (note 6), allowing for the Shigureni to be placed on top. Let it cool.
Boil water in a pot, add a couple of pinches of salt. Blanch asparagus spears for a minute or so. Drain and rinse under running water to cool them down quickly, then cut them to about 4-5cm long pieces (note 6).

Place the Shigureni on the rice so that the rice is completely covered. If there is sauce left in the container of the Shigureni, pour the sauce over it.

Put Simmered Pumpkin pieces in one of the empty compartments. If your bento box does not have compartments, you may want to use a paper cupcake liner to put it in. Since the pumpkin does not come with sauce, having a partition is not so critical.
In the other empty compartment, place tomato wedges and asparagus.
Put the Senmai-zuke Daikon in a foil or paper cup and place the cup next to the asparagus.
1. It is best to pack cooked rice in a bento box while hot or warm as it is easier to shape the rice into the bento box.
2. The amount of beef is about 50g if you use a quarter of the recipe ingredients. If you prefer more meat, adjust it by reducing the quantity of burdock and increasing the beef. Alternatively, you can simply increase the total amount of the dish.
3. My bento compartment only allowed for two pumpkin pieces. Depending on the size of the bento space and the pumpkin pieces, you may want to adjust the quantity.
4. Please refer to my recipe Pickled Turnip (Senmai-zuke). The recipe uses turnip but you can also make Zenmai-zuke with daikon (white radish). The recipe includes how to make it with daikon.
5. Broccoli, green beans and snow peas are good alternatives.
6. The length can be a bit shorter or longer. Its more important to cut them to the same length and not waste them. My asparagus was quite long and I quartered each spear.
7. Putting a dish like pickled vegetables in is handy especially if you want to reheat the main dish. But if you dont have a cup, you can use baking paper to separate different dishes.
The post Bento Box Shigureni Bento appeared first on RecipeTin Japan.
This post often contains affiliate links. All products are ones I recommend. If you choose to buy one of these items through the URL , I will get a small commission at no extra cost to you. All proceeds help support the blog.