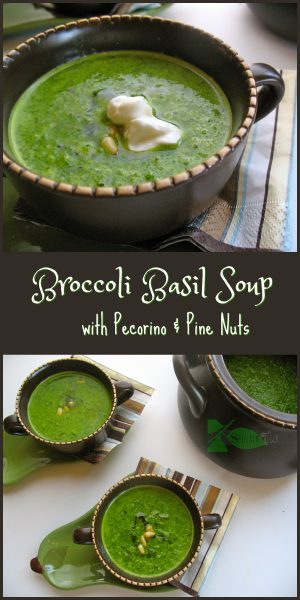 Broccoli Basil Soup

Broccoli is probably my favorite green vegetable and comes home with me every week, second only to greens for salad, The versatility of this beautiful, anti-oxidant super healthy vegetable is unsurpassed for many reasons.
Broccoli is the star here, but there are handfuls of basil and fresh spinach, which, of course, makes me grin from ear to ear.
I set out to show you a way to love vegetables, and while we are eating them here at home, Im not reporting them back to you on a frequent enough basis. But, I guarantee you that if you like broccoli, you will love this soup, and if you dont like broccoli, maybe you just havent had it prepared properly.
Ifthe only kind of broccoli soup youve experienced is that thick, gooey broccoli cheese soup that restaurants purchase in large plastic buckets, then you havent had good broccoli soup.
My love affair with broccoli is probably genetic. Did you know that it was the Italians who brought this beautiful cruciferous to America? The DArrigo Brothers werent the first to plant it, but they popularized broccoli in the 1920s, first in San Jose, California, then in Boston, under the name Andy Boy.
Broccoli was meant to be married with olive oil, salt and lemon, served at room temperature, after being cooked quickly so that it would remain bright green, or placed inside a frittata, or tossed with pasta. That is how I remember broccoli.
If broccoli is cooked too long, it will release a sulfur smell that makes it unappetizing. After being assaulted with overcooked broccoli that stuffed into too many casseroles, mashed beyond identity, its no wonder people sometimes mistake broccoli for a vegetable they dont like.
This soup just might turn a hater around.
Broccoli Basil Soup, Clean Eating, Paleo
This soup is not made with chicken or vegetable broth. This broccoli basil soupis made with the broth the broccoli is cooked in. I mixed in a pesto sort of mixture, using handfuls of basil and spinach, garlic, olive oil, lemon and pecorino romano cheese. This really gives it the Italian flavors I was looking for and feels heartier than it really is. You can a lot of this soup with no worries about weight.
By this time the broccoli was cooked and ready to drain. I kept the broccoili water and began to blend about 1 cup of water to 2 cups of broccoli to this mixture. You can use a Vitamix or a blender, or immersion blender. Add a few toasted pinenuts or almonds for garnish.
Some people enjoy a soup that you can drink. Sometimes I do too, but sometimes I want more tooth to my soup. I only blended it to a point where you can still have texture. For me this is like porridge and its just right.
Taste along the way, and feel free to add your own touch to your broccoli basil soup. I drizzled olive oil into the soup and placed a dollop of Greek yogurt on top.
Print
Broccoli Basil Soup
This version of broccoli soup is extra healthy, with added spinach, garlic, olive oil and lemon.
Ingredients
6

large broccoli flowers

See Instructions for either fresh or frozen

juice of half lemon

1

large pot of boiling water with sea salt

3

handfuls fresh spinach leaves

washed

1

handful basil

1/4

cup

extra virgin olive oil and some for drizzling into soup

1/2

cup

pecorino romano

grated

1/4

cup

pine nuts

optional (can use Pistachios or toasted almonds)

olive oil for finishing off

sea salt

freshly ground pepper

2

cups

chicken broth

(optional) You may use the broccoli broth.
Instructions
Using FRESH BROCCOLI
Cut about 2 inches of stems off the broccoli and throw in a large pot of boiling water, with sea salt. Use a lot of water so there is so much heat that the broccoli will cook very quickly.

Once broccoli is cooked, drain in colander. Save the broth or use added chicken broth.
USING FROZEN BROCCOLI
If using frozen spinach that microwaves, you can do that and use chicken broth.

Squeeze lemon all over the broccoli.

(Should be able to put a fork into easily enough, but dont overcook)

Put the broccoli in the Vitamix with spinach, olive oil, basil, salt and pepper.

Add the broth or water 1/2 cup at a time, so as not to make too watery.

Taste.

You may want to add more lemon, cheese, etc.

Finish off with olive oil,
Notes
Buy very green dense broccoli. Use a very good cheese of choice.
You will be able to taste everything, so be sure you use FRESH spinach, FRESH garlic and very good extra virgin olive oil.
The post Broccoli Basil Soup with Pecorino and Pine Nuts appeared first on Spinach Tiger.
My article contains affiliate links. All products are ones I love. If you choose to purchase one of these products through the URL provided, I will receive a small commission at no extra cost to you. All proceeds help support the blog.