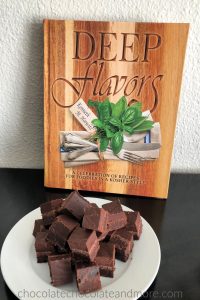 Chocolate truffle bars are deceptively simple to make. Rich chocolate ganache tops a chocolate shortbread crust. Cut these into bars for a decadent dessert or into tiny squares and served as candy.
These bars are one of the many decadent dessert recipes in Deep Flavors by Kenneth Horwitz.
In addition to traditional Jewish fare like matzo balls, blintzes and stuffed cabbage, Deep Flavors includes recipes from a wide variety of cuisines such as Cuban, Mediterranean, and Indian.
The book begins with some tips on basic ingredients. For example, I never knew you should peel asparagus to get rid of the stringy outside.
Since Ken is a Texan, he included some fun recipes from down here smoked brisket, pickled jalapenos, and Texas chili.
Fortunately, the last 60 pages are desserts. I cant wait to try the cherry pie with lemon-coconut custard topping, chocolate orange almond coconut biscotti, and limoncello tiramisu.
Ken gave me permission to post one of his recipes with this review. He called these dark chocolate ganache bars with cherry, orange or raspberry. Im just calling them Chocolate truffle bars.
The bars are very simple. They start with a thick chocolate shortbread crust. I thought it might be too thick but it works well with the ganache.
To save time, you can make the ganache while the crust cools and pour the ganache on the warm shortbread. I only added Grand Marnier to mine (no candied peels) and they were fantastic!
Pairing my chocolate truffle bars with a scoop of vanilla ice-cream made for a hit dessert with my friends.
I cut the remaining bars into bite-sized pieces to share with my colleagues and students.
If youre looking for a great last-minute holiday present for a foodie, you still have time to get Deep Flavors at Amazon (Affiliate link).
Yield: 16 bars
Chocolate Truffle Bars
Additional Time
30 minutes
Total Time
1 hour
10 minutes
Ingredients
Shortbread
1 1/2 cups flour
7/8 cup (3/4 cup+ 2 tablespoons) confectioner's sugar
3/8 cup (1/4 cup + 2 tablespoons) unsweetened Dutch Process cocoa
1/2 teaspoon kosher salt
12 tablespoons unsalted butter
1 tablespoon vanilla extract
Chocolate Ganache
12 ounces bittersweet or semisweet chocolate, finely chopped
2/3 cup heavy cream
3 tablespoons Kirsch (for cherry bars), or Grand Marnier (for orange bars) or Chambord (for raspberry bars)
Add-ins
1/4 -1/2 cup dried sour cherried macerated in cherry liqueur (or sour cherry juice) and chopped after maceration for the cherry bars
1/4 - 1/2 cup raspberry jam for the raspberry bars
Instructions
In a food processor, pulse together the flour, sugar, cocoa powder and salt. Add the butter and vanilla and pule until the mixture just comes together.
Line an 8 x 8 inch pan with parchment paper. I used an 8 x 16 inch strip so that 2 sides were lines but the other two were not. Press the shortbread into the pan and prick generously with a fork.
Chill at least 30 minutes in the refrigerator.
Preheat the oven to 325F. Bake the shortbread for 25 minutes until it is firm to the touch and just beginning to pull away from the sides.
While the shortbread cools, prepare the ganache. Heat the heavy cream until it almost boils. Remove from heat and add the chocolate. Wait a few minutes before stirring to give the chocolate a chance to melt.
Add the appropriate liqueur. Stir until smooth. If desired, mix in the appropriate add in.
Pour the ganach on top of the shortbread. Cool thoroughly.
If you used the 8 x 16 inch piece of parchment paper to line the pan, you will need to loosen the two unlined sides with a sharp knife. Then use the parchment paper to lift the bars out of the pan before cutting them. It's easier to cut them on a cutting board.
Nutrition Information:
Yield:
16
Serving Size:
1
Amount Per Serving:
Calories:

291
Total Fat:

19g
Saturated Fat:

11g
Trans Fat:

0g
Unsaturated Fat:

6g
Cholesterol:

34mg
Sodium:

74mg
Carbohydrates:

31g
Net Carbohydrates:

0g
Fiber:

2g
Sugar:

18g
Sugar Alcohols:

0g
Protein:

3g
Nutrition information is provided as a guideline only. Please consult a dietitian for specific dietary needs.
Looking for more truffle-inspired recipes?
The post Chocolate Truffle Bars appeared first on Chocolate Chocolate and More!.
This post often contains affiliate links. All products are ones I recommend. If you choose to buy one of these products through the link , I will receive a small commission at no extra cost to you.