Looking for some comfort food to eat for dinner? How about a juicy and satisfying Crackpot Salisbury Steak Recipe? Yes? Then, let Catherine's Plates teach you how to make this beefy patty and flavorful homemade gravy sauce! Salisbury steak is a simple dish, but this recipe by Catherine is way better! With that mouthwatering brown sauce, you'll definitely eat more than your average meal. Pair this with creamy mashed potato and grilled asparagus for a delightful dining experience! Learn how to make this wonderful recipe by watching the video below.
Ingredients:
For the hamburger patties:
2 lbs ground beef
2 large eggs
2/3 cups of panko crumbs
2 teaspoons of Worcestershire sauce
1/4 teaspoon of salt
1/4 teaspoon of black pepper
1/4 teaspoon garlic powder
1/4 teaspoon of onion powder
1 tablespoon of dried parsley
2 tablespoons of butter
2 tablespoons of cooking oil
For the gravy:
1 medium yellow onion (chopped)
2 teaspoons of garlic (minced)
2 cans of 10.5 oz of beef broth or consomme
1 package of onion soup mix
2 tablespoons of ketchup
1/2 teaspoon black pepper
4 tablespoons of corn starch
8 tablespoons of water
fresh parsley
Directions:
Step 1:
Combine ground beef, eggs, panko, Worcestershire sauce, dried parsley, salt, pepper, garlic, and onion powder in a large bowl.  Measure each patty using a 1/2 measuring cup and form it into hamburger patties. Then place on a plate.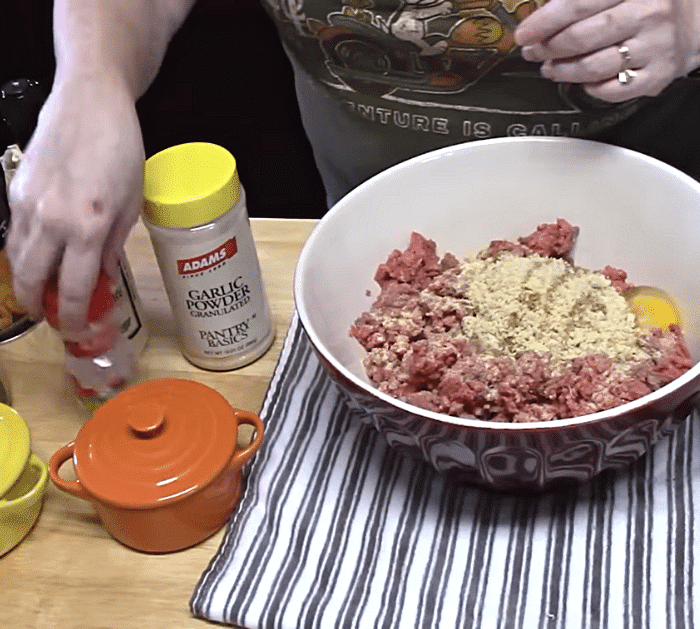 Step 2:
Bring your skillet to medium heat and put butter and cooking oil. Place some hamburger patties into the skillet and let them sear for 3-4 minutes until brown. Turn them over and sear again for two (2) minutes.  Spray the crockpot with non-stick cooking spray and place the seared patties into the bottom. Continue cooking the rest on the skillet.
Step 3: 
Leave one tablespoon of hamburger grease in the skillet. Add the chopped onion and cook for 2-3 minutes until soft. Combine garlic and stir for a minute. Next, add the broth, onion soup mix, ketchup, and black pepper. Stir, then turn off the heat. Pour the gravy over the hamburger patties in the crockpot.
Step 4:
Place the crockpot lid and cook the Salisbury steak on low heat for 5-6 hours (for high heat for 3-4 hours) until fork tender and cooked inside. Next, make the cornstarch slurry by whisking corn starch and water until smooth. Then pour it into the sauce and stir until the gravy thickens.
Enjoy your delicious Salisbury steak with mashed potatoes and grilled asparagus!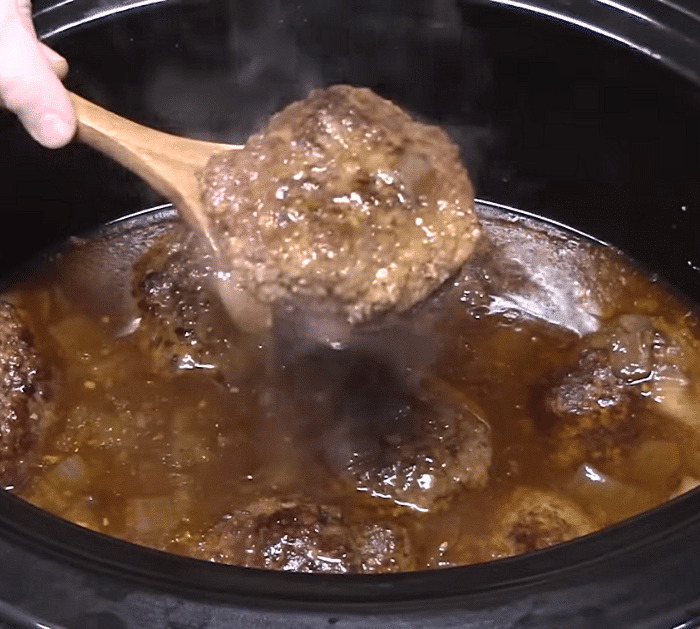 Crackpot Salisbury Steak Recipe
The post Crackpot Salisbury Steak Recipe appeared first on DIY Joy.
This post often contains affiliate links. All products are ones I love. If you choose to buy one of these items through the link provided, I will get a small commission at no extra cost to you.