This quick and easy recipe Honey Lime Chicken is full of flavor and can be used in so many ways. We love to make tacos out of it, serve it with rice or make a chicken sandwich with it.
I love a meal you can throw on the grill and have dinner ready quick. A few of my other favorite dishes to grill are Asian BBQ Chicken, Beef Shiskabob, Chili Lime Chicken Skewers, and Fast Fire Flank Steak.
Easy Dinner Idea
This recipe is the one you pull out when youre feeling uninspired and having one of those I dont know what to fix for dinner days.Two things I always have on hand are chicken and rice. Chicken and rice is a great go to for those uninspired days. But just plain old chicken and rice can get boring so todays recipe is a quick and easy dress up for that good old stand by using things you most likely already have on hand.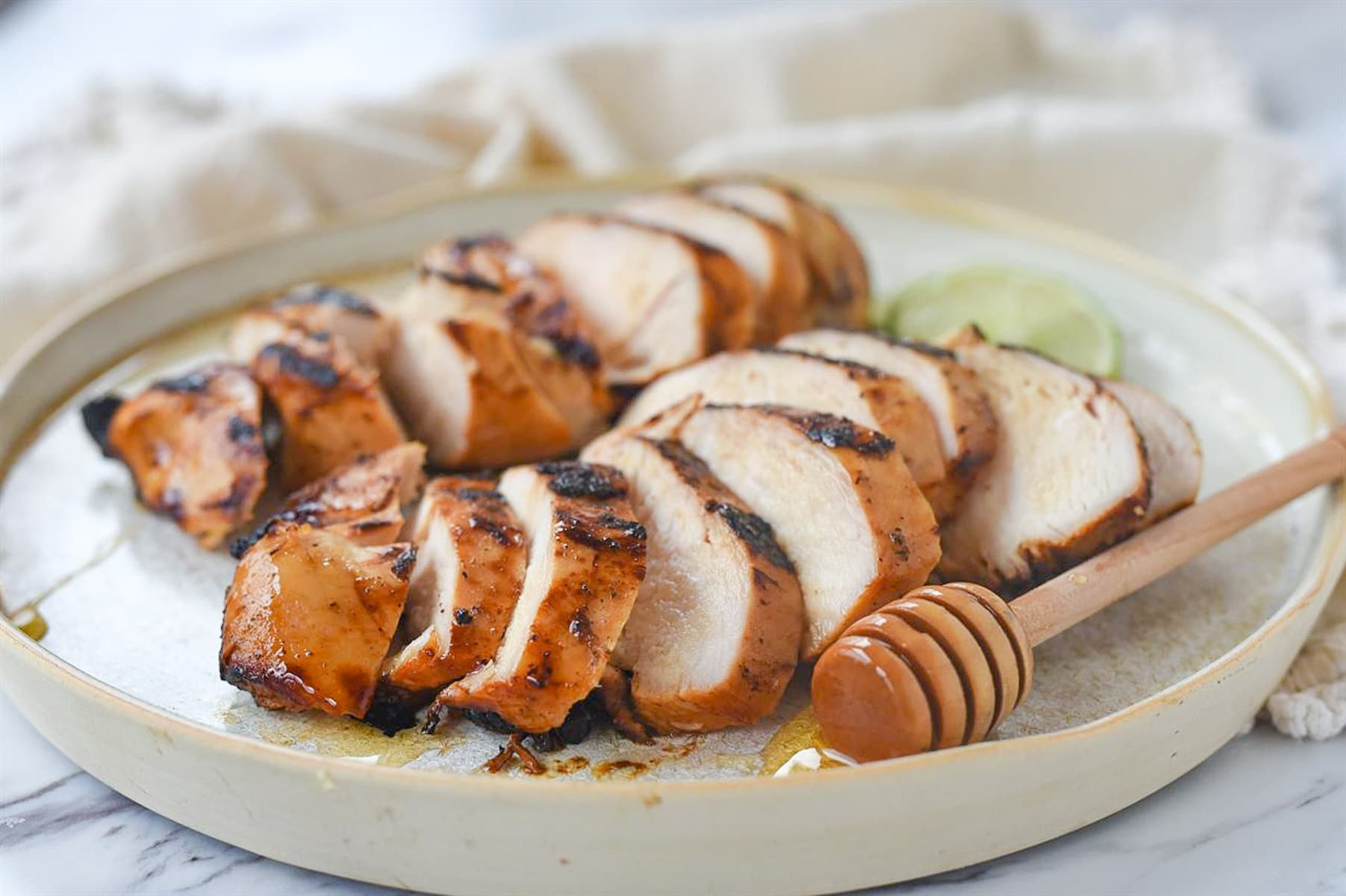 How to Make Honey Lime Chicken
Marinade The recipe uses a fresh squeezed lime juice. I try to always have some type of citrus such as orange, lemon or limes on hand. Although this recipe calls for lime I think it would work great with orange or lemon too. If you dont have any fresh juice on hand that bottle of lemon or lime juice in the refrigerator works in a pinch! A quick marinade of olive oil, lime juice, honey and some seasonings and youve got dinner. Its great if you can marinate it overnight but if you only have 30-60 minutes that will work too and you will still have great flavor. I just add the chicken and all the ingredients into a zippered plastic bag and smash it all together to get the chicken nice and coated with the marinade. Refrigerate for 60 minutes to overnight.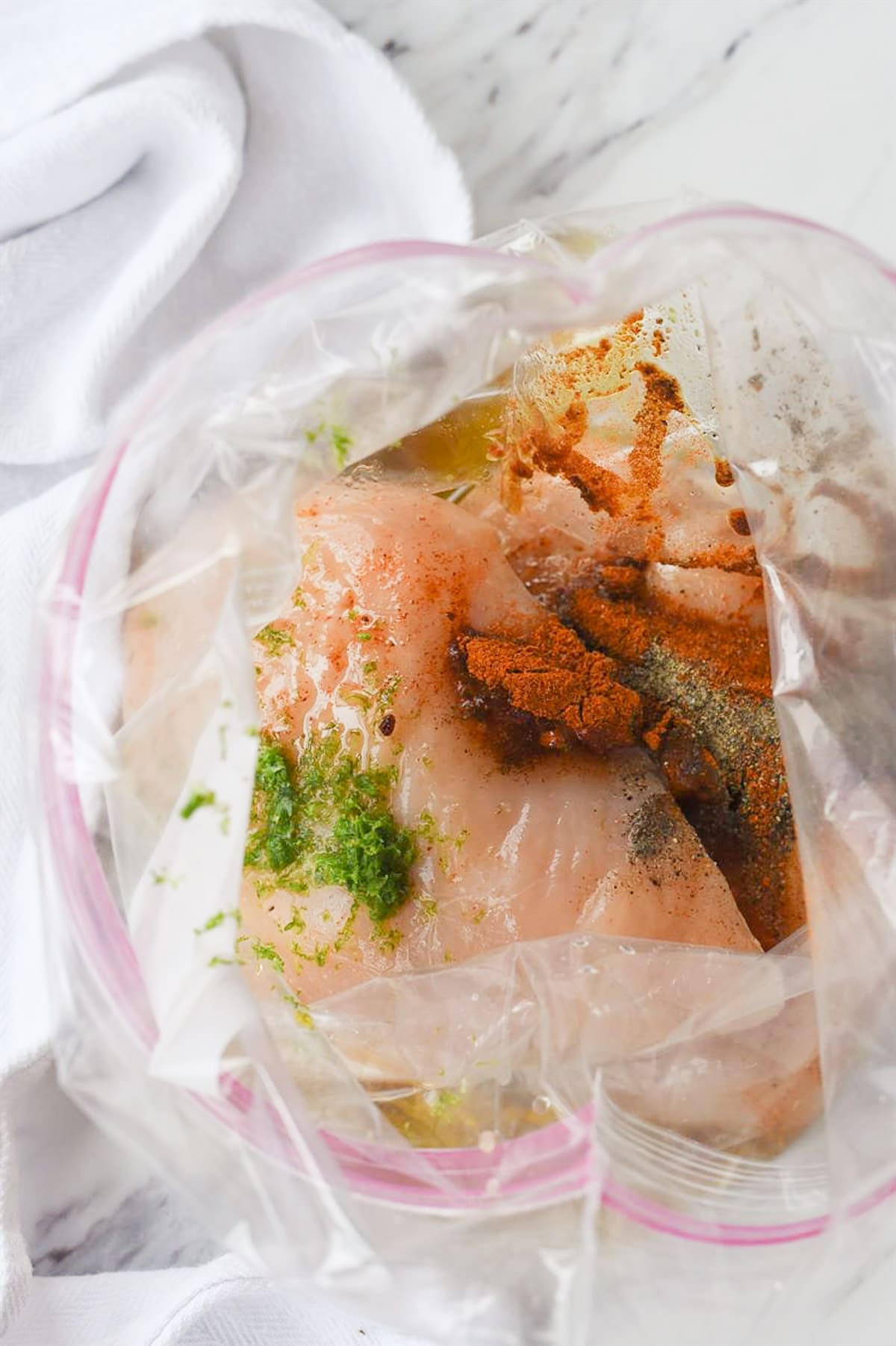 How to Get Tender Chicken?
Grill I like to grill the chicken but you can also bake it in the oven or cook it in a pan on top of the stove. Chicken is cooked when it reaches 165 degrees F but I usually pull mine off at about 155-160 F and let it sit for a few minutes. It makes for more tender and juicer chicken. It is really easy to overcook chicken which dries it out and makes it tough. Dont be afraid to undercook it by 5-10 degrees and then allow it to rest for 3-4 minutes to come up to temperature.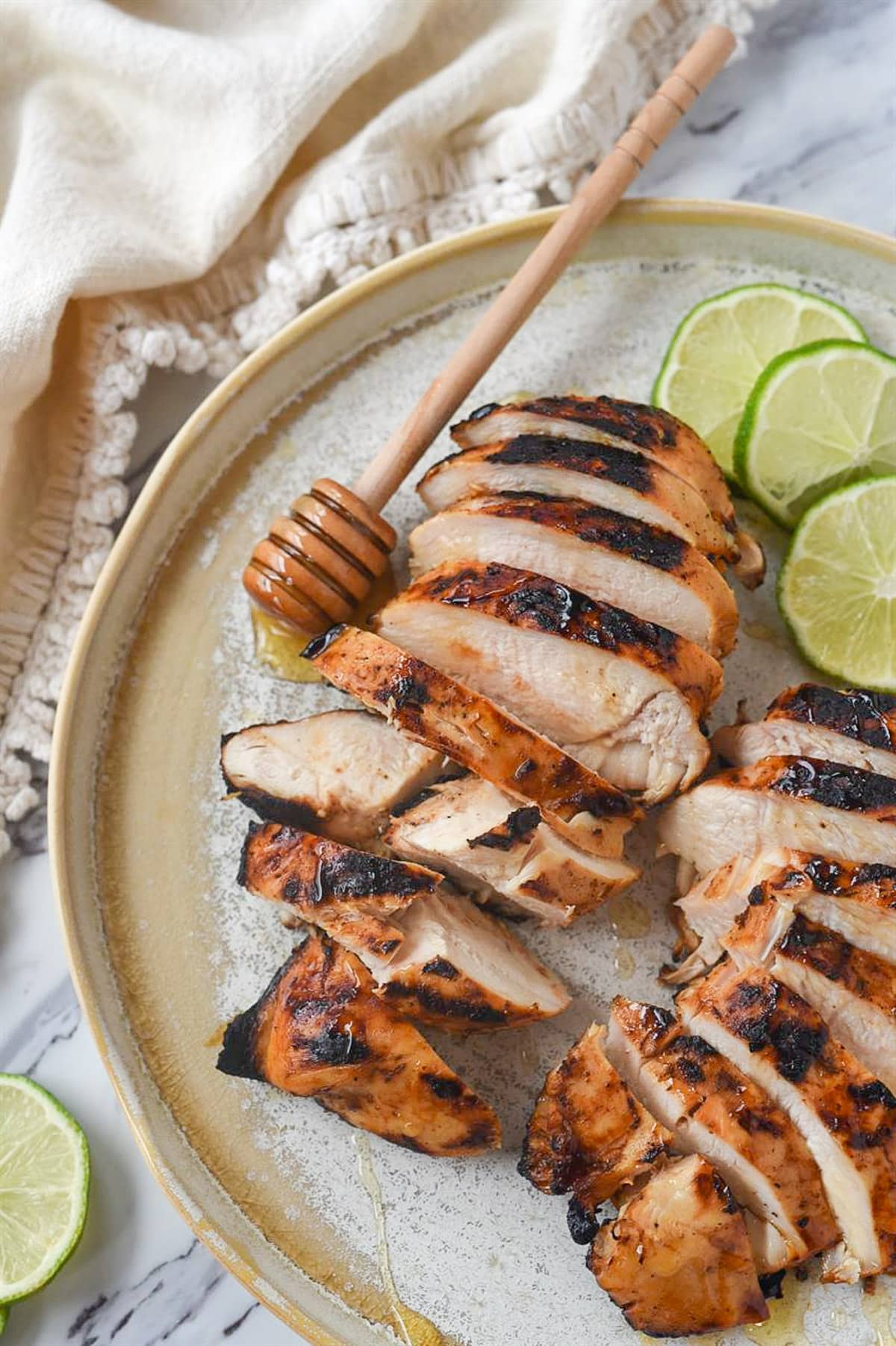 After it is cooked I like to slice it, put it on the serving plate and then drizzle a little more honey over the top for an extra touch of sweetness.
Bone-In vs Boneless Chicken
For grilling I always prefer boneless, skinless chicken. I usually use chicken breast for this recipe but it would be delicious with boneless, skinless chicken thighs also. If you are baking it in the oven you can also use chicken with the bone in if you prefer.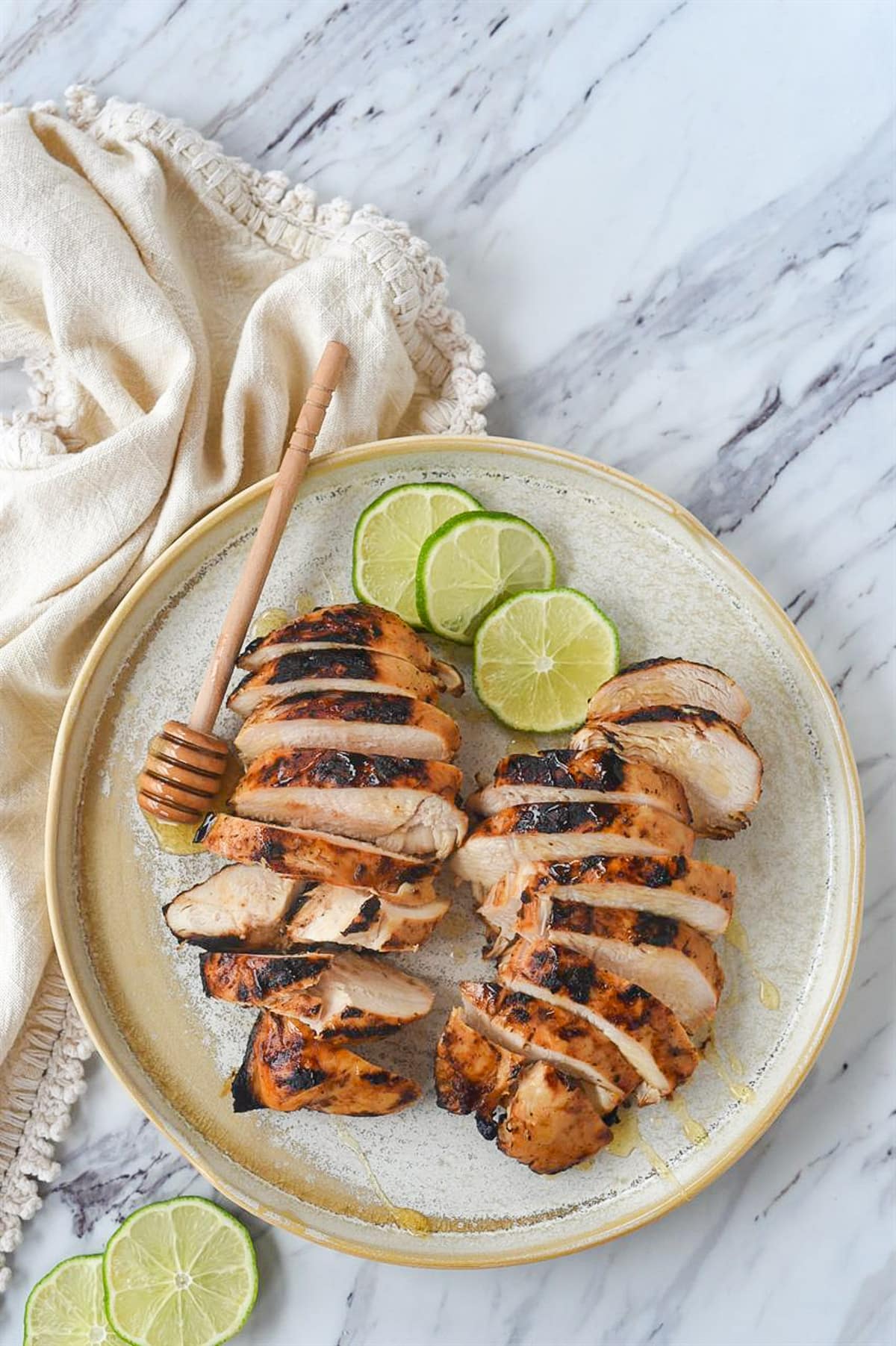 What do you serve with Honey Lime Chicken?
For all of my other favorite kitchen products and tools visit my Amazon Store.
Did you know I wrote a cookbook? Check out the Holiday Slow Cooker Cookbook for 100 delicious recipes.
Honey Lime Chicken Recipe
Honey Lime Chicken
This quick and easy recipe Honey Lime Chicken is full of flavor and can be used in so many ways. We love to make tacos out of it, serve it with rice or make a chicken sandwich with it.
4 boneless skinless chicken breasts
1/4 cup olive oil
1/4 cup fresh squeezed lime juice (about 2 limes Or substitute lemon or orange juice.)
zest of one lime
2 Tbsp honey
1/2 tsp cayenne pepper
1 tsp salt
1 tsp black pepper
In a large plastic bag combine all the ingredients except for the chicken.
Mix ingredients together
Add chicken to bag and turn to coat. Seal and refrigerate overnight or for a few hours.
Chicken can be grilled indoors or outdoors on medium high heat. Grill on each side until juices run clear.
Serve with rice and a garnish of pepitas if desired.
Originally posted February 1, 2012
If youve tried this recipe or any other recipe on Your Homebased Mom, then dont forget to rate the recipe and let me know how it went in the comments below, I love hearing from you!
You can also FOLLOW ME on FACEBOOK, INSTAGRAM and PINTEREST to see more delicious food, party ideas and travel tips and what Im up to on a daily basis!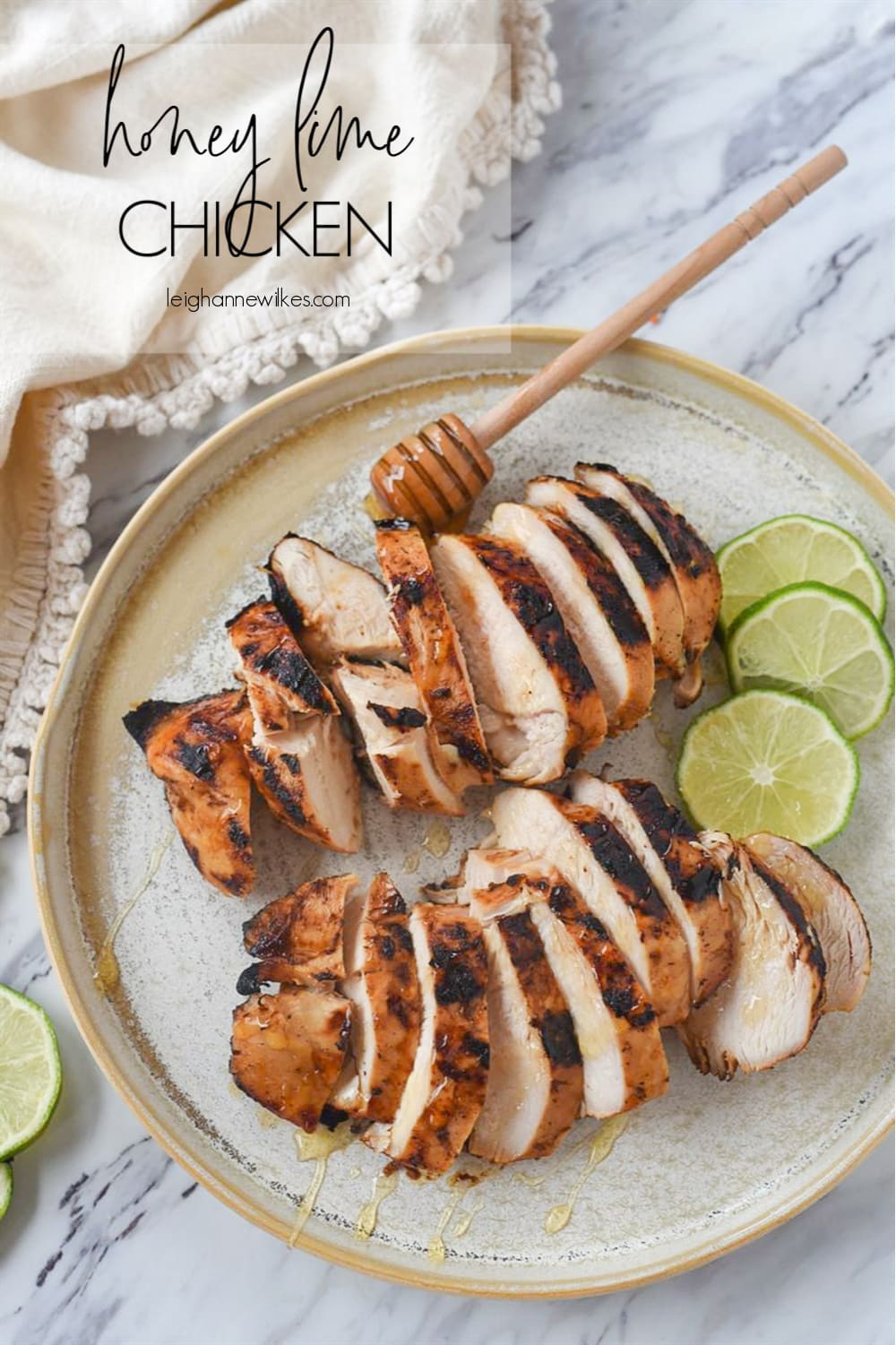 Continue reading Honey Lime Chicken. This post is from Your Homebased Mom. If you are not reading it from our feed, it has been STOLEN. Please contact Leigh Anne to let us know. Enjoy the posts.
**Disclaimer This article often contains affiliate links. All products are ones I recommend. If you choose to buy one of these products through the URL , I will receive a small commission at no extra cost to you.