Consumer Reports' member survey reveals the brands that last—and which brands fall short By Consumer Reports
A toaster oven earns its spot on the kitchen counter for being able to do a lot more than make toast. It can broil burgers, roast asparagus, bake cookies, and reheat leftovers. But longevity factors in, too. How long before this appliance conks out?
Generally speaking, a toaster oven should last a while. Ninety-one percent of the toaster ovens CR members purchased since 2013 were still being used when we conducted our surveys in 2019 and 2021; only 5 percent had been replaced because of reliability problems. That's good news if you're looking to buy a toaster oven.
Our survey is based on the track records of 40,690 toaster ovens owned by CR members who purchased a new machine between 2013 and 2021. We crunched that data to produce a rating for predicted reliability, which estimates the likelihood that newly purchased toaster ovens from a given brand will develop problems or break within the first four years.
The owner satisfaction rating reflects the proportion of CR members who are extremely likely to recommend the toaster oven they bought. You'll see both reliability and satisfaction ratings combined with lab test results for models in our toaster oven ratings. Prices range from $45 to $400, and performance varies just as widely.
Below, we detail our survey results for 19 brands, including Breville, Cuisinart, Hamilton Beach, and Panasonic.
Most Reliable Toaster Oven Brands
Breville, Calphalon, NuWave, Oster, and Panasonic were the most reliable brands in our survey, snagging an Excellent rating for predicted reliability. Owners of Breville and Panasonic models are generally very happy with them; these brands also earned Excellent ratings for owner satisfaction. Oster and Calphalon, however, earned only a Good rating for owner satisfaction, while NuWave earned only a Fair rating.
Three brands earned Very Good ratings for reliability, but with varying degrees of owner satisfaction: Cuisinart and KitchenAid earned Good owner satisfaction ratings; and Hamilton Beach earned a Fair rating. Owners of Bella, Emerson, and Toastmaster toaster ovens are the least satisfied with their models—these three brands earned a Poor rating for owner satisfaction.
Least Reliable Toaster Oven Brands
CR cannot recommend toaster ovens from the brands Wolf and Farberware, regardless of how well they perform in our lab tests, because both received only Fair ratings for reliability. Despite their low reliability scores, Wolf toaster ovens received an Excellent rating for owner satisfaction—the only brand outside of our top-rated Breville and Panasonic to do so.
Impressive Toaster Ovens From CR's Tests
Our tests find that you can't get a toaster oven that's great at everything. We suggest you consider which functions are the most important to you and check our toaster oven ratings to find the models that earn high scores in those tests. One hint from our members: Look for a model that we rate as easy to clean because difficulty cleaning was survey respondents' biggest complaint. Here are four toaster ovens that perform well in our lab tests and earn high scores for reliability.
(You won't see picks from Calphalon and Oster below, though those brands are among the top of the pack in terms of brand reliability. Models from these two brands currently in our ratings don't perform well enough in our lab tests to sit in the top tier of our ratings.)
Breville Smart Oven Air Convection BOV900BSSUSC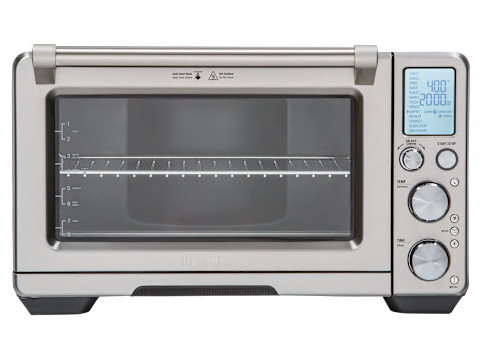 CR's take: The 1,800-watt Breville Smart Oven Air Convection scores a Very Good rating in our baking test, and has an impressive eight rack positions, with a temperature range of 80° to 480° F. It's terrific at toasting and fits six slices, but it's the slowest of the models here, taking almost 7 minutes to toast six slices using the medium setting. It has a convection option, a setting that dehydrates fruits and vegetables, and an air fryer option. We tried it, cooking fresh chicken wings, frozen curly fries, and a variety of other foods, and found that they were crispy outside and moist inside.
Breville Smart Oven BOV800XL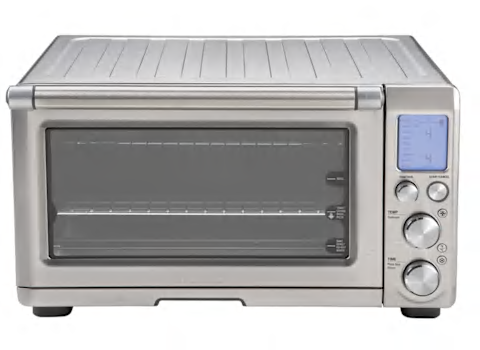 CR's take: A compact toaster oven that deserves every inch of counter space is the 1,800-watt Breville Smart Oven BOV800XL. With a temperature range of 120° to 450° F, it does a nice job of baking food, reheating leftovers, and turning out a batch of even, medium-brown toast. The unit is easy to clean and can fit up to six slices of bread. One minor drawback, though: Our testers find that this model isn't as good at toasting a single slice as it is at toasting a batch of bread. That's something to consider if you frequently toast just one piece to have with your morning coffee or juice.
Cuisinart Deluxe Convection TOB-135N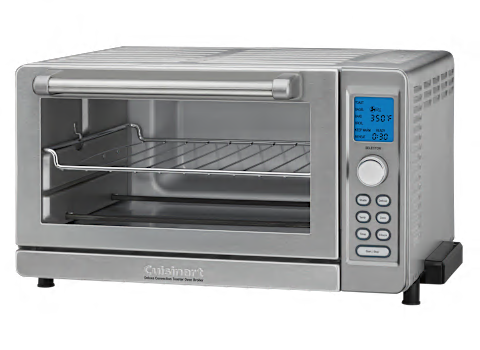 CR's take: The 1,800-watt Cuisinart Deluxe Convection TOB-135N is exceptionally easy to use and bakes very well, though it doesn't reheat food as evenly or quickly as the Breville models above. It earns an Excellent rating at toasting a full batch of bread, producing evenly-browned slices—only four at a time, however, as this unit is on the small side. It has a temperature range of 150° to 500° F. There are settings for reheat, defrost, broil, keep warm, bagel, and convection, and you get three rack positions. Cuisinart toaster ovens received Very Good ratings for their reliability based on our member surveys.
Cuisinart TOA60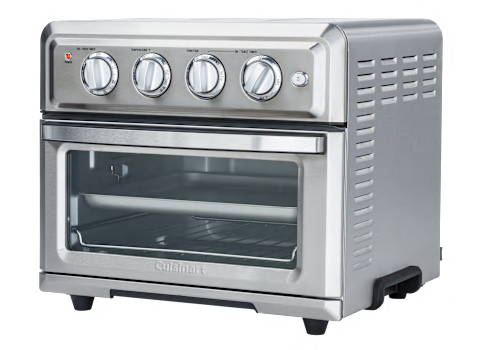 CR's take: The Cuisinart TOA60 Toaster oven excells at evenly warming cold lasagna, scoring an Excellent in our reheating test. It's also easy to use and clean. However, it lags behind other models we recommend in baking and toasting—both for toasting a batch of six slices and for how long it takes to toast them (it does better on a single slice). This 1,800-watt oven has a temperature range of Warm to 450° F. It has only two rack positions, but its air fryer function works well. Cuisinart toaster ovens received Very Good ratings for their reliability based on our member surveys.
Consumer Reports is an independent, nonprofit organization that works side by side with consumers to create a fairer, safer, and healthier world. CR does not endorse products or services, and does not accept advertising. Copyright © 2022, Consumer Reports, Inc.
This article contains affiliate links. All products are ones I use. If you choose to buy one of these items through the URL , I will receive a small commission at no extra cost to you. All proceeds help support the blog.