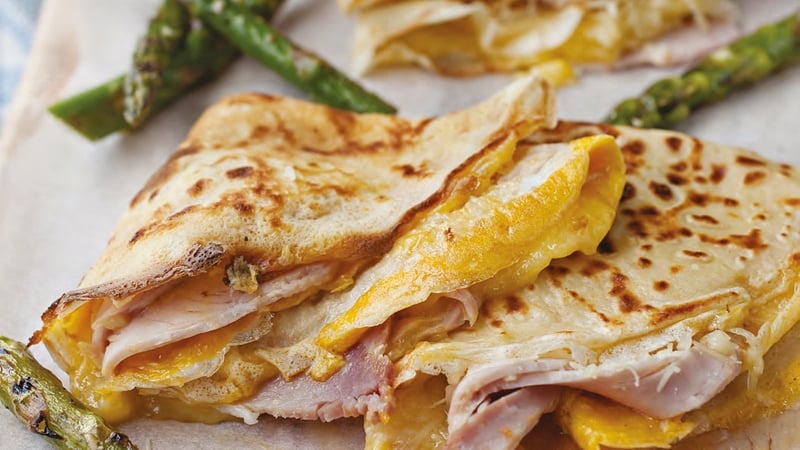 More From
Neven Maguire: Home Chef

This is a perfect tea for lots of hungry children, but it would also be a good weekend late breakfast, depending on your mood. It's the classic way that many crêpe stallholders cook crêpes to order late at night around the major tourist attractions in Paris. They are always very popular, often with long queues, and once you've tasted them it's easy to understand why.
Ingredients
24 asparagus spears
8 eggs
450 g swiss cheese, such as gruyère or emmental (thinly sliced)
8 slices of cooked ham
1 tblsp olive oil
Crêpes:
100 g plain flour
1 egg
300 ml milk
sunflower oil (for frying)
sea salt
black pepper (freshly ground)
Method
Sift the flour and a pinch of salt into a bowl and make a well in the centre. Add the egg and whisk well with a balloon whisk.
Gradually beat in the milk, drawing in the flour from the sides to make a smooth batter. Leave to rest for 5 minutes.
Meanwhile, trim the asparagus spears and blanch in a pan of boiling water for 1–2 minutes, until almost tender but still with a slight bite.
Drain and refresh under cold running water to prevent them from cooking any further and set aside until needed.
Heat a little oil in an 18cm (7in) heavy-based pancake or frying pan. Pour in just enough batter to thinly coat the base of the pan.
Cook over a moderately high heat for about 1 minute, until golden brown. Turn or toss the crêpe and break in an egg, then gently whisk to spread it evenly all over the crêpe.
Season to taste.
**Disclaimer – This article often contains affiliate links. All products are ones I have. If you choose to buy one of these items through the URL provided, I will get a small commission at no extra cost to you. All proceeds help support the blog.