Do you want to transform everything you love about lasagna into a sharable snack? Then thisOlive Garden Lasagna Diprecipeis what you need.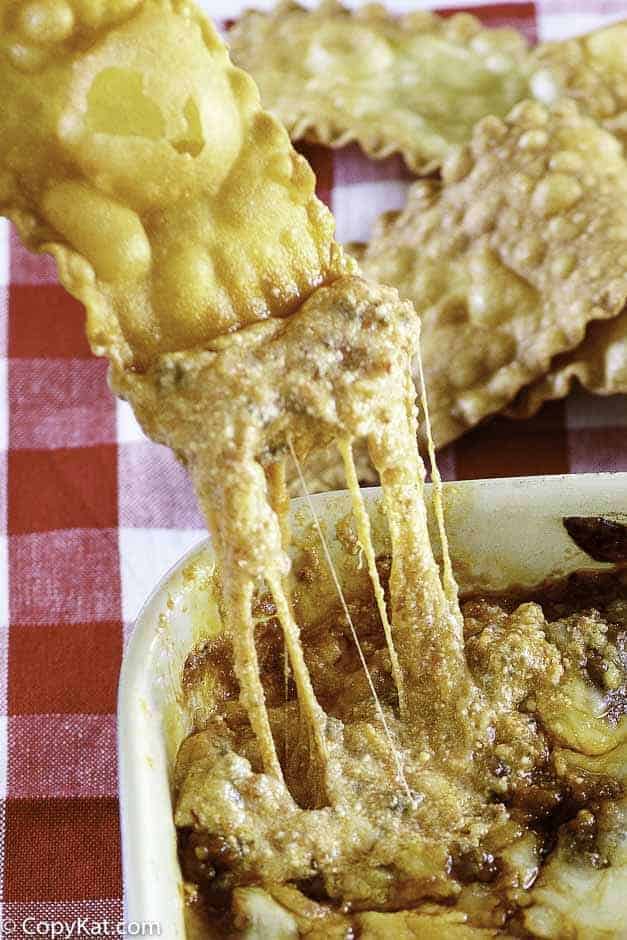 Once you try this dip packed with meat, cheese, and smothered in a rich tomato sauce, you will never want to go back to run-of-the-mill salsa ever again.
Try prepping the dip and chips beforehand, and you can bring this lasagna appetizer piping hot to the table in minutes.Olive Garden Lasagna Dipmakes the perfect casual family meal starter. Or you can serve it as the MVP at your next game day tailgate buffet.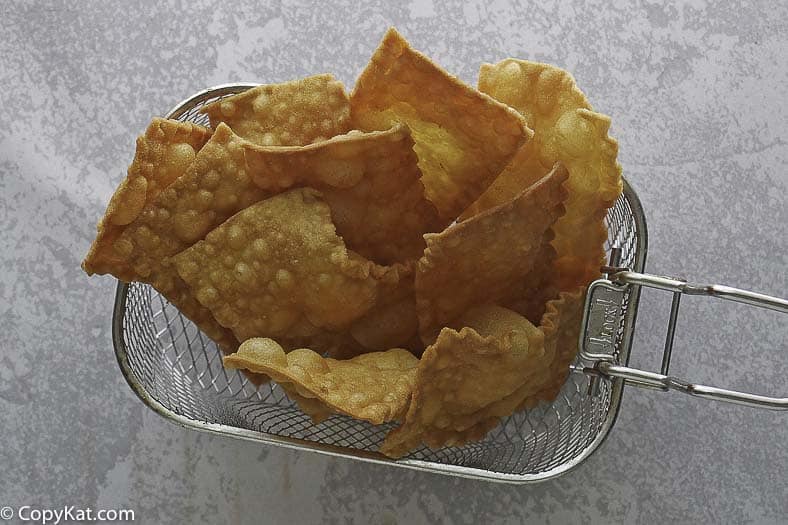 Making Your OwnPasta Chips
If you are pressed for time, then just about any type of hearty chip or thinly sliced crusty bread will work with this dip. But what really takes this snack to the next level is when you make your own homemadepasta chips. And dont worry, it is not as hard as you think.
Most home cooks are intimidated when it comes to deep-fat frying. As long as you follow a few simple guidelines, it is simple, and there is nothing to stress about.
Cook the lasagna noodles according to the package instructions. Save the no-boil lasagna noodles for a different dish, they wont work in this recipe.
Use a paper towel to pat dry the noodles thoroughly. Any water left on the noodles will cause the hot oil to sizzle and splash.
Heat the vegetable oil in a heavy-bottom pan like a Dutch oven. While the oil is coming to temperature, cut cooked noodles into chip-sized portions.
Use a thermometer to check the oil is at 360 degrees.
Gently place two sheets worth of cut pasta into the hot oil. Fry in batches for a minute on each side until golden brown and bubbly. Remove and place on a wire rack. Pat dry and season with garlic salt.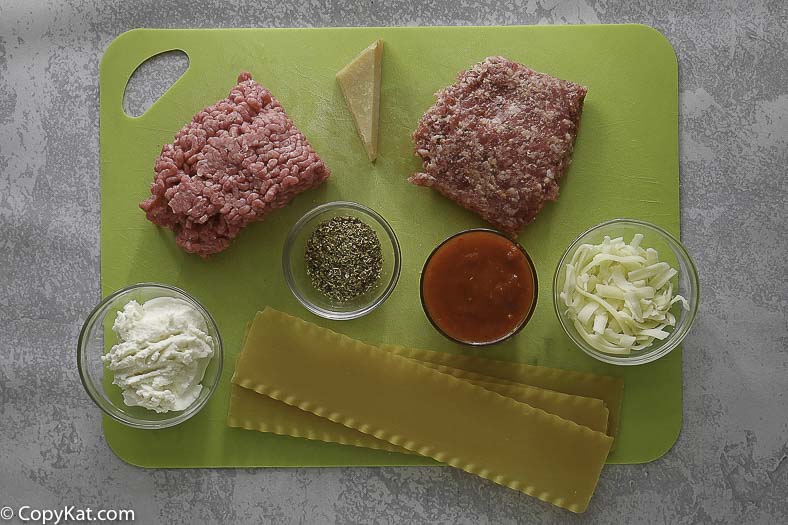 Cooking and Serving Tips For theOlive Garden Lasagna DipRecipe
Serve in individual cast iron pans.You can increase the cute factor by giving each of your guests there own dip. No worries about double dipping and no fighting over the bit stuck in the corners.
Add a bit of variety to yourpasta chips.Get creative with your seasonings. Think about strong, bold flavors like powdered chili or parmesan cheese.
Pack the leftovers for lunch the next day.Turn any leftover dip and chips into a mock lasagna by alternating layers in a small Tupperware container. By the time lunch rolls around, the noodles will soften enough to eat with a fork. Heat for a minute or two until hot enough.
Do you want more lasagna recipes?
We have a lot to try:
Do you want to keep up with all of our new recipes? Then follow us on Instagram? Are you looking for more detailed instructions?Check out our videos on YouTube.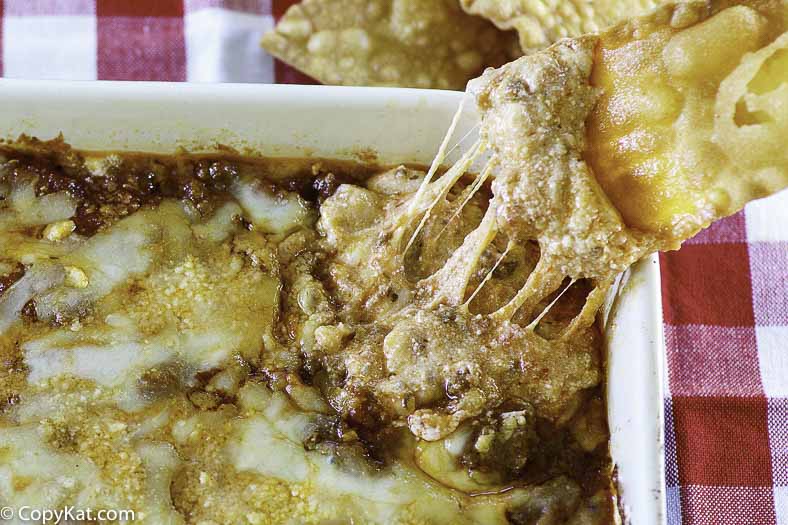 Olive Garden Lasagna Dip
Olive Garden Lasagna Dip is a hot and cheesy dip with sausage, beef, and marinara sauce. Find out how to make it at home with this easy copycat recipe.
Pasta Chips
16 ounces lasagna noodles
vegetable oil for frying
1/2 teaspoon garlic salt
The Dip
24 ounces Marinara sauce
8 ounces ground Italian sausage
4 ounces ground beef
1/2 teaspoon Italian seasoning
16 ounces ricotta cheese
2 cups Mozzarella cheese (shredded)
1/4 cup shredded Parmesan cheese
Pasta Chips
In a large pot of salted boiling water cook the flat lasagna noodles until al dente. Drain pasta, be careful not to tear the noodles.

While the noodles are cooking preheat the vegetable to around 360 degrees.

Gentry pat the noodles dry with a paper towel.

Place a few of the lasagna noodles into the hot oil cook until golden brown and crispy. Place the noodles in a wire rack to cool. Immediately sprinkle with garlic salt. Work in small batches until all of the noodles are cooked.
The Dip
Preheat the oven to 375 degrees.

In a large saucepan cook the ground Italian sausage and the ground beef over medium heat until the meat has browned. Be sure to break up the meat into small pieces while cooking. Drain meat, and place back into the saucepan.

Add Marinara sauce to the meats, season with Italian seasoning. Heat through, simmer for about 10 minutes.

Use a 1-quart deep casserole dish or a large 12-inch iron skillet to build the dip. Place half of the sauce in the bottom of the pan. Spread all of the ricotta cheese in the bottom in the dish. Add half of the Mozzarella cheese on top of the ricotta. Add the remaining sauce on top of the mozzarella cheese.

Top with remaining cheese, and parmesan cheese. Cook for about 25 minutes to warm the dip, and if desired set the oven to broil to brown the cheese.

Serve the dip with the pasta chips.
If desired, instead of Mozzrella cheese, you can use one of the Italian cheese blends already shredded.
The post Olive Garden Lasagna Dip and Pasta Chips appeared first on CopyKat Recipes.
My article often contains affiliate links. All products are ones I use. If you choose to purchase one of these products through the URL provided, I will get a small commission at no extra cost to you.