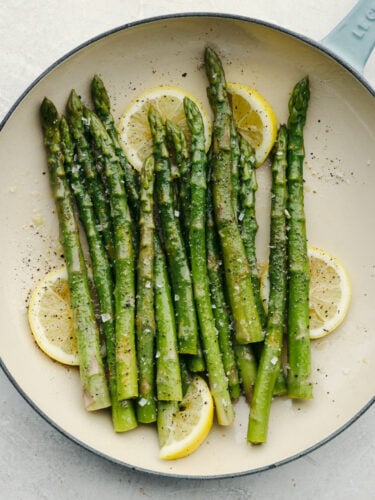 Steamed asparagus is the perfect addition to any meal! All it needs is a squeeze of lemon and freshly cracked salt and pepper to be a knockout side!
Everyone tells you to eat more vegetables, but with these recipes, you'll actually want to! Roasted garlic broccoli, lemon potatoes, and cauliflower steaks are all so tasty and easy to throw together! Simple spices enhance their naturally delicious flavor.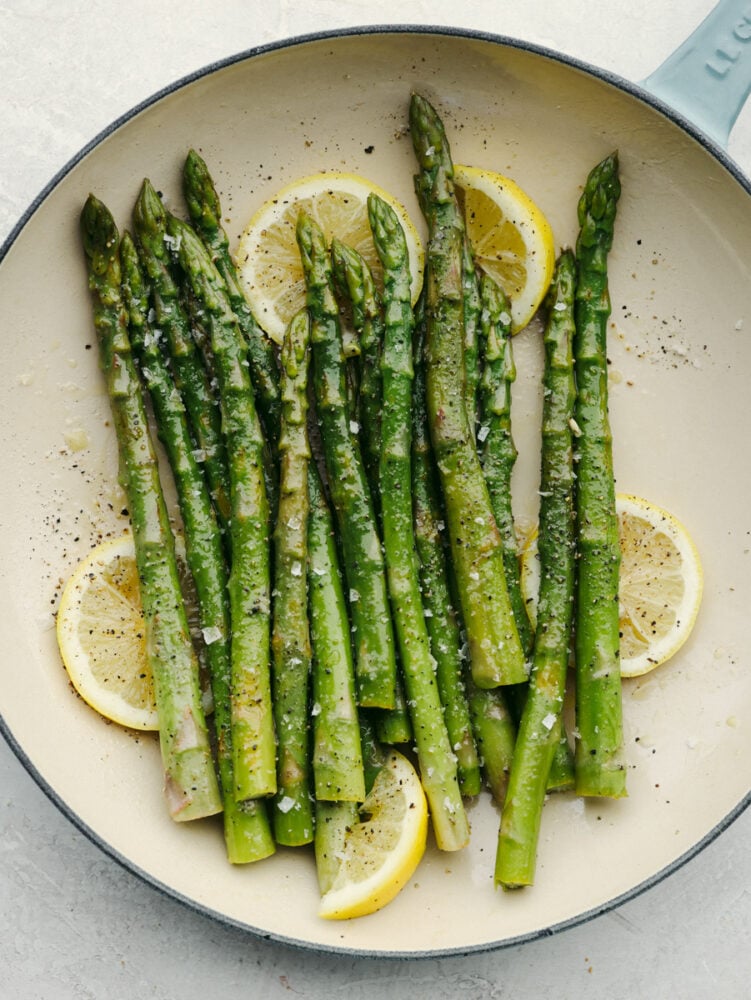 Easy Steamed Asparagus Recipe
Asparagus is hands-down my favorite vegetable to make as a dinner side. They have such a mild flavor and the perfect crunch! Not to mention, all you really need is a little salt, pepper, and olive oil to enhance it! Steaming asparagus is one of my favorite ways to prepare it. It makes it so moist and tender! Baking or air frying asparagus can be a little tricky, cook too long and you'll end up with shriveled asparagus. But this recipe couldn't be easier! Just simmer on the stove for a few minutes and you'll end up with delicious asparagus every time!
I love making steamed asparagus on busy weeknights. Pair it with an easy dish like Greek lemon chicken, Swedish meatballs or schnitzel. With all that amazing flavor, your family will never know it only took minutes to make! Plus, steaming vegetables helps them to retain all of their amazing nutrients, making it both a delicious and healthy choice! Your family will love steamed asparagus just as much as I do! And if you're looking for more tried and true asparagus recipes, try asparagus salad with lemon vinaigrette or bacon-wrapped asparagus next!
Everything You Need to Make Steamed Asparagus
I mean, does it get any simpler than this? Only 4 ingredients are needed here! You really don't need any fancy ingredients to make a solid vegetable side. Gotta let that amazing natural flavor and texture shine through! All measurements can be found in the recipe card below.
Asparagus: Just one stalk should be enough to feed your family!
Olive Oil: Adds a hint of flavor and helps seasonings stick.
Lemon Juice: I like using fresh lemon juice for flavor, but you can use bottled lemon juice too.
Salt and Pepper: Freshly cracked to enhance flavor! I also like to use sea salt instead of table salt for a chunkier texture.
How to Steam Asparagus on the Stove
Steaming your asparagus only takes 3 simple steps. It's so easy, you won't even need to look at the recipe next time! With how tender and amazing it turns out, you'll want this with every meal.
Fill Pan, Boil: To begin, in a medium-sized skillet, fill the skillet with 1-2 inches of water. Add the asparagus and bring to a boil.
Simmer: Next, reduce to a simmer and steam for 4-6 minutes or until tender.
Toss With Oil and Seasonings: Remove the asparagus from the water and toss with olive oil, lemon juice, and salt and pepper.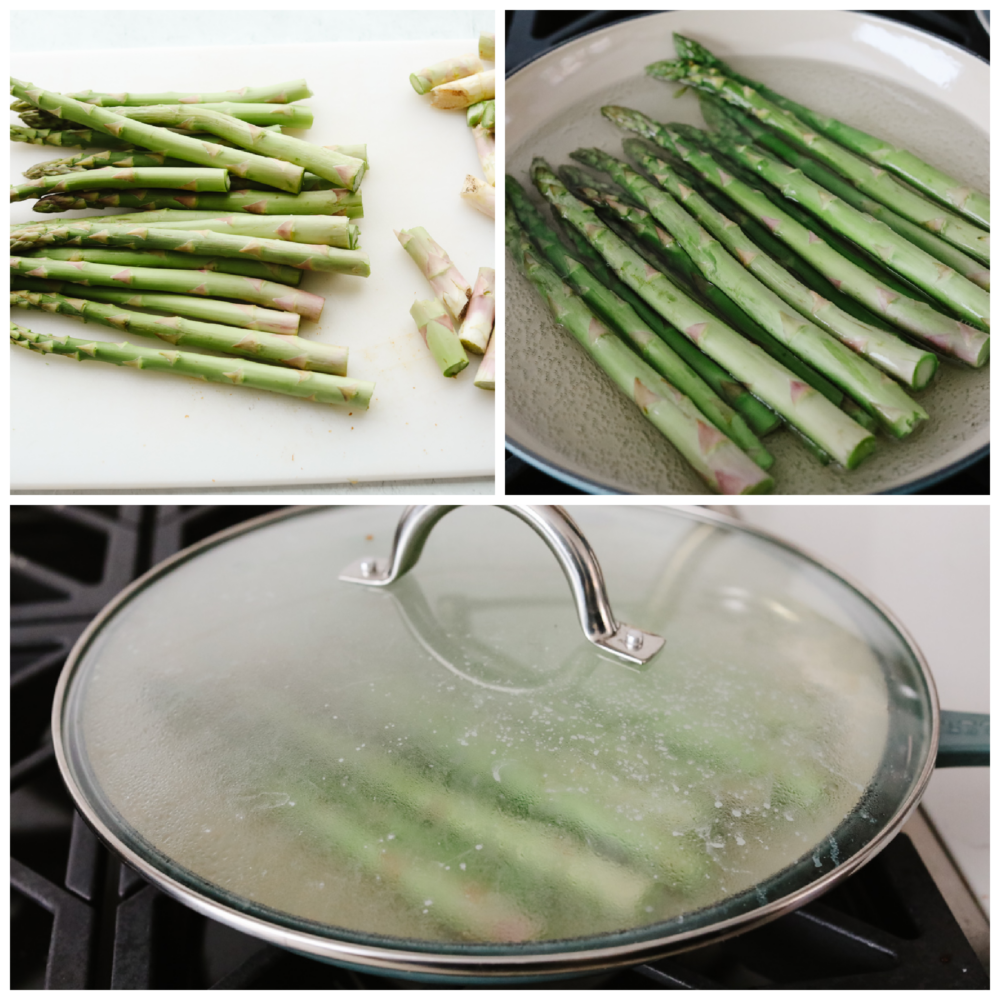 **Disclaimer – My article often contains affiliate links. All products are ones I recommend. If you choose to buy one of these items through the URL , I will get a small commission at no extra cost to you.