A tasty dish doesn't always require a lot of special ingredients or methods, most of the time, the simplicity of the recipe is what makes it more special. Just like this skillet shrimp, sausage, and veggies by Smokin' & Grillin' wit AB shared on YouTube.
Ingredients:
1-1.25 pounds Large or extra-large shrimp, peeled and de-veined
2-3 Andouille chicken sausage, sliced
1-2 medium-sized Zucchini, sliced
1 – 2 medium-sized Yellow squash, sliced
½ bunch Asparagus, sliced
2 Red bell peppers, chopped into chunks
2 tbsp Olive oil
2 tablespoons Cajun seasoning (creole kick)
Salt and pepper, to taste
Directions:
Step 1
Wash the vegetables well and start cutting them into pieces. The asparagus should be sliced into thirds and the sausages however you like, then add them all in a large mixing bowl. Meanwhile, sprinkle your bowl of shrimp with half of the creole seasoning and marinate it for a few minutes while preparing the other ingredients. Roughly chop the bell peppers, then for the squash and zucchini, first slice them into even thickness, then slice in half and half again (you'll have quarter-sized pieces).
Step 2
Add all the veggies to the large bowl of sausage and add in the marinated shrimp as well. Add some olive oil, then give them a good mix. Sprinkle the rest of the creole seasoning and mix them again until they are well coated/ seasoned. Heat your skillet pan, then pour about 1½ tablespoon of oil, and pour all of the mixtures. Give them a good mix and let them cook for about 8 to 10 minutes over medium-high heat. Grind some pepper over the top and mix well, let it cook for a few more minutes then serve.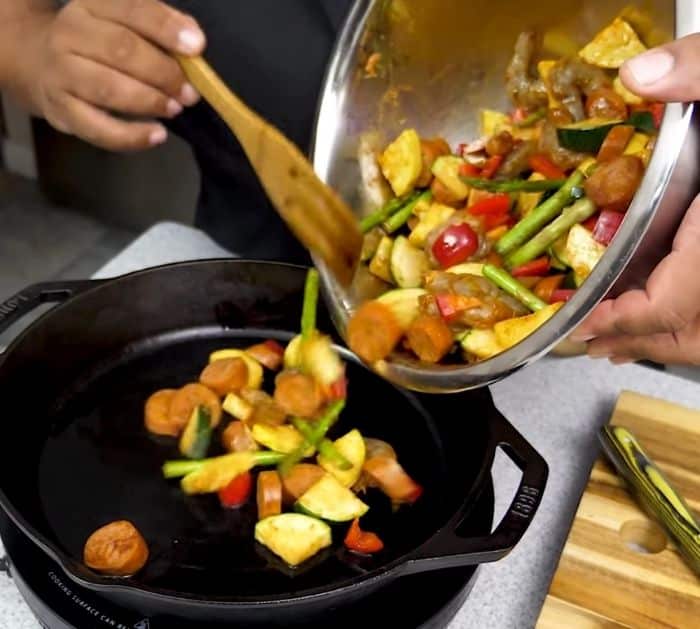 *All image credit belongs to Smokin' & Grillin' wit AB via YouTube. Follow and subscribe to his channel for more!
Skillet Cajun Shrimp, Sausage, and Vegetable Recipe
The post Skillet Cajun Shrimp, Sausage, and Vegetable Recipe appeared first on DIY Joy.
This post contains affiliate links. All products are ones I love. If you choose to purchase one of these products through the URL , I will receive a small commission at no extra cost to you.