Cauliflower florets are coated with a spicy batter and then baked in oven. You have the BEST Cauliflower Wings ever! Skinny, healthy, yet so tasty and addictive!
This post was originally published in 2015 and has been updated with new pictures and additional information.
Baked Cauliflower Wingsmake the perfect vegetarian substitute for crispy hot wings. These are loved not only by vegetarians, everyone in the family will be watching them bake in the oven impatiently. Even the kids! These healthy guys smell as tempting as they look and nobody asks for the real wings. This is the best way to include cauliflower in your familys diet.
Although they are super low in calories, these Skinny Cauliflower Wings are surprisingly addictive. If there are cauliflower haters around you, give them a batch of these spicy wings and see how they change their mind.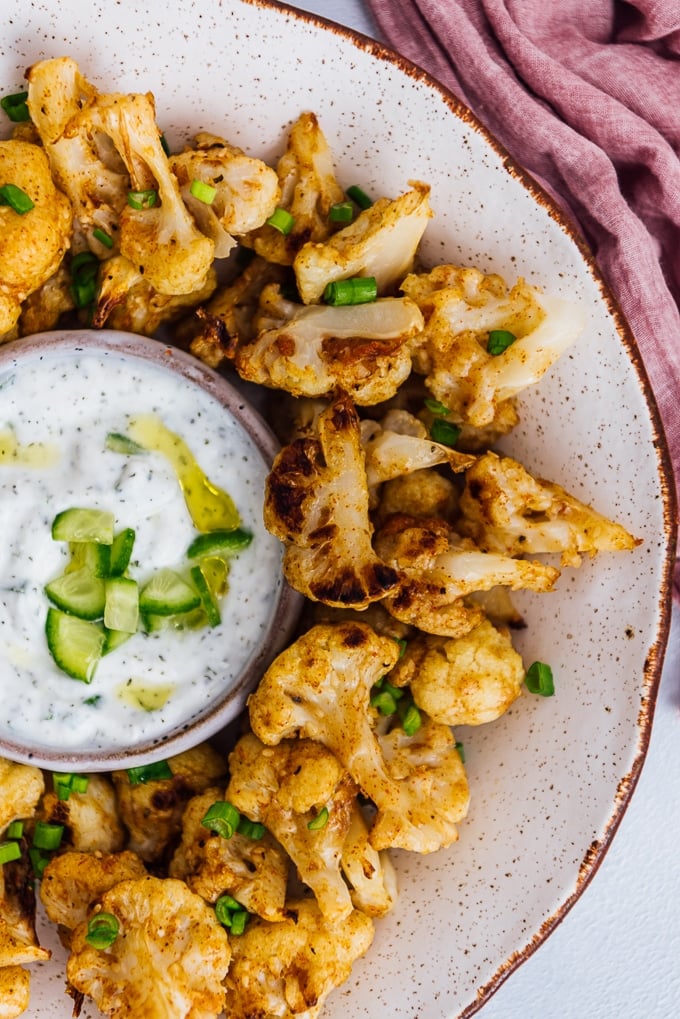 DO THEY TASTE LIKE CHICKEN?
These dont taste like chicken but the spicy flavor and somewhat crispy texture of these cauliflower bites make you fall in love with them. I must tell you that you shouldnt expect them to be very crispy, these are soft inside. But if you love spicy buffalo wings, you will love these too. Also, if you want these wings to taste like buffalo wings, you can even coat them with buffalo sauce after baking for 20 minutes and then bake for extra 10 minutes. You will end up with the best vegan buffalo wings ever!
HOW TO CUT CAULIFLOWER TO MAKE WINGS
Cut it into medium size florets. Leave some of the stem on the florets so that you can grab from there, dip into a sauce and easily throw into your mouth.
INGREDIENTS FOR VEGAN CAULIFLOWER WINGS RECIPE
Besides cauliflower florets, we need the following ingredients:
Water
All purpose flour
Garlic powder
Cumin
Chili powder or paprika
Salt
Black pepper
Sesame seeds
Olive oil
HOW TO MAKE CAULIFLOWER CHICKEN WINGS
The recipe has four easy steps:
First, cut the cauliflower in florets: Dont cut them in very huge pieces. Leave some of them stem on the florets so that you can hold from there when dipping the wings into the sauce.
Second, make the batter: Whisk together water, flour, spices and sesame seeds.
Third, dip cauliflower florets in the batter in batches: Make sure you shake off the excess batter. We dont want a lot of batter on the baking sheet.
Fourth, bake them in oven: Lay the cauliflower florets on a baking sheet lined with parchment paper. Make sure the florets dont overlap. They must be in a single layer. Drizzle olive oil over the florets and bake for 20 minutes. Remove from the oven, turn the wings over and bake for another 10 minutes. Serve hot with your favorite sauce.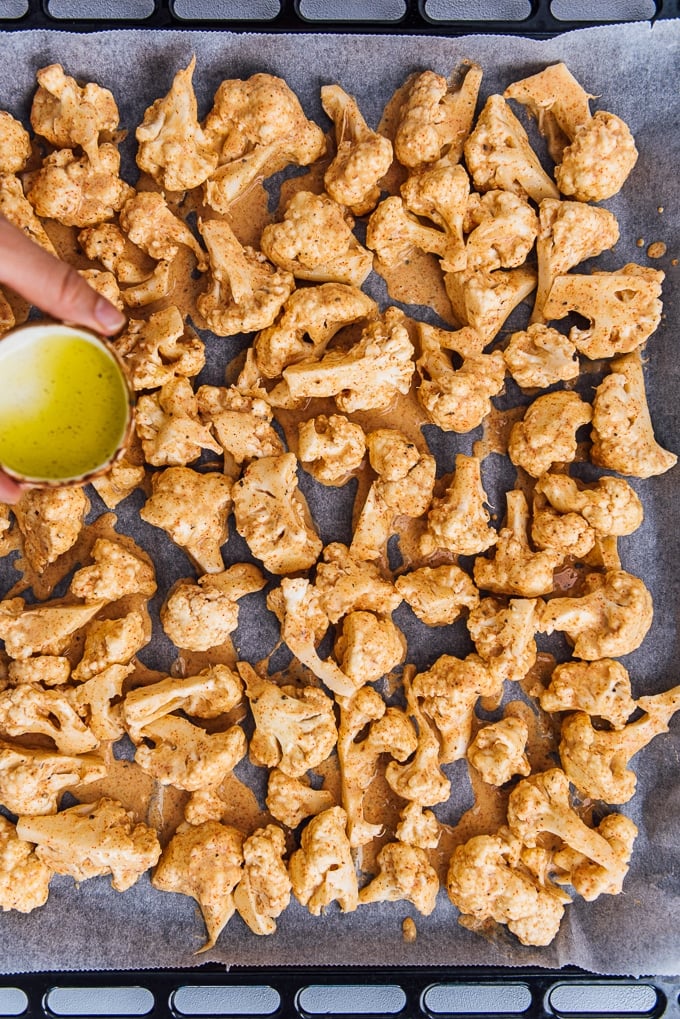 HOW TO MAKE THESE WINGS EVEN CRISPIER
If you are after crispy cauliflower florets but with less calories than deep fried cauliflower, make two coatings. After coating the florets with the batter, coat them with crumbled cornflakes and then bake.
WHAT TO EAT WITH CAULIFLOWER CHICKEN WINGS
We love to dip these amazingly tasty bites into a Turkish Yogurt Sauce, they make a wonderful match. But you can serve these with ranch dressing, buffalo sauce or bbq sauce too.
FAQs ABOUT BAKED CAULIFLOWER WINGS
Can I make this vegetarian wings recipe without flour? Yes, you can. The batter with flour gives a nice texture on the outside, but you can definitely make it without the batter. So coat the cauliflower florets only with spices and olive oil and then bake.
Can I make this recipe gluten-free? Yes, you can. Either omit the flour or use almond flour.
Can I deep-fry or air-fry these? Yes, you can. I just wanted to make them healthier and less messy, so I used the oven baking method. You will end up with crispier wings when you fry them.
Can I use BBQ sauce or hot sauce on these vegan wings? Yes, you can. Just bake them as described. Remove from the oven, coat with bbq sauce and put them back into the oven to bake for extra 10 minutes.
How can I keep the leftovers? Well, these taste best when served right after they are removed from oven. If you have leftovers, keep them in an airtight container in the refrigerator for 1-2 days. Reheat them in oven before serving.
Can you reheat cauliflower wings? Yes, you can. Preheat oven to 375F. Place the wings on a baking sheet lined with parchment paper and bake for about 10 minutes.
OTHER BAKED CAULIFLOWER RECIPES
MORE ROASTED VEGETABLE RECIPES
Print
Skinny Baked Cauliflower Wings
Skinny, spicy and scrumptious cauliflower wings. Perfect vegetarian alternative to hot wings.
Author:

zerrin

Prep Time:

10 minutes

Cook Time:

30 minutes

Total Time:

40 minutes

Yield:

4

Category:

Appetizer

Method:

Baking

Cuisine:

American
Ingredients
1

head of cauliflower, cut into bite size pieces (

4 cup

s)

3/4 cup

water

1/2 cup

all purpose flour

2 teaspoon

garlic powder

1 teaspoon

cumin

2 teaspoon

chili powder or paprika

1 teaspoon

salt

1 teaspoon

ground black pepper

1 tablespoon

sesame seeds

1 tablespoon

olive oil
Instructions
Preheat oven to 400F/200C. Line a baking sheet with baking paper.
Cut cauliflower in florets and rinse well.
Mix all dry ngredients in a large bowl and add in water gradually, stirring well. The batter shouldnt be too thick or runny, so stop adding water when you think its ok.
Toss the cauliflower florets into the batter in batches and mix it well with a spoon until all of them are equally coated. Shake off the excess batter.
Lay them evenly on the baking sheet in a single layer.
Drizzle olive oil over them and bake for 20 minutes. Remove from the oven, turn the wings over and bake for another 10 minutes.
Serve hot with your favorite sauce.
Keywords: cauliflower wings, vegetarian wings, cauliflower chicken wings
The post Skinny Baked Cauliflower Wings appeared first on Give Recipe.
**Disclaimer This article contains affiliate links. All products are ones I like. If you choose to buy one of these items through the URL provided, I will get a small commission at no extra cost to you. All proceeds help support the blog.