With everyone cooking more meals at home, we've received a lot of questions about what to make with all of your random pantry items. Recently, we posted an Instagram Stories poll that asked you what random canned goods you had on hand, and we wanted to help you figure out what to do with them. From water chestnuts to tuna to coconut milk, a lot of you have ingredients that you're not quite sure what to do with, and that's okay. With a list of items in mind, we reached out to one of our friends for a few pantry recipes ideas. We're so excited to have food blogger and cookbook author Tieghan Gerard of Half Baked Harvest on the blog to help you with all of your cooking questions. Based on your responses, she's put together an assortment of her recipes that utilize your canned goods along with a few tips to keep them delicious, vibrant, and exciting. We hope these recipes can provide you with a little cooking inspiration and introduce you to your next go-to dish.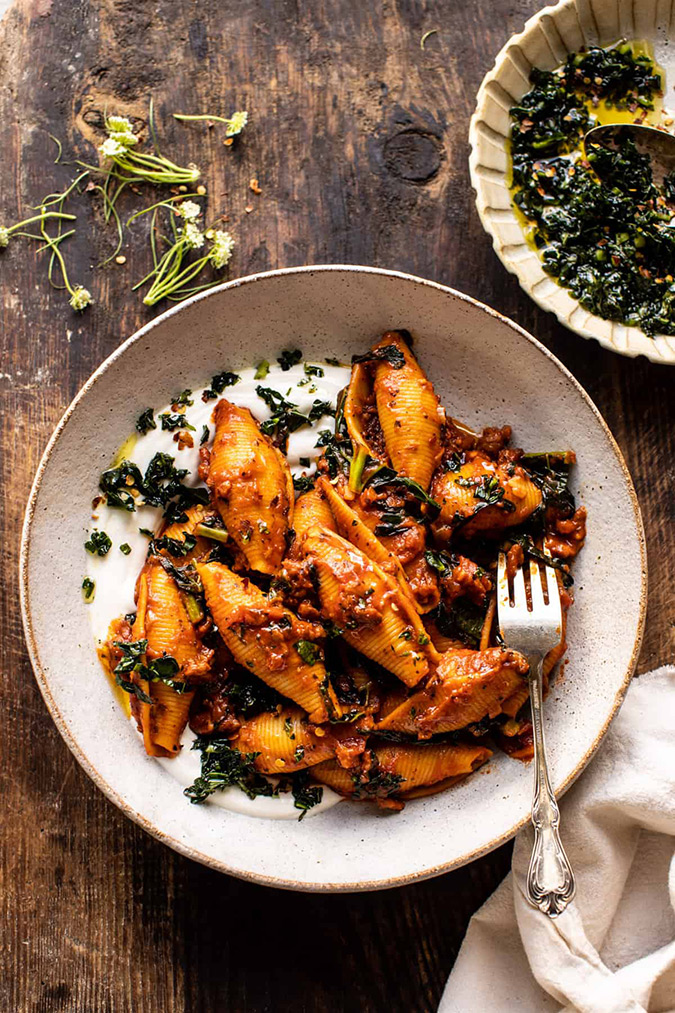 Unstuffed Spicy Tomato Basil Shells with Whipped Ricotta
Tomato Paste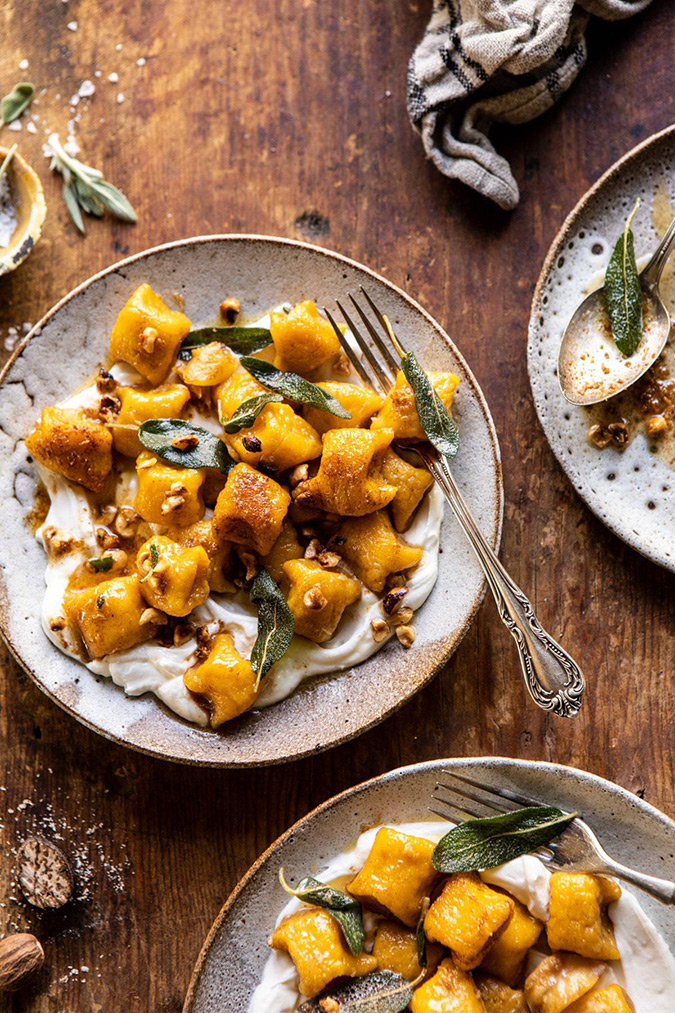 Pumpkin Cauliflower Gnocchi with Nutty Browned Butter and Whipped Ricotta
Pumpkin Puree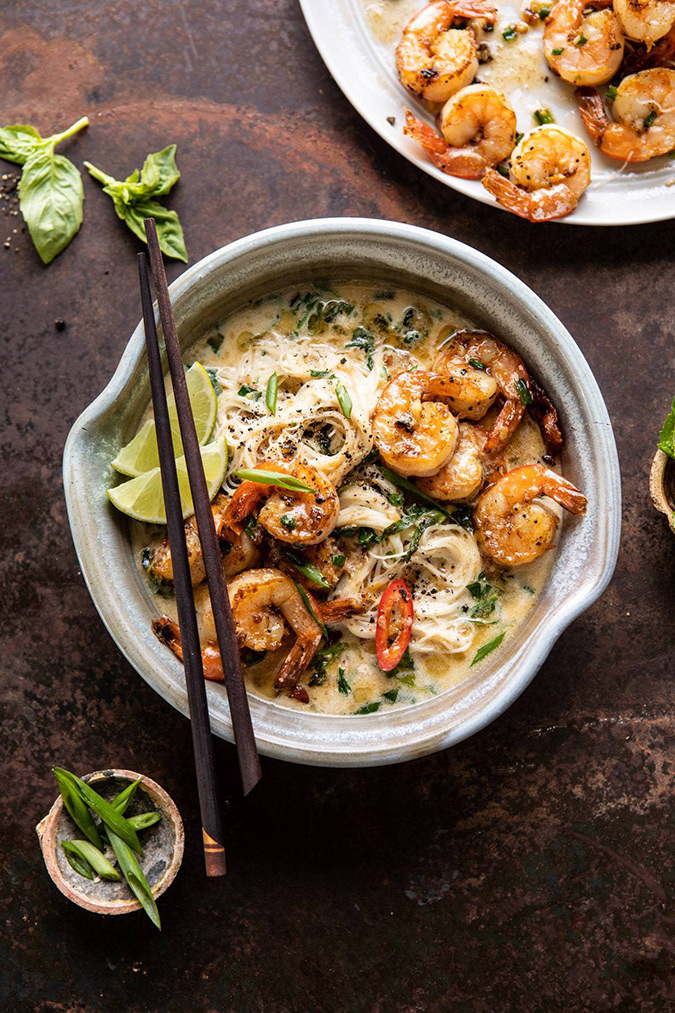 Saucy Garlic Butter Shrimp with Coconut Milk and Rice Noodles
Coconut Milk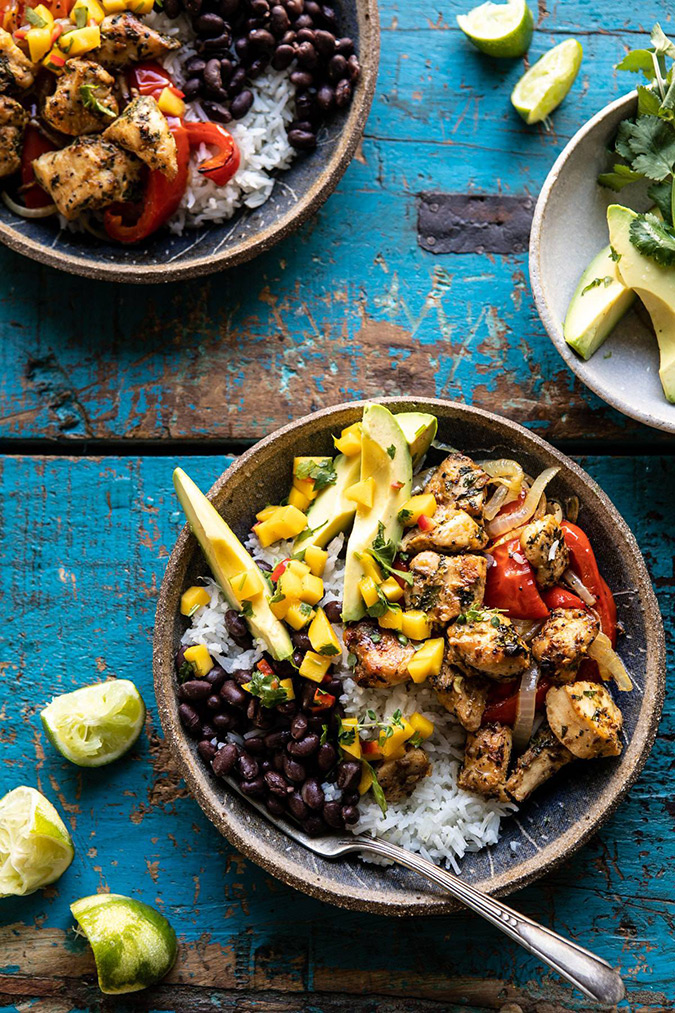 Sheet Pan Cuban Chicken and Black Bean Rice Bowl
Beans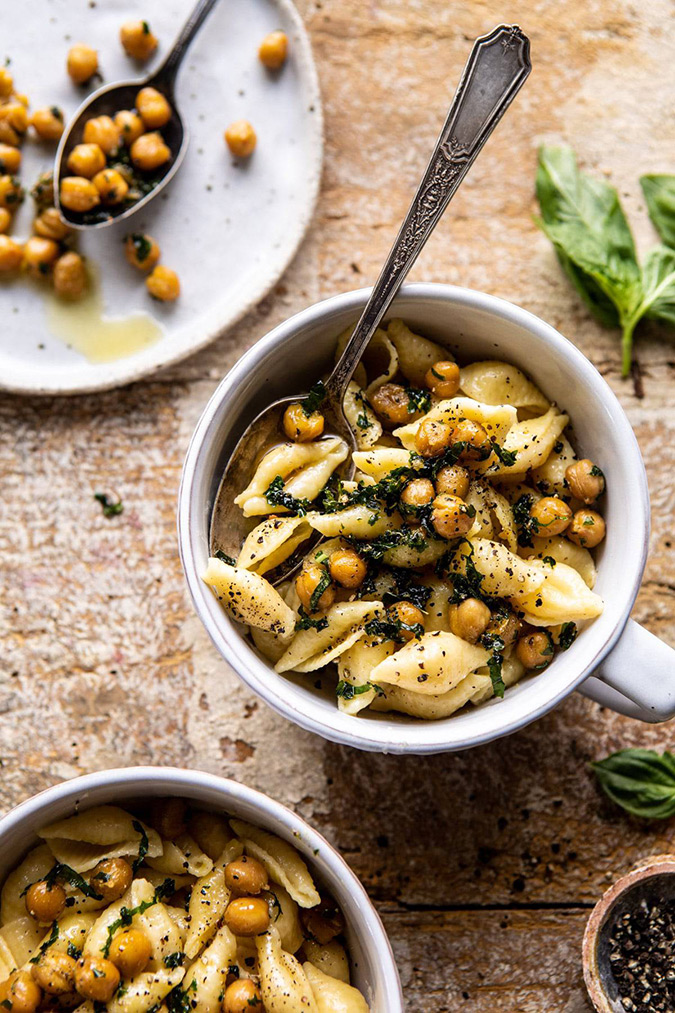 Instant Pot Cacio e Pepe with Crispy Garlic Basil Chickpeas
Chickpeas
Tuna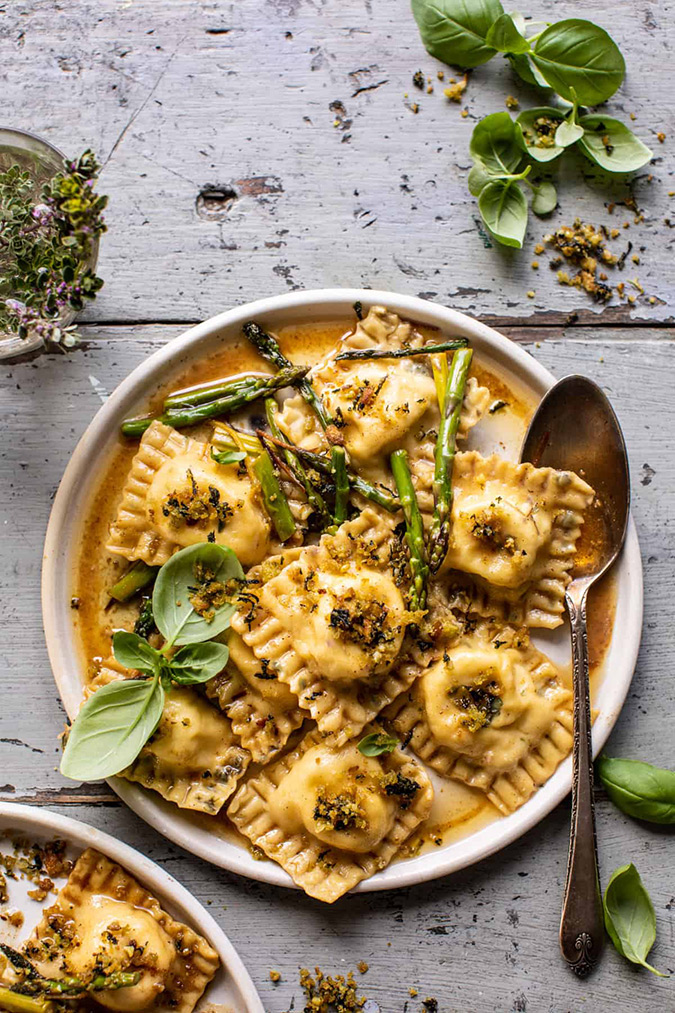 Lemon Butter Cheese Ravioli with Garlic Basil Breadcrumbs
Ravioli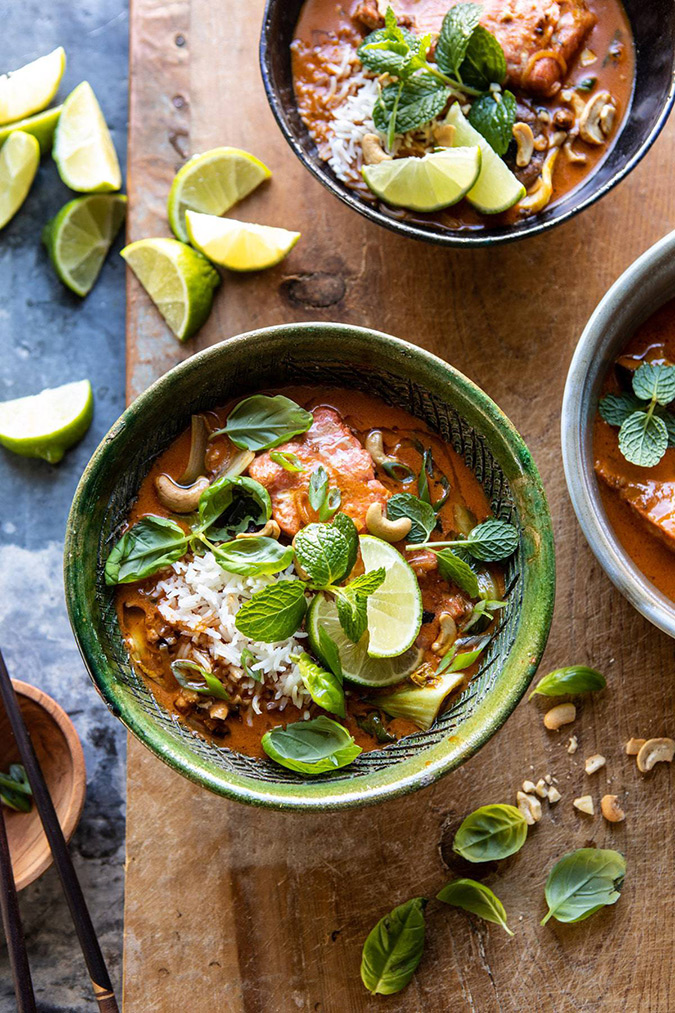 Saucy 30 Minute Thai Basil Salmon Curry
Canned Salmon
You can swap in canned salmon for these recipes.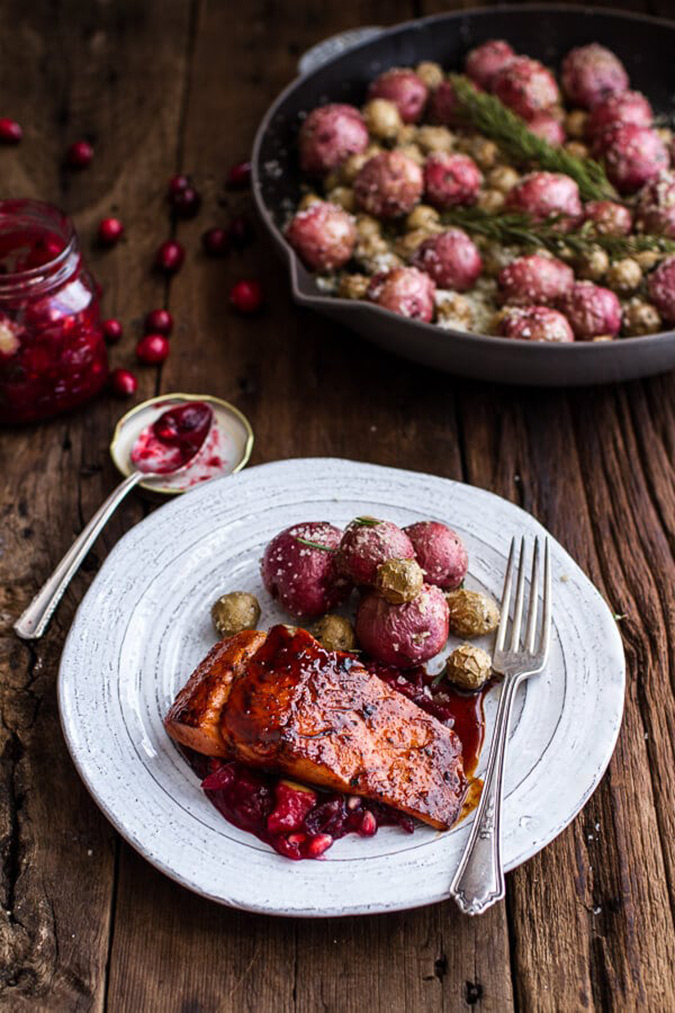 Maple Bourbon Glazed Salmon with Sweet Cranberry Chutney and Salt Roasted Potatoes
Cranberry Sauce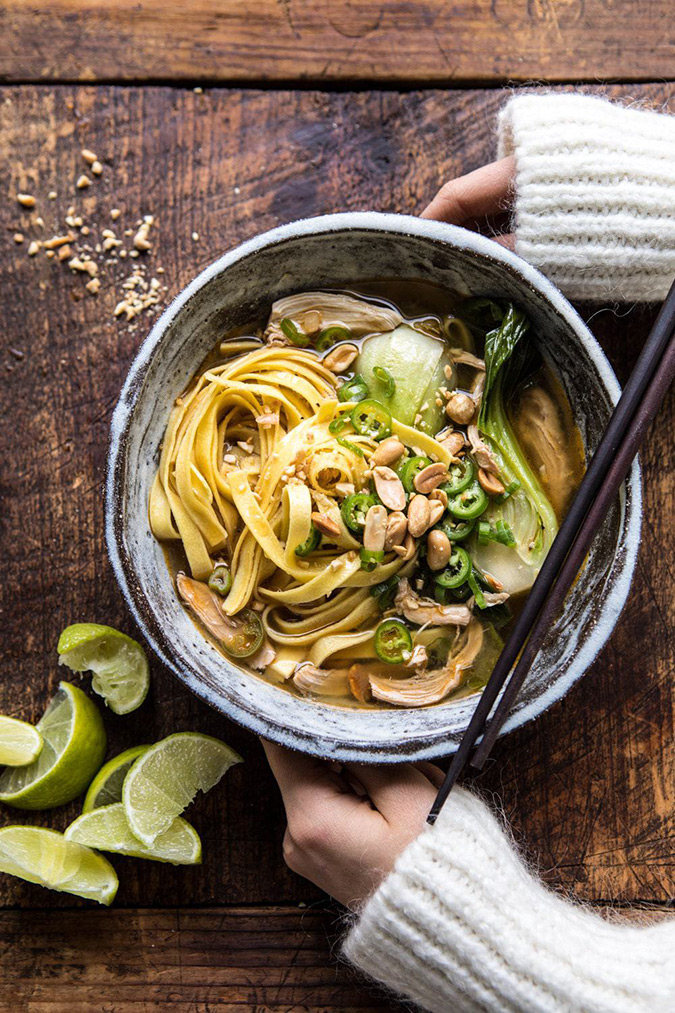 Ginger Peanut Chicken Noodle Soup
Soup
Making soup at home is easier than you think and if you have a pantry full of ingredients, you can create something delicious without running to the store. We recommend always having chicken or vegetable broth on hand as well as a variety of pasta, grains, beans, and dried herbs and spices. These ingredients can be used to make a wonderful bowl of soup.
If you are looking to spice up a basic canned soup, try topping a broth-based soup like chicken noodle with salty popcorn for a fun, crunchy bite. If a soup is feeling bland, add heat with cayenne pepper or smokiness with smoked paprika. To create a fresh bowl of warm soup, top yours with fresh herbs and a squeeze of lemon or lime juice.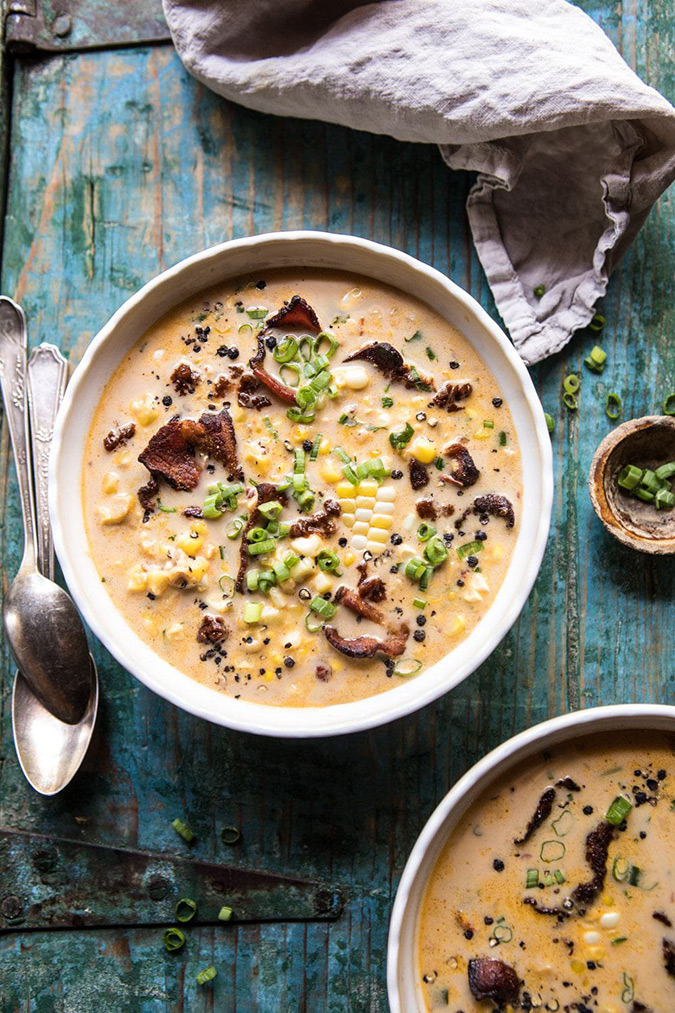 Instant Post Chipotle Cheddar Corn Chowder
Chowder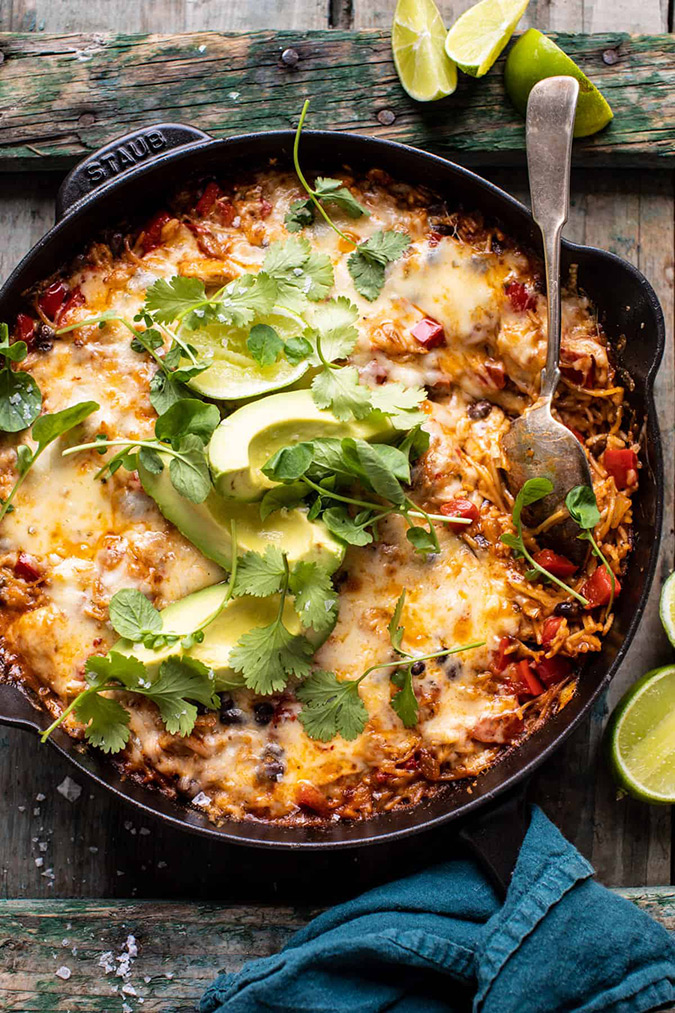 One Skillet Cheesy Cuban Chicken Rice Bake
Canned Chicken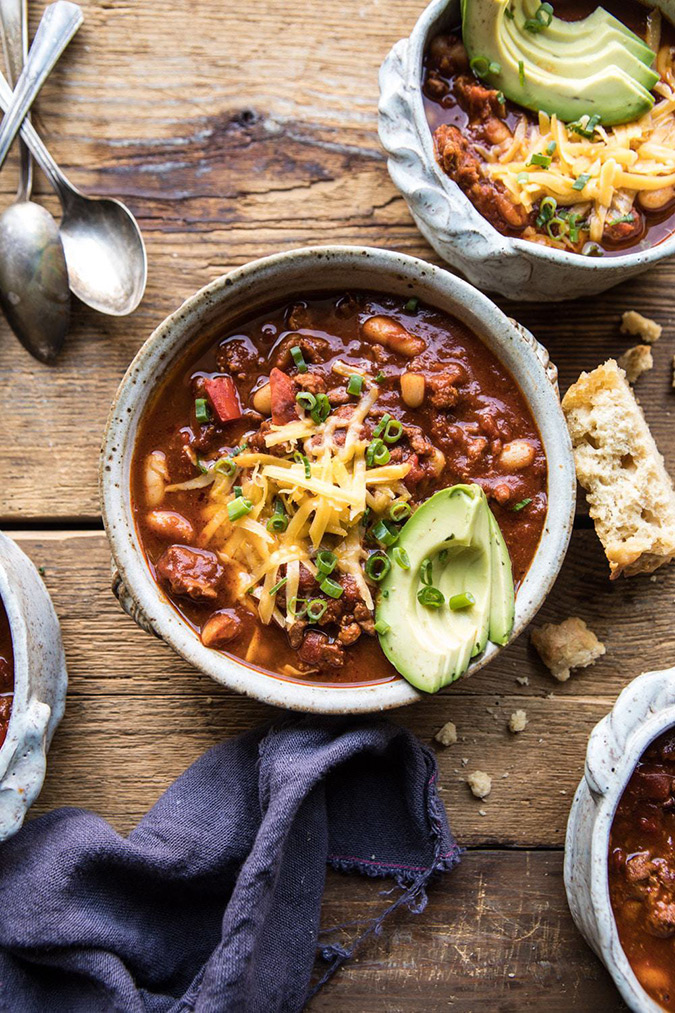 Healthy Slow Cooker Turkey and White Bean Chili
Turkey Chili
You can sub in turkey chili for a couple of these recipes, and if you're feeling bold, try making turkey chili enchiladas with this recipe.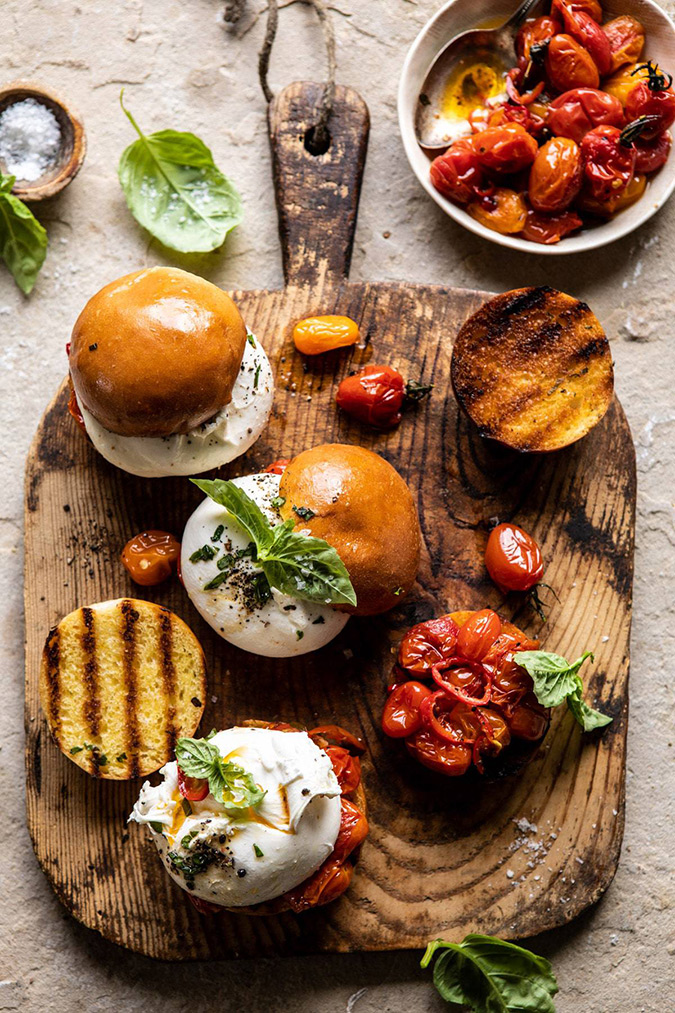 Roasted Caprese Burrata Sliders
Tomatoes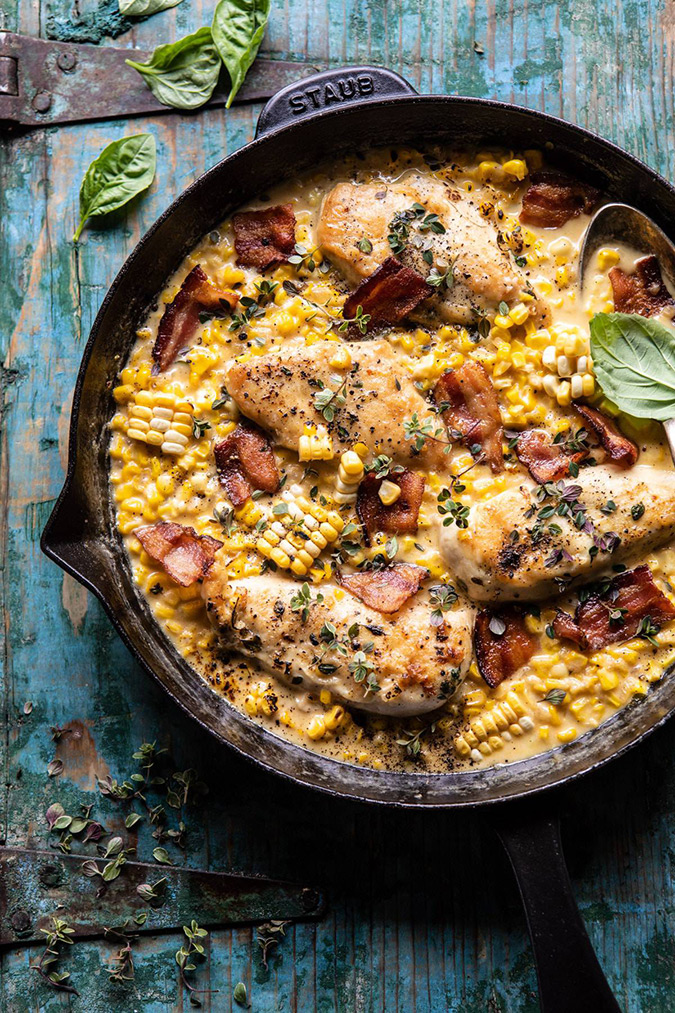 Garlic Butter Creamed Corn Chicken
 Creamed Corn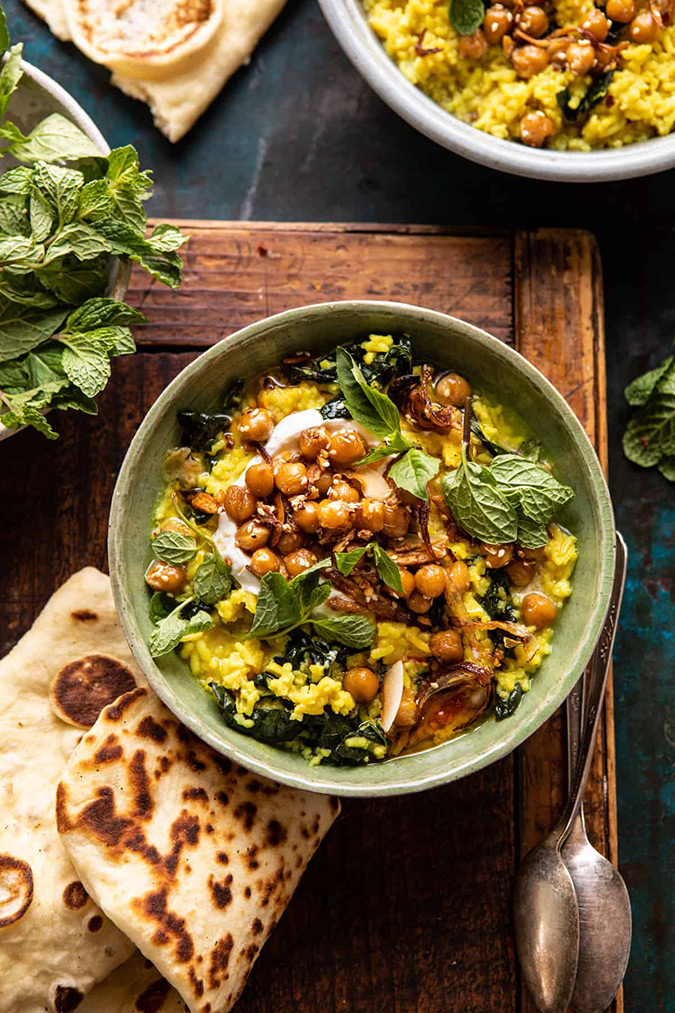 Creamy Golden Rice with Spiced Chickpeas 
Rice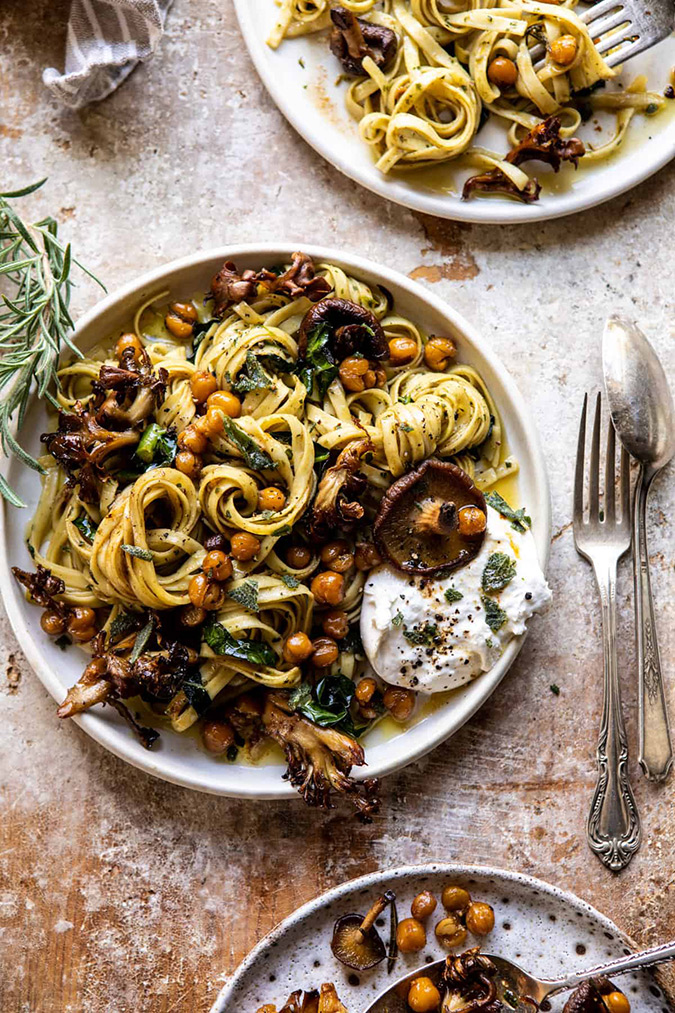 Slow Roasted Mushroom Pasta with Crisp Rosemary Chickpeas
Pasta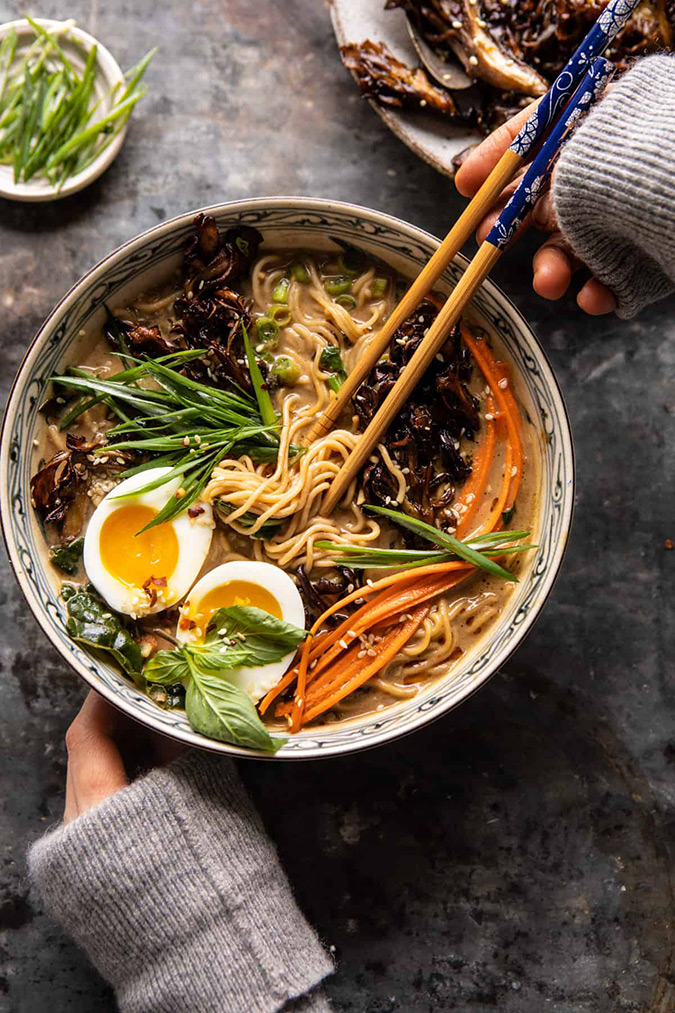 30 Minute Creamy Sesame Miso Ramen with Crispy Mushrooms
Sliced Water Chestnuts
Water chestnuts are such a great ingredient to add a bit of textural crunch to your meals, so adding them into recipes like the ones below will make them all the more flavorful: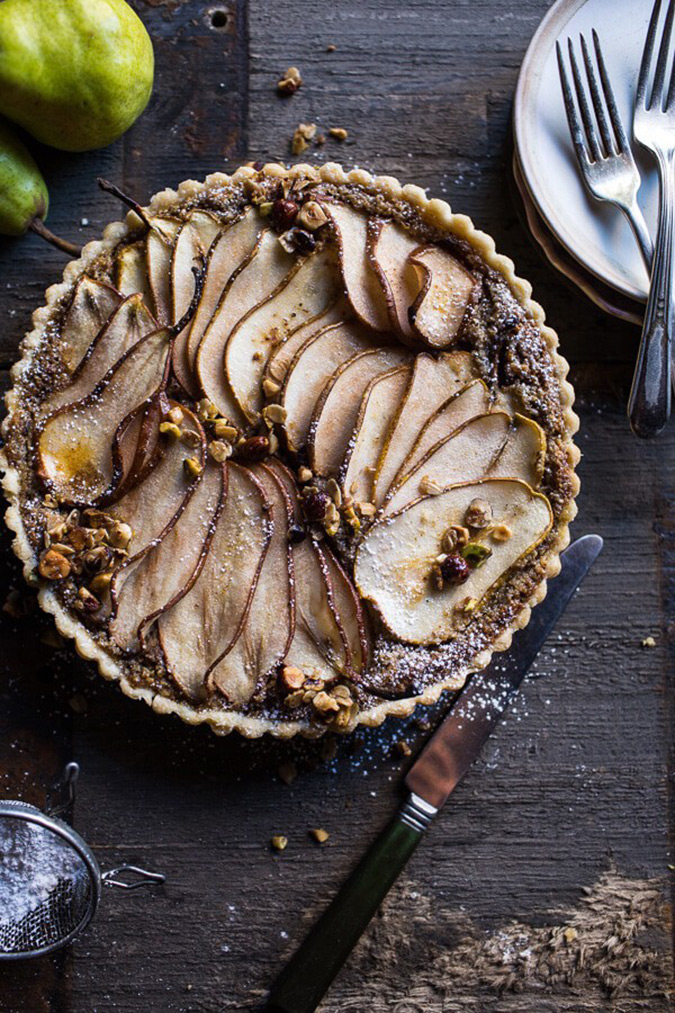 Caramelized Pear and Hazelnut Crumble Tart
Pears
If a recipe calls for apples, but you only have pears, use the pears! They'll be just as delicious and a nice change up from a typical apple recipe.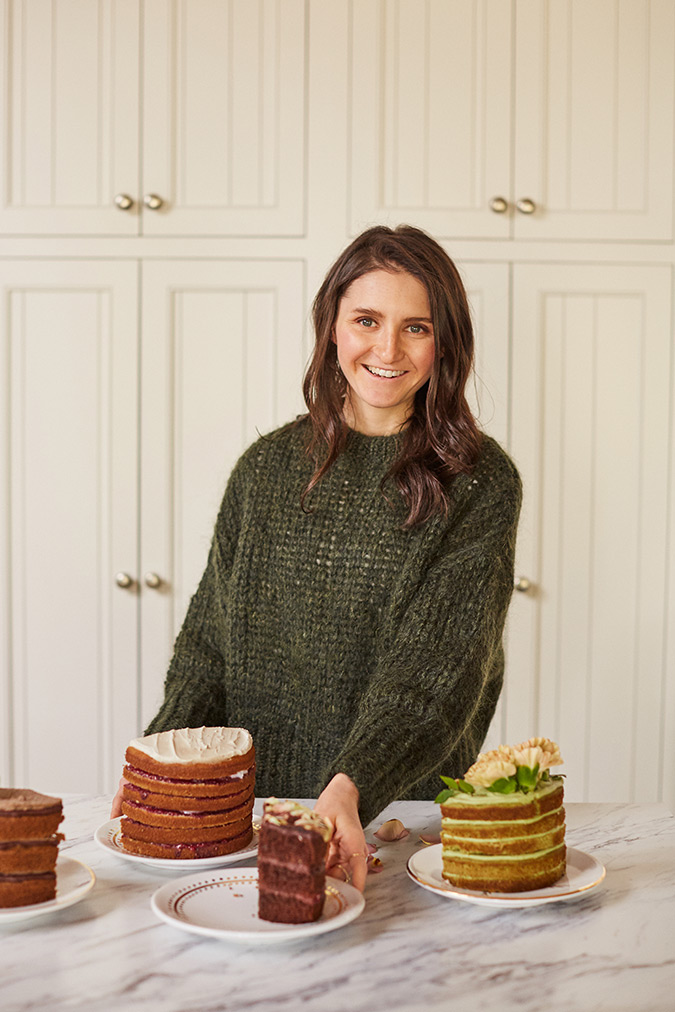 Which recipe are you excited to try?
To view more of Tieghan's recipes, you can check out her two cookbooks, Half Baked Harvest Cookbook and Half Baked Harvest Super Simple Cookbook, and her website here.
XO Team LC
The post What to Make with Every Random Canned Good in Your Pantry appeared first on Lauren Conrad.
**Disclaimer – My article often contains affiliate links. All products are ones I have. If you choose to purchase one of these items through the URL provided, I will receive a small commission at no extra cost to you. All proceeds help support the blog.